Best internet providers in

West Allis, Wisconsin
If you're shopping for home internet in West Allis, Wisconsin, you're in luck! According to the Federal Communications Commission (FCC), (1) every household in the area has the option to buy cable internet from Spectrum. Many homes can also get fiber internet from AT&T, which offers speeds that are much faster than what cable internet can handle. If you want to save money and don't need lightning-fast speeds, T-Mobile fixed wireless is a great option.
---
Plans starting at $55.00 - $180.00
Download speeds up to 5000Mbps
Upload speeds up to 5000Mbps
---
Click below for all current AT&T deals
Disclaimer: Availability and pricing are subject to location. Conditions apply. For offer details, view disclaimers
---
Plans starting at $29.99 - $169.97
Download speeds up to 1 Gbps
Upload speeds up to 35 Mbps
---
Click below for all current Spectrum deals
Disclaimer: Availability and pricing are subject to location. Conditions apply. For offer details, view disclaimers
---
Download speeds up to 182 Mbps
Upload speeds up to 23 Mbps
---
Click below for all current T-Mobile deals
Disclaimer: Availability and pricing are subject to location. Conditions apply.
How we rank internet providers
We have a robust rating system to score internet service providers overall, but the quality of service could vary city to city. When narrowing down the best providers specific to West Allis, we considered factors like availability, value, performance, and customer experience. We source information directly from the ISP's themselves, the FCC, and first-hand insights from residents of West Allis.
Our top 3 ISP choices in West Allis, WI
Your choice of home internet service in West Allis starts with availability at your specific address. From there, we recommend shopping based on price and the max speed your household needs.
#1: AT&T internet
AT&T is rapidly building out its fiber-to-the-home internet service to replace its old DSL infrastructure, and it's a ray of sunshine on the frozen tundra. If you can get AT&T fiber, you'll benefit from fast speeds, for both upload and download. You'll also get internet equipment included with the standard monthly rate, and it's both functional and nice to look at. You may be on the hook for installation costs of $50–$100, so be sure to read your contract carefully if you're ordering online (or negotiate on that price if you're ordering over the phone).
While many West Allis homes can get fiber from AT&T, some may still be stuck with the much older and slower DSL hookups. AT&T isn't installing DSL anywhere anymore, though, so if you're getting ads from AT&T, you'll be getting fiber.
Read our full AT&T review.
#2: Spectrum internet
Cable internet from Spectrum isn't quite as reliable as what you would get from fiber, but it's still very fast. Better yet, you can choose from a range of speeds from Spectrum and pay as little as around $30 per month. You could also pay nearly $200 for speeds that rival what fiber can offer, but we don't recommend those plans for the average home. With Spectrum, you get unlimited data on all plans but may face some slowdowns in the evenings if a lot of your neighbors are trying to get online at once.
Read our full Spectrum review.
#3: T-Mobile internet
If you bundle home internet with your cell phone bill, you can pay as little as $25 per month for speeds that top out at about 175 Mbps with T-Mobile. That's fast enough for multiple Netflix or YouTube streams, plus gaming and browsing! Unfortunately, you'll get those speeds only if you are near a cell tower and there's no network congestion. Worst case scenario, you'll get only about 30 Mbps. According to T-Mobile, 5G Ultra Capacity is available in some places in and around West Allis, but you'll be bumped down to 4G LTE or 5G Extended Range if you get as far west as 124th Street or in neighborhoods near 92nd Street and Oklahoma Avenue. (2) When you sign up, you get 15 days to decide if the service is right for you. That's why we recommend plugging in your gateway as soon as it arrives to see if the speeds are sufficient to meet your needs.
Read our full T-Mobile review.
All internet providers in West Allis
Beyond our top picks in West Allis, there's a good chance you can order speedy internet from other providers. TDS Telecom (US Cellular) offers fiber in a small area near the intersection of Moorland Road and Cleveland Avenue. (1) Everywhere else fiber is available, though, it's AT&T. TDS also offers fixed wireless throughout the region under the US Cellular brand, but whether you get 5G or 4G LTE coverage is a bit of a coin toss. (3) Verizon fixed wireless is also widely available, with 5G Ultra Wideband available throughout town. (4) Our expert team recommends deciding based on your current mobile phone provider and available promotions.
You may also see availability from satellite internet providers in the area, but we generally recommend against them because of how slow and expensive satellite internet can be. If you have any other option for home internet, it's probably a better choice.
Fastest internet providers in West Allis
AT&T is the fastest internet provider in West Allis and the surrounding area. You can pay for max speeds of up to 5 Gbps, which is incredibly fast. You can also get speeds up to 1 Gbps from Spectrum, and in practical terms there's not a lot of difference between 1 Gbps and 5 Gbps. However, Spectrum charges a lot more and suffers from slower upload speeds.
Learn about multigig speeds and their practical applications (or lack thereof) for home internet use.
How much speed do you need?
When choosing an internet plan, you want to keep all of your activities running smoothly without paying extra for speeds you don't need. At the bare minimum, you need 25 Mbps to do light browsing on one or two devices. Most households with multiple people and multiple devices will want to look for speeds in the 100–500 Mbps range. Learn how much speed your household needs in our guide to internet speed.
Cheapest internet providers in West Allis
One of the cheapest internet providers in West Allis is Spectrum, which offers a 100 Mbps plan for around $30 per month. If you rent the Spectrum router, though, you'll be on the hook for an additional $5 per month. Verizon and T-Mobile offer plans for an even lower $25. Those low prices on fixed wireless internet are available only if you bundle with your cell phone plan, and your speeds may be a little less reliable than they would be with a Spectrum connection.
Fortunately, all our top internet providers in the greater Milwaukee area participate in a federal program that provides up to $30 off internet bills each month for certain lower-income families. For many households, that amounts to internet that is either free or very cheap.
Internet options in nearby cities
Getting a home internet connection in West Allis is similar to getting it in nearby cities today, but that is likely to change in the near future. West Berlin is slated for a fiber buildout from TDS Telecom, for instance, and the city of Kenosha is building an open-access network citywide.
While our recommendations for internet service are the same throughout the Milwaukee region, there are some local differences in coverage. Get the details:
See all options in your area within seconds.
What West Allis residents are saying on Reddit
If you can get AT&T fiber to your West Allis home, your neighbors think you should. If you can't, they say Spectrum's service isn't great, but has improved in recent years. They also have good things to say about fixed wireless internet from mobile phone providers.
Internet news and infrastructure in West Allis, WI
AT&T has been busy building out its fiber network in West Allis, and it lists the city on its page of fiber-eligible areas. (5) The company hasn't provided specifics about where and when you can expect fiber-to-the home in specific neighborhoods, though.
Nearly every home in West Allis, if not every home, is eligible for a cable internet connection. That means access to low prices and speeds that are getting faster all the time. Some homes on the outside of town or in rural areas of Wisconsin still may not have access to broadband speeds, however. That's why the federal government has earmarked nearly $6 million in taxpayer funds to help providers build out their networks. (6)
The Wisconsin governor's office is also on the case and has established a task force to oversee state-level efforts. (7)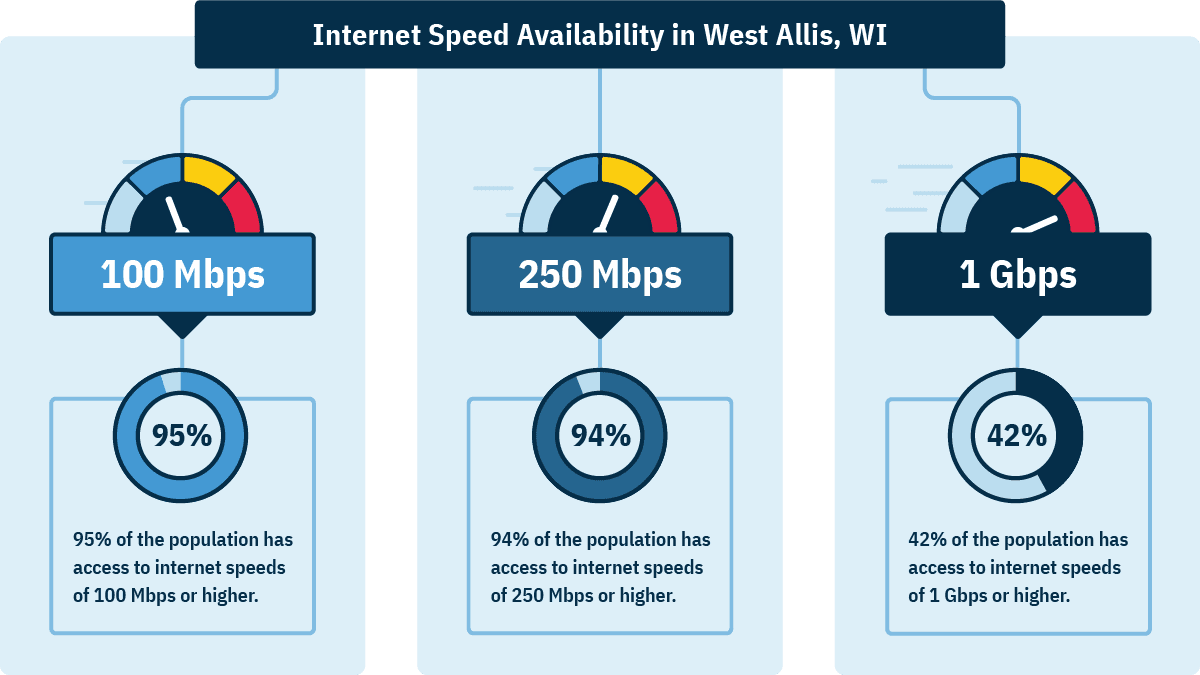 Frequently asked internet questions in West Allis
---
Our team of expert reviewers says AT&T fiber is the best and fastest internet in the West Allis, Wisconsin, area. You can get speeds up to 5 Gbps, but we generally recommend the slower plans for less money. Either way, you benefit from the most reliable internet technology, with equipment rental included. That equipment comes ready to connect via Wi-Fi to all your devices.
If your home isn't eligible for a fiber connection from AT&T (or TDS, in a few areas), our team recommends cable internet from Spectrum. Cable is faster and more reliable than ever, and the prices are even lower than what you'll find with AT&T. Like with AT&T, the Spectrum equipment includes Wi-Fi capability. But unlike with AT&T, you'll have to pay an additional $5 each month to rent it.
Compare home internet plans from AT&T and Spectrum side by side.
---
Most of Wisconsin has a nice choice of providers for home internet, and that's particularly true in West Allis and throughout the Milwaukee metro area. In West Allis itself, the FCC says a full 100% of households are serviceable by cable internet connections. That means access to very fast internet speeds, though you might have to deal with slower upload speeds. Even then, though, ping and latency rates for cable providers these days are nearly on par with fiber providers, if not faster. (8)
If you live in West Allis, you should find it pretty easy to get a connection that lets you work, school, game, and stream with ease.
Get our guide on the internet you'll need to work from home.
---
How much you have to pay for internet in the West Allis area depends primarily on the speed you need. If you can deal with speeds that max out at 182 Mbps, you can buy home internet from 5G providers or Spectrum for around $25–30 per month.
If you want fiber internet, you'll benefit from the best reliability and fastest upload speeds available, but plans start at about $55 per month. The most expensive internet plan in the West Allis area is from AT&T, which sells plans with screaming fast 5 Gbps speeds for $180 per month. We don't recommend speeds that fast for most home users, but we like that the AT&T network is ready for the future.