Fastest internet providers of 2023
---
---
We're committed to transparency. We may earn money when you follow our recommendations, but compensation doesn't affect our ratings. Learn more.
Our team of speed hounds analyzed max internet speeds from providers in the US, and we found the fastest (and most reliably fast) options out there. These internet plans can handle dozens of simultaneous streams, VR chat, live gaming, and even massive video conference calls.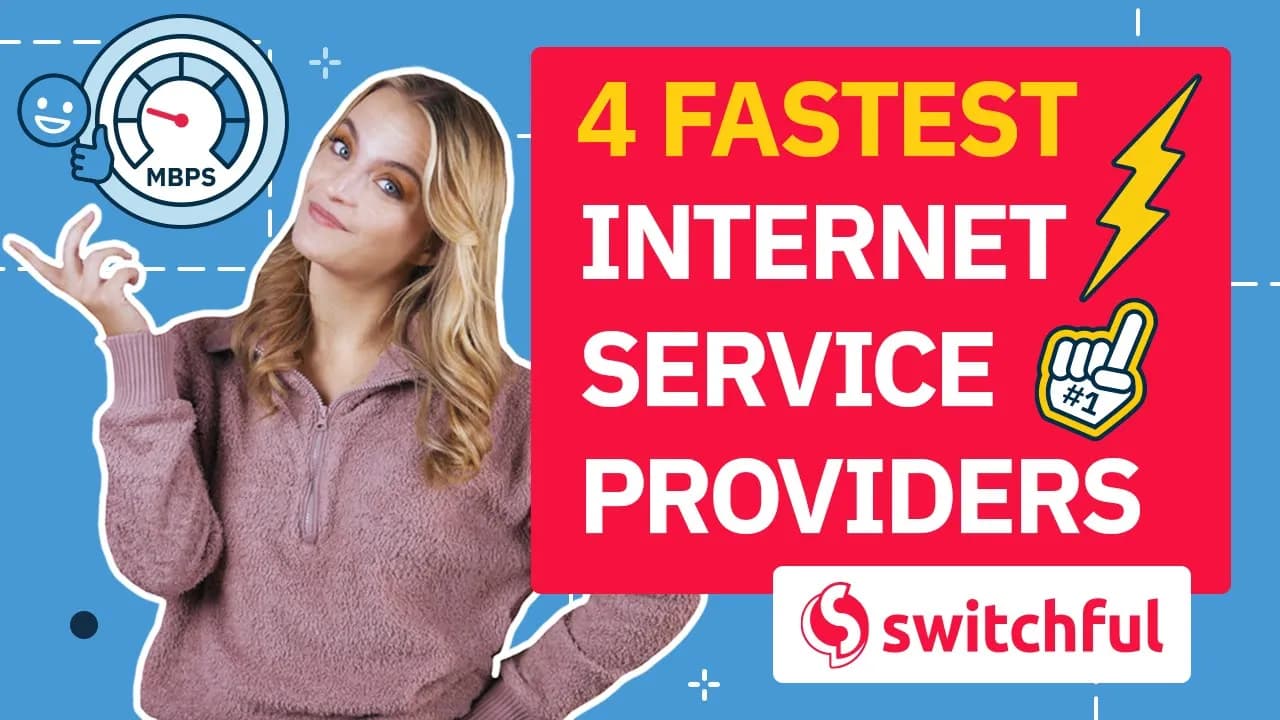 How we chose the best fast internet providers
If speed is what matters to you most, you may have to pay a little more every month. That's why we focused less on price here and more on performance, while keeping our standard Switchful rating methodology in mind. We also made sure the provided internet equipment has the chops to perform under pressure.
Our top picks for fast internet providers
---
Plans starting at $55.00 - $180.00
Download speeds up to 5000Mbps
Upload speeds up to 5000Mbps
---
Click below for all current AT&T deals
Disclaimer: Availability and pricing are subject to location. Conditions apply. For offer details, view disclaimers
---
Plans starting at $70.00 - $100.00
Download speeds up to 2000 Mbps
Upload speeds up to 1000 Mbps
---
Click below for all current Google Fiber deals
Disclaimer: Availability and pricing are subject to location. Conditions apply.
---
Plans starting at $15.00 - $195.00
Download speeds up to 940 Mbps
---
Click below for all current Optimum deals
Disclaimer: Availability and pricing are subject to location. Conditions apply. For offer details, view disclaimers
---
Plans starting at $49.99 - $164.99
Download speeds up to 5000 Mbps
Upload speeds up to 5000 Mbps
---
Click below for all current Frontier Communications deals
Disclaimer: Subject to availability. Cannot be combined with other offers. Other restrictions, Frontier policies and service terms apply. For a list of terms, view disclaimers
#1: AT&T internet
---
Competitive fiber plans

Solid customer support

Excellent reliability
---
Expensive installation fees

Higher monthly prices than some competitors

Few TV bundling options
Disclaimer: Availability and pricing are subject to location. Conditions apply. For offer details, view disclaimers
An amazing 5 gigs of bandwidth, up and down
When you need internet that works no matter what, look no further than AT&T fiber internet. It offers symmetrical upload and download speeds of 5 Gbps—that's 5,000 megabits per second. It's fast enough to download a complete feature-length film in 4K resolution in less than two minutes, even with multiple connected devices and simultaneous streaming.
AT&T fiber internet comes with other perks, too. You get some of the best customer service in the business (4) and a combined modem/router gateway called AT&T Smart Wi-Fi, with no equipment fees. AT&T fiber also skips the contracts and data caps, so you get truly unlimited data at outrageously fast speeds and surprisingly low rates.
The g-force available here has us a little out of breath, but there's one important caveat to mention. While AT&T fiber internet is the largest fiber-to-the-premises (FTTP) internet provider out there, with availability to more than 38 million households, many homes will have access only to DSL connections with AT&T. Those speeds are much slower—around 98% slower—and that's too slow for gaming and too unreliable for video conferencing from home. If you can get AT&T fiber, thank your lucky stars. But if you get just DSL, AT&T will get you left in the dust.
Starting in 2020, AT&T began phasing out its DSL network. (5) For better or worse, it's no longer possible to sign up for a new DSL connection.
We didn't find any discounts on TV service when you sign up for the internet plans. It's not a dealbreaker, but we're happy to save a few bucks any way we can.
#2: Google Fiber
---
Fast, reliable speeds

Affordably priced

Super-simple plan selection
---
Limited availability

No budget plans
---
Speed: 1000 Mbps - 2000 Mbps
Disclaimer: Availability and pricing are subject to location. Conditions apply.
Gloriously fast fiber internet with a reputation to match
Google Fiber made waves several years ago when it promised to provide fiber internet to communities across the nation. That vision hasn't quite come to pass, but Google has deployed true wireless internet to 21 US cities and counting. Customers can choose download speeds of 1 or 2 Gbps, with a max upload speed of 1 Gpbs. We're a bit puzzled by the reason for asymmetrical speeds at 2 gigs, but we honestly can't imagine a household that would be uploading that fast on a regular basis anyway.
Like its top competitors, Google Fiber doesn't have data caps and doesn't require contracts. It's so small, though, it didn't make the cut for some of the national studies we rely to track speed, customer service, and reliability. We couldn't compare it apples to apples, but word on the street is that it's usually as fast and reliable as it promises.
You get some perks, too. Both plans come with a mesh Wi-Fi network free of charge, plus 1 TB of free cloud storage. We've heard that some of the older equipment provided by Google falls short of the promised speeds, so gamers and video conferencers may want to upgrade with their own gear.
For everyone else, though, Google offers perfectly suitable wireless gateway, with no rental fees on most plans, no access fees, and no installation fees. All that plus rock-solid reliability—who could ask for anything more?
#3: Optimum internet
---
Affordable prices

No data caps or contracts

Both cable and fiber offerings
---
Very limited availability

Average customer service

No true budget plan
---
Speed: 100 Mbps - 940 Mbps
Disclaimer: Availability and pricing are subject to location. Conditions apply. For offer details, view disclaimers
Internet that outruns the big boys
Like AT&T, Optimum internet offers incredibly fast fiber internet in some areas, with up to 5 Gbps symmetrical speeds and no contracts. That's a breakneck pace, and the combined modem/router gateway can handle it all without breaking a sweat.
If you don't live in one of the 1.7 million households wired for fiber, you can get reasonably affordable 1 Gbps download speeds with Optimum's cable internet. You will see upload speeds at a much slower pace of 35 Mbps, but that's still fast enough for the vast majority of video conferencing and file sharing applications. And just like with fiber, Optimum's standard cable internet plans have truly unlimited data. That's a rarity in the cable internet space.
You can use the company's gateway, which combines modem and router functionality. There's no charge, so it's the best option for most households.
You'll pay higher prices in your third year of service, in the range of $35-$85 each month.
Optimum has a less-than-stellar customer service reputation, and we wish its fiber internet were more widely available. That said, we're comfortable recommending its fast, reliable speeds for even the most bandwidth-hungry homes.
#4: Frontier internet
---
Well-priced fiber plans

Fast speeds

No data caps
---
Limited fiber availability

Slow DSL in non-fiber areas

Poor customer service reputation
---
Speed: 500 Mbps - 5000 Mbps
Disclaimer: Subject to availability. Cannot be combined with other offers. Other restrictions, Frontier policies and service terms apply. For a list of terms, view disclaimers
Frontier rolled out fiber internet plans with speeds up to 5 Gbps in January of 2023, bringing it on par with our top two providers for speed. You'll pay $60 more for Fiber 5 Gig than you would with Fiber 2 Gig, but it's still less than you'd pay with either AT&T or Optimum at that speed.
We like that there are no contracts to sign with Frontier, and no installation fees. Internet equipment is also included, and it's some of the best we found! If you go for the top speed, you get the TP-Link AXE300 router, with an optional Wi-Fi extender in case you have a big home (for an additional $10 per month). If you go with the Fiber 1 Gig or the Fiber 2 Gig plan, you get an eero6 or an eero6E mesh Wi-Fi system that can take anything you can throw at it.
We're less impressed with Frontier's reputation for customer service. The service got low scores from the American Customer Satisfaction Index (4) and we regularly see complaints from real customers online. However, the service is fairly reliable, so there's good chance you won't have to interface with customer service very often.
The only way to order Frontier is by calling in, but we highly recommend making the switch if Frontier is the only fiber provider in your area.
What to consider when choosing a high-speed internet provider
Choosing internet service that's right for you depends on where you live, how you use the internet, and how much you can afford to pay each month. Our expert team thought about each of these factors as we recommended the fastest internet providers in the US.
We thought first about the value offered by each provider, including different speeds available at different price points. We looked hard at max bandwidth compared to subscription price, but also looked at extra fees and contracts. Next, we dug into issues related to performance, including ping, latency, reliability, and whether you should expect any differences in speed throughout the day. Our experts also considered what to expect from installation, what kind of equipment you'll need, and what it's like to deal with customer service in case of a problem.
Many households have access to only a few high-speed internet providers, so it makes sense to see what's available near you.
Find an internet provider in your area.
See all options in your area within seconds.
The speed you really need
The fastest internet providers we reviewed offer speeds up to 5 Gbps. That's a truly incredible speed, and probably far too much for all but a few households. To put it in context, streaming a Netflix show in 4K requires just 25 Mbps of bandwidth. That means you could stream a whopping 200 shows in 4K on a 5 gig connection, simultaneously.
Those ludicrous speeds could also support about 100 people playing Xbox or Playstation, and 20 people in PC-based VR chat. For everyday internet activities like browsing the web, checking email, and scrolling through social media feeds, ultra-gig internet speeds could support hundreds of users at once.
Not to put too fine a point on it, but most households will be fine paying for speeds of about 100 Mbps. Even the biggest and busiest households will probably be fine with top internet speeds of about a gig. If you don't know how much speed you need, our experts recommend starting with one of the lower-tier plans from your provider of choice. In fact, we almost never recommend multi-gig plans (plans faster than 1 Gbps) because almost no home can actually use them.
What "speeds up to" means
Internet providers like to list their available speeds in big, friendly letters with a teeny tiny asterisk at the top right. Invariably, this asterisk leads to a disclaimer stating that plans are for "speeds up to" the big, bold number. In short, speeds aren't guaranteed.
Some providers almost always meet (or exceed) the speeds they promise, and we've called that out throughout our internet provider reviews. However, it's important to know why those disclaimers exist and what they may mean for your daily internet usage.
Some types of internet, particularly cable and DSL, rely on networks that serve entire regions. Having more people online at once will slow down the connection for everyone. That means you might see slower speeds when other people are gaming or streaming after work, but great speeds at 2:00 am. Satellite internet and fixed wireless internet are also notorious for speed unreliability, but even the speeds their providers promise are very slow.
Even fiber internet has some variability in speed, according to a study by the US Federal Communications Commission (FCC). (2) The reasons get pretty technical, but they're legit. Whatever your internet connection type, our experts recommend thinking about anything you absolutely need fast speeds for. From there, you might want a little bandwidth buffer in your internet plan in case of network congestion or equipment incompatibilities.
Reliability, latency, and ping
A lot of people use the terms speed and bandwidth interchangeably, but they're a little different. Speed is the rate of data exchange measured in actual time, like what a cop would record with a laser speed gun. Bandwidth is the max available speed available at any given moment, like how many cars a given freeway can handle at a certain speed at a certain time.
When we're talking about reliability, we're really talking about changes in bandwidth from minute to minute.
Fast internet is more reliable than ever these days, and most users won't notice minor changes in bandwidth throughout the day. There are a few exceptions, however. Internet gamers might notice slower ping at certain times of day, meaning an increase in the time it takes for their data to get to the gaming server. Ping plus the time it takes the server to get data back to you is called latency, and that's the standard way of measuring data transmission rates in real time.
Like gamers, people hosting large video calls may also notice small changes in bandwidth. It shows up in choppy video or dropped audio on the receiving end, which can be frustrating. If you need to host video calls while working from home, paying for the fastest speed you can find might make sense.
Contracts, pricing, and equipment
Many of the fastest internet providers let you skip the contract, especially fiber internet providers like three of our top picks for speed, AT&T, Optimum, and Google Fiber. But most cable providers, including our #3 pick Xfinity, are more likely to require contracts for the best pricing. They may also enforce data caps, though these are rare at speeds faster than a gig.
In addition to thinking about monthly costs, it's essential to think about equipment costs. If you have fiber internet, you'll need an ONT (optical network terminal) inside your house to decode the data coming from the fiber-optic cables. If you have cable internet, you'll need a modem.
You'll also need a compatible router (or a gateway, which combines the modem or ONT and the router). For most homes, we recommend renting that equipment from your provider even if it costs extra each month. If you choose to buy your own, prices start at about $70, up to several hundred if you want Wi-Fi extenders throughout the house.
Our experts recommend the following options:
Conclusion
Internet speeds are faster than ever, especially when you account for fiber internet. Most homes don't need top speeds (or anything close), but they can be really helpful for big households with a lot of gamers or professionals working from home. We did the research (seriously, hours and hours of research), and we're confident you can trust our top pick AT&T and our other top speed providers for the following:
Reliably massive bandwidth
Solid, easy-to-use equipment
Fair pricing
Top-notch customer service
---
The people behind our research
We believe the best information comes from first-hand customer experience and methodical research by subject-matter experts. We never source information from "content farms," and we don't generate content using artificial intelligence (AI). You can trust that our recommendations are fact-checked meticulously and sourced appropriately by authentic, industry-recognized people.
Rebecca Palmer has been writing about tech and consumer finance since 2010. Her work has been featured in the Deseret News, Idaho Business Review, TopTenReviews.com, and more. She holds a bachelor's degree in journalism from Weber State University in Ogden, Utah, and lives in Salt Lake City with her exceptionally delightful pup, Nymeria.
Bri Field has a background in academia, research writing, and brand marketing. She has edited scientific publications, conference papers, digital content, and technical communications. As Assigning Editor, she enjoys ensuring all content is accurate, clear, and helpful. In her free time, you can find her in the kitchen trying a new recipe, out on a hike, or working through her massive TBR list.
---
Endnotes and sources
1. "Satisfaction Benchmarks by Company," American Customer Satisfaction Index. Retrieved August 24, 2022.
2. "Measuring Broadband America," FCC. Retrieved August 17, 2022.
3. "Measuring Fixed Broadband," FCC. Retrieved August 24, 2022.
4. "US Residential Internet Provider Satisfaction Study," J.D. Power. Retrieved Oct 15, 2022.
5. "AT&T shelving DSL may leave hundreds of thousands hanging by a phone line," USA Today. Retrieved Oct 15, 2022.
As an Amazon Associate, Switchful.com may earn commissions from qualifying purchases.