Our top 3 ISP choices in Brookfield, WI
Different internet technologies come with different plans and prices. There's also connection reliability and speed variability to think about when you're choosing an internet service for your Brookfield-area home.
#1: AT&T internet
More and more homes throughout Brookfield are eligible for shiny new fiber internet plans for AT&T, with prices as low as $55 per month for speeds up to 300 Mbps. That's fast enough for the average home, and the price is right. If you can get fiber, you'll benefit from no contracts and $0 equipment costs, but you may have to pay for installation.
AT&T still has an old DSL network in parts of Brookfield, and many homes may still have DSL service. You can't get new DSL service anymore, though, so if you can get AT&T at a new address in Brookfield, you're getting fiber.
Read our full AT&T internet review.
#2: Spectrum internet
Cable internet doesn't have all the bells and whistles as fiber internet, but it's much more widely available nationwide. That's also true of Brookfield, where cable reaches an impressive 99% of homes. Spectrum offers truly budget internet prices, with a plan as low as around $30. It also offers download speeds of 1,000 Mbps (1 Gbps), fast enough for virtually any connected family. Watch out for equipment rental costs of $5 per month (unless you bring your own gear) and price hikes after two years.
Read our full Spectrum internet review.
#3: T-Mobile internet
When fiber and cable internet aren't options, for whatever reason, you can always turn to fixed wireless internet from T-Mobile. It offers it's fastest 5G service thoughout the area, and you can get monthly service for $25 if you bundle it with your cell phone plan. That gets you free internet equipment (and it's super simple to set up with a mobile app). Hypothetical speeds max out at about 175 Mbps, though, and most folks will see speeds that are quite a bit slower. Service gets worse the farther you are from the nearest 5G tower, and if there are many people in the area trying to connect at once.
Read our full T-Mobile 5G home internet review.
All internet providers in Brookfield
In addition to our top three internet providers in Brookfield, most households have a few other fixed wireless options to choose from. US Cellular offers fixed wireless, and most of the coverage area is eligible for fast 5G service for around $30 per month. Just be aware that price goes up by $20 per month after 18 months, and you have to buy your equipment outright (though you can pay for it monthly with an installment plan).
You may also be able to get 4G LTE fixed wireless from Bertram Internet, a local company headquartered in Random Lake, Wisconsin. Speeds max out at about 25 Mbps, though, and that's in ideal conditions. That's not fast enough for most families.
You can also get satellite internet throughout the region, but it requires putting a satellite dish on your house and you still get speeds that are very, very slow compared to what you can get from cable or fixed wireless internet. Prices aren't great either, so satellite internet in Brookfield is pretty hard to recommend.
Fastest internet providers in Brookfield
Without question, AT&T fiber is the fastest internet provider in Brookfield, Wisconsin. With speeds up to 5 Gbps, it leaves every other provider in the dust. We just wish it were more widely available! If you can get only DSL from AT&T where you live, it's a lot slower.
Spectrum also offers very fast internet speeds in Brookfield, and we like that it's available to many, many more homes. If you go with its 1 Gbps plan, you can be confident that your home internet can take anything you can throw at it.
How much speed do you need?
When choosing an internet plan, you want to keep all of your activities running smoothly without paying extra for speeds you don't need. At the bare minimum, you need 25 Mbps to do light browsing on one or two devices. Most households with multiple people and multiple devices will want to look for speeds in the 100–500 Mbps range. Learn how much speed your household needs in our guide to internet speed.
Cheapest internet providers in Brookfield
Spectrum offers one of the cheapest home internet plans in Brookfield, with plans that start out right around $30 per month, at least for the first two years. Spectrum also participates in the Affordable Connectivity Program, which means $30 off per month to certain low-income seniors and families with students. AT&T and the fixed wireless providers operating in Brookfield also participate, and it's a great way to get cheap or free internet in the area.
Internet options in nearby cities
Cities throughout the Milwaukee region are well-served by AT&T, Spectrum, and T-Mobile. Near city centers, fixed wireless 5G internet is also available, and multiple providers compete to serve the same areas.
However, Brookfield is the only spot with Bertram fiber, and there's one tiny spot in West Allis that can get fiber internet from TDS (which also offers fixed wireless through its US Cellular brand).
Get the specifics about internet options in cities near Brookfield:
See all options in your area within seconds.
What Brookfield residents are saying on Reddit
Brookfield residents and neighbors in surrounding cities aren't shy to say it: fiber internet from AT&T is the best you can get. They also say Spectrum used to be a pretty poor choice but has improved in recent years. We're also hearing that fixed wireless is a nice option in Brookfield if you don't want to deal with any hassle from cable internet and can't yet get fiber to your front door.
Internet news and infrastructure in Brookfield, WI
Brookfield hasn't historically been as well-served by internet providers as nearby Milwaukee, but AT&T has been building out its fiber infrastructure to replace legacy cable lines in the city. That's good news and means the area will be ready for increased speed needs in the future.
Already, almost all of Brookfield (99%) can get fast cable internet, and the FCC reports that 1 in 10 homes is eligible for gigabit speeds. (1) The data isn't perfect, but all signs point toward true broadband speeds throughout town.
If you're unlucky enough to be one of the homes that can't get fiber internet, there's good news! The federal government has earmarked nearly $6 million to build out broadband infrastructure throughout Wisconsin. (2) Local teacher groups are keeping them honest, too, pressuring lawmakers to force the owners of electricity poles to play nice as providers build out fiber networks throughout the state. (3) The governor's office has also thrown its weight behind increasing access to broadband, (4) so there's no doubt your taxpayer dollars are hard at work making sure no Wisconsite gets left out in the frozen tundra.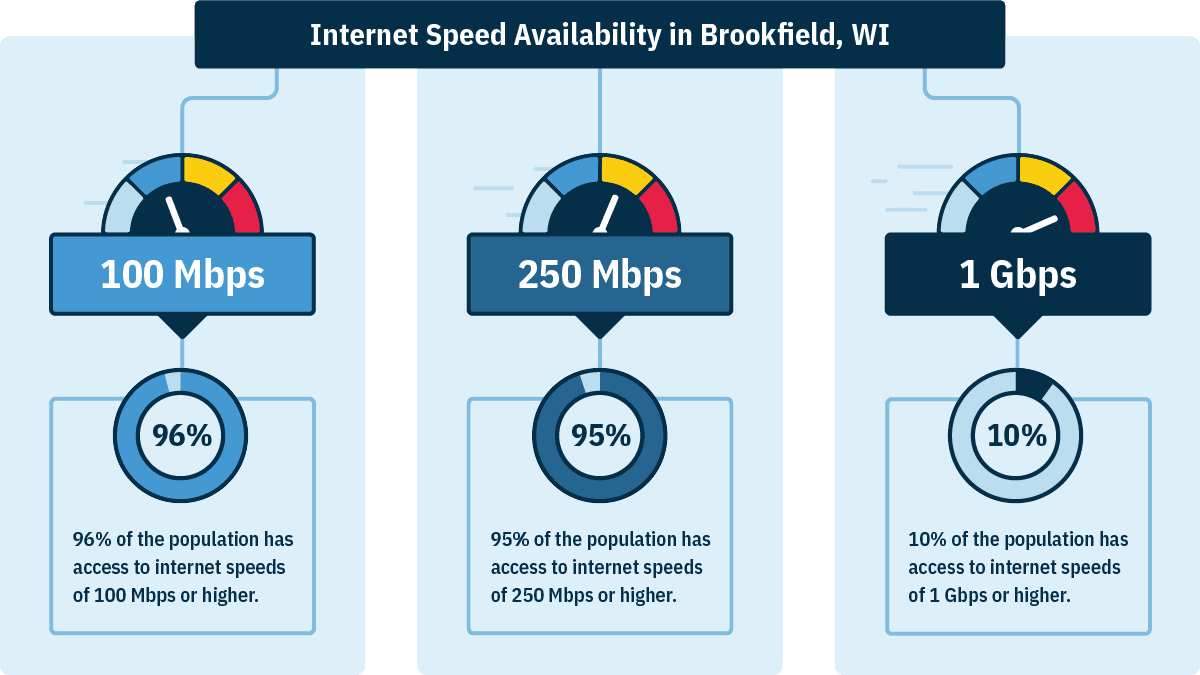 Frequently asked internet questions in Brookfield
---
There are ways to get temporary internet access in Brookfield, WI, without buying a monthly plan from a service provider (ISP), but you'll need to choose an internet provider if you want your own internet connection at home. That's because your ISP is what connects you to the rest of the web.
When you get internet through your mobile phone, your phone provider is acting as your ISP. If you get free public internet, the organization hosting the Wi-Fi hotspot is connected to an ISP as well.
Learn more about Wi-Fi hotspots and how to get free or cheap internet at home.
---
Our top pick for internet in Brookfield, WI, is AT&T, as long as you can get a fiber-to-the-home connection. You'll get excellent customer service, (5) the fastest available speeds, and very reasonable prices. If you can't get fiber, Spectrum internet is our second choice in Brookfield.
The homes most likely to have fast internet speeds at low prices are homes in and near city centers, or near big research centers and universities. That's because fiber internet, which is the best tech available, costs thousands of dollars per mile to install. The higher the concentration of homes in an area, the more cost-effective it is for providers to install fiber. That leads to more competition among providers and, therefore, lower costs for home users.
Check out AT&T vs. Spectrum using the Switchful side-by-side comparison tool.
---
Home internet speeds of a whopping 10 Gbps are offered by some niche internet providers out there, and fiber internet can technically handle speeds that are much, much faster. But the fastest internet you can get in the Brookfield area (and throughout most of the US) is 5 Gbps. That offering, from AT&T, will cost you a pretty penny at around $180 a month, but we honestly rarely recommend it because the fastest internet any consumer devices can handle right now is 1 Gbps.
You can also get 1 Gbps speeds from AT&T in Brookfield, or from rival cable internet provider Spectrum, and that's plenty fast for almost any home.
Learn about the differences between cable and fiber internet.