Our top 3 ISP choices in New Berlin, WI
Nice options for broadband internet at home are available throughout New Berlin. Fiber internet tops the charts, but cable internet can be easier to get and fixed wireless internet is more reliable than ever.
#1: AT&T internet
AT&T is the top internet provider in the US, according to our team of expert reviewers, and it's also our top pick in New Berlin. AT&T has been busy building out its fiber network throughout Wisconsin, and that's great news if it's already reached your home. If so, you can get fast speeds of up to 300 Mbps for just $55 per month, with no contracts or data limits. You might still be on the hook for installation costs, but they aren't too bad.
We love AT&T if you can get a fiber-to-the-home connection, but its DSL plans are slow and expensive. In West Berlin, 44% of homes get DSL from AT&T, according to the FCC. (1) You can keep a legacy DSL plan if your home is already wired for it, but you won't be able to buy a new DSL plan from AT&T.
Read our full AT&T review.
#2: Spectrum internet
Whether or not you can get fiber internet from AT&T, Spectrum may be worth a look. The provider offers cable internet to an impressive 95% of addresses in West Berlin (1), and its cheapest plan will run you just $20 per month. Most families will need a faster plan, but prices are still reasonable and you no longer have to sign a contract. We love that you never have to worry about data caps with Spectrum on any plan, but you should know that the company's reputation hasn't always been the best. (2) There may also be rate hikes to worry about two years down the line. It might be the best internet for now, but you may want to shop again before prices go up.
Read our full Spectrum review.
#3: T-Mobile internet
When cable or fiber internet aren't the right fit, fixed wireless home internet from T-Mobile can save the day! The company's 5G Ultra Capacity coverage is available almost everywhere in West Berlin, but areas to the west of the town center or as far east as Root River may only get 5G Extended Range or 4G LTE (which has max speeds of about 50 Mbps). (3) If you go with T-Mobile, you'll benefit from included home internet equipment, and it's very easy to set up and manage with the mobile app. We encourage you to get that box set up and try it out as soon as it arrives because your quality of service may not be great if you're located too far from the nearest tower. You will have a free trial of 15 days to send the equipment back without charge, no questions asked, but that free trial includes shipping time so it can feel quite short.
Read our full T-Mobile review.
All internet providers in New Berlin
Multiple providers are competing to be your home internet provider in New Berlin, but most of them are fixed wireless plans managed by cell phone providers. US Cellular is almost as widely available as T-Mobile, and it offers 5G in parts of town. (4) You'll only get 4G LTE anywhere east of about Moorland Road, though, so T-Mobile is usually a better bet.
Home internet from Verizon is also widely available, but there's some discrepancy between coverage maps provided by the company (5) and figures from the Federal Communications Commission (FCC) (1), so you  might want to see if you can get Verizon 5G on your mobile phone before you choose the company for home internet. According to the company, Verizon 5G Ultra Wideband doesn't drop off to 4G LTE until you get past the Rolling Oaks area.
You might see offers for home internet from satellite providers in New Berlin as well, but we almost never recommend them due to issues with slow speeds and high costs. Since a full 95% of New Berlin can already get speeds of 100 Mbps or faster with other connection types, satellite internet won't be a great fit.
Fastest internet providers in New Berlin
AT&T provides the fastest home internet in New Berlin, with plans with speeds up to 5 Gbps for less than $200 per month. We rarely recommend those plans, though, because most home internet users won't benefit from anything faster than 1 Gbps.
At that 1 Gbps speed, you can choose between AT&T fiber (if it's available at your address) and Spectrum (which almost certainly will be). Download speeds of 1 Gbps are ten times as fast as 100 Mbps plans, and they are still faster than almost any home user would need. They're nice if you have multiple adults working remotely or need to stream dozens of Netflix shows all at once, but we more often recommend plans in the 300-500 Mbps range in New Berlin.
How much speed do you need?
When choosing an internet plan, you want to keep all of your activities running smoothly without paying extra for speeds you don't need. At the bare minimum, you need 25 Mbps to do light browsing on one or two devices. Most households with multiple people and multiple devices will want to look for speeds in the 100–500 Mbps range. Learn how much speed your household needs in our guide to internet speed.
Cheapest internet providers in New Berlin
Spectrum offers the cheapest home internet in New Berlin, with plans that are pretty slow, but available for just $20 per month for the first two years. When you add in $5 in equipment fees every month (unless you already have your own router), Spectrum is tied with Verizon and T-Mobile when it comes to offering cheap internet plans. With either mobile provider, you can get home internet for as little as $25 per month (equipment included) as long as you're bundling with cell phone service.
All the providers on our list work with the Affordable Connectivity Program (ACP) funded by the federal government, and that means certain families with kids or low-income seniors can get $30 per month off their internet bill, plus free equipment and freedom from contracts. Read more about free and cheap internet options.
Internet options in nearby cities
Internet access in cities that surround New Berlin is similar to what you can get in New Berlin itself. Throughout the region, AT&T is the best fiber internet provider and Spectrum can reach almost every home, while multiple 5G providers have offerings that include home internet.
Learn more about where internet is available in surrounding cities:
See all options in your area within seconds.
What New Berlin residents are saying on Reddit
If you can get fiber internet from AT&T at your New Berlin address, locals say you should! They love its fast speeds and top notch customer service but have a lot less love for its legacy DSL plans. If you can't get fiber, Spectrum's reputation has improved in recent years, and a lot of folks in the area have good things to say about getting home internet from a mobile phone provider like Verizon or T-Mobile.
Internet news and infrastructure in New Berlin, WI
Most of New Berlin has cable internet available from Spectrum, but TDS Telecom announced in July of 2022 that it will be building a 100% fiber network in the city, starting in nearby Brookfield. (6) Once built out, it may compete with fiber internet from AT&T in some parts of town.
Already, the FCC says internet speeds of up to 100 Mbps are available to 95% of addresses in New Berlin, and 11% of town can get speeds of 1 Gbps or faster. (1) Those figures are a little suspicious, since the FCC also says Spectrum covers 91% of town and we know that the provider offers 1 Gbps speeds throughout its coverage area, so we recommend checking plans for your exact address with the provider itself.
If you can't get fiber and don't want cable, you can choose from some stellar fixed wireless options in the city, all offering 5G. That means you could get speeds as fast as about 175 Mbps if conditions are perfect, but may be closer to 30 Mbps if you're too far from the nearest tower or if the network is congested.
While internet access in New Berlin is great, it's not perfect. That's why the federal government has earmarked nearly $6 billion to finish building out broadband infrastructure throughout Wisconsin. Local education leaders (7) and the governor's office (8) are also heavily involved, so it's highly likely your internet service in New Berlin will either improve or get cheaper in coming years.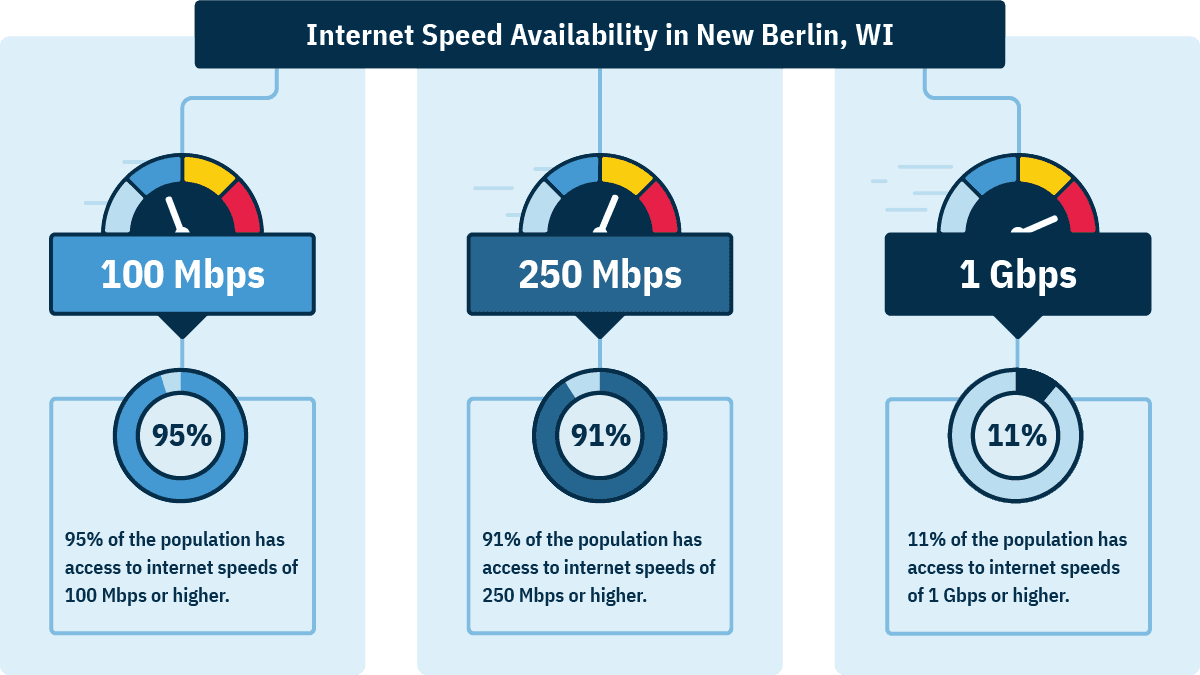 Frequently asked internet questions in New Berlin
---
Fiber-optic internet is the best way to get online, and the best fiber-to-the-premises internet provider in New Berlin is AT&T internet. Soon, however, residents may also be able to get fiber internet from TDS Telecom.
Fiber internet is great because there are never network-related slowdowns, you can upload just as fast as you can download, and you can get crazy fast speeds. With a fiber provider like AT&T or TDS Telecom, you can get all that directly to your doorstep. With a cable internet provider like Spectrum, you'll benefit from a lot of fiber throughout the network, but you'll be limited to what a coax cable can handle between that fiber-backed network and your front door. The benefit, though, is that cable internet is much more widely available in the New Berlin area.
Compare AT&T vs. Spectrum using our side-by-side analysis tool.
---
Cable internet from Spectrum is faster and more reliable than T-Mobile home internet, but either provider has plans that are fast enough for a small household or a family that doesn't rely too heavily on internet.
With 5G home internet from T-Mobile, you'll benefit from speeds that range anywhere from 30 Mbps all the way up to a hypothetical 182 Mbps, but there's a lot of variation based on how busy the network is and how far you are from a 5G tower. The cheapest cable internet plan from Spectrum will cost you about the same amount each month, but will be more reliable throughout the day. Plus, getting internet from Spectrum means you can access bundle pricing for your cable TV.
Take a harder look at the differences between T-Mobile and Spectrum using the Switchful comparison tool.
---
Whether AT&T or Spectrum is a better fit for internet at your home depends on whether you can get fiber internet from AT&T. If so, your speeds will be much faster. Prices for 300 Mbps start at about $55 per month, and there are no annual contracts to worry about.
If you have a legacy DSL plan from AT&T and can't yet get fiber internet, Spectrum is the better option. You can pay as little as $20 per month for a relatively slow plan, or get speeds up to 1 Gbps if you want to spend closer to $90. There are no contracts to worry about here, either, but you can expect a price hike after two years. Finally, you may have to pay $5 to rent the Spectrum router if you don't already have one of your own.
Look at the differences between Spectrum and AT&T using our side-by-side comparison tool.