Our top 3 ISP choices in Waukesha, WI
You can get some of the fastest speeds available anywhere in the US if you can get AT&T fiber to your front door. If you need a budget plan, you can save big on home internet plans from Spectrum or T-Mobile, but you won't enjoy the same speeds or reliability as with fiber.
#1: AT&T internet
AT&T used to be low on our list of recommended providers because it offered only super-slow DSL internet. But today, in Waukesha and throughout much of Wisconsin, AT&T is offering fiber internet to the home. That means upload speeds that are equal to download speeds and plans that are fast enough for any connected family. These plans come with free internet equipment rental and freedom from contracts, though you may have to pay for $100 for installation or $50 for activation (depending on whether you do the work yourself).
If you're still stuck with a DSL connection at your Waukesha home, AT&T is harder to recommend. However, AT&T isn't building out its DSL network anymore so you won't be able to get a new DSL line at all.
Read our full AT&T internet review.
#2: Spectrum internet
Cable internet from Spectrum is a mainstay in the Waukesha area, and it's still one of the cheapest ways to get home internet. You can also get mid-range and super speedy internet from Spectrum, depending on how much you pay. Our expert team gives the provider high marks for having a wide range of options, and we love that none of its plans have data limits. Spectrum has historically had a poor reputation for customer service and still can't compete with AT&T on that front, but it's still much more widely available than AT&T fiber. (1)
Read our full Spectrum internet review.
#3: T-Mobile internet
If you live in or around Waukesha, we think T-Mobile is a suitable option for home internet. It's best for budget shoppers who already have T-Mobile as their phone provider. T-Mobile's best coverage, which it calls 5G Ultra Capacity, is available throughout the town center. (2) It starts to drop off to just 5G Extended Range or 4G LTE south of County Highway 1 or up north, on the south side of Edgewood, but the vast majority of addresses in the city can get a super speedy connection. There are some reliability issues to worry about, and you may not get the fastest possible speeds if your home is far from the nearest cell tower. We love T-Mobile's 15-day free trial, though. Since that trial period includes shipping time, we recommend plugging in your T-Mobile gear and taking it for a spin right away to see whether the speeds can meet your household's need
Read our full T-Mobile 5G home internet review.
All internet providers in Waukesha
AT&T has the monopoly on fiber internet in Waukesha, at least for now, and for cable internet you're stuck with Spectrum. However, you have a nice range of options when it comes to 5G home internet. T-Mobile offers its best 5G everywhere we checked, and Verizon offers its best 5G coverage, 5G Ultra Wideband, throughout the Waukesha area. (3) Just be aware you might have to deal with the slightly-less-good 5G Nationwide coverage out near Les Paul Parkway.
The FCC says US Cellular (part of TDS) has even more coverage than T-Mobile (4), and many spots have its best 5G coverage, according to the company. (5) There's a good chance you can get only its 4G LTE coverage, though, and plans start at $5 more per month than you would pay by bundling your mobile phone with either T-Mobile or Verizon.
We almost never recommend satellite internet in Waukesha, but it is technically available. You'll have to mount a dish on your property and deal with very high latency (and high prices). Then, there are either stringent contracts or high installation costs to worry about, so even the best satellite internet providers we review didn't make our list of recommendations for Waukesha.
Fastest internet providers in Waukesha
The fastest possible home internet available in Waukesha is from AT&T, which has been rapidly building out its fiber network throughout the area. You can pay for speeds up to 1 Gbps, according to the company's marketing materials for the city, (6) but the company sells speeds up to 5 Gbps in some places in the US. That's faster than any almost home internet equipment can handle today, but we love that the network is ready for the future of high-speed internet. Luckily, getting fiber installed at your home now, even if you need only 300 Mbps of speed, will mean you're ready for multigig speeds down the road.
If you can't get fiber, Spectrum also offers very fast internet. You'll pay a lot more for 1 Gbps of speed with Spectrum than you would with AT&T, though, so we tell most speed hounds out there to go with fiber when they can.
How much speed do you need?
When choosing an internet plan, you want to keep all of your activities running smoothly without paying extra for speeds you don't need. At the bare minimum, you need 25 Mbps to do light browsing on one or two devices. Most households with multiple people and multiple devices will want to look for speeds in the 100–500 Mbps range. Learn how much speed your household needs in our guide to internet speed.
Cheapest internet providers in Waukesha
You can get home internet for around $25 per month in Waukesha from either T-Mobile or Verizon, or you can pay as little as $30 per month for Spectrum. You'll need to bring your own router, though, or pay an additional $5 per month.
The good news is that many lower-income families and seniors in the Waukesha area may qualify for the federal Affordable Connectivity Program (ACP), which provides up to $30 per month for home internet. All the providers we recommend here work with the program, making free or cheap internet possible to families in need throughout the greater Milwaukee metro.
Internet options in nearby cities
Internet access in Waukesha is similar to what you'll find in neighboring cities, at least for now. However, new fiber networks are coming. In New Berlin, TDS Telecom is planning to build out fiber-to-the-premises connections throughout the city. Down south in Kenosha, the city is managing an effort to build an open-access fiber network.
Until those networks are up and running, our top home internet picks for cities surrounding Waukesha are the same as what we recommend for Waukesha itself. There are some coverage differences, though. Get the details for the following cities:
See all options in your area within seconds.
What Waukesha residents are saying on Reddit
Fiber is king when it comes to home internet in Waukesha and the surrounding area, internet users agree. If you can't get fiber, many customers say they've been happy with 5G home internet. Some say Spectrum used to be awful but has gotten better in the last few years.
Internet news and infrastructure in Waukesha, WI
Internet access in Waukesha is similar to internet access in surrounding areas. A full 96% of town can get internet speeds of at least 100 Mbps, and 93% can get speeds of 250 Mbps or faster. (4) That's really not bad, considering huge swaths of the country can get only 25 Mbps or so.
AT&T fiber is replacing its old DSL network with fiber internet throughout Waukesha and nearby cities, but we don't know of any other fiber-to-the-premises providers with buildout plans in the city. Instead, 5G home internet has been a real growth industry in the area. More than 9 in 10 homes have access to this kind of fixed wireless internet, and both Verizon and T-Mobile blanket the area with their best 5G coverage.
While most of the Milwuakee metro area already has access to fast internet at relatively good prices, many parts of the state still don't have good ways to get home internet. The federal government has pledged nearly $6 million to help providers reach rural areas in the state (7), and the governor's office has created a watchdog task force. (8)
If you just need internet access for a few hours, check out the Waukesha Public LIbrary. You can use their computers or their 3D printer, you can log on with your own device via Wi-Fi, or you can even check out a T-Mobile hotspot to take home. The free hotspots can be renewed up to three times. To get a library card, you just need a picture ID and proof of current residency in Waukesha or anywhere in Jefferson County.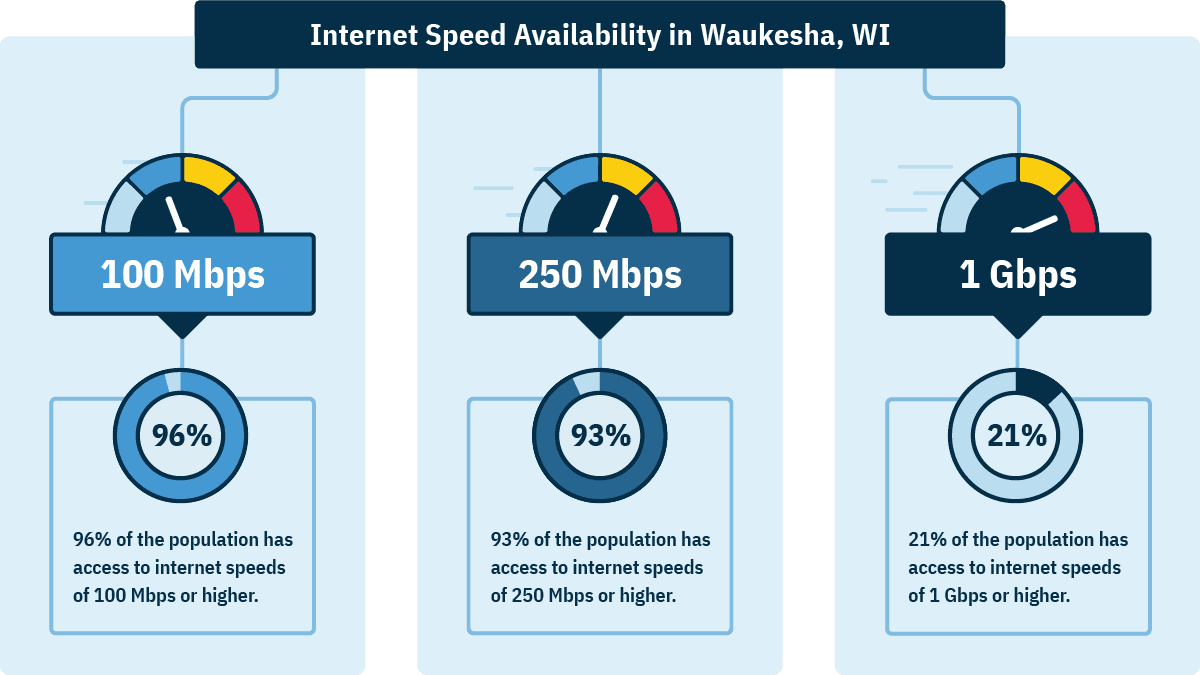 Frequently asked internet questions in Waukesha
---
If you can get AT&T fiber internet in Waukesha, there are a lot of pros and only a few cons. The pros are very fast fiber internet, equal upload and download speeds, freedom from contracts, and top-shelf Wi-Fi equipment provided with every plan at no extra cost.
The biggest con is that AT&T's fiber network isn't yet available to everyone in Waukesha. Even if it is available to your address, there are installation costs of $50-$100, and the cheapest plan is $55 per month. Competitors offer home internet in Waukesha for closer to $25.
---
The top providers of 5G home internet are T-Mobile, Verizon, and US Cellular. You can also get 5G coverage from smaller cell phone providers, such as Mint Mobile, but you'll be on the T-Mobile network. (9)
If you're set on fixed wireless internet, you'll benefit from low prices and plans that can sometimes be very fast. Your speeds won't reach the max 182 Mbps if you're too far from a cell tower or if the network's busy, though, so fixed wireless isn't right for everyone.
Learn more about how fixed wireless internet works.
---
AT&T is our top-ranked provider nationwide for its fast fiber internet, top-notch customer service, and reasonable price-per-megabit. If you can get fiber-to-the-home from AT&T, we usually recommend it over T-Mobile.
If you can't get AT&T fiber though, or if you don't want to shell out at least $55 per month for internet, T-Mobile fixed wireless may be the better choice. It offers internet that's fast enough for one or two users for $25 per month (if you bundle), and setup is very simple.
Find out more about the differences between T-Mobile and AT&T using the Switchful side-by-side comparison tool.
1. "Satisfaction Benchmarks by Company," The American Customer Satisfaction Index. Accessed 11 March 2023.
2. "Check 5g & 4g Lte Coverage Near You," T-Mobile. Accessed 11 March 2023.
3. "Explore Verizon 5G and 4G LTE network coverage in your area," Verizon. Accessed 11 March 2023.
4. "FCC Broadband Map," Federal Communications Commission. Accessed 11 March 2023.
5. "Coverage Map," US Cellular. Accessed 7 March 2023.
6. "Select a City to Learn More about Our Services," AT&T. Accessed 11 March, 2023.
7. "Biden-Harris Administration Awards More Than $5.9 Million to Wisconsin in 'Internet for All' Planning Grants," Broadband USA: National telecommunications and Information Administration." Accessed 11 March 2023.
8. "Governor's Task Force on Broadband Access," Wisconsin Broadband Office. Accessed 11 March 2023.
9. "Putting excellent coverage on the map," Mint Mobile. Accessed 13 March 2023.