How much internet speed do you need? A guide to internet speeds
---
---
We're committed to transparency. We may earn money when you follow our recommendations, but compensation doesn't affect our ratings. Learn more.
The most important factor in how much internet speed you need at home is how many devices are connecting at once. Most apps don't use very much bandwidth on their own, but bandwidth (measured in megabits per second or Mbps) can add up quickly when multiple devices are using the internet. For example, a device streaming in 4K will require only 25 Mbps, and YouTube needs only 3 Mbps.
For most households of one or two people, the least expensive speed offerings of cable and fiber-optic providers should be plenty fast. For bigger households or high-bandwidth activities, you may need more speed.
You'll need the fastest internet speeds for streaming video in ultra-high definition, especially if you're in a video call with lots people. You can get away with a little less speed for gaming, though you may have to wait a while for huge updates or new game downloads. If you're just watching YouTube or browsing articles and email, you won't need much speed at all.
Internet speeds by activity
The US Federal Communications Commission (FCC) (1) publishes a list of download speeds needed for different online activities, and the research is solid. Internet speeds are measured in Mbps, which really just means how much data can travel along the transmission wires at once. We've added some data of our own based on real-life experiences learning, streaming, and working from home.
Slow activities (Up to 1 Mbps)
Email
Streaming music or podcasts
VoIP calls
Smart home devices
Browsing social media
Medium activities (1–4 Mbps)
Personal video calls
Internet gaming on a console
Streaming video in SD
General internet browsing
Business software
Fast activities (5–15 Mbps)
HD video teleconferencing
Streaming video in HD
Downloading large files
Multiplayer online gaming
Very fast activities (16–25 Mbps)
Game or application updates
Streaming video in ultra HD (4K or 8K)
File sharing
Torrenting
Internet speed requirements for a household
To figure out the speeds your household needs, you'll need a little math and a little guesswork. To start, add up all the activities you and the other people on your home network do at once.
For example, let's say you often have one person streaming Spotify and browsing Facebook and one Hue bridge with a few connected smart lights, like these from Hue. At the kitchen table, one of your kiddos is logging on for remote learning. That usually involves streaming video or general browsing. In the home office, your partner is working from home. They make a lot of video calls throughout the day and need to access large files in a hurry. That means you'll need bandwidth of up to 47 Mbps on an average weekday.
Many of the best cable and fiber-optic internet providers offer speeds starting at 35–50 Mbps, but you can pay $100 or more for bandwidth of 1 Gbps.
Find internet providers in your area.
See all options in your area within seconds.
Why you might need a faster internet plan
If a bandwidth speed of just 50 Mbps sounds slow compared to advertised prices in your area, you're not wrong! There are a few things to keep in mind.
Max speeds vs. actual speeds

It doesn't take savvy internet shoppers long to realize one crucial truth: internet service providers (ISPs) don't guarantee speeds. Instead, they sell broadband packages based on "speeds up to X." That's because it's common for several homes in a particular neighborhood to have the same provider. When a lot of people in the area are using the network at once, everything slows down. Your 50 Mbps plan could easily handle just 10 or 15 Mbps during these times.
Think of a cable internet network like a six-lane freeway in a busy city. It can technically handle six vehicles traveling in a given direction at any given time, and each of those six vehicles can travel at max speeds of 75 mph. But the more cars on the freeway, the slower everyone has to drive. Similarly, the more people trying to send and receive data over a neighborhood connection, the slower speeds will be.
Data caps
In addition to governing how much bandwidth you have, your internet provider might have rules about the amount of data your family can download in a month. For cable internet providers like Xfinity and Cox, that figure on basic plans is 1.2 terabytes (TB). To get unlimited data, you'll need to choose a cable provider like Spectrum, which doesn't have caps, or a fiber-optic internet provider such as Google Fiber. If it's available, we highly recommend AT&T, our best internet service of 2022, or Verizon Fios, our second pick.
If you have a cap and exceed it, you can expect your speeds to slow way down during busy times. It's called data or broadband throttling, and it can be incredibly frustrating. Some providers also charge for overages, so keep an eye on your provider's app or online portal to track your household usage.
Synchronous and asynchronous speeds
For most of the internet's history, download speeds for home users were a lot more important than upload speeds. It makes sense—streaming movies, reading email, browsing social media, and watching tutorials all fall under the download category.
If you're on a cable, DSL, or satellite connection, your plan will probably offer download speeds that are much faster than upload speeds. In other words, you'll get asynchronous speeds. Even if you get 1000 Mbps for downloads on cable, you can only get a max of 35 Mbps for uploads. That may be fast enough for one user to upload big files or stream live gameplay in HD, but that's about it.
Who needs fast upload speeds?
Professionals working from home and gamers have the highest demand for fast internet speeds. For business, you need speed for file sharing, using secure applications via VPN, or big video conference calls. Torrenting files, uploading large files to a service like Dropbox, or uploading a YouTube video in HD would also require a lot of upload speed.
Gamers need fast speeds for some VR activities, and streaming or uploading to apps like Twitch.
If you have fiber-optic internet, you're in luck! A fiber-optic network uses cables that transmit data at almost the speed of light, both ways. If you pay for 50 megabits of download speed, for example, you'll also get 50 Mbps uploads. It's called synchronous speeds, and it's one of the best advances in internet technology in the last several years.
Why you may be fine with slower internet speeds
If you have satellite internet or an old DSL internet connection, there's a good chance you'll run into issues with speed as you use the internet for daily activities. But if you have a cable or fiber connection, you may not need to pay for ultra-fast speeds.
Let's go back to the math. For a standard family with one adult working from home, one online learner, and one Facebook browser, we determined that you may need around 50 Mbps of bandwidth for activities during the day. Now, let's imagine an evening or weekend scenario with the same family. Imagine you have one adult streaming YouTube in 1080p, one kid browsing Tik Tok, and one person enjoying an online roleplaying game. When you add it up, you'll still only need about 35 Mbps. If you play it safe and pay for that 50 Mbps, you should be fine.
It's when you get to households with several adults or multiple 4K streams that you need plans closer to 1 Gbps. But we'll go out on a limb here and say it doesn't make sense to pay for more than you'll ever need.
What is a good internet speed?
For most households, even if you work or learn remotely, a good internet speed is 35–50 Mbps.
For families of 5+ or households with dozens of connected gadgets, a good internet speed is 100 Mbps.
Internet speeds for gaming
We mentioned above that online gaming can require medium speeds, in the range of 1–15 Mbps. Let's break it down a little further: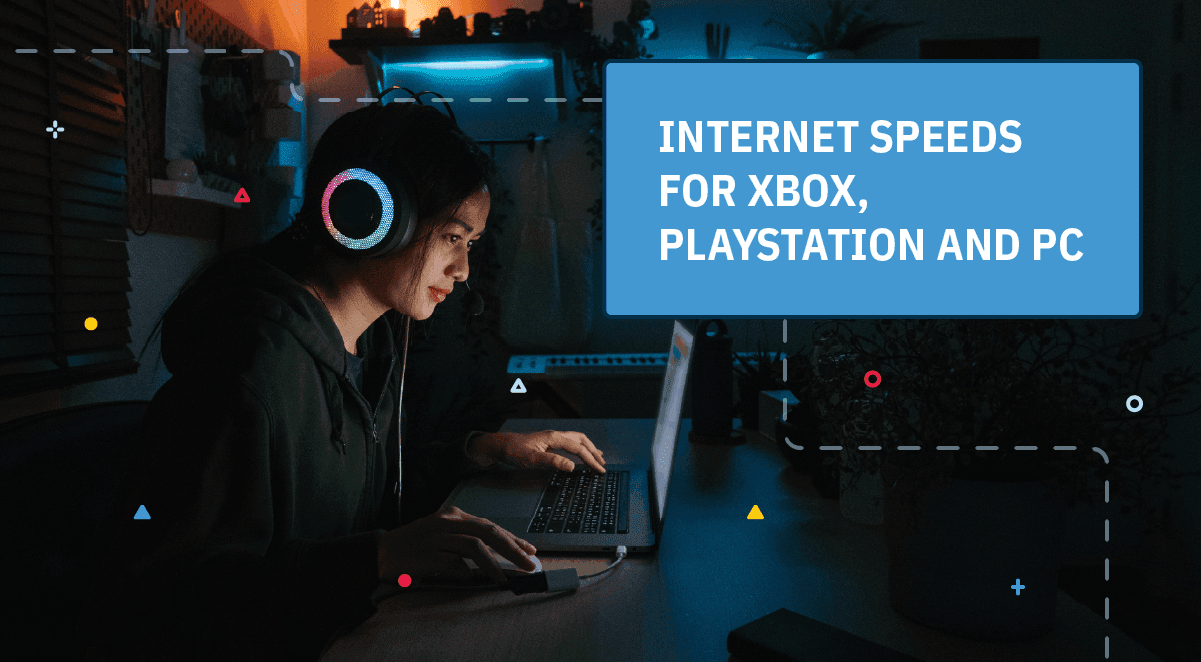 How much speed do you need for Xbox?
Xbox Support (2) recommends a minimum download speed of 3 Mbps, a minimum upload speed of 0.5 Mbps (500 Kbps) and a ping of less than 150 milliseconds (ms). Most gamers say download speeds of about 50 Mbps will be more than enough.
How much speed do you need for Playstation?
A PS4 can technically operate at speeds up to one gigabit per second, but it's more common to see speeds in the range of 50 Mbps for download and up to 1 Mbps for upload.
How much speed do you need for PC gaming?
The rule of thumb for PC gaming is you need download speeds of 25 Mbps or higher when you're connected via ethernet. (6) To ensure you have that much bandwidth available whenever you want to play, we recommend creating a buffer with a plan that offers 50–100 Mbps.
Internet speeds for streaming video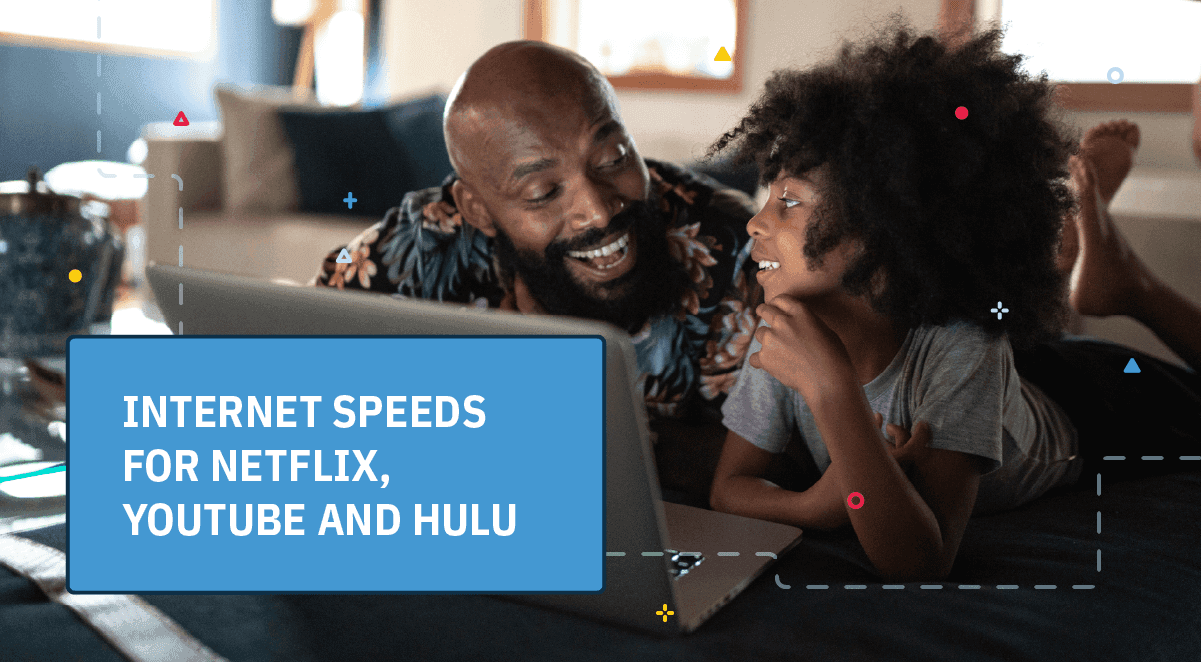 Streaming video takes less bandwidth than many people think. Here's a quick rundown of requirements from some of the most popular streaming services.
Internet speeds to stream Netflix
To stream Netflix in high definition, you need download speeds of just 5 Mbps, according to the company's help team. (3) To stream in 4K, you need 15 Mbps. Just don't forget to account for each person streaming at the same time and anything else that might need to connect to your home internet in the background.
Internet speeds to stream Youtube
YouTube uses some pretty serious compression technology, so streaming videos on the service takes less bandwidth than streaming on Netflix. To get YouTube in standard definition, you'll need 1.1 Mbps or better, according to YouTube Help. (4) For HD streaming in 1080p resolution, you'll need 5 Mbps or better. To stream in 4K, you'll need at least 20 Mbps. Note that in order to stream in high resolutions, you'll need a streaming device like an Apple TV or Chromecast. HD streaming isn't possible on standard web browsers.
Internet speeds to stream Hulu
According to Hulu Help (5), you'll need different internet speeds depending on how you use the platform. To stream from the Hulu library, you'll need download speeds of 3 Mbps or faster. For live streams, you'll need download speeds of 8 Mbps or faster. For 4K content, you'll need speeds of 16 Mbps.
Find out how much speed you've been using
If you're moving or switching providers, it's a good idea to find out how much speed you already have access to. That way, you can decide to upgrade (or even downgrade) to fit your budget and your plans for internet usage.
Contact your provider to find out data usage and current max speeds
You can find out how much data you've been using by checking with your current ISP. Most cable providers have a billing portal you can access with your account info, or you can look for your most recent bill.
Your ISP probably won't tell you what your actual speeds have been—they tend to keep that close to the vest—but it should be pretty easy to see the max speeds you have purchased. If you haven't had any issues with slowdowns at your current address, you're probably OK to look for a similar plan with another provider.
Check current speeds by logging into your router or settings
To see how much speed your household is using at any given moment, you'll need to log into your browser interface. You can also see how much speed a given device is using by logging into your browser, accessing your Activity Monitor on a MacBook, or checking Network & Settings on a PC.
Run a speed test on your browser
Accessing the backend of a router is a little technical for most folks, but a speed test is an easy way to find out how much speed you're getting on any given device. Try the test with different devices and at different times of day to figure out how much speed you're getting on average. You'll see download speeds, upload speeds, and ping.
For the most accurate results, we recommend using a device you can plug into the router using an ethernet cable. The test will also work over Wi-Fi, but you'll see more variance and slower speeds depending on your device specs and how far your are from the router.
Conclusion
How much internet speed you need depends on the type and number of your online activities. There are a lot of factors that impact actual speeds, so we recommend doing the math, making your best guess, and buying a broadband plan with a little wiggle room.
If you're still not sure, try signing up for a broadband plan on the slow end. If you have speed or data cap issues, most ISPs make it easy to upgrade to a more expensive plan. Downgrading, though, could results in early termination fees or new contract requirements.
---
The people behind our research
We believe the best information comes from first-hand customer experience and methodical research by subject-matter experts. We never source information from "content farms," and we don't generate content using artificial intelligence (AI). You can trust that our recommendations are fact-checked meticulously and sourced appropriately by authentic, industry-recognized people.
Rebecca Palmer has been writing about tech and consumer finance since 2010. Her work has been featured in the Deseret News, Idaho Business Review, TopTenReviews.com, and more. She holds a bachelor's degree in journalism from Weber State University in Ogden, Utah, and lives in Salt Lake City with her exceptionally delightful pup, Nymeria.
Bri Field has a background in academia, research writing, and brand marketing. She has edited scientific publications, conference papers, digital content, and technical communications. As Assigning Editor, she enjoys ensuring all content is accurate, clear, and helpful. In her free time, you can find her in the kitchen trying a new recipe, out on a hike, or working through her massive TBR list.