Our top 3 ISP choices in Milwaukee, WI
Fast speeds are available for home internet throughout the city, but different connection types have different advantages.
#1: AT&T internet
Our team of expert reviewers has chosen AT&T fiber as the best internet provider in the US, and it's also our top choice in the Milwaukee metropolitan area. There's a range of plans available, from 300 Mbps all the way up to 5 Gbps (5,000 Mbps). You get great customer service (2) and free Wi-Fi equipment, and you won't have to worry about contracts. You may have to pay up front for installation, though. The best part? AT&T has announced it will cover cancelation costs in Wisconsin if you switch.
Read our full AT&T internet review.
#2: Spectrum internet
Cable internet from Spectrum is nearly as good as fiber internet, but you won't get upload speeds as fast and there may be a little variance in bandwidth if you and all your neighbors are trying to get online at the same time. That said, 1 Gbps plans from Spectrum are still very, very fast, and we love that unlimited data is included on all plans. We're also big fans of Spectrum's budget plans, which offer internet fast enough for a small household for around $30 per month. The company no longer requires contracts, but watch out for price hikes after your first one to two years of service.
Read our full Spectrum internet review.
#3: T-Mobile internet
Fixed wireless internet from companies like T-Mobile won't be as fast or as reliable as what you would get with cable or fiber internet, but the latest 5G Ultra Capacity coverage is faster than ever, and probably fast enough for most homes. Bandwidth will suffer the farther you are from a cell tower and the more people on the network at once, but plans as low as $25 per month with bundle pricing are a breath of fresh air in Brew City.
Read our full T-Mobile 5G Home Internet review.
All internet providers in Milwaukee
In addition to the three top providers listed above, other companies compete for your home internet dollar in Milwaukee. You can get fixed wireless in some areas from US Cellular, which offers 5G coverage, or PCs for People, which offers 4G LTE coverage with plans as low as $15 per month. Verizon's also an option, and offers its best 5G coverage throughout the region.
It's worth noting that satellite internet is also available to virtually all homes within the Milwaukee metro, but we almost never recommend it if you have any other options. It's slow, it's spendy, and even the best satellite internet is not a great investment.
Fastest internet providers in Milwaukee
No doubt about it, AT&T fiber is the fastest home internet in Milwaukee. If your home is wired for fiber, you can pay for speeds up to 5 Gbps. That's crazy fast, and more than almost any home would need. However, we like that AT&T is building a network that's ready for whatever internet speeds the future may bring. You can also get speeds of up to 1 Gbps from Spectrum, but you'll pay a lot more and won't have access to the fast upload speeds you can get from fiber.
How much speed do you need?
When choosing an internet plan, you want to keep all of your activities running smoothly without paying extra for speeds you don't need. At the bare minimum, you need 25 Mbps to do light browsing on one or two devices. Most households with multiple people and multiple devices will want to look for speeds in the 100–500 Mbps range. Learn how much speed your household needs in our guide to internet speed.
Cheapest internet providers in Milwaukee
The cheapest internet provider in Milwaukee is PCs for People, which offers pay-as-you go plans for $15 per month. You'll be limited to 4G LTE coverage, though, and that means max speeds of about 50 Mbps (if you're really close to a cell tower and you're the only one trying to connect). You can get 5G speeds for as little as about $25 per month if you bundle mobile phone and home internet with either Verizon or T-Mobile.
Internet options in nearby cities
Spectrum and AT&T are widely available throughout the Milwaukee metro area, and T-Mobile provides its best 5G coverage to most areas. There are also other internet options in some spots. A tiny part of Brookfield, for example, can get fiber from Bertram internet, and a tiny part of West Allis has fiber internet from TDS.
Learn more about home internet options throughout the area:
See all options in your area within seconds.
What Milwaukee residents are saying on Reddit
Milwaukee residents are big proponents of fiber internet, and most of them say they have been treated very well by AT&T fiber. If there are AT&T complaints, it's most likely they're from users who have the legacy DSL service (which is no longer available for new connections). Some users miss out on having a live TV bundle with their internet service, but recommend streaming services or DIRECTV as a nice alternative.
Internet news and infrastructure in Milwaukee, WI
Almost all households in Milwaukee (96%) can get internet speeds of at least 100 Mbps, and a total 44% can get speeds of 1 Gbps or faster. (1) Cable internet from Spectrum is easiest to get, with coverage of nearly 70%. There's also a lot of fiber internet in the city, though, and we expect AT&T to build out its fiber network even further in coming years.
Coverage from fixed wireless providers is also good, and is likely to get even better. US Cellular inked a deal with the Connected Systems Institute (CSI) manufacturing research facility at the University of Wisconsin to provide 5G and 4G to students, faculty, and business partners to develop manufacturing solutions, and we wouldn't be surprised to see more institutional deals like this in the future. (4)
In addition, the federal government has pledged nearly $6 billion to help Wisconsin build out internet access to communities that don't yet have broadband access. (5) The funding will include planning, staffing, and outreach, meaning a lot of families who don't yet know about available broadband will have the resources they need to get connected.
All our top providers in Milwaukee, plus the smaller ones like PCs for People, participate in the Affordable Connectivity Program, which provides up to $30 off home internet access each month for certain seniors and families with students. Milwaukee City has published a list of additional ways to get help with internet access in the city, (6) and many providers offer their own ways to get free or cheap internet to underserved folks in their coverage areas.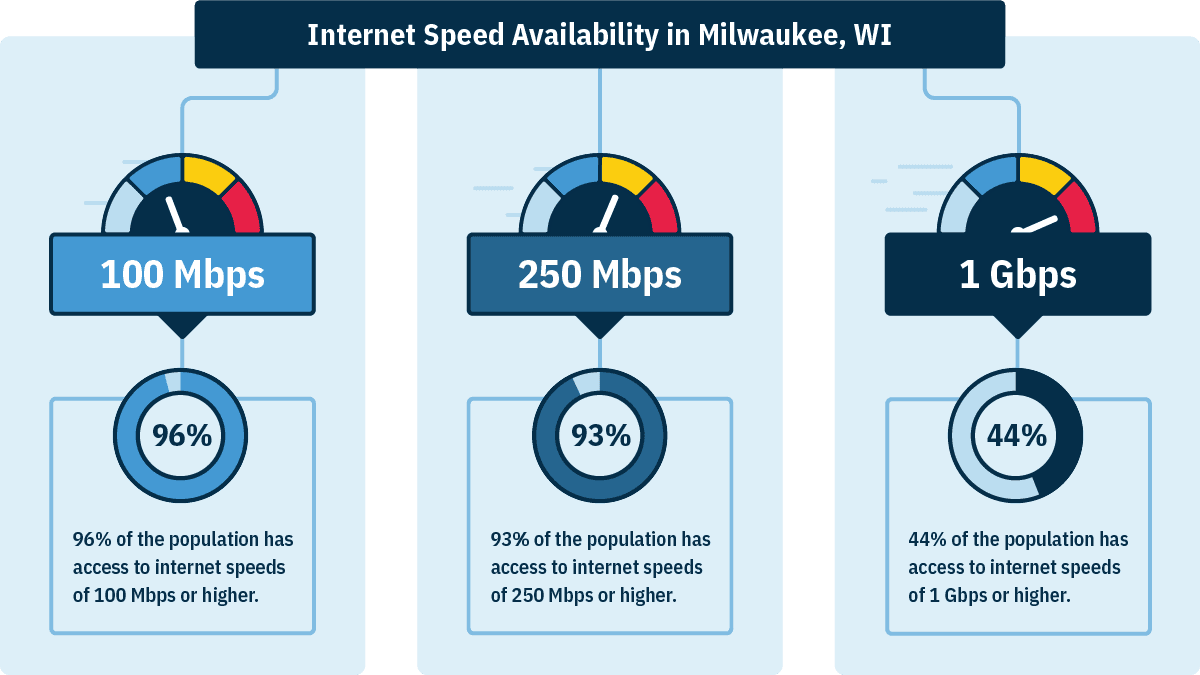 Frequently asked internet questions in Milwaukee
---
Yes, many neighborhoods in Milwaukee, Wisconsin, have fiber-optic internet access. If you can sign up for a new internet connection from AT&T, that means fiber internet laid all the way to your doorstep, with download and upload speeds as fast as 5 Gpbs.
If that's not available, you can almost certainly get cable internet from Spectrum. It's not fiber to the home, but the network is built on a fiber-optic backbone, so you'll still see a lot of the advantages you would from fiber-to-the-home, but you'll miss out on the lightning-fast synchronous speeds.
Compare home internet plans from Spectrum vs. AT&T using the Switchful comparison tool.
---
You can get home internet from PCs for People for as little as $15 per month in Wisconsin on the low end, with speeds that don't ever exceed 50 Mbps (and are often slower). On the high end, you can pay up to $180 per month if you want amazingly fast 5 Gbps speeds from AT&T.
Most providers today no longer require annual contracts, including our top three providers in the area. You may be on the hook for installation or equipment, though, so get all the details before you decide.
---
Our top pick for home internet in Milwaukee is AT&T, which offers fiber internet equipped with top-of-the-line Wi-Fi gear to homes throughout the region. If you can't get AT&T, our team of expert reviewers also likes Spectrum (which also offers Wi-Fi equipment as part of its service). You'll have to pay $5 per month to rent the Spectrum router, though, and an additional $3 per month for each Wi-Fi extender.
Learn more about using home Wi-Fi equipment to keep you safe online.