Our top 3 ISP choices in Racine, WI
If you're in Racine, there's a good chance you can choose between fiber, cable, and fixed wireless internet.
#1: AT&T internet
AT&T fiber internet is our top pick nationwide for its fast and reliable speeds, excellent customer service, and nationwide network of hotspots. Its plans start at 300 Mbps, which is plenty fast for almost any home, but its prices are higher than you'll pay with some competitors. There are no hidden fees or contracts to worry about, but you may be on the hook for $50 if you set up your equipment yourself or up to $100 if you need a pro to help. Either way, the Wi-Fi equipment is included with the monthly price—and it looks nice on a desk.
AT&T has been busy replacing its DSL network with fiber, but some areas of Racine may still be stuck with DSL—particularly neighborhoods around Sturtevant, Wind Point, and Union Grove. That means much slower connections and worse pricing. The good news is that AT&T isn't building out its DSL network at all anymore, so anywhere you can get a new AT&T plan, you'll be getting fiber.
Read our full AT&T internet review.
#2: Spectrum internet
Cable internet from Spectrum is available to about 9 in 10 homes in Racine, and there's a wide range of plans to choose from. (1) If you live alone or don't use the internet heavily, the $29.99 monthly plan is a good deal. For bigger families or people working from home, we usually recommend the 300 Mbps or 500 Mbps plans. If you have multiple gamers or streamers and need to ensure your home network is up to the challenge, you can get speeds of 1 Gbps, but you'll have to pay a lot more for that speed with Spectrum than you would with AT&T. If you use your own router, you can avoid the monthly $5 equipment fee.
Read our full Spectrum internet review.
#3: T-Mobile internet
If paying just one bill for both your mobile phone and home internet sounds nice, you're in luck! T-mobile's fastest offering, 5G Ultra Capacity, is available throughout the Racine area. (2) That means home internet speeds of between 30 and 182 Mbps, with variation depending on how far you are from a 5G tower and how busy the network is at any given time. We love that T-Mobile offers a 15-day free trial so you can see for yourself how fast the network is where you live. Just be aware shipping time is included in that trial period, so be sure to plug in your gear and try it out as soon as it arrives. There are no equipment costs to worry about, and bundled plans are available for as little as $25.
Read our full T-Mobile 5G home internet review.
All internet providers in Racine
Our top picks for internet cover nearly every home in the city and are your best bet for cost and reliability, but other providers are also available. If you want to bundle your home phone with Verizon, you can get plans for about the same price as what T-Mobile offers, but you'll be limited to 4G LTE in most of Racine. (3) If you go with US Cellular for your mobile phone and home internet, you'll get fairly reliable 5G coverage downtown, but may have to deal with 4G LTE or even 3G North of State Street or southwest of Washington Avenue. (4)
Satellite internet is also available in Racine from each of the top three satellite companies, but we rarely recommend it. Speeds are slower than either DSL or 3G, and plans are usually a lot more expensive than cable or fiber internet. Plus, who wants to drill a hole in the roof for a receiver dish?
Fastest internet providers in Racine
AT&T is the fastest internet provider in Racine and throughout the Milwaukee metro area. The fastest plan we usually recommend for home internet is 1 Gbps, but you can pay for speeds of up to 5 Gbps in some places. Since AT&T is a fiber-to-the-home provider, its upload speeds are as fast as its download speeds, making AT&T a great choice for live streaming gameplay or posting to YouTube or TikTok.
How much speed do you need?
When choosing an internet plan, you want to keep all of your activities running smoothly without paying extra for speeds you don't need. At the bare minimum, you need 25 Mbps to do light browsing on one or two devices. Most households with multiple people and multiple devices will want to look for speeds in the 100–500 Mbps range. Learn how much speed your household needs in our guide to internet speed.
Cheapest internet providers in Racine
The cheapest way to get wired internet in Racine is through Spectrum, which costs roughly $30 per month for 100 Mbps cable plans. If you don't already have a compatible router you can use, you'll end up paying an extra $5 per month. If you use T-Mobile for cell phone service, you might be able to get even cheaper internet, at $25 per month.
Fortunately, all the providers we recommend here participate in the federal Affordable Connectivity Program, a taxpayer-funded initiative that provides $30 per month toward internet bills for certain seniors and families with students. Providers sometimes throw in laptops or tablets as well. Learn more about how to get free or cheap internet in Racine.
Internet options in nearby cities
Racine is similar to nearby cities when it comes to home internet availability. AT&T, Spectrum, and T-Mobile are our top providers throughout the region. However, additional fiber providers are laying cable in some areas. TDS Telecom has announced a buildout in New Berlin (5), for example, and in Kenosha, the city is building a $100 million open-access fiber network. It is being privately funded but will be available to any internet provider who wants to use it to sell its services. (6)
Learn more about internet options in cities near Racine:
See all options in your area within seconds.
What Racine residents are saying on Reddit
People in and around Racine love their fiber internet, and they recommend AT&T or another fiber provider to anyone who's eligible. Spectrum doesn't have a great reputation, but the service has gotten more reliable in recent years, Wisconsinites report. Many people also have nice things to say about fixed wireless internet from companies like T-Mobile, Verizon, and US Cellular, and they recommend DIRECTV for TV (especially if you don't use Spectrum for internet).
Internet news and infrastructure in Racine, WI
The Federal Communications Commission (FCC) reports that Racine is a well-connected city, with speeds of up to 100 Mbps available to 97% of households. Almost as many can get speeds of up to 250 Mbps, which is fast enough for most modern internet use at home.
Unfortunately, 1,200 households in the area lack internet access, according to figures from the county government. Public hotspots have been installed to help bridge the gap. (7) To access them, you'll have to register with the Digital County Racine Wi-Fi network, but the service is free. (8)
Racine Public Library Director Angela Zimmerman is also on the case. She told the Racine Local Eye in 2022 that households in east Caledonia and inner Racine may be in "technology deserts," meaning they don't have access to high-speed internet. (9) That's why the public library operates a Techmobile—a custom-built truck that offers laptops, programmable robots, and books about technology. It makes scheduled stops throughout the week.
Meanwhile, AT&T has been building out its fiber network to reach more homes and the federal government has pledged nearly $6 million to help the state's residents get better connected. (10) Some of that funding is slated for outreach, so we have high hopes that many of the families that aren't connected now will soon learn about the benefits available to them through the Affordable Connectivity Program.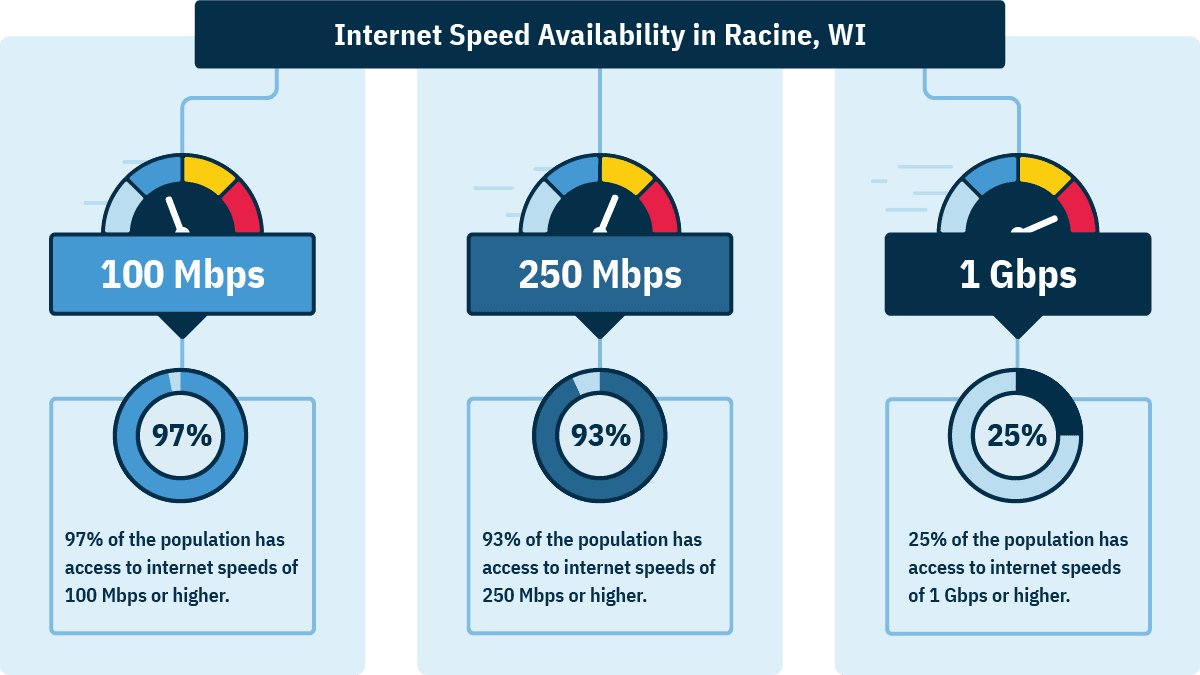 Frequently asked internet questions in Racine
---
Many parts of Wisconsin have access to fiber internet that reaches all the way to their front doors. In the Racine area, AT&T is the biggest fiber-to-the-premises provider. In New Berlin, TDS Telecom is building out a fiber network (11) as well, while in Kenosha, a citywide open-access fiber network is in the works. (12) Other providers use a lot of fiber-optic cabling in their infrastructure but use other technologies (either coax cable or wireless signals) to reach homes.
---
AT&T fiber internet is our top pick for gaming in Racine for its fast speeds, reasonable prices, and very fast ping. We also like that you don't have to pay for home internet equipment with AT&T. If you can't get fiber from AT&T, though, Spectrum is a nice choice. In fact, it's one of our top picks for internet for gamers nationwide.
Spectrum's benefits for gamers include zero data caps and ping that almost as good as what you would get with fiber. (13) Prices go up in year three though, so that might be a good time to check whether you can get wired for fiber.
Compare plans from Spectrum and AT&T using Switchful's nifty side-by-side tool.
---
The best things about Spectrum internet in Racine are its widespread availability and wide range of plans for home internet. We also love that there are no data limits on any plan, and you can save $5 per month if you use your own router. The worst parts of Spectrum are due to its cable internet technology. You may face slowdowns if a lot of your neighbors are trying to get online at the same time, and upload speeds are much slower than they would be with fiber. Customer service hasn't historically been great, either, but some customers say it's improving. (14)