Our top 3 ISP choices in Wauwatosa, WI
If you live in and around Wauwatosa, you have multiple good options for home internet service.
#1: AT&T internet
AT&T is building out its fiber internet infrastructure throughout Wisconsin, and there's a good chance you can get a fiber connection all the way to your doorstep if you live in the Wauwatosa area. If that's the case, you may have to pay for installation, but you won't be on the hook for internet equipment rental and won't have to worry about signing a contract. You can technically get cheaper plans from other providers, but AT&T fiber can't be beat in the area for network reliability. It also has a great reputation for customer service. (1)
Some homes in Wauwatosa may still be stuck with DSL from AT&T, which is a bummer. That means slower speeds, especially if you're not near neighborhood infrastructure, and a lot less speed per dollar. That said, AT&T is no longer building new DSL connections, so if you're seeing ads for AT&T internet, you're in a fiber area.
Read our full AT&T review.
#2: Spectrum internet
FCC data says 100% of homes in Wauwatosa are eligible for cable internet, and Spectrum is the legacy provider in the area. If that is indeed true where you live, you can get budget plans for about the cost of a nice dinner, but you'll be limited to some pretty slow speeds. You can also get very fast speeds up to 1 Gbps, but you'll pay around $180 per month. We like that Spectrum no longer requires contracts and makes it easy to bundle with its live TV service, but the $5 fee to rent the router every month is a pain.
Read our full Spectrum review.
#3: T-Mobile internet
If you're in Wauwatosa and use T-Mobile for your mobile phone, you're in luck. The latest and greatest 5G technology from T-Mobile means fixed wireless is available to homes, with speeds up to about 175 Mbps in ideal conditions. The center of town is eligible for T-Mobile's best 5G coverage, but you might have to deal with just 4G LTE if you get north of Milwaukee Avenue and east of 68th Street. On the west side of town, you get the fastest 5G as far as Elm Grove. (2)  Plans are available for just $25 with bundling, but there's a caveat: you'll only get top speeds if you're close to a cell tower and the network isn't very busy. As you get farther away or the network gets more congested, your speeds could slow to 30 Mbps. That's still fast enough for streaming Netflix on one device at a time, but it won't be enough for a busy, connected family.
T-Mobile gives you 15 days to cancel free of charge, so we recommend setting up your equipment and taking it for a test drive as soon as it arrives.
Read our full T-Mobile review.
All internet providers in Wauwatosa
You can get home internet at a range of prices and speeds throughout Wauwatosa, but AT&T is your only good option for fiber internet and Spectrum is your only good option for cable internet. You have a choice, though,  among providers if you go with fixed wireless, which works on the same networks used by mobile phone providers.
If you aren't already with T-Mobile for your phone plan, Verizon is a nice option. Its 5G coverage works a little differently from the T-Mobile's tech and may be effective even if you're relatively far away from the nearest cell tower. Better yet, Verizon offers its top-tier service throughout town, with no coverage gaps in sight. (3)  TDS Telecom may also be an option, and it operates under the brand US Cellular in Wauwatosa. You can get only 4G LTE in most parts of town, though, so we don't usually recommend it unless you're very committed to your US Cellular phone plan and want to bundle. (4)
Satellite internet is also available in Wauwatosa from each of the three big providers, but we rarely recommend it because it's expensive and slow, especially for streaming or gaming.
Fastest internet providers in Wauwatosa
If you can get fiber internet from AT&T to your Wauwatosa home, you can pay for incredibly fast speeds up to 5 Gbps. With that kind of bandwidth, you can be confident that your home network can handle anything you can throw at it. However, most homes don't need speeds that fast.
If you're not in a fiber area, Spectrum internet offers the fastest internet in Wauwatosa. You can buy a plan for speeds up to 1 Gbps, which is still very fast, but you'll have to pay quite a bit for the privilege.
How much speed do you need?
When choosing an internet plan, you want to keep all of your activities running smoothly without paying extra for speeds you don't need. At the bare minimum, you need 25 Mbps to do light browsing on one or two devices. Most households with multiple people and multiple devices will want to look for speeds in the 100–500 Mbps range. Learn how much speed your household needs in our guide to internet speed.
Cheapest internet providers in Wauwatosa
The cheapest internet provider in Wauwwtosa is technically Spectrum, but you can only get that sweet $20 per month deal if you have your own router. Otherwise, the lowest-priced package from Spectrum is tied with bundled plans from T-Mobile and Verizon, and the starting rates for US Cellular are just $5 per month more. We generally recommend Spectrum for reliability, but the company suffers from a poor customer service reputation. (5) Fixed wireless in 5G areas, including most of Wauwatosa, is better than ever and also a very reasonable option.
Learn about ways to get free or very cheap home internet service if you're in need.
Internet options in nearby cities
Cities near Wauwatosa have very similar options for home internet compared to Wauwatosa itself, but some cities are slated for construction from additional fiber internet providers. In New Berlin, TDS Telecom is planning to build a network that will reach every home. (6) Farther south, in Kenosha, the city is managing a privately funded fiber project that will result in a network any provider can tap into to sell its services. (7)
Beyond that, families throughout the area are well-served by our top picks for home internet, but there are some differences in coverage. Learn more about what's available:
See all options in your area within seconds.
What Wauwatosa residents are saying on Reddit
Fiber is fast and reliable, and AT&T does a decent job taking care of its customers, according to people who live in and around Wauwatosa. If you can't get fiber, 5G home internet plans are a nice option, and Spectrum's reputation for reliability is improving. If you don't want cable TV from Spectrum, folks are recommending DIRECTV.
Internet news and infrastructure in Wauwatosa, WI
Wauwatosa is one of the best-connected cities we've seen throughout the US, and we like that there's a choice of providers and tech types throughout the area.
Almost every home in Wauwatosa can get internet speeds of at least 100 Mbps (8), and that's fast enough for several connected devices and even a few devices streaming HD video. Almost as many addresses can also get speeds up to 250 Mbps, though, and our expert team says that's fast enough for even busy, fully connected homes. If you have multiple VR gamers or need to stream a lot of content in 8k (a lot, a lot), you might want a 1 Gbps connection. According to the FCC, more than 70% of homes in Wauwatosa are eligible.
With figures like these, it's not likely that many neighborhoods will benefit from the $6 million the federal government has set aside to build out broadband access in Wisconsin. (9) However, there's a good chance you can get help if you're struggling to afford internet service at your Wauwatosa home.
All providers we've recommended (including the fixed wireless providers) participate in the Affordable Connectivity Program, which provides up to $30 off each month to certain seniors, veterans, and lower-income families with students.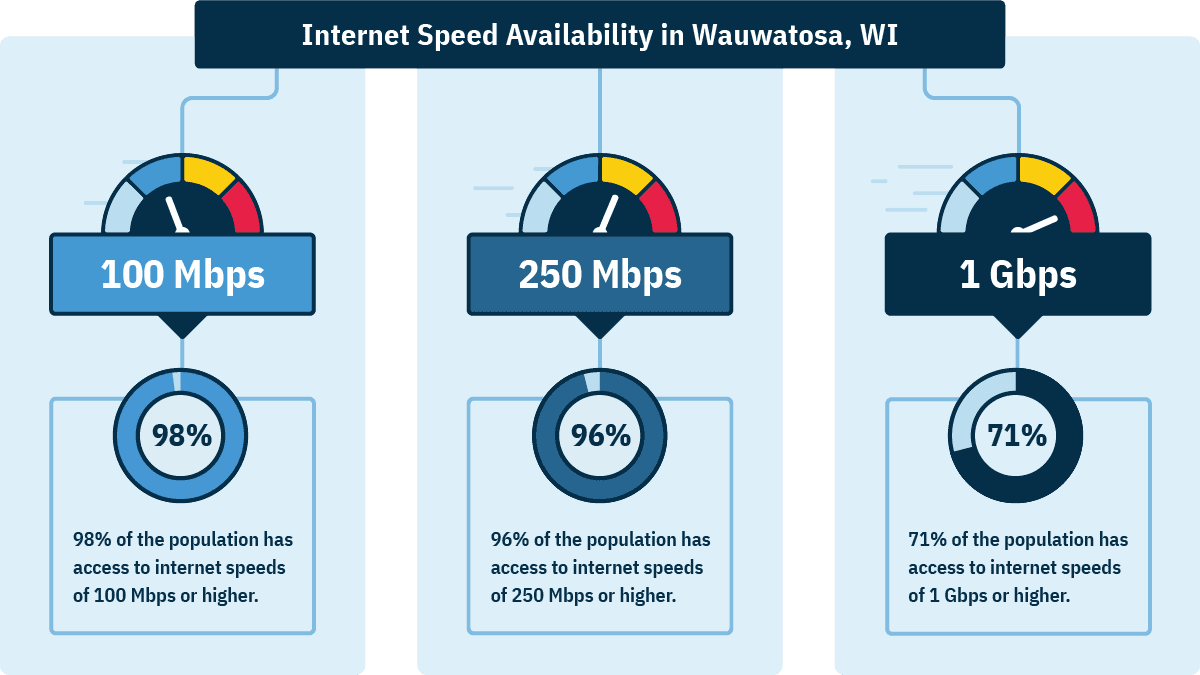 Frequently asked internet questions in Wauwatosa
---
The fastest internet you can get in Wauwatosa is a whopping 5 Gbps. That's 5,000 megabits per second, technically fast enough to stream 25 shows in 8K at once  or download a new world in VR chat in seconds. Right now, AT&T fiber is the only provider we know of offering those speeds, but we generally recommend paying less for a slower speed because your devices and home networking equipment won't be able to keep up anyway.
If you can't get AT&T fiber or don't want to pony up for installation just yet, Spectrum is the next-fastest provider, with available speeds up to 1 Gbps. That's still faster than almost any household really needs, but it can be nice to have a speed buffer if you're doing critical work online.
Read our guide on internet requirements for working from home.
---
Whether AT&T or Spectrum is a better fit for you depends on your budget and your need for speed. AT&T offers faster plans, and the nature of fiber internet is to be more reliable than any other connection type. However, the cheapest plan with AT&T costs more than $50 per month, and you're on the hook for installation. If you don't need speeds that fast but want to pay less, Spectrum has a nice offering. You can get 30 Mbps for just $20 per month (or $25, if you want to rent equipment). Plus, there's a better chance you can actually get Spectrum in Wauwatosa, since AT&T is still building out its fiber network throughout the greater Milwaukee area.
Compare expert reviews and rankings for AT&T vs. Spectrum using the Switchful side-by-side tool.
---
The best thing about 5G home internet in the Wauwatosa area is that you have a choice of providers, and each lets you save big when you bundle with your mobile phone service. T-Mobile and Verizon both have widespread 5G coverage and can cost as little as $25 per month, equipment included. US Cellular offers a mix of 5G and 4G LTE coverage, depending on where you live, and promotional pricing starts at $30.
The worst part about 5G home internet, and fixed wireless internet in general, is unreliability. Your speeds slow down if you're too far from the nearest cell tower, and they're also subject to slowdowns if a lot of devices are trying to connect at once. To put it in perspective, max speeds with 5G are about 175 Mbps, fast enough for multiple video streams in 4K. But they can be as slow as 30 Mbps, which is really only fast enough for one or two devices at a time.
Learn more about fixed wireless internet and how it works.
1. "US Residential Internet Provider Satisfaction Study," J.D. Power. Accessed 11 March 2023.
2. "Check 5g & 4g Lte Coverage Near You," T-Mobile. Accessed 11 March 2023.
3. "Explore Verizon 5G and 4G LTE network coverage in your area," Verizon. Accessed 11 March 2023.
4. "Coverage Map," US Cellular. Accessed 7 March 2023.
5. "Satisfaction Benchmarks by Company," The American Customer Satisfaction Index. Accessed 11 March 2023.
6. "New Berlin will soon get an all-new fiber-optic service," Milwaukee Journal Sentinel. Accessed 11 March 2023.
7. "Kenosha launches construction of $100M citywide all-fiber Internet network," WTMJ-TV Milwaukee. Accessed 11 March, 2023.
8. "FCC Broadband Map," Federal Communications Commission. Accessed 11 March 2023.
9. "Biden-Harris Administration Awards More Than $5.9 Million to Wisconsin in 'Internet for All' Planning Grants," Broadband USA: National telecommunications and Information Administration." Accessed 11 March 2023.