What is satellite internet?
---
---
We're committed to transparency. We may earn money when you follow our recommendations, but compensation doesn't affect our ratings. Learn more.
Satellite internet uses satellites to deliver internet access wirelessly. It's available in most locations, even rural areas, but its performance and value aren't as good as cable or fiber. Here's what you should know about satellite internet service before signing up.
Pros of satellite internet
---
Available almost everywhere

Does not require wiring to your house
Cons of satellite internet
---
Low speeds and high latency make a subpar user experience

Very limited data

High costs compared to other types of internet

High equipment costs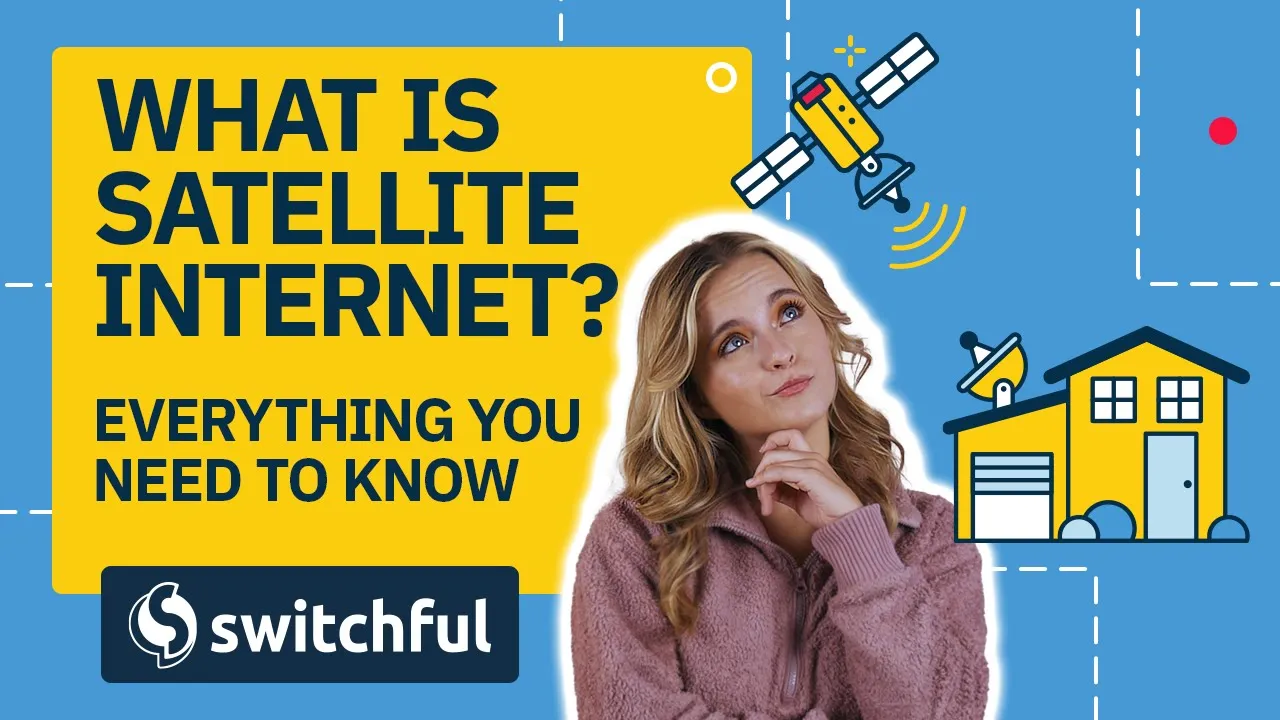 Here's how satellite internet works
Satellite internet works by transmitting data via radio waves between satellites in orbit and a dish mounted on your home. The dish acts as an antenna or receiver and needs to have a clear line of sight to the provider's satellite, without any trees or buildings blocking its view. The dish connects to a modem and router in your home.
There are two types of satellites used for satellite internet: geostationary satellites and low-Earth orbit satellites. There's a significant gap in performance between the two. Low-Earth orbit satellites are closer to the surface of the planet than geostationary satellites. Since data doesn't have to travel as far, you get better speeds and lower latency. The two main satellite internet providers, Viasat and HughesNet, use geostationary satellites. Starlink uses low-Earth orbit satellites.
Satellite internet is available to almost everyone in the US, even in remote areas where wired connections don't reach. That being said, wired connections tend to be more reliable. Since satellite internet requires a direct line of sight to a satellite above, the signal can be obstructed by bad weather. Due to its high latency, satellite internet is slower than cable or fiber connections. However, in some rural areas, satellite internet may be your only option or an alternative worth considering against DSL plans with very limited speed.
Satellite internet is available to almost everyone, even in rural areas
Satellite internet is the most widely available internet connection type in the US. According to the FCC, 99% of the population has access to satellite internet. All you need to get service is a clear line of sight to a provider's satellite.
People living in urban areas with several connection types and providers to choose from won't need to consider satellite internet. In remote locations where choices are limited, satellite internet could be your only option. In rural areas, only about 31% of the population can get broadband DSL, only 24% can get fiber, and 56% can get cable.
Starlink, the highest-performing satellite internet provider, is still working on expanding its coverage area. You can check the Starlink Map to see if it's available to you.
Satellite internet can't compare to the performance of cable or fiber
With satellite internet, performance is more limited than wired connections and depends heavily on which of the three providers you choose. Download speed, upload speed, latency, and high-speed data limits vary widely between satellite internet providers. Starlink has better overall performance than Viasat and HughesNet because its satellites are closer to Earth, so data has less distance to travel.
Download speed: You can find satellite internet plans with download speeds between 12 Mbps and 150 Mbps, but we wouldn't recommend a plan under 25 Mbps.
Upload speed: There is a large gap in median upload speeds between the providers. Because of this, uploading files and making video calls will be very difficult with HughesNet and Viasat, and much easier with Starlink.
Latency: Satellite internet has high latency, so it isn't good for gaming or video calls. Latency with a wired connection is usually around 10–30 ms, and Starlink is the only satellite provider to come close to this. HughesNet and Viasat have significantly higher latency, which will lead to noticeable lag.
High-speed data limits: While all three satellite internet providers have unlimited data, HughesNet and Viasat limit how much high-speed data you can use per month, which can limit your ability to do things like streaming and downloading large software updates.
If you don't use the internet heavily and you mainly stick to emailing and light browsing, you may be able to get by just fine with a satellite internet plan. Nevertheless, other connection types can definitely give you better performance. See how much internet speed you need.
Wired connections are more reliable than satellite internet, since rain or snow can cause slowdowns and outages by obstructing the signal. Cable and fiber both provide superior speed and overall experience than satellite internet. On the other hand, it may be worth considering satellite internet over DSL if the DSL plans available at your address are below broadband level (25 Mbps download speed and 3 Mbps upload speed). For more details, see our full comparison of DSL and satellite internet.
With satellite internet, you're probably paying more to get less
When you take performance, overall experience, and cost into account, satellite internet isn't likely to be a good value compared to fiber, cable, and DSL plans with broadband speed. Satellite internet plans tend to cost more per month than cable or fiber plans. That being said, if you live in a remote area and satellite is one of the only options available, it's worth considering.
Starlink has the best speed and value among satellite providers, but it still isn't a good value compared to most other options. For $90–$120 per month, you get 25–100 Mbps download speed, 5–10 Mbps upload speed, and latency of 25–50 ms on standard plans. If you pay for a Priority plan, you can get speeds of 40–220 Mbps for downlad and 8-25 Mbps for upload, but you want see any benefits in latency.
Viasat charges more than you would pay with Starlink's standard plans (around $150 per month for its 100 Mbps top-speed tier).
HughesNet has only one speed, 25 Mbps, and has the most affordable satellite plans at that speed.
Apart from monthly plan costs, you also have to look out for high-speed data caps, high equipment costs, and long contracts with satellite internet.
High-speed data caps: Data is unlimited with all three satellite internet providers, but Starlink is the only one with unlimited high-speed data. Viasat and HughesNet both limit monthly high-speed data usage, so you may still have to ration your data or pay for additional gigabytes to avoid having your speed throttled.
Equipment costs: With HughesNet and Viasat, you can lease equipment for about what you would pay to lease a modem from a cable company. With Starlink, you will have to pay $600–$2500 for the equipment upfront, which is very high for any internet service provider.
Contracts: Viasat and HughesNet both require long contracts (24 months), while Starlink doesn't have any contracts.
Overall, satellite internet tends to be less reliable, have more limited speeds, and have more lag than cable, fiber, or broadband DSL plans that cost less. You should only choose satellite internet over DSL if the DSL plans available in your area are slower than 25 Mbps.
Is satellite internet right for you?
Satellite internet may be one of your only options if you live in a remote area, but you can find better performance and value with fiber, cable, and even some DSL plans. Check out the best alternatives to satellite internet.
To make it easier to decide which internet provider is right for you, we have guides to the best satellite providers and the best internet providers.
Find satellite internet providers in your area.
See all options in your area within seconds.
Frequently asked questions
Is satellite internet good enough for working from home?
You can use satellite internet to work from home, but other connection types usually offer better speed, value, and reliability. You probably won't have issues doing tasks like sending emails or browsing the web, but satellite internet has high latency, which means your video calls will lag. If your plan has data caps, you'll also have to worry about limiting your internet usage each month.
Can you get unlimited data with satellite internet?
You can get unlimited data with any satellite internet provider. Viasat and HughesNet technically have unlimited data, but you will still have limits on how much high-speed data you can use. Starlink, on the other hand, doesn't have any cap on how much high-speed data you can use per month.
Is satellite internet fast enough for streaming Netflix?
Satellite internet is fast enough to stream movies and shows with Netflix and other streaming platforms. You'll want to choose a plan with at least 25 Mbps download speed and enough high-speed data to keep up with your streaming habits. Since satellite internet has more lag than other connection types, you will notice a delay when videos are loading, especially if you have multiple devices connected at once.
---
The people behind our research
We believe the best information comes from first-hand customer experience and methodical research by subject-matter experts. We never source information from "content farms," and we don't generate content using artificial intelligence (AI). You can trust that our recommendations are fact-checked meticulously and sourced appropriately by authentic, industry-recognized people.
Brittany is a Contributing Writer for Switchful with over five years of experience writing about technology in the US and Europe. Her primary focus is on mobile and internet topics. She is passionate about helping people choose the right tech for their needs at the right price.
Bri Field has a background in academia, research writing, and brand marketing. She has edited scientific publications, conference papers, digital content, and technical communications. As Assigning Editor, she enjoys ensuring all content is accurate, clear, and helpful. In her free time, you can find her in the kitchen trying a new recipe, out on a hike, or working through her massive TBR list.