Our top 3 ISP choices in Westerville, OH
AT&T fiber internet is our top choice for internet providers in Westerville. If you can't get AT&T's fiber service, Spectrum and Breezeline internet both offer fast, reliable connections.
#1: AT&T fiber internet
Old AT&T customers may remember its slow, clunky DSL service, but the new AT&T fiber service is faster and more reliable, offering speeds up to 5 Gbps in some areas. Since our experts say the speed most families need for a seamless internet experience is around 250 Mbps (20x slower than what AT&T offers), this is way more than most people need. But AT&T also offers slower speeds for a great deal, and you can't beat the reliability of a fiber-optic connection. Unfortunately, not everyone in Westerville has access to AT&T fiber yet, but the southern half of Westerville has decent coverage, along with some neighborhoods in the north. If it's available at your address, we recommend it.
Read our full AT&T internet review.
#2: Spectrum internet
Spectrum cable internet is available to over 90% of Westerville with reliable cable internet and gig speeds. It is, to some extent, the default internet service provider in Westerville with an established infrastructure. If you can't get fiber internet, Spectrum is probably your best bet for a reliable wired connection.
Read our full Spectrum internet review.
#3: Breezeline internet
Breezeline is a newer provider that took over coverage for WOW! in 2022. They offer fast speeds, with six-month promotional pricing that beats Spectrum. However, their price hikes and equipment costs make them more expensive than other providers after the first six months. Customers have also expressed disappointment about the transition from WOW! to Breezeline, but we think time will help smooth some of the bumps in the road.
All internet providers in Westerville
Besides the three wired internet providers available in Westerville, residents also have multiple wireless options via fixed wireless providers T-Mobile and Verizon and satellite providers HughesNet, Starlink, and Viasat. We wouldn't recommend satellite internet to anyone in Westerville, since it is slower, less reliable, and more expensive than other internet types.
Fixed wireless, however, may be an affordable option for those who don't want to dish out almost $100 per month for cable. If you have an eligible cell phone plan through one of these providers, you can get internet for around $25 per month. Speeds will depend on how far your address is from the cell tower, and network congestion may happen during times of high usage. But if you don't mind a little bit of buffering, T-Mobile and Verizon should both offer enough speed for casual browsing, streaming, and online gaming.
Fastest internet providers in Westerville
AT&T offers the fastest internet in Westerville, offering 5-gig speeds at some addresses. Spectrum and Breezeline also offer 1 Gbps speeds. However, only about 10% of the city can access these types of speeds, so you'll have to check the plans at your specific address to see what you can get. Luckily, almost all residents still have access to internet options that are plenty fast.
How much speed do you need?
When choosing an internet plan, you want to keep all of your activities running smoothly without paying extra for speeds you don't need. At the bare minimum, you need 25 Mbps to do light browsing on one or two devices. Most households with multiple people and multiple devices will want to look for speeds in the 100–500 Mbps range. Learn how much speed your household needs in our guide to internet speed.
Cheapest internet providers in Westerville
Spectrum is one of the cheapest providers in Westerville, with year-long promotional pricing around $30 per month for 100 Mbps download speeds with no equipment costs. With no contracts or data caps, that's a pretty good deal. T-Mobile and Verizon also offer cheap internet if you bundle it with a cell phone plan, starting at around $25.
Internet options in nearby cities
Spectrum and T-Mobile are the most widely available providers in the greater Columbus area, covering over 90% of residents throughout the area. AT&T is also relatively available, but you might not be able to get it everywhere.
Other providers like Breezeline, Frontier, altafber, and Point Broadband are available in parts of the greater Columbus area; it just depends on where you live. See available providers around Westerville:
See all options in your area within seconds.
What Westerville residents are saying on Reddit
In areas where Breezeline took over WOW!, customers have gone online to complain about the bumpy transition. While we hope that the service improves soon, the first year has caused some frustration, especially from those using Breezeline equipment. Residents also generally agree that fiber internet (meaning AT&T in Columbus) is the best, and T-Mobile is surprisingly good.
See what people are saying:
Internet news and infrastructure in Westerville, OH
Most residents in Westerville already have access to high-speed internet, with 99% of houses having access to speeds of at least 250 Mbps. But Westerville can look forward to even faster speeds as AT&T expands its fiber coverage in the greater Columbus area. (1) Customers can get notified when AT&T fiber reaches their homes by registering at att.com/notifyme.
Other than fiber expansion, the largest shakeup in the greater Columbus area is Breezeline's takeover of WOW! in the Westerville market. Reviews over the transition have been mixed – while some customers have had no problems, others report pricing hikes, account issues, and service disruptions.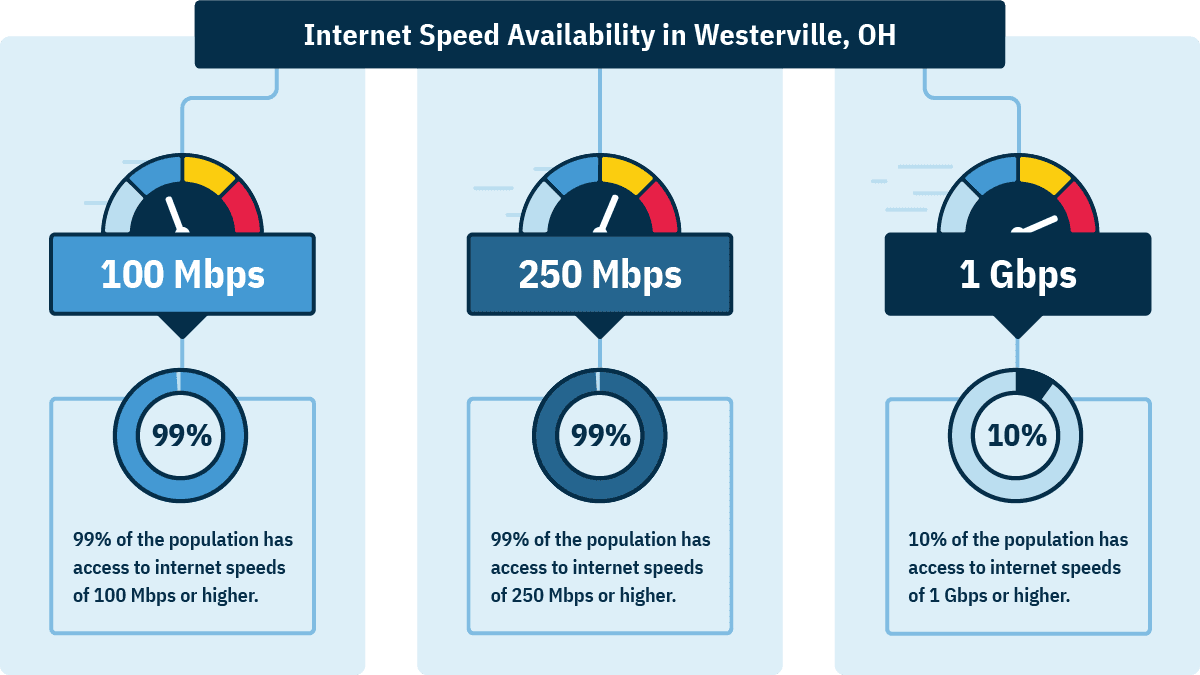 Frequently asked internet questions in Westerville
---
AT&T is the best internet provider in Ohio, with speedy fiber internet at reasonable prices. If you can get fiber internet anywhere, we recommend it over other internet types, and AT&T is currently expanding its fiber coverage in the greater Columbus area and replacing its old DSL lines with fiber-optic cables. With AT&T fiber internet, an entire family should be able to stream, game, and surf the web with no problems.
---
Yes, residents of Westerville have access to AT&T fiber internet, which is expanding its fiber optic infrastructure throughout the greater Columbus area. We highly recommend AT&T fiber if you can get it.
---
The cost for internet in Ohio will vary depending on your connection type, speed, and location, and can vary from $25 per month to over $100 per month. Most households can get an internet plan to suit their needs for around $50 per month.