Our top 3 ISP choices in Delaware, OH
Our top three picks for internet in Delaware are Spectrum, Breezeline, and T-Mobile 5G Home Internet.
#1: Spectrum internet
Spectrum covers over 90% of Delaware, OH, meaning you can get reliable cable internet with speeds of at least 250 Mbps, which is a great speed for most families' needs, but there is a lot of choice when it comes to Spectrum plans (and prices). Some addresses may be able to get speeds up to 1 Gbps, which is more speed than you need even for multiple users gaming, streaming, and browsing at once. Spectrum also offers 30 Mbps internet for around $20 per month for the budget shopper who lives alone or only uses the internet for light browsing. We like the options available with Spectrum and the fact that they have been serving the area for a long time.
Keep in mind that Spectrum has a reputation for below-average customer service, and because it is the most widely available provider, it is also the provider with the most complaints. But until Delaware is wired for fiber, it is the best option for residents with heavy internet usage.
Read our full Spectrum internet review.
#2: Breezeline internet
Breezeline is a newer cable provider that took over business for WOW! internet in 2022. Breezeline offers great 6-month introductory pricing deals, but you'll end up paying more than Spectrum in the long run, and customers have reported a rocky transition when their service moved over from WOW! to Breezeline. Still, it offers reliable cable internet and speeds up to 1 Gbps at some addresses.
#3: T-Mobile 5G Home Internet
T-Mobile offers fixed wireless internet, which is basically a home internet version of the signal you get on your phone. Because the internet is transmitted via radio waves, the connection isn't quite as stable as cable internet, and speeds may vary depending on your distance to the cell tower. However, customers generally report being pleased with the service, and you can get it for a fraction of the cost of cable internet, especially if you bundle with your cell phone plan.
Read our full T-Mobile internet review.
All internet providers in Delaware
Delaware residents don't have quite as many options as many of the surrounding cities, but they still have access to fast cable internet from Spectrum and Breezeline. In addition to T-Mobile, Verizon also services about 30% of the city with fixed wireless internet. If you have a Verizon phone plan and qualify for its fixed wireless service, you could get a great deal.
Some addresses can also get Frontier DSL internet, but we wouldn't recommend it for anyone who could get either cable or fixed wireless, as your connection will be way slower.
You might also see satellite internet providers HughesNet, Starlink, and Viasat. Satellite internet is both slower and more expensive than other types of internet available in Delaware, and only Starlink offers unlimited high-speed data, so we don't recommend choosing any of these providers. Even if the advertised speeds seem to match other providers, the latency inherent to satellite internet means that you are more likely to experience lag and buffering.
Fastest internet providers in Delaware
Breezeline and Spectrum tie for fastest internet provider in Delaware, both offering internet plans with speeds up to 1 Gbps (1,000 Mbps). This is faster than most families need, but we like that the speeds are available.
How much speed do you need?
When choosing an internet plan, you want to keep all of your activities running smoothly without paying extra for speeds you don't need. At the bare minimum, you need 25 Mbps to do light browsing on one or two devices. Most households with multiple people and multiple devices will want to look for speeds in the 100–500 Mbps range. Learn how much speed your household needs in our guide to internet speed.
Cheapest internet providers in Delaware
Spectrum has a 30 Mbps deal for $20 per month, making it the cheapest provider in Delaware, at least for the first year. This is probably fast enough for a single internet user who only does some light browsing, but it would be hard pressed to support multiple users who are streaming and gaming at the same time.
T-Mobile and Verizon offer internet for less than $30 per month when you bundle with select mobile plans, so if you use one of these providers for your cell phone, you may be able to get a great deal on internet. Speeds will vary depending on your location, so check availability before you sign up.
Internet options in nearby cities
Columbus and other nearby cities have access to AT&T fiber internet, one of the best internet providers nationwide. Unfortunately, AT&T does not offer internet in Delaware.
Besides satellite internet providers, Spectrum and T-Mobile are the most widely available in the greater Columbus area. You can get one of these providers almost anywhere in the area surrounding Columbus.
Breezeline, Frontier, Verizon, altafiber, and Point Broadband are also available in some areas, but their availability differs depending on the individual city or suburb where you live.
See providers in nearby cities:
See all options in your area within seconds.
What Delaware residents are saying on Reddit
The internet has not been very impressed with the transition from WOW! to Breezeline, but it does seem that most of the major problems have calmed down now that it's been a year since the takeover. Residents of Delaware also seem pretty happy with T-Mobile internet, and we expect fixed wireless to become a larger player in the internet landscape as technology continues to improve, especially for more rural areas where it's too expensive to lay fiber-optic cable.
Internet news and infrastructure in Delaware, OH
Delaware, OH, already has multiple providers who offer high speed internet, but it does not yet have access to any fiber providers. In March 2022, AT&T announced that it would be expanding its fiber network and "hyper-gig" speeds to new areas, including Columbus. (1) However, as Delaware was not part of AT&T's existing DSL network, residents may not see hyper-gig any time soon.
The biggest shake up for Delaware residents has been the transition from WOW! to Breezeline. After months of complaints from customers about service disruptions, account problems, and price hikes, even the CEO admitted that the transition was "rocky." (2) Hopefully, things are starting to settle down, and Breezeline customers will see better service in the future.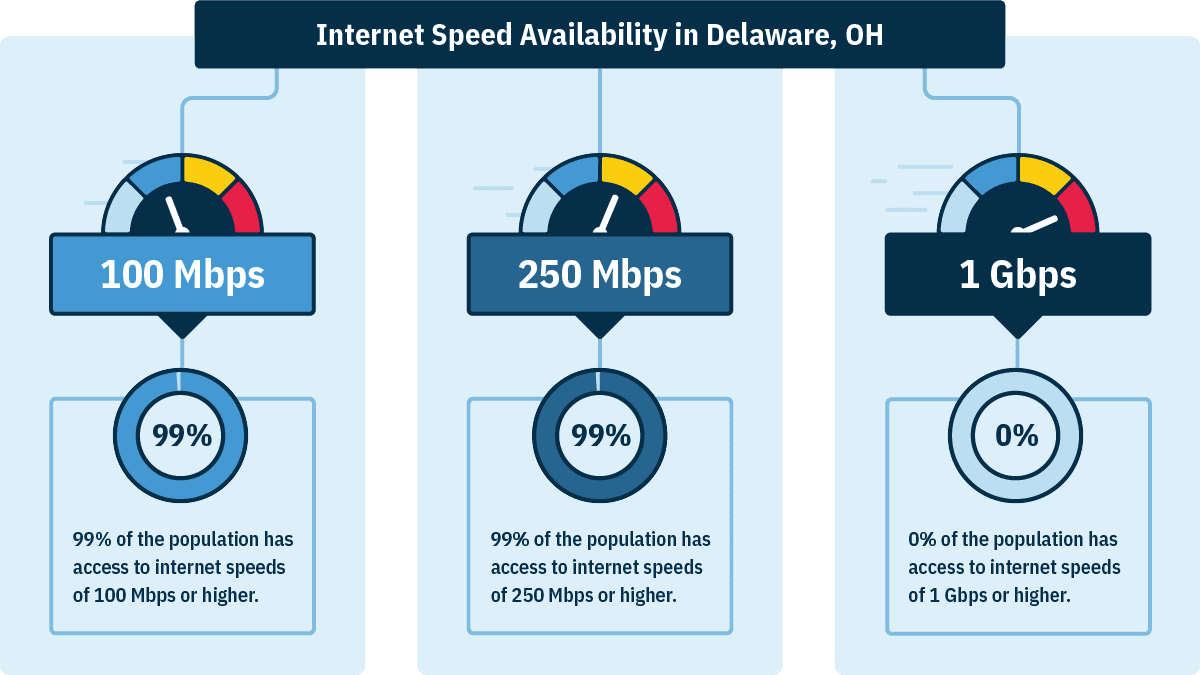 Frequently asked internet questions in Delaware
---
Xfinity is available to a very small portion of Ohio residents near the border of Pennsylvania, but the greater Columbus area, including Delaware, does not have access to Xfinity internet. Instead, Spectrum offers widespread cable internet to residents and acts as a comparable provider.
---
Delaware, OH, does not currently have access to fiber internet. However, residents can still access high-speed internet from cable providers like Spectrum and Breezeline, or fixed wireless provider T-Mobile.
---
The fastest providers in Delaware are Spectrum and Breezeline, both of which offer gig-speed internet. Surrounding cities can get faster speeds, sometimes up to 5 Gbps with AT&T fiber internet. However, 1 Gbps is still plenty fast for most users, so residents of Delaware shouldn't worry too much about their available internet speeds.