Our top 3 ISP choices in Columbus, OH
Our top recommendations for internet in Columbus are AT&T fiber, Spectrum, and Breezeline.
#1: AT&T internet
Our expert reviewers gave AT&T fiber high scores for both value and performance. If you're looking for a fast fiber plan, AT&T is our top recommendation in Columbus, and it has fairly wide availability. It's worth noting that AT&T has some legacy DSL coverage across Columbus as well, but it no longer offers DSL to new customers. (We'd strongly recommend fiber anyway.)

Read our full AT&T internet review.
#2: Spectrum internet
We've ranked Spectrum second for providers in Columbus because it has strong cable coverage throughout the city, with some small pockets of cable-fiber hybrid service downtown. You'll want to keep an eye out for price hikes and fees, but Spectrum's speeds and reliability should work well for most households.

Read our full Spectrum internet review.
#3: Breezeline internet
After WOW! sold its coverage in Columbus to Breezeline in 2022, Breezeline became the largest wired internet provider in the area. Breezeline advertises some extremely cheap promotions for gig internet in Columbus, but it isn't in our top two recommendations because of widespread issues since the WOW! transition. (1)
All internet providers in Columbus
Aside from our top recommendations, you have several other options for internet service in Columbus. Local provider TOAST.net is a reseller for AT&T fiber, with prices higher than what you pay directly with AT&T. T-Mobile and Verizon also have strong fixed wireless coverage in the area, and you can get discounts on home internet from both providers if you already use some of their mobile plans.
We recommend against purchasing satellite internet (HughesNet, Viasat, Starlink) in Columbus because you're almost guaranteed to have better options available to you, and you'll pay much less for better speeds elsewhere.
Fastest internet providers in Columbus
AT&T has the fastest internet plans in Columbus by far, with speeds up to 5 Gbps. That's way more than most households would need for day-to-day internet usage, even for gamers or streamers. It has the widest fiber coverage in the area and offers several other "slower" plans that should more than cover most speed needs. Cable providers Spectrum and Breezeline tie in second for speed, with download speeds up to 1 Gbps, though upload speeds will be slower with cable than what you'd get with a fiber connection.
How much speed do you need?
When choosing an internet plan, you want to keep all of your activities running smoothly without paying extra for speeds you don't need. At the bare minimum, you need 25 Mbps to do light browsing on one or two devices. Most households with multiple people and multiple devices will want to look for speeds in the 100–500 Mbps range. Learn how much speed your household needs in our guide to internet speed.
Cheapest internet providers in Columbus
As of early 2023, Breezeline advertised the cheapest promo rate on gig-speed internet in Columbus, but pricing and promos vary by address and go up after the first 6–12 months. Outside of promo pricing, fixed wireless providers T-Mobile and Verizon have some of the cheapest options available for home internet if you choose to bundle with certain cell phone plans. Low-income households may also qualify for federal and provider-specific programs to get free or low-cost internet access.
Internet options in nearby cities
Spectrum has the most widespread coverage of any wired internet provider in the greater Columbus area, and you can get Spectrum access in almost any suburb. Other internet options will vary as soon as you get outside the Columbus city limits. See what's available in these cities.
See all options in your area within seconds.
What Columbus residents are saying on Reddit
Over the last year, social media threads about internet service in Columbus have been dominated with complaints about the transition from WOW! to Breezeline, including reports of outages and price hikes. On the flip side, AT&T fiber seems to have the most consistently positive feedback of all providers in the area.
We've compiled some of the most representative Reddit threads so you can read for yourself what residents are saying.
Internet news and infrastructure in Columbus, OH
There have been a few big shake-ups with internet providers in Columbus since late 2022.
Breezeline officially took over WOW! cable service in Columbus in fall 2022. (2) As both customers and Breezeline leadership have noted, the transition in service has been rougher than everyone hoped so far, though issues will hopefully decrease over time.
In January 2023, fixed wireless provider Starry announced that it would be discontinuing service in the Columbus area. (3) Starry provided fast speeds at competitive prices, but the company has had financial struggles that likely impacted this decision. (4) Current customers will need to find other providers by June 2023 at the latest.
Between AT&T, Spectrum, and Breezeline, most of Columbus already has access to high-speed internet, with over 96% of the city having access to speeds of at least 100 Mbps. (5) However, in March 2022, AT&T announced that it would be expanding to "hyper-gig" (5 Gbps) speeds in various metro areas, including Columbus. (6) These speeds are far more than you'd need for most households, but 1 gig fiber access is also likely to expand as AT&T replaces legacy DSL infrastructure with fiber.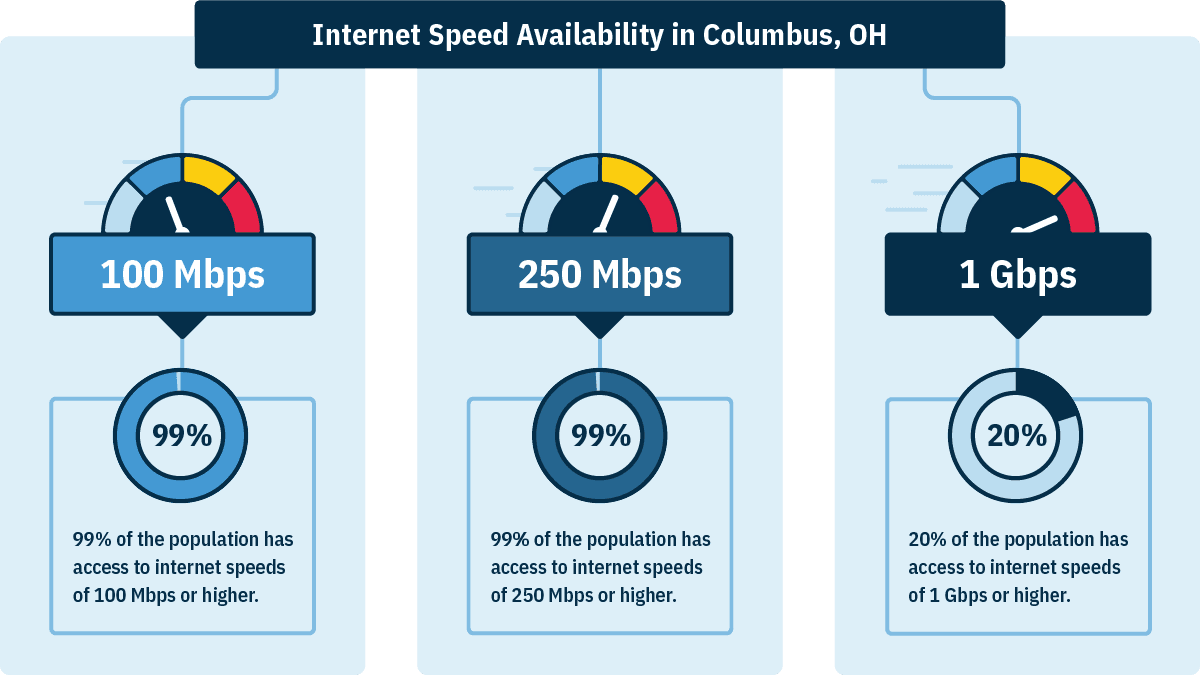 Frequently asked internet questions in Columbus
---
No, Xfinity (the branded services under parent company Comcast) is not available in Columbus. Xfinity has very little coverage in Ohio overall. Spectrum is the closest comparable company, since, like Xfinity, it uses cable infrastructure for its internet and TV service. Spectrum has very widespread coverage in the Columbus area.
---
Yes, AT&T offers fiber internet across most of Columbus, and it advertises download speeds up to 5 Gbps (5,000 Mbps) in the area. In the areas of the city without AT&T fiber coverage, cable providers Spectrum and Breezeline provide download speeds up to 1 Gbps.
---
If you're working from home, fiber internet is the best option, making AT&T fiber the best choice in the Columbus area. It has the highest upload speeds, which is ideal for sending large files or multiple people doing video calls at once. Unlike cable infrastructure, fiber also won't slow down if everyone else in your neighborhood is also working from home and using the internet heavily when you are.