Our top 3 ISP choices in Lancaster, OH
Our top picks for internet in Lancaster are AT&T, Spectrum, and T-Mobile 5G Home Internet.
#1: AT&T fiber internet
AT&T is one of the best internet providers nationwide with speedy fiber, affordable rates, and above-average customer satisfaction. If you have access to AT&T fiber, we highly recommend it.
Read our full AT&T review.
#2: Spectrum internet
Spectrum offers gig-speed cable internet, making it a good choice for anyone who can't get fiber. It has the widest coverage in the greater Columbus area of any wired internet type, so you'll likely find it available at your address. We ranked it second for its widespread availability and the fast speeds it offers customers.
Read our full Spectrum review.
#3: T-Mobile 5G Home Internet
T-Mobile offers fixed wireless internet, which uses radio waves to transmit data, just like your cell phone. Although this connection type isn't quite as reliable as fiber or cable, T-Mobile customers have been satisfied with the simplicity of their service, and the fantastic bundle deals you can get with select mobile plans. T-Mobile should give you more than enough bandwidth for everyday activities like browsing the web, streaming, and gaming, making it our #3 choice.
Read our full T-Mobile review.
All internet providers in Lancaster
Besides our top three picks, Lancaster residents also have decent access to Verizon, Point Broadband, and altafiber, all of which offer mostly fixed wireless internet in the area. While Verizon fixed wireless connection is licensed, meaning they transmit data over private radio frequencies, altafiber and Point Broadband both offer unlicensed fixed wireless, meaning they use public radio waves to transmit data. This can sometimes cause a drop in reliability and performance, so we would recommend going with a licensed provider like Verizon or T-Mobile if you have the choice, which you probably do.
Limited addresses in Southwest Lancaster may be able to get Point Broadband's fiber service. Since coverage very rarely overlaps with AT&T fiber, it is probably the only fiber connection available in these areas and may be worth considering over other types of service.
Satellite internet providers Hughesnet, Starlink, and Viasat also service the Lancaster area. However, with the high availability of other types of connections, most residents of Lancaster will not have to choose satellite, which is generally slower, more expensive, and less reliable than other connection types.
Fastest internet providers in Lancaster
The fastest provider in Lancaster is AT&T, which offers speeds up to 5 Gbps in some areas. Point Broadband fiber and Spectrum both reach gig speeds as well. All of these providers offer more than enough speed for the average internet user.
How much speed do you need?
When choosing an internet plan, you want to keep all of your activities running smoothly without paying extra for speeds you don't need. At the bare minimum, you need 25 Mbps to do light browsing on one or two devices. Most households with multiple people and multiple devices will want to look for speeds in the 100–500 Mbps range. Learn how much speed your household needs in our guide to internet speed.
Cheapest internet providers in Lancaster
If you bundle with certain cell phone plans, either T-Mobile or Verizon will likely be your cheapest internet option in Lancaster. Spectrum also has a plan around $30 per month for 100 Mbps, but prices will increase after the first year or two. In general, Lancaster residents can expect to pay around $50 per month whether they choose fiber, cable, or fixed wireless internet.
Internet options in nearby cities
Spectrum and T-Mobile 5G Home Internet have the widest coverage in the greater Columbus area, including Lancaster. AT&T also offers widespread coverage, with service in multiple cities.
Besides these providers, smaller ISPs like Breezeline, altafiber, and Point Broadband service select areas, but it really depends on where you are. Satellite internet providers also have widespread coverage, but we don't recommend these for anyone in the area.
See all options in your area within seconds.
What Lancaster residents are saying on Reddit
Sentiments in Lancaster and the greater Columbus area seem to agree that AT&T is the best provider in the area, with AT&T customers showing the most satisfaction with their service. See what residents in your area are saying about internet:
Post by u/Mission-Artichoke502
10/17/2022
I'm moving to the area and would like hear your thoughts on your internet provider? I play console and PC games.
I also work from home. Spectrum appears to be running a good deal as well. Are they reliable?
ATT Fiber > Spectrum > Breezeline > T-Mobile 5G > ATT DSL > Starry
---
Reliable internet providers?
I've had DSL AT&T (they don't offer fiber) and I'm at my last straw with them, their customer service on top of the mediocre speeds are just trash really. I've heard mixed things about Spectrum and I've seen problems since WOW was changed to Breezeline, so what's my best route here? I work from home so this is pretty urgent thing for me.
It seems to be dependent on the neighborhood you live in as to which provider sucks the least.
---
Post by u/lifequestioner6
07/13/2022
Has anyone tried T-Mobile internet?
Apparently you can get T-Mobile internet in Columbus for $50 a month. Has anyone tried it out? If so- How does it compare?
My friends just got it. They love it. It is literally at big modem you put by a window. I guess its 5g. He's able to stream live on YouTube, and his partner watch a movie with no buffering. They couldn't do that with spectrum. They're paying 120$ for the internet and cell lines. During the big storms last week, he lost internet for like 15 minutes. You can also take it with you and plug in anywhereish for instant access. Customer service is top shelf.
Internet news and infrastructure in Lancaster, OH
Lancaster hasn't been as affected by some of the ISP reconfigurations as other cities in the Greater Columbus area. Most of Lancaster already has access to at least one gig-speed internet plan, but residents may soon see even faster speeds with AT&T's hyper-gig expansion plan, which it announced in March 2022. (1)
In addition to AT&T, Horizon, an Ohio-based internet provider, also announced plans to expand its fiber-to-the-home (FTTH) network in 2022. (2) Currently, Lancaster residents can pre-register for fiber service, which qualifies them for free installation and a lifetime rate guarantee. It does, however, seem that Horizon is behind its original expected date of November 2022 for service to go live.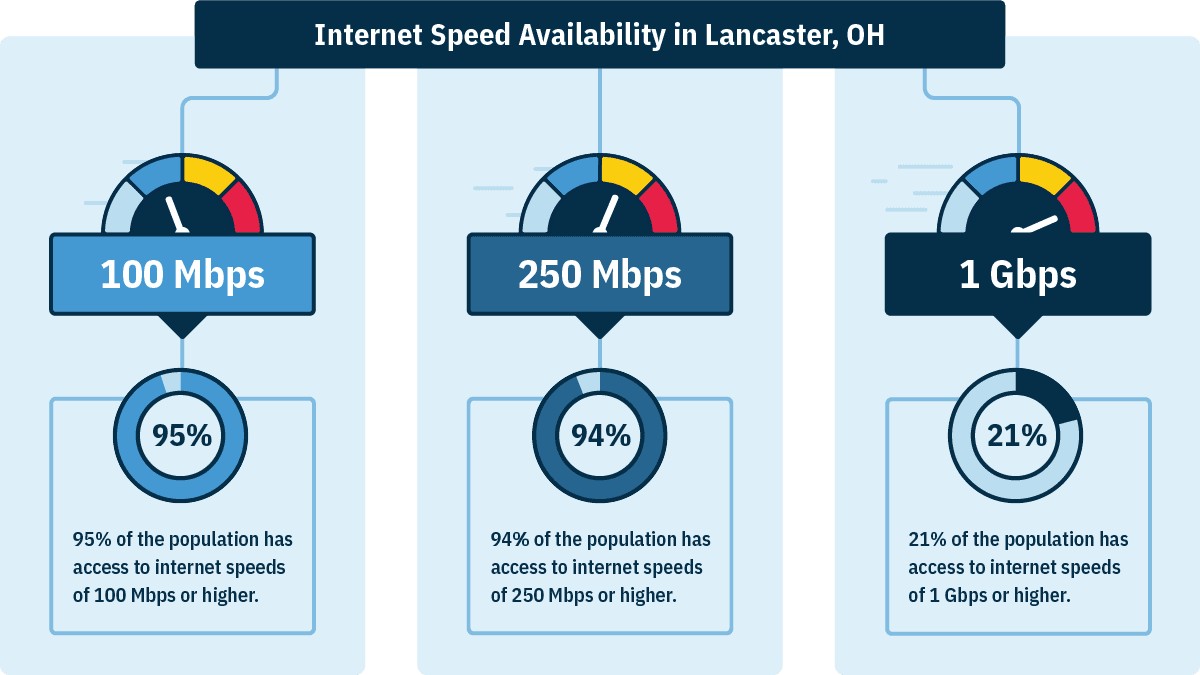 Frequently asked internet questions in Lancaster
---
Lancaster residents have access to AT&T's fiber internet service, which is fast, reliable, and affordable. This internet is good enough for gaming, video calls, streaming, and other heavy online activities.
---
AT&T is the best internet for gaming in Lancaster. Equal upload and download speeds make it best for online gaming and streaming. Point Broadband's fiber service and Spectrum also have enough bandwidth for even the heaviest of gamers.
---
Find an internet provider at your address by entering your ZIP code to see the providers who service your area. You can also go to an individual provider's website and enter your address to see the speeds and rates offered.