Our top 3 ISP choices in Dublin, OH
The best internet providers in Dublin are AT&T fiber internet, Spectrum internet, and Breezeline internet.
#1: AT&T fiber internet
AT&T fiber internet is a great option if it's available to you, which it is to a majority of Dublin residents, though not everyone has access to the top 5-gig speeds. Fiber internet generally offers better speed and reliability, and AT&T is one of the best fiber providers on the market, making it our top choice both in Dublin and nationwide.
Read our full AT&T internet review.
#2: Spectrum internet
Spectrum offers wide cable coverage in Dublin with speeds fast enough to meet the needs of even heavy internet users. However, Spectrum isn't quite as good of a deal compared to AT&T, which is why it's our second choice. Still, most users should have a smooth experience with Spectrum internet.
Read our full Spectrum internet review.
#3: Breezeline internet
Breezeline is a smaller provider that offers cable internet mostly in the Eastern United States, with coverage for about half of Dubliners. It offers fast internet up to 1 gig, but prices skyrocket (i.e. more than double) after the six-month promotional period is over. We'd recommend Breezeline if you can't get AT&T or Spectrum, and you need a speedier, more reliable internet connection than you can get with wireless internet types.
All internet providers in Dublin
Besides the wired connections offered by AT&T, Spectrum, and Breezeline, residents of Dublin have access to fixed wireless internet with providers T-Mobile and Verizon. T-Mobile 5G Home Internet has the widest coverage by far, and offers reliable internet that would suit the needs of most users. Plus, if you have a qualifying mobile plan through T-Mobile, you can bundle your home internet for a huge discount.
Satellite internet providers HughesNet, Viasat, and Starlink are also available, but we wouldn't recommend them to anyone in Dublin. Residents have access to faster speeds at better prices, and the latency that comes with all satellite connections makes the experience worse, even if the speed offered is technically faster.
Fastest internet providers in Dublin
AT&T is the fastest provider in Dublin, with fiber speeds that reach up to 5 Gbps (5,000 Mbps) in some areas. Speeds this fast aren't available everywhere, but where you can't get these speeds, Spectrum or Breezeline both offer speedy connections up to 1 Gbps.
How much speed do you need?
When choosing an internet plan, you want to keep all of your activities running smoothly without paying extra for speeds you don't need. At the bare minimum, you need 25 Mbps to do light browsing on one or two devices. Most households with multiple people and multiple devices will want to look for speeds in the 100–500 Mbps range. Learn how much speed your household needs in our guide to internet speed.
Cheapest internet providers in Dublin
Fixed wireless providers like T-Mobile 5G Home Internet are likely the cheapest internet option for budget-conscious shoppers in Dublin. Though not as fast or reliable as fiber and cable internet, most users won't notice a difference in their day-to-day internet use, and prices are significantly lower if you are able to bundle your internet with a qualifying mobile plan.
Qualifying households can also save $30 per month on home broadband service through the Affordable Connectivity Program, which helps low-income households and other demographics (like students) gain internet access. Learn more about how to get free internet.
Internet options in nearby cities
Spectrum and T-Mobile 5G Home Internet have wide availability in the greater Columbus area. While AT&T fiber also has good availability, some areas may not have access. Other providers are available more sporadically, with Frontier, altafiber, Breezeline, and other smaller providers servicing some areas.
See all options in your area within seconds.
What Dublin residents are saying on Reddit
Dublin residents seem to agree that AT&T fiber is the best provider available. Sentiment is mixed for other providers. Breezeline recently took over for WOW! internet in Dublin, and many users have complained about price hikes, service disruptions, and slowed speeds during the transition.
Internet news and infrastructure in Dublin, OH
Residents of Dublin generally have access to multiple broadband internet providers, but that doesn't mean the internet landscape is static. In 2022, Breezeline took over WOW!'s internet infrastructure, and Dubliners are still dealing with the transition. While the general sentiment seems to be that new Breezeline customers aren't quite satisfied with their new service, things should smooth out over time. Another provider to leave the greater Columbus area, including Dublin, is Starry, which announced its plans to stop service in January of 2023. (1)
The City of Dublin itself has invested quite a bit in its goal to become "the most connected city in the world." (2) Their city-owned "fiber-optic highway," Dublink, provides a fiber pathway for local hospitals, schools, and businesses to stay connected. While Dublink is not necessarily its own internet service provider, its infrastructure promises to help public and private businesses access speeds up to 100 Gbps. (3) The city of Dublin also piloted a fiber-to-the-home project in 2021, but it has not yet moved further with any city-wide internet initiatives. (4)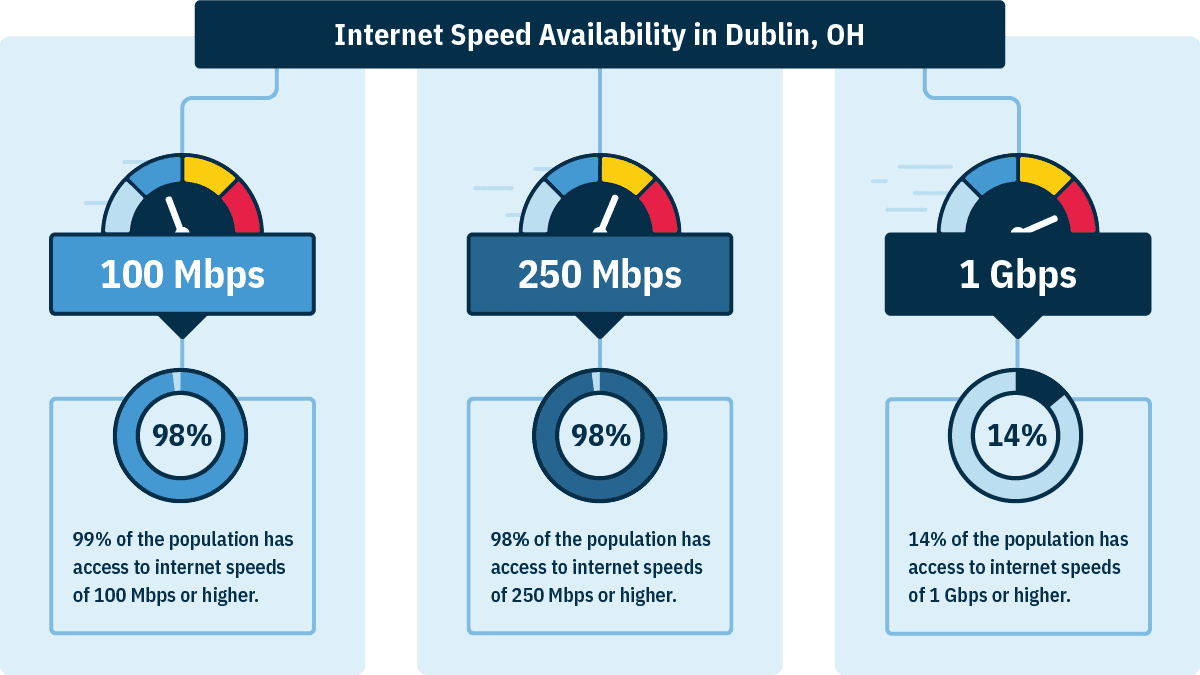 Frequently asked internet questions in Dublin
---
AT&T offers the fastest internet in Dublin, Ohio, with speeds up to 5 Gbps in some areas. If you can't get fiber with AT&T, Spectrum and Breezeline also offer gig-speed internet in Dublin.
---
Yes, Dublin has fiber internet through AT&T, which is generally considered the best internet option in the area. Other available internet types include cable, fixed wireless, and satellite internet.
---
You can get fiber internet in Dublin, Ohio, for around $55 per month. Prices will vary for other providers and internet types but can range from around $25 per month to over $100.