Our top 3 ISP choices in Reynoldsburg, OH
Our top picks for internet in Reynoldsburg are AT&T fiber internet, Spectrum internet, and Breezeline internet.
#1: AT&T fiber internet
AT&T has been busy these last few years replacing all their outdated DSL lines with new fiber-optic cables. Many Reynoldsburg homes already have fiber; if that applies to you, then you have access to one of the best internet providers nationwide. AT&T offers great internet paired with great customer satisfaction. We recommend their 300 Mbps plan for most families, which you can get for around $55 per month, but you might eventually see speeds up to 5 gigs (5,000 Mbps) as AT&T continues to build out its "hyper-gig" infrastructure.
Read our full AT&T internet review.
#2: Spectrum internet
Spectrum is the most widely available wired internet service provider in Reynoldsburg, servicing 96% of households. While its customer service and prices can't match AT&T, Spectrum does offer budget plans as low as $20 per month for the first year. If you can't get fiber yet, we recommend Spectrum as the #2 choice for users who need a stable, wired internet connection for activities like working from home.
Read our full Spectrum internet review.
#3: Breezeline internet
Breezeline is a new provider that took over service for WOW! internet in 2022. They offer speedy cable internet with six-month promotional pricing that beats Spectrum. You'll pay more in the long run, however, and we've seen a lot of complaints from former WOW! customers whose service transitioned to Breezeline last year. Generally, we would pick Spectrum over Breezeline, but it might not be a terrible idea to switch between Spectrum and Breezeline to get the promotional pricing deals while you wait for AT&T to lay fiber lines to your address.
All internet providers in Reynoldsburg
Besides our top three providers, Reynoldsburg residents also have access to T-Mobile 5G Home Internet, which offers fixed wireless to most of the city. Speed and reliability can vary depending on your exact address, but average speeds reach a little under 200 Mbps, which should suit the needs of most households. And, if you bundle your plan with a T-Mobile cell phone, you can pay less than $30 per month for unlimited internet. Reviews for those residents with access to good service are positive about it, especially as an affordable and better-supported alternative to Spectrum (whose customer service is low). There's a 15-day money-back guarantee, so you can test out T-Mobile service and see if it works for your needs.
Less than half of Reynoldsburg also has access to fixed wireless service through Point Broadband or Verizon. Verizon has similar speeds and prices to T-Mobile. Point Broadband has fixed wireless service, but it is unlicensed, meaning they transmit their data over public radio waves, meaning you're more likely to experience interference.
Your final option is satellite internet from HughesNet, Viasat, or (with a waitlist) Starlink. We don't recommend any of these providers if you have other options, as satellite internet is lower, more expensive, and less reliable than other internet types.
Fastest internet providers in Reynoldsburg
Currently, Breezeline and Spectrum tie for the fastest provider in Reynoldsburg, with top speeds of 1 Gbps. Even though not everyone in Reynoldsburg can reach these speeds, everyone in the city has access to plans that offer at least 250 Mpbs, which should still be plenty fast for regular internet users.
How much speed do you need?
When choosing an internet plan, you want to keep all of your activities running smoothly without paying extra for speeds you don't need. At the bare minimum, you need 25 Mbps to do light browsing on one or two devices. Most households with multiple people and multiple devices will want to look for speeds in the 100–500 Mbps range. Learn how much speed your household needs in our guide to internet speed.
Cheapest internet providers in Reynoldsburg
Spectrum's 30 Mbps plan is likely your cheapest option in Reynoldsburg, starting at $20 per month. However, 30 Mbps might be a little slow if multiple people are trying to use the internet at the same time, so we don't necessarily recommend it. You can also get T-Mobile or Verizon for around $25 per month when you bundle it with a cell phone plan, so that's another option to look into if you already use one of those as your mobile provider.
You may also be eligible for the Affordable Connectivity Program, which helps low-income families afford a broadband internet connection.
Internet options in nearby cities
Spectrum and T-Mobile offer the most comprehensive coverage in the greater Columbus area. AT&T, Breezeline, and smaller providers offer less consistent coverage but are still available in many cities surrounding Reynoldsburg. And of course, satellite internet is available almost everywhere.
See exactly what's available in cities near Reynoldsburg:
See all options in your area within seconds.
What Reynoldsburg residents are saying on Reddit
Residents of the greater Columbus area love their fiber internet, which usually means AT&T. Most agree that switching to fiber from Spectrum is the best move. Other common conversations include frustration with Breezeline, and being pleasantly surprised with T-Mobile fixed wireless.
See for yourself what people are saying:
Internet news and infrastructure in Reynoldsburg, OH
Reynoldsburg already has access to high-speed internet from Spectrum, Breezeline, and AT&T. But residents may soon see even faster speeds as AT&T expands its "hyper-gig" offerings. (1)
The other big broadband news in Reynoldsburg is Breezeline taking over WOW!'s cable footprint in the greater Columbus area in 2022. Complaints were rampant after the transition, but we haven't seen quite as much negative talk recently, so hopefully, things will settle down as Breezeline figures itself out.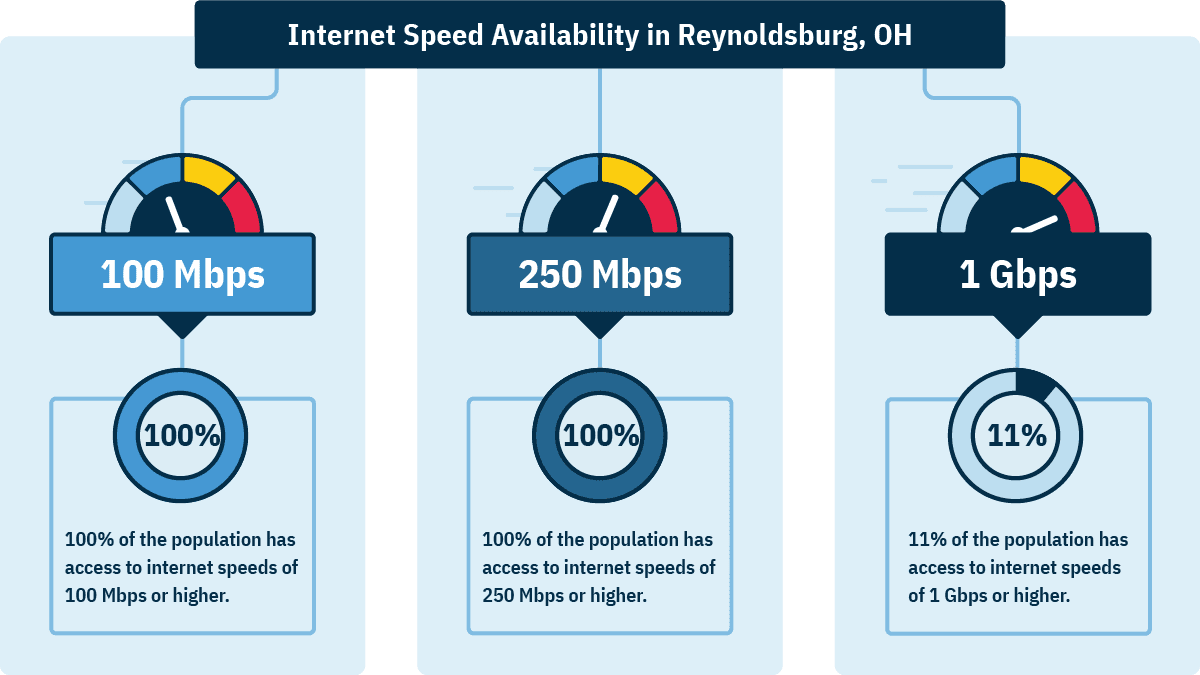 Frequently asked internet questions in Reynoldsburg
---
AT&T offers fiber and DSL internet in Reynoldsburg, while Spectrum has mostly cable. With AT&T fiber, you will have symmetrical upload and download speeds, which is great for activities like video calls and online gaming that require two-way communication with the web. Spectrum's download speeds are much faster, which can sometimes cause lag in these sorts of activities. AT&T also has a better customer support reputation. However, AT&T is not as widely available in Reynoldsburg, and it also does not have a true budget plan for users who want internet for less than $50 per month.
---
AT&T fiber is a great service with pros like speed, reliability, and great customer support. The one true downside of AT&T fiber is that it lacks a plan under $50 for budget shoppers or light internet users. Otherwise, we think it's an outstanding service.
AT&T DSL is a different story—with outdated technology and super-slow speeds, it probably isn't a great value for you. Its main upside is wider availability as AT&T continues to build out its new fiber network.
---
Our expert researchers ranked AT&T #1 in Reynoldsburg (and in the US) for its fiber service. If you can get it, it's a great value, and customers seem very satisfied with their internet. It might not be the best service for you if you need a budget plan or if you live in a more rural area that doesn't have access to fiber.
---
Enter your ZIP code into our ZIP check tool to see plans and providers in your area. You can also visit a provider's website and enter your address for more exact plan information.