Our top 3 ISP choices in Marion, OH
Our top picks for internet in Marion are Frontier fiber, Spectrum, and T-Mobile 5G Home Internet.
#1: Frontier fiber internet
Frontier has pretty widespread availability in Marion, especially the more centrally located addresses in the city. Its 500 Mpbs plan starts at around $50 per month, but you can get up to ten times that speed (5 gigs) at some addresses. We don't necessarily recommend that, as the slower fiber plans should be more than enough for most families. Frontier's fiber plans are honestly a great deal, and come with equipment included. We rank Frontier our top pick for Marion with one word of caution—if you can only get DSL (not fiber), your connection will be slow and expensive, so make sure your address is wired for fiber before you commit.
Read our full Frontier internet review.
#2: Spectrum internet
Spectrum offers cable internet with speeds that reach 1 Gbps. Spectrum will be more susceptible to slowdowns than any fiber plan, but for the most part, you can get speeds fast enough to support a family of internet users. Customers definitely love to hate Spectrum, but in many cases it's still the best option. Plans are more expensive than Frontier for the speeds you get (about double the price once Spectrum's year-long promotional pricing ends), but Spectrum does have a true budget plan that starts at $20 per month for your first year. We would go with Frontier if you can, but keep Spectrum in your back pocket if you live outside of its fiber service area.
Read our full Spectrum internet review.
#3: T-Mobile 5G Home Internet
T-Mobile offers fixed wireless internet that uses radio waves to transmit data, just like your cell phone. Some users have great reviews and excellent speeds (the average download speed for T-Mobile 5G is 183 Mbps), while others get little more than a crawl. This really just depends on your address and how close you are to a T-Mobile cell tower, but the provider does offer a 15-day money back guarantee, so you can try out the service at your house before you commit. T-Mobile is $50 per month, but you can cut that cost in half if you bundle with a qualifying T-Mobile cell phone plan. For Marion residents who want an affordable internet option (or the ones sick of putting up with Spectrum), T-Mobile could be a great option, especially as fixed wireless technology continues to progress.
Read our full T-Mobile internet review.
All internet providers in Marion
Marion doesn't have a lot of internet options. Besides our top three picks, residents have access to Watch Communications, a provider that specializes in rural internet in the Midwest. Its plans are a lot more expensive than others you can get in Marion, though, so we don't recommend it unless your only other option is satellite. A very small percentage of Marion (3%) has access to Ohio-based provider NKTelco. It might have better prices than Spectrum if you can get it, but it doesn't service many homes in the area.
Satellite internet is also available from the three main providers: Viasat, HughesNet, and Starlink. We'd stay away from any of these, as the data caps, latency, slow speeds, and unreliability of satellite internet make it a bad choice for anyone with other options.
Fastest internet providers in Marion
Frontier is the fastest provider in Marion, offering plans up to 5 Gbps. That's crazy fast. Spectrum also offers high speeds up to 1 Gbps, which should be more than fast enough. Everyone else lags behind considerably, so if you feel the need for speed, you should go for one of these two providers.
How much speed do you need?
When choosing an internet plan, you want to keep all of your activities running smoothly without paying extra for speeds you don't need. At the bare minimum, you need 25 Mbps to do light browsing on one or two devices. Most households with multiple people and multiple devices will want to look for speeds in the 100–500 Mbps range. Learn how much speed your household needs in our guide to internet speed.
Cheapest internet providers in Marion
The cheapest internet in Marion is Spectrum's 30 Mbps plan, which you can get for $20 per month for the first year at some addresses. However, this probably isn't fast enough if you have multiple users online at once. You may be able to get faster speeds from T-Mobile for only a few bucks more if you bundle with your cell phone.
Internet options in nearby cities
While Spectrum and T-Mobile are pretty ubiquitous in Central Ohio, Frontier's fiber service is unique to Marion and a few other cities dotted around the greater Columbus area. However, many surrounding cities can get fiber from AT&T, which isn't available in Marion.
Besides these major players, smaller providers have availability dotted around the area, it all just depends on where you look. See providers in nearby cities:
See all options in your area within seconds.
What Marion residents are saying on Reddit
Ohio residents agree that fiber is the best, and in Marion, that means Frontier. We've seen mixed reviews about T-Mobile's 5G internet, but many customers are pleasantly surprised by the speeds they get.
Post by u/lifequestioner6
07/13/2022
Has anyone tried T-Mobile internet?
Apparently you can get T-Mobile internet in Columbus for $50 a month. Has anyone tried it out? If so- How does it compare?
My friends just got it. They love it. It is literally at big modem you put by a window. I guess its 5g. He's able to stream live on YouTube, and his partner watch a movie with no buffering. They couldn't do that with spectrum. They're paying 120$ for the internet and cell lines. During the big storms last week, he lost internet for like 15 minutes. You can also take it with you and plug in anywhereish for instant access. Customer service is top shelf.
---
Post by u/Mission-Artichoke502
10/17/2022
I'm moving to the area and would like hear your thoughts on your internet provider? I play console and PC games.
I also work from home. Spectrum appears to be running a good deal as well. Are they reliable?
AT&T Fiber if you can get it
Internet news and infrastructure in Marion, OH
Things haven't been shaken up too much in Marion recently, but the good news is that Marion residents already have access to well-priced fiber internet from Frontier. Frontier invested millions of dollars back in the 2010s to build out its infrastructure, which is the fiber provider residents can access today. (1) With more post-COVID initiatives to get broadband access to more places in the US, Marion may see a diversification of providers, but there hasn't been anything specific pointing to the idea that anyone is planning on an imminent expansion into the area.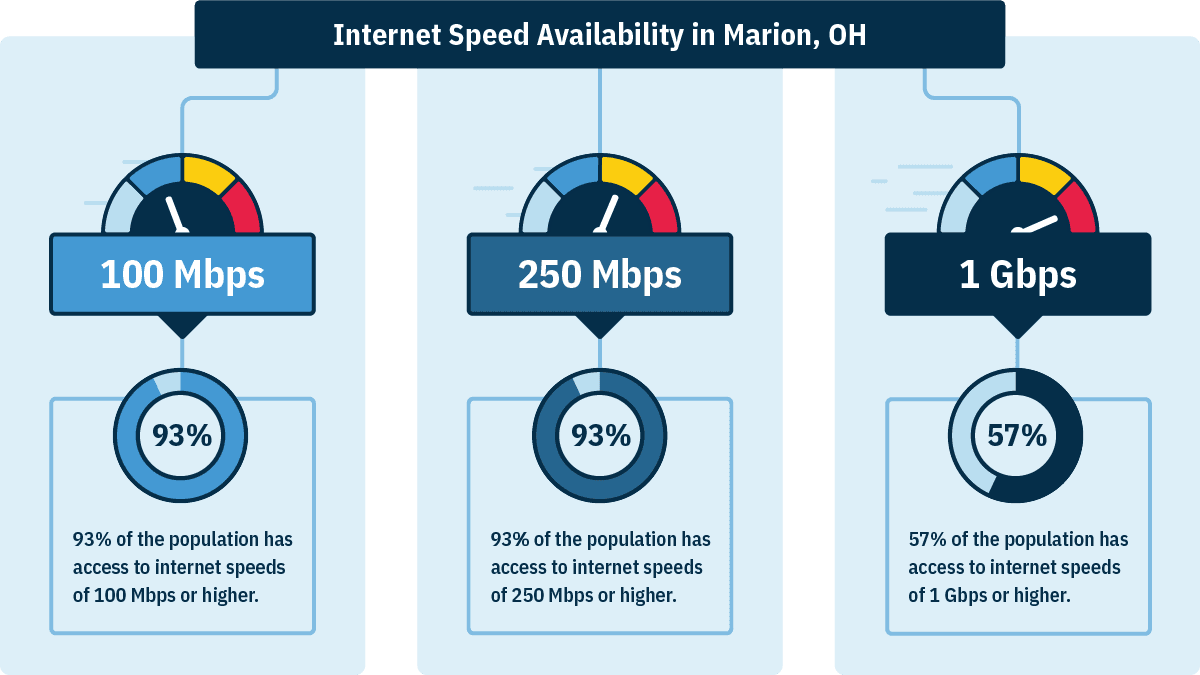 Frequently asked internet questions in Marion
---
Internet prices can vary in Marion from around $20 per month to over $100. We think most people can get a good internet connection for around $50 per month.
---
Frontier offers faster, more affordable internet plans than Spectrum, and Frontier uses fiber technology, a more reliable internet type than Spectrum's cable infrastructure. For those reasons, we think Frontier is better than Spectrum for most users. However, Spectrum does offer a budget plan for one-person households or very light internet users who don't need to pay for Frontier's speed.
---
Whether T-Mobile will work for gaming depends on your address and the signal you can get from the cell tower. The good news is that T-Mobile offers a 15-day money back guarantee, so you can try it out for yourself and see what speeds you get.