Our top 3 ISP choices in Grove City, OH
Grove City is lucky enough to have three wired internet options. We recommend AT&T fiber internet if you can get it, but Spectrum and Breezeline both offer cable internet with gig speeds.
#1: AT&T fiber internet
AT&T offers fiber service in a decent portion of Grove City, mostly on the east side. AT&T has been working to replace its old copper DSL lines with fiber lines, and there's a huge difference between the two services. New AT&T customers should be pleased with the reliability, customer service, and speedy plans up to 5 Gbps. Most users won't need these incredibly high speeds, but AT&T also offers a 300 Mbps plan for around $55 per month, which is still plenty fast for most people.
Read our full AT&T review.
#2: Spectrum internet
Spectrum's customer satisfaction isn't quite as high as AT&T, but the cable company still offers reliable, high-speed internet up to 1 Gbps. Prices are comparable to AT&T on the 300 Mbps plan, and Spectrum also offers budget internet plans for as low as $20 per month during the 2-year promotional period. Plus, Spectrum is available almost everywhere in Grove City, so there's a far better chance you'll be able to get service at your address.
Read our full Spectrum review.
#3: Breezeline internet
Breezeline is a newer provider that took over for WOW! in the greater Columbus area. It offers speedy cable internet up to 1 Gbps. We recommend Breezeline if you can't get AT&T fiber or Spectrum, and you're a heavy internet user who absolutely needs a wired connection over fixed wireless providers like T-Mobile 5G Home Internet. The speed and reliability are definitely better, but customers complain that the transition from WOW! to Breezeline has been a rocky one, and Breezeline's introductory prices more than double after the first six months of service. You'll have to decide whether the performance is worth the higher price point.
All internet providers in Grove City
Besides our top three providers, Grove City residents also have access to multiple fixed wireless providers, including T-Mobile 5G Home Internet, Point Broadband, altafiber, and Verizon. Fixed wireless is not quite as fast as a wired connection like fiber or cable, and your speeds will be more affected by network congestion and the distance between your home and the cell tower, but casual internet users should still be able to game, stream, and browse the web without difficulty. If you go with the same provider as your cell phone plan, you can also get great bundle deals, making fixed wireless a good option for budget shoppers.
Grove City also has access to satellite internet from HughesNet, Viasat, and Starlink. Satellite service is available to almost every home nationwide, but we generally only recommend it for rural households where satellite is the only option. This is because satellite is slow and expensive, with data caps that would prevent you from activities like streaming and video calls that use a lot of data.
Fastest internet providers in Grove City
AT&T is the fastest provider in Grove City, with some addresses able to get 5-gig speeds. This is way more speed than most households need, so we generally recommend AT&T's 300 Mbps plan for smaller families.
Cable providers Spectrum and Breezeline both offer gig speeds as well, with plans that reach 1 Gbps. With speeds that fast, the entire family can stream, game, browse the web, and video chat at the same time. Learn how much speed your household needs to get the best deal on internet.
How much speed do you need?
When choosing an internet plan, you want to keep all of your activities running smoothly without paying extra for speeds you don't need. At the bare minimum, you need 25 Mbps to do light browsing on one or two devices. Most households with multiple people and multiple devices will want to look for speeds in the 100–500 Mbps range. Learn how much speed your household needs in our guide to internet speed.
Cheapest internet providers in Grove City
The cheapest internet plan available is likely either Spectrums 30 Mbps plan, which you can get for around $20 per month for the first two years, or a fixed wireless plan from T-Mobile or Verizon, which start around $25 per month when bundled with a cell phone plan.
Providers in Grove City also participate in the Affordable Connectivity Program, which helps low-income and other eligible households afford a broadband connection. If you qualify, you could save $30 per month on your internet bill.
Internet options in nearby cities
Grove City has access to almost every provider that services the greater Columbus area, including our favorites, AT&T fiber and Spectrum. Marion and Dublin both have at least some access to Frontier, but otherwise, surrounding cities generally have a more limited selection of providers than Grove City.
See all options in your area within seconds.
What Grove City residents are saying on Reddit
Grove City residents agree on a couple of things when it comes to their internet: AT&T fiber is the best where you can get it, the transition from WOW! to Breezeline has been a rocky one but we all hope the transition smooths out soon, and Spectrum is the ubiquitous provider we all have but love to hate.
See for yourself what people are saying:
Internet news and infrastructure in Grove City, OH
Grove city residents have multiple options for high-speed internet access, including fiber. Recent broadband news has been concerned with the switch from WOW! to Breezeline in May 2022. Since then, many customers have reported lapses in service, getting locked out of their account information, and billing errors. (1)
Despite decent connectivity in the more urban areas, Ohio Senator Sherrod Brown addressed continuing broadband needs in more rural areas at the Ohio Farm Bureau Federation's Legislative Conference in March 2023. During the address, he promised "big broadband investments" to help farmers take advantage of farming technology that requires access to high-speed internet. (2)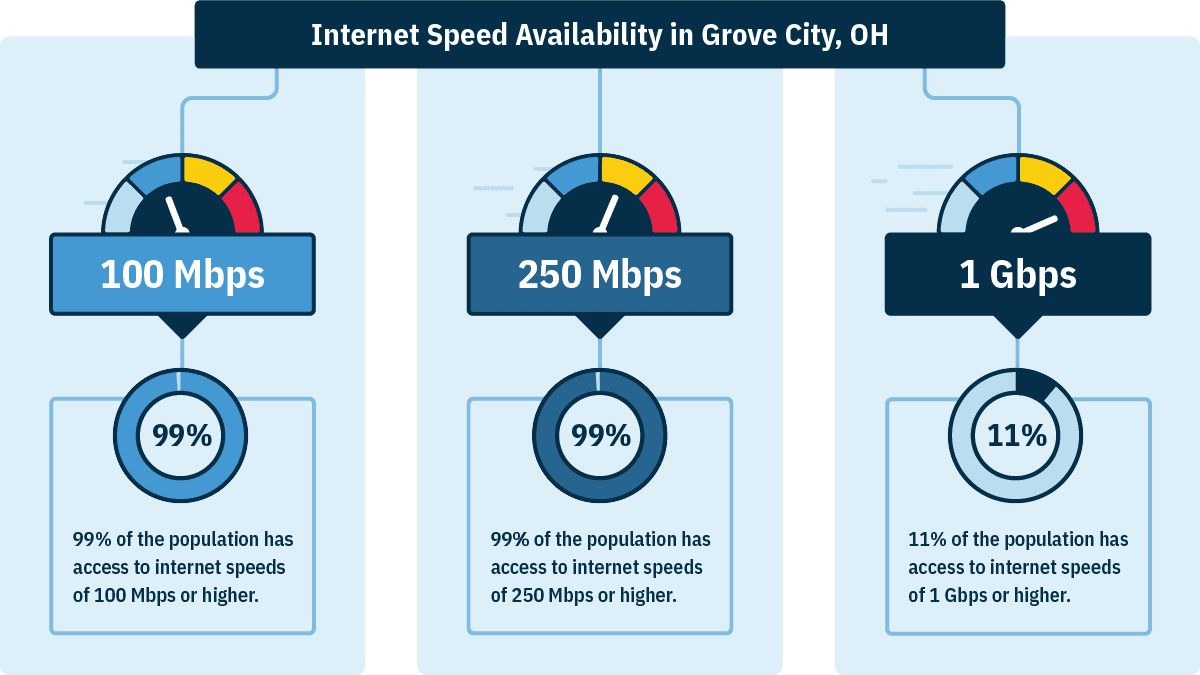 Frequently asked internet questions in Grove City
---
If you don't have an internet provider, you can use free public Wi-Fi or connect to your phone's Wi-Fi hotspot. However, neither of these options is great for heavy online activity or long-term use. Luckily, there are multiple reliable and affordable internet options available in Grove City.
---
What qualifies as a "good" internet speed will depend on your internet needs. For medium-sized families who like to stream, game, and browse the internet, we recommend an internet speed of 250 Mbps or more. Grove City residents have access to much faster speeds of one gig (1,000 Mbps) or more. Most users won't need to pay for this much speed, but heavy users might like the convenience of never having to experience lag or buffering.
---
Our experts ranked AT&T's fiber internet as the best internet provider nationwide. AT&T offers internet in Grove City with speeds up to 5 Gbps (5,000 Mbps). If AT&T is available in your area, we highly recommend their 300 Mbps plan, which is both fast and affordable.