Our top 3 ISP choices in Lee's Summit, MO
Each of our top three providers in Lee's Summit—AT&T, Google Fiber, and Spectrum—offers fast internet speeds, good monthly pricing, and reliable connections.
#1: AT&T fiber internet
Offering fast internet for reasonable prices, AT&T takes the top spot on our list. We like that there's no cap on data, allowing for seamless use of the internet without worrying about running out of data near the end of the month. AT&T also includes the equipment for home internet in its monthly prices (though a fee is added if you need a pro to help with fiber internet installation). Additionally, there are no annual contracts, so it's easy to switch if you're not satisfied.
Some parts of AT&T's network are DSL, which is slow and expensive for the speed you get, but you can't get new DSL connections anymore from AT&T.
Read our full AT&T fiber internet review.
#2: Google Fiber internet
If you're looking for a great customer service experience, hassle-free installation, and ultra-fast upload and download speeds, we recommend Google Fiber. AT&T may be a perennial contender for the JD Power Customer Satisfaction Award (2), but customers love Google Fiber's consistency, helpful customer service reps, and simple pricing. Google Fiber is available to over 80% of the residents in Lee's Summit, and it's a great choice for home internet if you can get it.
Read our full Google Fiber internet review.
#3: Spectrum internet
Though it reaches just over 65% of the residents in Lee's Summit, Spectrum is a decent option if you're looking to save a few bucks and still obtain high internet speeds. Depending on current deals, you can get speeds of 300+ Mbps for $50 a month with an unlimited mobile phone line included. Spectrum also has a budget plan for around $30 a month that offers speeds up to 100 Mbps, which could work for very small households with minimal internet usage. Startup and installation fees may be included when you sign up, but bundling your products (internet, TV, home phone) is much easier with Spectrum.
Read our full Spectrum internet review.
All internet providers in Lee's Summit
There are a few other good home internet  options for those not looking to go with any of the top three on our list. T-Mobile covers over 90% of the area, though it can be picky about whether it can provide service at a specific address. If you have a mobile phone plan with T-Mobile, it's worth checking to see if you qualify for an inexpensive home internet plan. (3)
If you'd prefer satellite internet over fiber or cable, Viasat and HughesNet have you covered, both providing 100% coverage of the Lee's Summit area. HughesNet offers affordable plans and bonus data during off-peak hours, but slow speeds, contract obligations, and price hikes after two years of service can be a drag on your psyche and your wallet. Viasat provides relatively fast satellite internet, but high prices and caps on high-speed data drag it down in our ratings.
Starlink, another company that provides high-speed, low-latency broadband via satellite, is also planning to expand into the Lee's Summit area in 2023. (4)
Verizon has a small coverage footprint in the Lee's Summit area, but it's worth a look if you already use Verizon for your mobile needs. (5)
Fastest internet providers in Lee's Summit
Google Fiber, AT&T, and Spectrum take the cake when it comes to speed, with AT&T doubling (and a little extra) the possible speeds achieved by Google Fiber and Spectrum. AT&T offers symmetrical download and upload speeds up to 5,000 Mbps (5 Gbps), while Google Fiber maxes out at 2,000 Mbps (2 Gbps) and Spectrum has a still-very-fast 1,000 Mbps (1 Gbps) download speed. With that said, all of these companies offer ultra-fast speeds for most home internet needs like gaming, streaming, downloading large files, etc.
True "speed demons" who dislike even the smallest trace of lag or buffering or sluggish downloads can always add more speed for an extra price, but with the astronomical speeds these companies provide, it might be overkill.
How much speed do you need?
When choosing an internet plan, you want to keep all of your activities running smoothly without paying extra for speeds you don't need. At the bare minimum, you need 25 Mbps to do light browsing on one or two devices. Most households with multiple people and multiple devices will want to look for speeds in the 100–500 Mbps range. Learn how much speed your household needs in our guide to internet speed.
Cheapest internet providers in Lee's Summit
Xfinity is the cheapest option for home internet, but its services cover only 30% of the area in and around Lee's Summit. There's also a long-term contract of one year in order to qualify at the lowest price. Spectrum and T-Mobile are neck and neck when it comes to pricing, but we'd prefer T-Mobile for its wider coverage area and the deals included with a sign-up, like T-Mobile's "Netflix On Us" promotion, easily saving you another $10 to $20 a month (must have one active phone line to qualify).
Internet options in nearby cities
Numerous cities near Lee's Summit have Google Fiber and AT&T available for home internet needs. Spectrum doesn't offer service in certain cities around Lee's Summit.
Though fixed wireless provider Wisper does have a larger presence in Lee's Summit, coverage is relatively limited in surrounding cities. KwiKom offers impressive coverage in St. Joseph but is unavailable in Lee's Summit. KCCoyote and United Electric Cooperative have limited footprints as well (also unavailable in Lee's Summit).
Learn more about internet access in surrounding suburbs:
See all options in your area within seconds.
What Lee's Summit residents are saying on Reddit
The reviews are in, and it's Google Fiber taking home the blue ribbon: customers absolutely rave about the superior speeds, customer service, and affordable prices. Customers also love AT&T for its unlimited data and lack of outages, with some even claiming the service between AT&T and Google Fiber was virtually identical. Depending on your needs and sentiments regarding these companies, it may all come down to pricing here.
Though it's technically the cheapest of the bunch, Spectrum lags behind both AT&T and Google Fiber in terms of customer satisfaction, device functionality, and consistent service.
Internet news and infrastructure in Lee's Summit, MO
Google Fiber and AT&T are the major players in Lee's Summit, and both are competing for their take of the market share. In 2011, Google added Lee's Summit to its FTTP (fiber to the premises) build-out list, and it kept its word to expand into Lee's Summit and the surrounding areas. (6)
AT&T is also committed to becoming America's leading broadband provider, setting up a showdown between it and Google Fiber for supremacy on the home front, claiming that 5G and fiber will be the "digital backbone for the [the nation's] economy over the next decade." (7) We tend to agree!
Lee's Summit is one of the fastest growing communities in Missouri over the past 70 years, and with further population growth expected in the coming years, there's a good chance fiber is in Lee's Summit to stay. Every company that offers this next-gen service will want to get itsproduct into the homes of as many residents as possible, so we expect better and better prices on home internet in the region.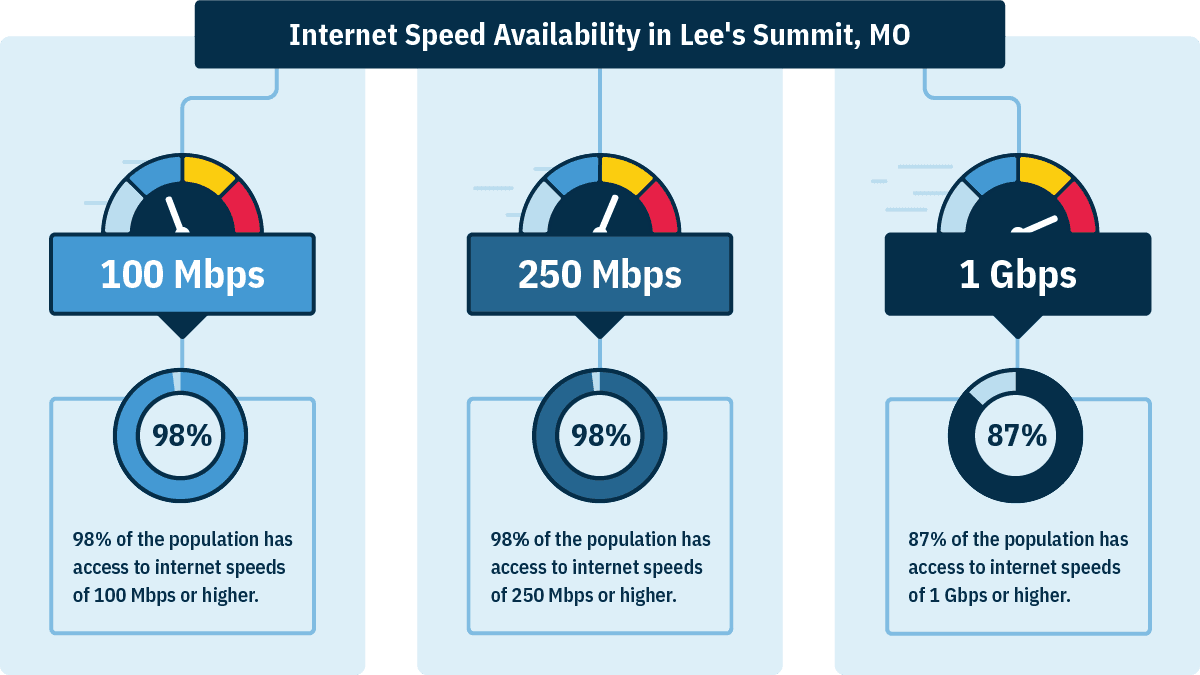 Frequently asked internet questions in Lee's Summit
---
Both services offer excellent plans and fast internet that will meet any, if not all, home internet needs. Google Fiber's pricing almost never changes, while AT&T's pricing can fluctuate. On the flip side, Google Fiber's overall network is not nearly as large as AT&T's.
Put Google Fiber and AT&T in a head-to-head matchup.
---
The main advantage is that satellite internet works well in rural areas, providing internet to those who don't fit into a certain ZIP code or don't have an  address that can receive adequate broadband service. Satellite internet also doesn't require cables, fiber, or other major infrastructure to function—just a satellite dish for your home.
Disadvantages can include higher latency and slower speeds than cable. Some plans also have data restrictions, and there are often strict contracts and much higher prices than what you pay for other service types. In general, we don't recommend satellite internet if you have other options in your area.
Read more about how satellite internet works.
---
Monthly internet prices depend on the service provider you choose to go with, but the cheapest are going to be T-Mobile, AT&T, and Spectrum, with the latter two providing more consistent speeds than T-Mobile.
The cheapest home internet is going to be about $25 per month, but you can pay for plans that cost $180 or more per month.
1. "FCC Broadband Map," Federal Communications Commission. Accessed 20 March 2023.
2. "US Residential Internet Provider Satisfaction Study," J.D. Power. Accessed 20 March 2023.
3. "Check 5g & 4g Lte Coverage Near You," T-Mobile. Accessed 20 March 2023.
4. "FCC authorizes SpaceX to begin deploying up to 7,500 next-generation Starlink satellites," CNBC. Accessed 28 March 2023.
5. "Explore Verizon 5G and 4G LTE network coverage in your area," Verizon. Accessed 20 March 2023.
6. "Google Fiber Adds Lee's Summit, MO, to its FTTP Build Out List," Fierce Telecom. Accessed 28 March 2023.
7. "Why We're Expanding One of the Country's Largest Fiber Networks – and Why That Matters to You," ATT. Accessed 28 March 2023.