Our top 3 ISP choices in Overland Park, KS
Each of our top three providers in Overland Park offer fast internet speeds, decent Wi-Fi equipment, and good monthly pricing.
#1: AT&T internet
Speedy, reliable internet from fiber internet provider AT&T is available in many parts of Overland Park, and the provider is our #1 pick in the Kansas City metro area. We like that there are no data caps to worry about and that internet equipment is included with the monthly prices. We also like that you can get plans for as little as $55 per month, for a very respectable speed of 300 Mbps. That's ten times as fast as you can get with Spectrum's cheapest plan! You may be stuck with a $100 installation fee if you need to have a pro stop by to help, though.
Some parts of Overland Park may still be on AT&T's DSL network, which works over traditional landline phone cables. You can't get a new DSL plan from AT&T, but you may be stuck with it if fiber isn't in your area yet. We rarely recommend DSL plans if you have another option
Read our full AT&T review.
#2: Google Fiber internet:
This internet service provider is the crowd favorite in Overland Park for its excellent customer service record, hassle-free pricing, and ultra-reliable connectivity. Like with AT&T fiber, Wi-Fi internet equipment is included in the monthly price and there are no data caps to worry about. Unlike AT&T, though, installation of Google Fiber is included with your monthly rate. We wish Google Fiber were even more widely available and that it had a budget plan on offer. But for most households, going with Google is a great choice.
Read our full Google Fiber review.
#3: Spectrum internet:
Cable internet from Spectrum reaches the vast majority of Overland Park, and we love its budget plans. You can get speeds in the range of 100–500 Mbps for less than $50 per month, or you can pay for a full gigabit of speed for around $90 every month. It's more than you'll pay for our top fiber picks at that bandwidth, and you'll have to use your own router or rent theirs for $5 per month. There may also be startup fees of $25 or $60, depending on whether you can do the installation job yourself. That's no fun, but we still like Spectrum in Overland Park if you want to bundle your home internet with a classic TV experience, don't have much to spend, or don't yet have a fiber internet option.
Read our full Spectrum review.
All internet providers in Overland Park
If you can't get any of our top three picks for the Overland Park area, you have a few other good options. (1) Often, we've seen residents recommend 5G home internet in the area. Both Verizon (2) and T-Mobile (3) offer their best 5G coverage, but they can be picky about whether you can get that service at your address. If you already use one of them for your mobile phone coverage, it wouldn't hurt to see if you qualify for one of their inexpensive home internet plans. In general, Verizon works better if you're far out from the closest 5G tower while T-Mobile is a better pick if there are obstacles (such as tall buildings) between you and the nearest tower.

Consolidated Communications also offers home internet in Overland Park on its hybrid cable/fiber network. Plans start at $25 for speeds up to 100 Mbps, which is a lot faster than you could get with Spectrum, and we like that Wi-Fi gear is included with the price.

A tiny part of town near the Research Medical Center may also have Wisper Internet as an option. It's fixed wireless internet, so its plans are pretty slow and pretty spendy so won't be right for a lot of households. Similarly, you can get satellite internet throughout Overland Park, but it can be even slower and even pricier than fixed wireless, so it's not very popular.
Fastest internet providers in Overland Park
If you need fast internet—really, really fast—your best options in Overland Park are going to be either AT&T fiber or Google Fiber. Both providers offer plans up to 5 Gbps. That's fast enough to run a call center or stream a whopping 25 movies in 8K resolution all at the same time, so it's probably more than almost any household would need. If it's a contest for who offers the best and biggest bandwidth, though, these providers are neck and neck.
How much speed do you need?
When choosing an internet plan, you want to keep all of your activities running smoothly without paying extra for speeds you don't need. At the bare minimum, you need 25 Mbps to do light browsing on one or two devices. Most households with multiple people and multiple devices will want to look for speeds in the 100–500 Mbps range. Learn how much speed your household needs in our guide to internet speed.
Cheapest internet providers in Overland Park
One of the least expensive internet plans you can get in Overland Park is technically from Spectrum, which offers a roughly $30 plan for 100 Mbps of speed (but you have to pay $5 per month for Wi-Fi equipment if you don't already have your own). For a slightly lower $25 per month, you can get a 100 Mbps plan from Consolidated Communications or 5G plans with speeds up to about 175 Mbps from T-Mobile or Verizon.

Fortunately, all these providers play nice with the federal Affordable Connectivity Program, which gives certain lower-income families $30 off their internet bills per month. Learn more about the program and find out about other ways to get inexpensive home internet.
Internet options in nearby cities
Many cities near Overland Park have Google Fiber, and AT&T internet is an option to even more addresses throughout the region. The farther out you get, the more likely you are to find fixed wireless internet providers as well. Depending on your exact address, you may find Mercury Broadband or Midco (which offers some fiber-to-the-home connections depending on location).
KCCoyote, KwiKom, United Fiber, and Consolidated Communications also have footprints in the area, but are rare in Overland Park itself. You won't find Spectrum or Xfinity here either, though the companies service parts of St. Joseph and Lee's Summit, respectively.

Learn more about internet access in surrounding suburbs:
See all options in your area within seconds.
What Overland Park residents are saying on Reddit
People who have Google Fiber in Overland Park seem to love it, and some joke that it's not even worth moving to a new address in the city if you can't get a fiber connection there. If you do go with AT&T, they say, the 300 Mbps plan is plenty fast. Fewer people are happy with AT&T and Spectrum internet, citing issues with billing and customer service.
Internet news and infrastructure in Overland Park, KS
Overland Park residents have had access to Google Fiber for about a decade (4), and AT&T was hot on its heels, bringing its version of fiber-optic internet to the area as early as 2015. (5)

These fiber internet providers complement legacy cable internet networks from Consolidated Communications and Spectrum. Today, according to the Federal Communications Commission (FCC), about three-quarters of Overland Park can get cable internet and at least 9 in 10 have access to fiber internet. (6)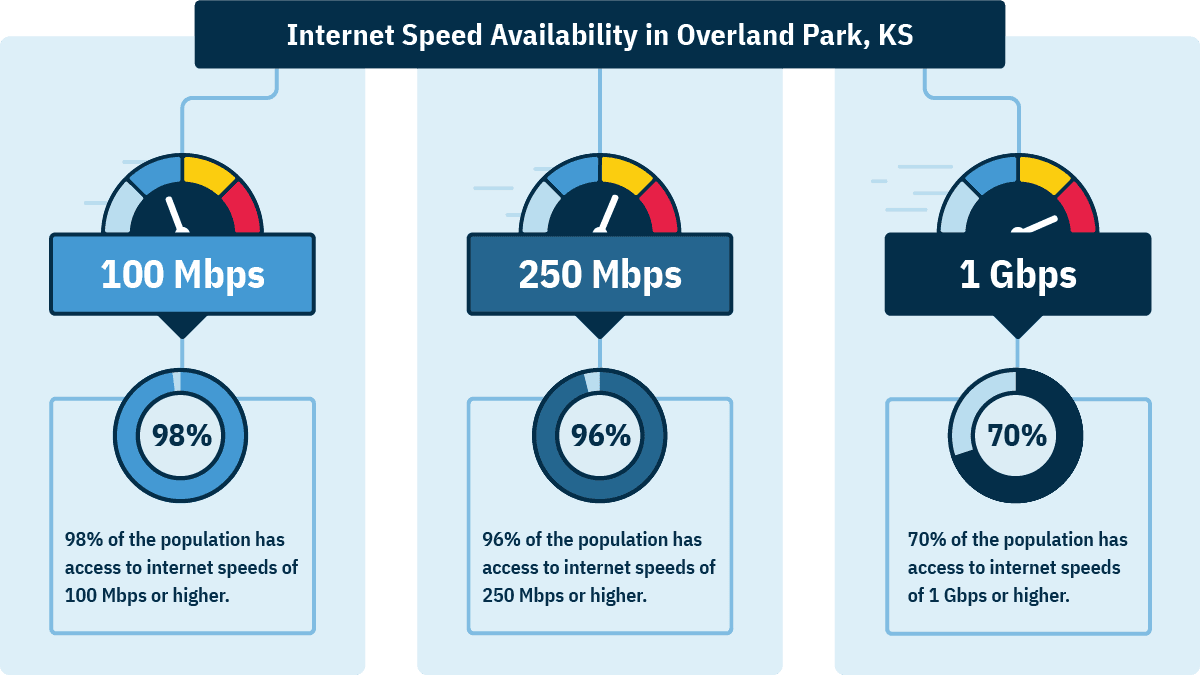 If you can't get fully wired internet to your home—or don't want to pay for it—you'll be pleased to know that both Verizon and AT&T offer home internet services in Overland Park. The prices are right, but we've seen some reports of outages and slowdowns, so proceed with caution.

Throughout Kansas, the government has allocated $83.5 million for fiber internet buildouts, but the only Johnson County project won't have an immediate impact on consumers. (7) Unfortunately, some academics say residents in highly populated areas of the state still don't have good access to home internet. (8) Those same researchers say the FCC data is incorrect 75% of the time, which is pretty troubling.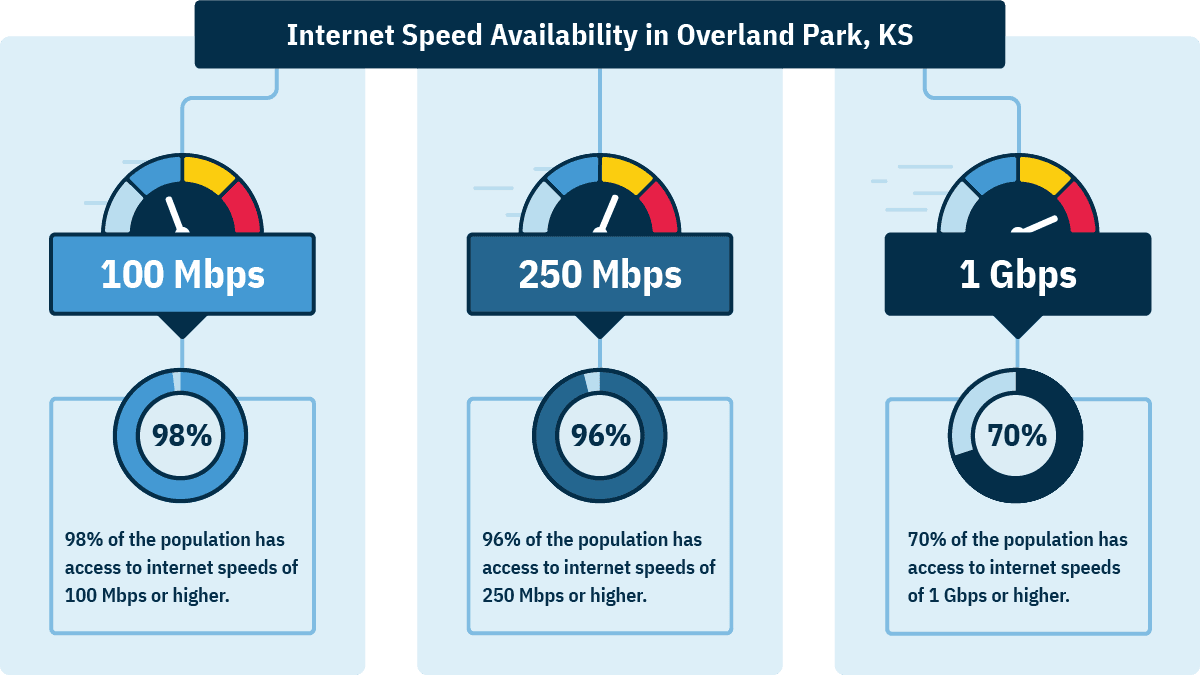 Frequently asked internet questions in Overland Park
---
Yes, you can get Google Fiber to your home in most parts of Overland Park. The company has been building fiber infrastructure there since 2015, and added thousands of new addresses to its availability map in the last year. To see if your home is eligible, enter your address at the company site.

If Google Fiber hasn't reached you yet, you can sign up for alerts on the site so you know when it is.
---
Most people say fiber internet is better because it is much faster and more reliable than cable internet, but cable internet has some of its own advantages. It's still easier to get at most addresses than fiber internet, and plans are often cheaper (though you pay the price in much slower upload speeds). In Overland Park, we recommend fiber internet providers over cable providers most of the time.

Compare Spectrum, AT&T, and Google Fiber side by side.
---
Is Verizon home internet better than T-Mobile 5G?

According to FCC data, more homes can get home internet from T-Mobile in Overland Park than can get home internet from Verizon. (1) However, that data may be out of date so it's best to check availability at your exact address with the providers themselves.
That said, 5G home internet from both T-Mobile and Verizon are about the same. Both send you equipment to use, and prices can be as low as $25 per month. All other things being equal, Verizon tends to work better in rural areas and T-Mobile tends to work better if there are big buildings between your home and the nearest 5G tower.