Our top 3 ISP choices in Kansas City, MO
There's no doubt Kansas City is the BBQ capital of the US. It also might be the gigabit capital, with speeds of faster than 1 Gbps available from all three of our top picks.
#1: AT&T internet
AT&T is our top home internet pick for Kansas City, and our top choice nationwide. Its cheapest plan is less expensive than what you can get with Google Fiber, and at 500 Mbps, it's plenty fast for nearly any household. You also get Wi-Fi equipment included at that price, plus freedom from contracts and data caps. We don't love the installation fees, which can cost $50–$100, but the customer service can't be beat by any other provider in the region. (3)

In most of the city, fiber internet from AT&T is available, but some areas may still be part of the legacy DSL network. DSL is much slower than fiber (but not less expensive), so we generally recommend going with another provider if you get only DSL service from AT&T. The company isn't even selling new DSL connections, though, so you're probably in the clear.
Read our full AT&T internet review.

#2: Google Fiber internet
Kansas City residents have had access to the super speedy Google Fiber network for more than a decade, and it's a great product. There are no budget plans, but you can get synchronous speeds up to 1 Gbps for just $70, and we haven't seen price increases in years. For the money, you get all that bandwidth plus included internet equipment (including a mesh network if you need it). There are no contracts or data caps, and installation is included. Getting that installation appointment may take quite some time, though, so we encourage you to enter your address with Google so you can be notified when the service is available.

Read our full Google Fiber internet review.

#3: Spectrum internet
Home internet shoppers on a budget have a great choice in Kansas City: Spectrum cable internet. You can get plans as cheap as $20 per month for the first year, or choose from a range of other speeds. The pricing on each is competitive, according to our in-house data and a benchmark report from the Federal Communications Commission (FCC). (4) You can even get gig speeds, and the price isn't too bad. That said, there are a few things to watch out for with Spectrum. There's a $5 monthly charge to rent Wi-Fi equipment if you don't already have your own, there are startup fees that range from $25 to $60, and prices go up after a year. There are no contracts or data caps though, so set yourself a reminder to go internet shopping again (or call in to negotiate) in 12 months.

Read our full Spectrum internet review.
All internet providers in Kansas City
Fully wired internet to your front door is going to be the best option for virtually any connected household in Kansas City, but you can also choose from a handful of 5G and fixed wireless internet companies if you want to bundle with your cell phone bill (or are one of the very few unlucky addressed that isn't yet on a wired network).
T-Mobile offers 5G Ultra Capacity coverage throughout most of Kansas City, but some areas get its second-best network—5G Extended Range–instead. (5) Verizon offers 5G home internet on its 5G Ultra Wideband network to virtually all of Kansas City, but some spots drop to the much-slower 4G LTE level. (6) If you have a phone plan from Verizon, the speed you get on your phone at home will probably match the speed you could get with home internet from the company.
For traditional fixed wireless internet, you may have two options. KCCoyote serves a tiny fraction of Kansas City, Missouri, with fixed wireless internet, but the pricing is pretty high and the speeds are very slow in rural areas. Even worse, you're on the hook for $300 for installation. In some areas, you can get 100 Mbps speeds for around $100 per month or 400 Mbps for $140, and you still have to pay for installation. If you have other options, they're probably a better bet for the price. Wisper Internet plans start at around $60 and go up from there, but there are massive differences in speeds based on where you live. Equipment is included, and contracts aren't required. It's expensive and less reliable than we would like, but still better than satellite internet for most households.

Speaking of satellite, it is possible to get home internet from each of the top three satellite providers in Kansas City, but we rarely recommend it because prices are high, speeds are slow, and you have to either agree to a long-term contract or pony up hundreds of dollars in installation costs yourself.
Fastest internet providers in Kansas City
Both Google Fiber and AT&T offer speeds up to 5 Gbps in Kansas City, and both use 100% fiber internet networks to do it. That means upload speeds that are as fast as download speeds. 5 Gbps is far too fast for almost any home—you could stream 25 movies in 8K all at once at those speeds—but it's nice that the networks are ready for the future.
How much speed do you need?
When choosing an internet plan, you want to keep all of your activities running smoothly without paying extra for speeds you don't need. At the bare minimum, you need 25 Mbps to do light browsing on one or two devices. Most households with multiple people and multiple devices will want to look for speeds in the 100–500 Mbps range. Learn how much speed your household needs in our guide to internet speed.
Cheapest internet providers in Kansas City
The cheapest internet in Kansas City is from Spectrum, the local cable internet provider, with reliable speeds up to 30 Mbps for $20 per month. You'll pay another $5 each month if you need to rent a router, though. That makes $25 bundled plans from Verizon and T-Mobile a virtual tie for cheapest internet.

Lucky for you, all three providers (and the rest of the providers we recommend) participate in the federally funded Affordable Connectivity Program, so Veterans, lower-income families with students, and seniors can get a $30 monthly coupon on their internet bills every month. In Kansas City, that amounts to free or very cheap home internet.
Internet options in nearby cities
Google Fiber is available to several cities in the Kansas City metro area, but AT&T is even more widely available. It's our top recommendation throughout the region except in St. Joseph, where it isn't available. Spectrum is available almost everywhere, too, but St. Joseph and Lawrence don't have access. Consolidated Communications has a footprint in the area, but you can't get it anywhere in Kansas City.

The farther out of town you get, the more likely you are to have fixed wireless internet as a reasonable option. Mercury Broadband, KCCoyote, KwiKom, and Wisper operate in the region.
Read our local guides to find out more about internet in surrounding cities.
See all options in your area within seconds.
What Kansas City residents are saying on Reddit
The community in and around Kansas City is very active when it comes to questions about home internet service, and Google Fiber is far and away the most beloved option. People almost universally recommend Google Fiber over AT&T fiber if they have the choice, and say to always avoid AT&T if you can get only DSL.

If you can't get Google Fiber, local folks have good things to say about home internet from T-Mobile. Some people in some places defend Spectrum, but acknowledge the service still goes down sometimes and agree about its poor reputation for customer service if things go wrong.
Internet news and infrastructure in Kansas City, MO
Kansas City, MO, has been one of the easiest places in the US to get fast home internet for more than a decade, and Kansas City, KS, still reigns as one of the top spots in the country to work remotely. (7) Almost every home in the city has a choice of high-speed internet providers, and that means competitive prices and good customer service.

It all started back in 2012, when Google kicked off its Google Fiber business in the city. (8) The company continues to expand throughout the greater metro area, and AT&T also has plans to grow its fiber and 5G networks (with financial help from your friendly federal taxpayer). (9)

Spectrum is also growing its fiber backbone. It went on a hiring spree in March of 2023 for field technicians, and has plans for a multi-year growth effort in rural areas near Kansas City. In 2022, Spectrum installed more than 700 miles of fiber-optic cable in 2022 to serve 31,000 addresses. (10)
Fixed wireless and 5G home internet providers are building in Kansas City, too. Wisper Internet, for example, is using a $6.5 million infusion from the state of Missouri to build out its infrastructure in the state. (11)
Much of the growth and increase in access is thanks to the efforts of the Kansas City Coalition for Digital Inclusion, which also provides devices like laptops or tablets and training to Kansans in need. (12) However, a study by the University of Kansas found that not everyone is equally served when it comes to internet access in the city. (13) According to the research, a map from the Federal Communications Commission (FCC) was correct only 25% of the time. That map showed that in both Kansas and Missouri, 100% of homes could get internet plans with speeds of at least 100 Mbps. (1)
The jury is still out on exactly how many people in the Kansas City metro area can really get high-speed internet at home, but we still think Paris of the Plains is a great place to connect, whether that means studying and working remotely, binging Netflix, or live streaming gameplay.
If paying for home internet isn't an option for you and you don't qualify for the ACP, there's one last great option, brought to you by your local library. You can borrow a free mobile hotspot for up to three weeks, and all you need to get a library card is proof of a current address in the Kansas City metro area.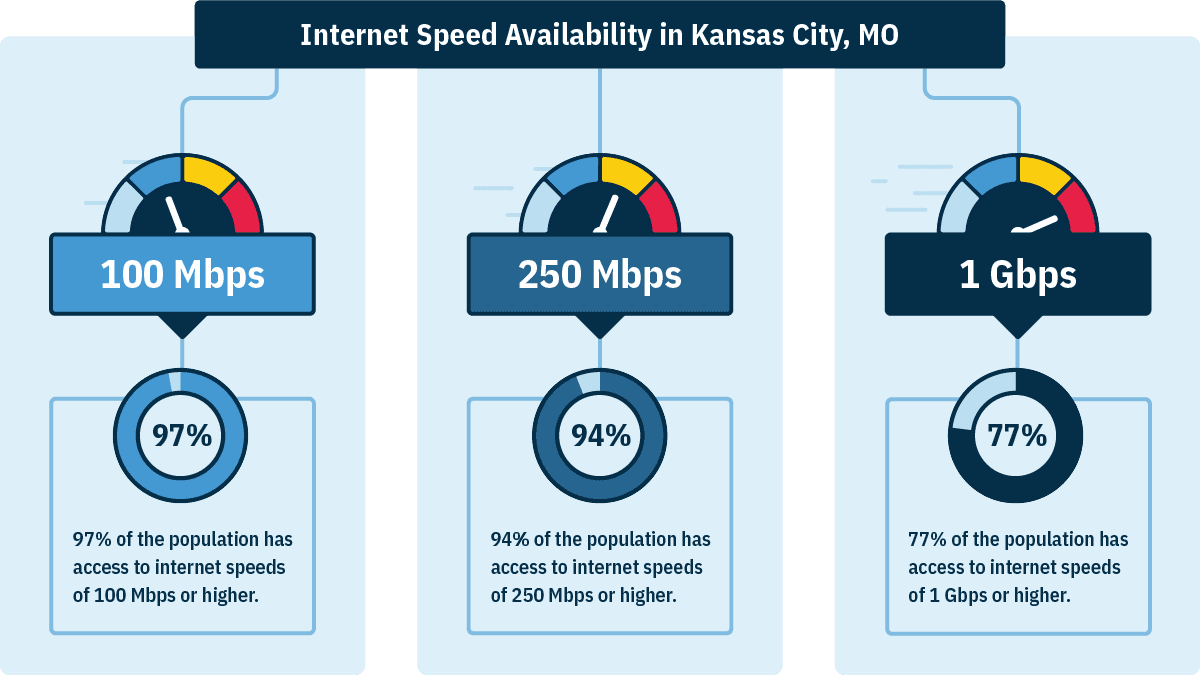 Frequently asked internet questions in Kansas City
---
Whether you can get Xfinity in Kansas City, MO, depends on your exact location. Xfinity isn't available downtown—instead, you can choose Spectrum if you want cable internet there. However, you can get Xfinity in areas of Grain Valley and Lee's Summit.

We like both providers for their budget plans and freedom from contracts, but Spectrum shines by offering unlimited data on all its plans. Its TV service can't match what Xfinity offers, though. Regardless, you'll almost never have a choice between the two at any given address, so choosing a provider comes down to availability.

Compare Spectrum and Xfinity side by side using the Switchful comparison tool.
---
How much you'll pay for home internet every month depends on your exact address in Kansas City, but there's a good chance you can get either Spectrum or 5G home internet for around $25 per month. Speeds aren't very fast with any provider, and 5G isn't as reliable as cable or fiber internet, but the plans we've seen are sufficient for a small household.

If you need multigig speeds of up to 5 Gbps (fast enough to stream multiple movies in 8K at once), you could pay Google Fiber $125 per month or pay AT&T $180 per month. We almost never recommend these plans, though, because they're far faster than any home internet gear can handle.
---
Any of our top three internet providers in Kansas City, MO, are good for working from home, but Google Fiber is the most popular option. It comes with ultra-reliable fiber speeds for both uploads and downloads, and a fantastic billing and customer support system. Unfortunately, plans will cost at least $70 per month. If you can get AT&T fiber internet at your Kansas City address, you'll benefit from an equally solid connection but can pay as little as $55, with speeds that are still plenty fast.
If you can't get either, there's a good chance you can get Spectrum's cable internet. Its network is more reliable than ever and we love its budget prices, but the reputation for customer service isn't great. Our experts recommend speeds of at least 30 Mbps for remote work, but say 50 Mbps is preferred. With Spectrum, you can get a plan with 30 Mbps of speed for $25 per month or plans up to 500 Mbps of speed for less than about $50.

Compare Spectrum, AT&T, and Google Fiber plans side by side.