Our top 3 ISP choices in Kansas City, KS
You can pay a lot for incredibly fast internet speeds throughout the Kansas City metro area, or you can pay very little for plans that are quite slow (but still usable). Which home internet service you choose depends on what you can get at your exact address and how much speed you need.
#1: AT&T internet
Our team of expert reviewers loves AT&T internet for its fast speeds, its reliable fiber network, and its reasonable prices. Its cheapest plan, at $55 per month, is fast enough for almost any household with speeds up to 300 Mbps. Nice Wi-Fi gear comes included with the monthly price, and there aren't any other hidden fees to worry about. If you're just getting started with AT&T and haven't had service before, though, you may have to pay $100 for a professional technician to come out and help you get set up.
Some parts of Kansas City, KS, don't yet have fiber internet from AT&T. Instead, they're stuck with the provider's much slower DSL network. If that's the case for your household, we recommend taking a look at our #2 and #3 providers instead.
Read our full AT&T internet review.
#2: Google Fiber internet
The Kansas City metro area was the first in the US to get access to Google Fiber, and it's still a very popular option throughout the region. The cheapest plan you can get is $70 per month, but you get a full 1 Gbps of bandwidth for the price. That's still faster than most modern devices can use in the real world, but it means your home network can handle anything you can throw at it. Installation and equipment are included with Google Fiber, and you can pay more for even faster speeds if you're confident your home needs them.
Read our full Google Fiber review.
#3: Spectrum internet
Cable internet from Spectrum can't match our top fiber providers for upload speeds, but it's offering download speeds virtually as fast and is available to a full 89% of homes in Kansas City, KS. (1) You'll pay a little more every month for 1 Gbps speeds from Spectrum than you would for the same speeds from Google Fiber or AT&T, but this cable internet provider also has great options for buyers on a budget. Its slowest plan, 30 Mbps, can be found for $20 per month, but we generally recommend plans in the 200–500 Mbps range instead. These still cost less than you'd pay for any plan available from the big fiber players. If you're switching to Spectrum, watch out for a $5 monthly equipment fee if you don't have a working router and startup fees of at least $25.
Read our full Spectrum internet review.
All internet providers in Kansas City
Each of our top three providers in Kansas City, KS, lays cables of some kind all the way from their network infrastructure to your home. You may have other options in the city, though, if those providers haven't gotten to your address. Home internet on T-Mobile's 5G network is the most widely available (2), and you'll find the network's best coverage—5G Ultra Capacity—almost everywhere. Verizon also offers home internet on its 5G network, but you'll be subject to 4G LTE in a lot of places. (3)
Lucky for you, two traditional fixed wireless internet providers also operate in Kansas City, KS. These connections are subject to slowdowns if the network gets busy, which is a bummer, but they're a lot more reliable than satellite internet and are a good option for rural areas. Midco offers plans that start at $50 and prides itself on its Wi-Fi equipment and local touch. It's worth noting that the company offers fiber connections in some spots, so ask about the possibility when you call to order.
The other big fixed wireless (and sometimes fiber) provider in Kansas City, KS, is Mercury Broadband. The company has a fantastic reputation for customer service (4), but prices go up by as much as $40 after the first year so it may not be a permanent internet solution for your home.
Fastest internet providers in Kansas City
Both AT&T fiber internet and Google Fiber offer plans with speeds up to 5 Gbps, which is incredibly fast! That would be enough to power a big call center or stream dozens of movies in the highest-possible resolution. In other words, it's probably faster (and more expensive) than almost any home would need. It's nice these networks are ready for the future, though.
How much speed do you need?
When choosing an internet plan, you want to keep all of your activities running smoothly without paying extra for speeds you don't need. At the bare minimum, you need 25 Mbps to do light browsing on one or two devices. Most households with multiple people and multiple devices will want to look for speeds in the 100–500 Mbps range. Learn how much speed your household needs in our guide to internet speed.
Cheapest internet providers in Kansas City
Spectrum offers the cheapest internet in Kansas City, KS, with its $20 monthly plan. Your speeds top out at 30 Mbps on that plan though, so you'll only be able to connect a few devices at a time without worrying about network congestion. You can get speeds that are sometimes much faster with a 5G home internet provider, with comparable $25 monthly pricing if you bundle with certain mobile phone plans.
Every provider we recommend partners with the Affordable Connectivity Program, which uses taxpayer funds to cover the first $30 of internet bills for certain families every month. Learn more about free and cheap internet options.
Internet options in nearby cities
Our top three providers in Kansas City, KS, are also widely available throughout the greater metro area. Google Fiber quickly expanded into the suburbs after getting started here, and AT&T was close on its heels. Spectrum is the biggest cable internet provider in the area, but Consolidated Communications (which has a mix of fiber and coaxial cable in its network) is also available in some areas.
The further you get from population centers, the more likely you are to have good internet options in the 5G or fixed wireless space (where providers often lay fiber to central transmitters and then beam the signal via radio waves). Some of those providers also offer FTTH (fiber-to-the-home) connections in parts of their network.
Some of the smaller providers that aren't available in Kansas City, KS, but that you can find nearby include KCCoyote, KwiKom and United Fiber. Big national provider Xfinity isn't available here either, but it does service a small part of Lee's Summit. You won't find Optimum in Kansas City proper either, but it is available in a small part of St. Joseph. Get the details for surrounding cities:
See all options in your area within seconds.
What Kansas City residents are saying on Reddit
If you live in the Kansas City metro area, there's a very good chance you've heard of Google Fiber. There's also a good chance you and your neighbors love the service! People posting online in Kansas City recommend Google Fiber almost exclusively, but acknowledge it isn't available everywhere. They generally recommend against choosing Spectrum unless you have to and aren't too happy with AT&T, but say T-Mobile home internet works well in some situations.
Internet news and infrastructure in Kansas City, KS
Almost every home in Kansas City, KS, has access to broadband internet speeds of 100 Mbps or faster, according to the Federal Communications Commission. (1) Nearly 80% can get speeds ten times that fast, proving that Kansas City is a nice place to learn, work, and play online.
Google Fiber expanded its network into Kansas City, KS, soon after it launched in Kansas City, MO, and is still adding thousands of addresses a year in the area. (5) AT&T started building its own pure fiber network shortly thereafter, and the companies still compete with one another to provide home internet service to Kansas City.
A few neighborhoods in town still can't get internet from either of these big fiber providers or from Spectrum's cable internet. Unfortunately, none of the big fiber build outs being planned in Kansas are slated for Johnson County. (6)
If you can't get wired internet at your address, the good news is fixed wireless internet (including 5G home internet) is widely available and fast enough for a lot of households.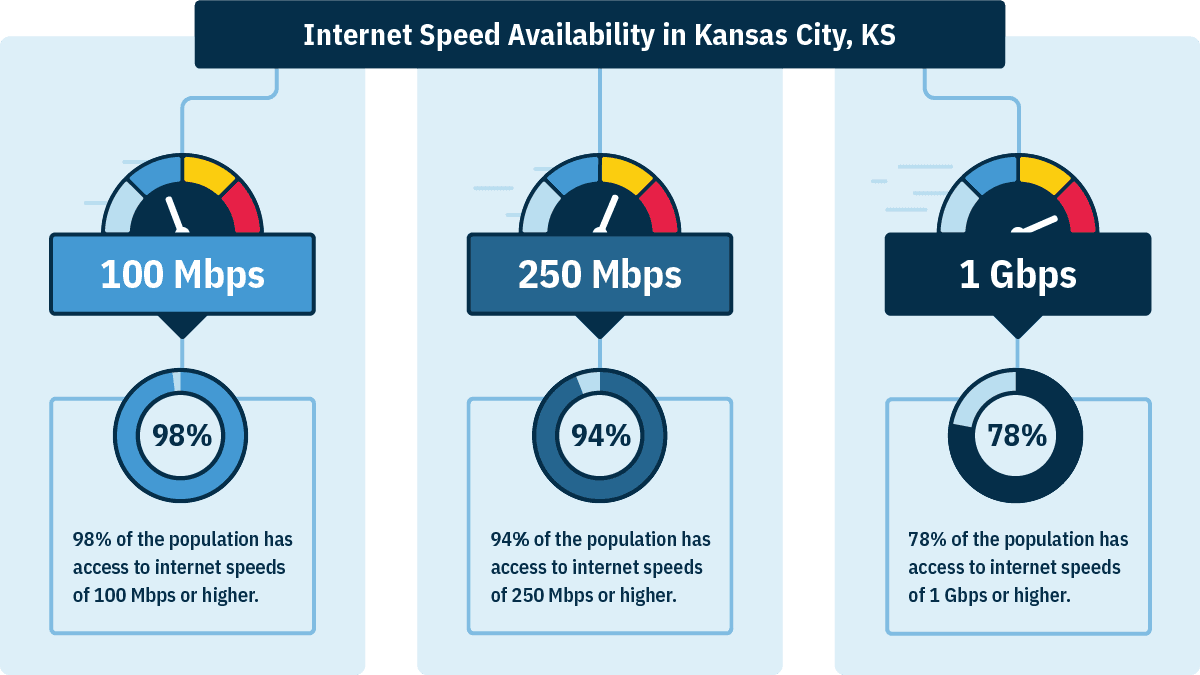 Frequently asked internet questions in Kansas City
---
If you live in a rural corner of the Kansas City metropolitan area, there's a good chance you have a choice of fixed wireless providers. Wisper, Midco, and Mercury Broadband are available in different spots.
It's a roll of the die whether you can get 5G home internet coverage in rural areas, but both Verizon and T-Mobile have respectable coverage throughout the region and provide cheaper plans that can be a lot faster than you'll see with fixed wireless. You can also technically get satellite internet, but we almost never think it's a good bet if you can get any other type of internet.
---
Almost all modern internet equipment comes with Wi-Fi capability, and all the providers we recommend either include this equipment with your monthly plan or offer it for rent for an additional monthly charge.
Our top pick for internet in Kansas City, KS, is AT&T, and its Wi-Fi equipment is reliable, easy to use, and has a clean, modern aesthetic. Google Fiber also offers stellar Wi-Fi equipment included, and Spectrum has a decent offering, but you'll be on the hook for an additional $5 per month if you want to lease it.
---
No, Consolidated Communications does not offer internet services in Kansas City, KS, even though it offers internet in several cities nearby. If you're switching to a Kansas City provider from a Consolidated Communications area, Spectrum is the most comparable provider. We most often recommend its plans in the 200–500 Mbps range, but watch you should be aware that you'll be charged at least $25 to get set up and may have to lease the Spectrum router for an extra $5 every month. Prices with Spectrum go up after a year.