Our top 3 ISP choices in Lawrence, KS
Choosing a home internet provider depends on your exact address, how much you want to pay, and how much speed your household needs.
#1: AT&T internet
If you can get fiber internet from AT&T, you're in luck! Plans start at $55 for speeds up to 300 Mbps, and Wi-Fi equipment is included with the monthly price. You can also get hypergig speeds up to 5 Gbps, including a sweet Wi-Fi 6 router that's fast enough to handle it all. You may be on the hook for a $100 installation fee if you haven't had the fiber service in your home before, but self-installation is free if your home's already ready to go.
It's worth noting that AT&T also sells DSL home internet in some parts of Lawrence, but you can no longer get a new DSL plan so if you're signing up with AT&T, you'll benefit from all fiber internet has to offer.
Read our full AT&T review.
#2: Midco internet
Midco offers cable internet built on a fiber-optic backbone to homes in Lawrence. Its plans are competitive and its customer service is fantastic. (1) If you can get fiber where you live, you'll benefit from no contracts, no data caps, and a 30-day money-back guarantee. The cheapest plan is $39 per month for speeds up to 250 Mbps, but for just $20 more per month, you could get speeds as fast as 1 Gbps. Depending on the plan you choose, your Wi-Fi equipment may be included with the price. Prices jump a whopping $40 per month after your first year, though, so set yourself a reminder to shop for internet again when your Midco anniversary rolls around.
If you live in a rural area, you might not be eligible for cable internet from Midco, but you may be able to get fixed wireless internet. You'll have to schedule a site visit from the company and equipment and costs vary depending on what they find, but you'll have to provide your own modem and router or rent theirs for a combined $20 per month. Speeds can be as fast as 35–100 Mbps, but that can vary a lot depending on your exact location and how busy the Midco network is at any given time.
#3: T-Mobile internet
Home internet from T-Mobile uses the same 5G network you use for your mobile phone. In Lawrence, virtually every address gets either 5G Ultra Capacity or 5G Extended Range coverage. That means speeds of up to 175 Mbps in perfect conditions, but you may also see speeds in the range of 30 Mbps if the network is busy or your home is far away from the closest 5G tower. If you bundle with your cell phone plan, you can get this service for as little as $25 per month.
Read our full T-Mobile 5G home internet review.
All internet providers in Lawrence
According to the FCC, 100% of addresses in Lawrence have access to internet speeds of at least 100 Mbps, and nearly 40% can get speeds as fast as 1 Gbps. That makes Lawrence a very well-connected city, and most folks are lucky to have a choice of internet providers.
For fiber internet, both AT&T and Midco serve Lawrence. For 5G internet, we generally recommend T-Mobile for its coverage, but you can also get home internet from Verizon. It offers 4G LTE coverage almost everywhere, but a few tiny spots get the faster 5G Ultra Wideband. Coverage improves dramatically the farther east you get, toward Overland Park.
You may have other fixed wireless options as well. KwiKom, for instance, offers speeds between 5 and 50 Mbps, with prices ranging from $55–$105 and unlimited data. Wisper offers speeds of up to 25 Mbps for $65, with internet equipment included. The company is building fiber in many parts of the state but provides only fixed wireless internet in Lawrence. (2)
Mercury Broadband offers fixed wireless home internet with no data caps, and plans between 30 Mbps and 150 Mbps (which is similar to what you'd pay for fiber internet but much, much slower). Wisper also provides fixed wireless to a tiny portion of the city, according to FCC data, but Wisper itself doesn't claim Lawrence as one of its service areas.
Satellite internet is also available in Lawrence, and some people at the outskirts of town have had to rely on it for years. It's much slower than cable or fiber and much more expensive than fixed wireless, though, so we recommend it only if you can't get internet any other way.
Fastest internet providers in Lawrence
AT&T fiber internet is the fastest connection you can get in Lawrence (at least for now). The company offers speeds all the way up to 5 Gbps! However, we generally recommend plans of 1 Gbps or slower because it's highly unlikely most home internet users would notice any real-world differences between speeds of 1 Gbps and 5 Gbps. The cost difference could be $100 or more per month, though, and you would have to buy your own high-end Wi-Fi equipment to get anywhere close to 5 Gbps on your devices.
How much speed do you need?
When choosing an internet plan, you want to keep all of your activities running smoothly without paying extra for speeds you don't need. At the bare minimum, you need 25 Mbps to do light browsing on one or two devices. Most households with multiple people and multiple devices will want to look for speeds in the 100–500 Mbps range. Learn how much speed your household needs in our guide to internet speed.
Cheapest internet providers in Lawrence
The cheapest internet provider in Lawrence is T-Mobile. You can pay as little as $25 per month if you bundle with your cell phone bill, and benefit from speeds as fast as 175 Mbps.
T-Mobile, like all the providers we recommend, partners with the FCC to offer up to $30 per month of home internet bills for certain Veterans, seniors, and families with kids. Learn more about free and cheap internet options.
Internet options in nearby cities
Lawrence is a bit of an outlier compared to other cities in the Kansas City metro area, at least when it comes to getting home internet. In most surrounding cities, Spectrum is one of our top three providers, but in Lawrence, Spectrum connections are nowhere to be found. Instead, we often recommend home internet from Midco (if AT&T's fiber network doesn't reach your address).
Another of our top picks in the region—Google Fiber—is also unavailable in Lawrence, and you won't find Consolidated Communications here either. That said, Lawrence is one of the few cities in the area where Kwikom can be found.
Choosing a provider starts with knowing what's available near you. Read our internet guides for surrounding cities to learn more:
See all options in your area within seconds.
What Lawrence residents are saying on Reddit
There's an active internet community in Lawrence, and most folks who have AT&T fiber internet say they like it. People complain about outages with Midco but like its introductory prices. If you can't get fiber, people say wireless internet from T-Mobile and Mercury Broadband are decent options.
Internet news and infrastructure in Lawrence, KS
Internet infrastructure in Lawrence is similar to what you'll find in other cities of its size throughout the country, with options between fiber and cable internet, plus a smattering of choices for fixed wireless and 5G.
AT&T is building out its fiber-to-the-home network in the city but has faced some controversy. In July of 2021, the city of Lawrence issued a cease and desist order to the company and all its subcontractors after receiving multiple complaints about safety. (3) AT&T restarted work 8 days later after agreeing to a list of stipulations. The company has provided a FAQ document for residents about the construction.
Cable internet is nearly as fast as fiber internet when it comes to download speeds, and it's available to virtually every home in Lawrence through provider Midco (formerly Midcontinent Communications). In 2016, Midco bought internet infrastructure from WOW that passed 67,000 homes and businesses (4) and set out to build a network that could offer 1 Gbps speeds. In June of 2022, the provider announced plans to spend $30 million on fiber infrastructure and says it plans to offer speeds up to 10 Gbps in Lawrence, Eudora, and Basehor. It expects to wrap up construction by the end of 2025. (5)
In rural areas that can't get fiber or cable internet, fixed wireless internet is an option. Mercury Broadband is the biggest traditional fixed wireless provider in the area, reaching 84% of homes. KwiKom reaches 56% of homes as well, while T-Mobile 5G home internet reaches 95%.
Elsewhere in Kansas, the state is spending $83.6 million to build out fiber internet infrastructure, focusing on areas that can't get speeds of 100 Mbps. None of the projects are taking place in Douglas County, but there are some planned buildings in Franklin, Johnson, Shawnee, and Osage counties nearby. (6)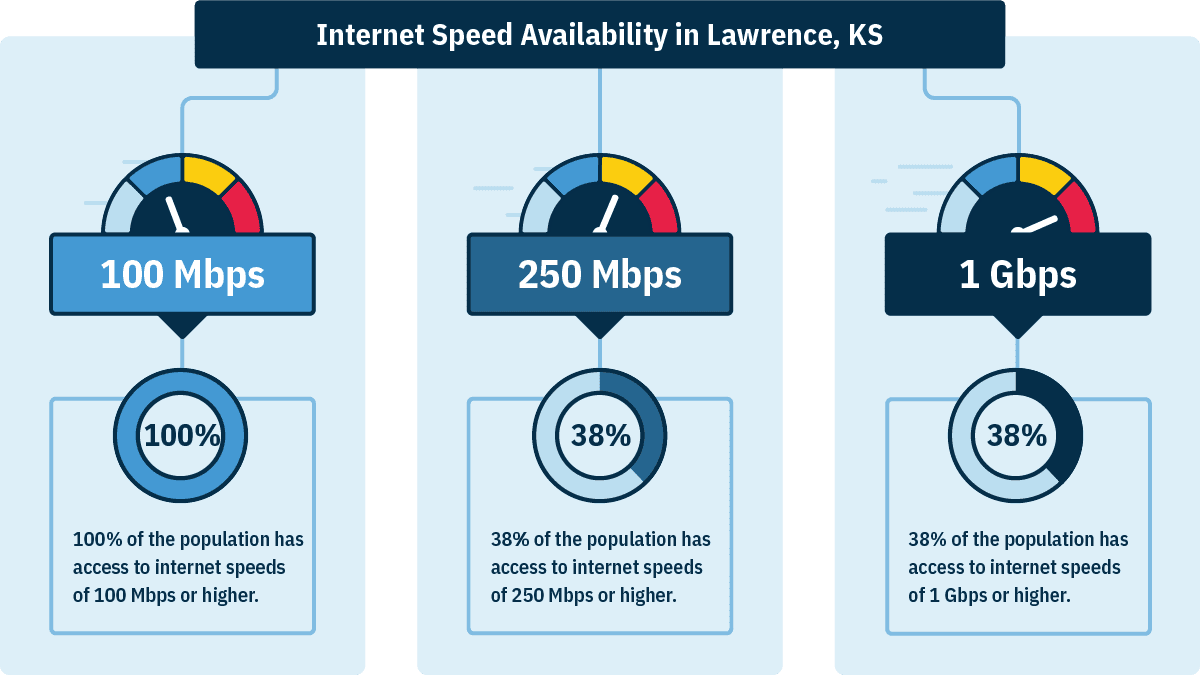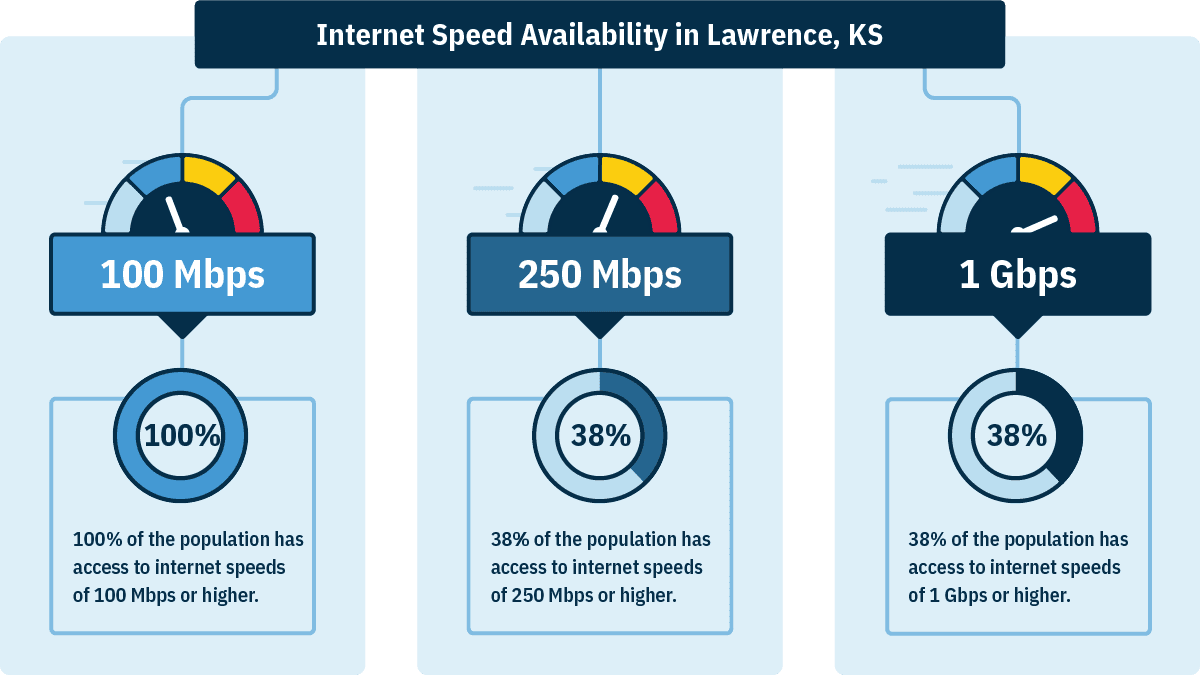 Frequently asked internet questions in Lawrence
---
Yes, most of Lawrence can get a fiber-to-the-home internet connection from AT&T, and Midco has plans to build out a fully fiber network there as well. Right now, Midco and Mercury use fiber-optic cabling in their infrastructure but use other methods (coaxial cable and radio waves, respectively), to get internet to homes.
---
Our expert team generally prefers AT&T fiber internet over cable internet from Midco, but whether you can get it in Lawrence, KS, depends on your exact address. With AT&T fiber, you can get synchronous upload and download speeds of 300 Mbps starting at $55 per month, with internet equipment included. With Midco, you can get a 250 Mbps plan for $39 per month, but you have to spend an extra $11 per month for Wi-Fi equipment (or $9 per month to lease a modem), and prices go up in the range of $25–$40 per month in the second year.
If you can get only DSL from AT&T at your address, however, we generally recommend going with Midco because your connection will be much faster.
---
If you meet certain income requirements, there is a taxpayer-funded program that will cover up to $30 of your monthly internet bill (or $75, if you're on Tribal lands). The Affordable Connectivity Program works by letting you choose a provider and paying the provider on your behalf. It's best for Veterans, lower-income families with students, and seniors.
Taxpayers have also spent billions of dollars on building internet infrastructure, usually with grants to private internet service providers. In Kansas, another round of buildouts is underway, with an $83.5 million price tag. (6)