Our top 3 ISP choices in Shawnee, KS
Each of our top three picks for home internet in Shawnee is highly rated by our team of expert reviewers.
#1: AT&T internet
Customers of AT&T fiber internet benefit from speeds that are very fast and very reliable, plus some of the lowest prices you can find anywhere for fiber internet to the premises. Pricing on the lowest tier (300 Mbps) is just $55, and that includes equipment rental. If you need more speed, this provider has you covered with plans as fast as 5 Gbps. We really like the offerings, but new customers should watch out for an installation fee of $100 if they need a pro to come to their home.
While AT&T has been busy building out its fiber network, some customers in Shawnee may still be stuck with its older (and much slower) DSL network. You can't get a new DSL line, though, so all new customers will be getting fiber internet.
Read our full AT&T internet review.
#2: Google Fiber internet
If you're on the hunt for fast, synchronous speeds with uploads equal to downloads, look no further than Google Fiber. Plans start at 1 Gbps of speed for $70 per month, and we haven't seen a price increase in years. You probably won't find a lot of promotions or deals, but we aren't mad about it. Straightforward billing is the whipped cream on top of this delicious internet sundae. The only big downside with this provider is a lack of budget pricing, but equipment and installation come included with the monthly price, so customers can still achieve some cost-savings on that front.
Read our full Google Fiber review.
#3: Spectrum internet
Cable internet is faster than ever, and we like that Spectrum offers a wide range of plans, from very fast and expensive to slow but very affordable. We like the 300 Mbps and 500 Mbps plans, with pricing in the range of $50 per month or less. If you're new to Spectrum, watch out for startup costs between $25 and $60, a $5 monthly fee for router rental (unless you already have your own), and prices that may increase after the first year. If you go with Spectrum, we recommend shopping for home internet again on your anniversary with the brand.
Read our full Spectrum internet review.
All internet providers in Shawnee
If you can't get our top three providers to your exact address in Shawnee, the good news is you have more options! If you can't get Spectrum cable internet, for instance, Consolidated Communications also has a nice range of plans, starting at 100 Mbps of speed for $25 per month. As a bonus, your router is included with this monthly rate.
We also like plans in Shawnee that don't require cables of any kind being laid all the way to your front door. Verizon offers 5G home internet in many parts of town, but its top-tier 5G Ultra Wideband network is available in only a few neighborhoods. (1) T-Mobile offers its version of 5G home internet as well, and its premier 5G Ultra Capacity network blankets most of town (though you may get only 5G Extended Range out by Lake Quivira and parts of Merriam). (2)
Classic fixed wireless internet is also available in Shawnee, from Mercury Broadband. Plans are slow and expensive compared to fiber internet, but it's a nice option if you can't get coverage any other way. You can also get satellite internet in Shawnee from each of the top three satellite internet providers, but it's too slow for most online gaming or remote work and it's very expensive, so we rarely recommend it.
Fastest internet providers in Shawnee
AT&T and Google Fiber are tied for fastest internet providers in Shawnee, with each offering a plan with speeds up to 5 Gbps. That's a lot more speed than almost any home would need, but we like that the providers have built a network that's ready for whatever broadband needs the future may bring.
How much speed do you need?
When choosing an internet plan, you want to keep all of your activities running smoothly without paying extra for speeds you don't need. At the bare minimum, you need 25 Mbps to do light browsing on one or two devices. Most households with multiple people and multiple devices will want to look for speeds in the 100–500 Mbps range. Learn how much speed your household needs in our guide to internet speed.
Cheapest internet providers in Shawnee
Consolidated Communications has the cheapest internet plan in Shawnee, with a $25 per month price. Spectrum also offers a $30 budget plan for 100 Mbps of speed. Equipment fees may increase the real price you'll pay, however, so you might also want to take a look at one of the 5G plans listed above.
Internet options in nearby cities
Getting online from home in Shawnee is similar to getting access in cities nearby. Google Fiber is widely available throughout the region, and AT&T is our top pick in almost every city in the greater metro area. However, some nearby cities have better access to fixed wireless internet providers like Mercury Broadband, Wisper, and Midco.
Choosing a provider depends first on what's available to your exact address. Get the details for cities near Shawnee:
See all options in your area within seconds.
What Shawnee residents are saying on Reddit
Neighbors in and around Shawnee love Google Fiber, but don't care much for AT&T (especially the older DSL plans). A few have good things to say about T-Mobile internet, but Google Fiber is far and away the most popular home internet in Shawnee.
Internet news and infrastructure in Shawnee, KS
Shawnee was one of the first cities in the US to get access to Google Fiber home internet, just after neighboring Kansas City. (3) The company is still building out its network in Shawnee and claims it has added thousands of addresses in the Kansas City metropolitan area. (4)
After Google's 2013 announcement it would be bringing fiber internet to the Shawnee area, AT&T announced it would bring its own "gigapower" fiber internet to the area. (5) As of the end of 2022, AT&T was available to 89% of homes in the city, according to the Federal Communications Commission (FCC). (6) Google Fiber, on the other hand, reported covering 78% of the city. The figures include the old AT&T DSL network, though, so the jury is still out on which provider has the bigger Shawnee footprint.
Either way, there's a 96% chance you can get cable internet from Spectrum, and a 69% chance of getting cable internet from Consolidated Communications. That adds up to virtually 100% of the city having the option for speeds up to 100 Mbps and an impressive 80% having access to gigabit speeds.
Additional fiber buildouts have been announced throughout Kansas, according to the commerce department, but the only one slated for the Johnson County area is for middle-mile construction rather than buildouts to individual homes. (7)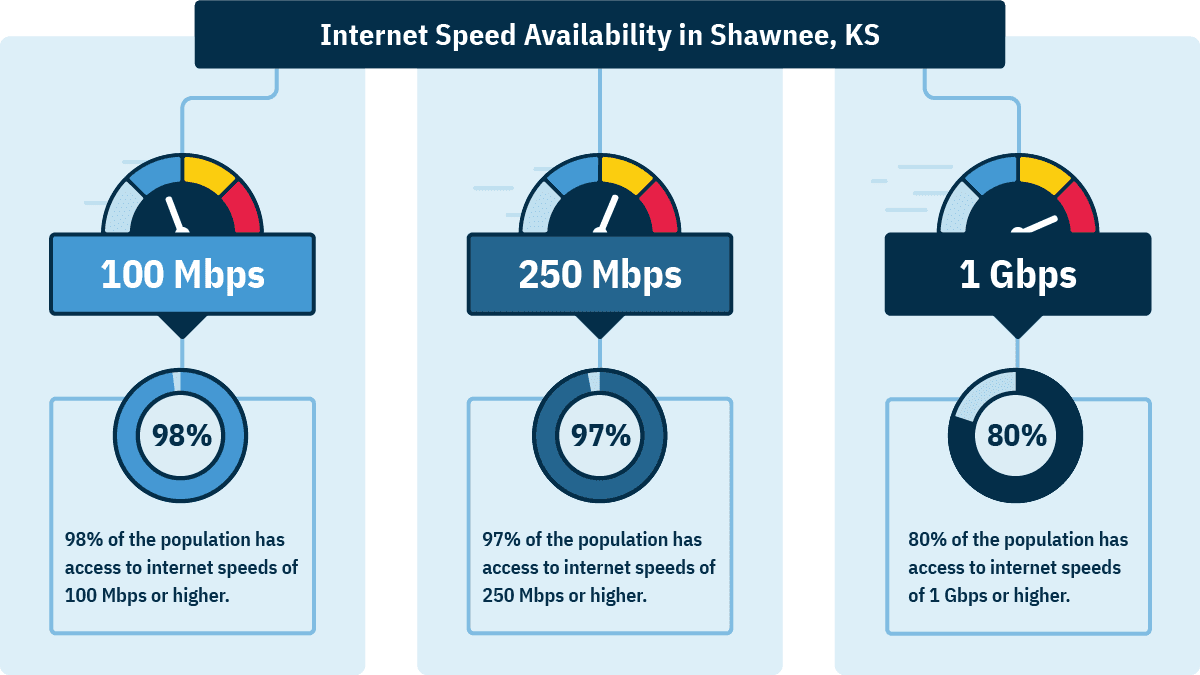 Frequently asked internet questions in Shawnee
---
The first consideration in choosing the right internet provider for you is availability. Once you confirm a provider services your actual address, compare plans based on pricing and the speed you need. For most people, we recommend speeds of around 100 Mbps for a single user and speeds of 200–500 Mbps for a large household.
If prices and speeds are comparable, look for hidden fees, equipment quality, and a good customer service reputation.
Compare expert reviews side by side for our top three providers in Shawnee: AT&T, Google Fiber, and Spectrum.
---
Shawnee has several good internet options for working from home. Fiber internet from either Google Fiber or AT&T will be the most reliable, and we love their lightning-fast upload speeds that are equal to download speeds. With these providers, you never have to worry about your Zoom screen freezing or needing to wait for several minutes to transfer big files.
If you can't get one of these fiber internet services to your address, look for a cable internet connection from either Spectrum (our #3 pick for Shawnee) or Consolidated Communications. You can get away with paying a lot less every month, and speeds are still fast enough for most remote work activities.
We tend to recommend against 5G home internet and other kinds of fixed wireless or satellite connections for remote work because of issues with reliability, but Verizon is our top pick in this category if you're too far out to receive any other kind of service.
Read more about setting up internet to work from home.
---
We love that T-Mobile's 5G home internet is widely available throughout the Shawnee area, and its monthly pricing that comes in as low as $25 is pretty fantastic. We also like the quick, easy setup via mobile app. There's no need for cables to be laid all the way to your home, which is fantastic.
The cons have to do with reliability. You can hypothetically get speeds up to 182 Mbps with T-Mobile 5G, but speeds can slow to 30 Mbps if the network is busy. Being too far away from the nearest 5G tower can also slow your speeds dramatically, so we highly recommend taking advantage of the company's free trial period.