Our top 3 ISP choices in Olathe, KS
Olathe is well-served by internet providers, with plans that are both reliable and fairly inexpensive.
#1: AT&T internet
If you can get fiber internet from AT&T, you're in luck! You can choose a 300 Mbps plan for around $55. That's fast enough for most households, and we like that a nice internet gateway for Wi-Fi is included in the monthly rate. You can also get faster plans with AT&T if you have a particularly large household, and prices are competitive. We are a little less excited that AT&T sometimes charges $100 for installation (if you need a professional installer to come by) and wish there were even cheaper plans, but AT&T is still Switchful's top pick in Olathe.

Read our full AT&T review.
#2: Google Fiber internet
When you need reliable speeds of 1 Gbps or faster, Google Fiber is another great choice. Its pricing is super simple, and we haven't seen an increase in monthly rates for years. We also like its version of a router, and the option to add mesh nodes at no extra cost if you have an especially large home. It would be great if this provider had slower and cheaper options like some of its competitors, but its reputation in the area can't be beat.

Read our full Google Fiber review.

#3: Spectrum internet
When you need slower speeds and lower prices, Spectrum internet is a nice option. There's a huge range of plans, with options as little as $30 per month all the way up to $90 per month. For most households, we recommend plans of 500 Mbps or less, which ring up at $50 per month or less. There are a few things to know, though. Spectrum charges installation costs of at least $25, even if you do the work yourself, and there's a $5 monthly fee to rent its Wi-Fi router if you don't already have one you can hook up. We've also seen a lot of complaints from frustrated customers and prices go up after a year, so the service is harder to recommend than fiber providers in the area.

Read our full Spectrum review
All internet providers in Olathe
If you live in Olathe, you're not limited to our top three choices for home internet. Instead, you can choose from an additional cable internet provider, two 5G home internet providers, or a traditional fixed wireless provider.

Consolidated Communications is our number-two pick for cable internet, and the provider touts its hybrid cable/fiber network. We especially like its $25 monthly plan that offers speeds up to 100 Mbps, but all its plans are reasonably priced.

If you can't get cable or fiber internet or don't mind connections that are a little less reliable, 5G home internet might be right for you. And the price is right! Both T-Mobile (3) and Verizon (4) blanket the city with their fastest 5G coverage, but T-Mobile may be more likely to offer 5G home internet. If you bundle your phone plan with either, you can find plans that cost as little as $25 per month.

You can also get traditional fixed wireless from Mercury Broadband or choose among three satellite internet providers, but we steer most people away from these options because they're slow and expensive, especially compared to fiber internet.
Fastest internet providers in Olathe
Fiber internet with speeds up to 5 Gbps is the fastest we've seen from big internet providers anywhere in the US, and Olathe has two providers that offer that kind of speed: Google Fiber and AT&T. The 5 Gpbs plan from Google Fiber is less expensive and comes with free installation, but the plans are otherwise very similar.

While these speeds are technically available, we don't recommend multigig plans for most households because very few devices can handle anything that fast.
How much speed do you need?
When choosing an internet plan, you want to keep all of your activities running smoothly without paying extra for speeds you don't need. At the bare minimum, you need 25 Mbps to do light browsing on one or two devices. Most households with multiple people and multiple devices will want to look for speeds in the 100–500 Mbps range. Learn how much speed your household needs in our guide to internet speed.
Cheapest internet providers in Olathe
One of the cheapest internet plans you can get in Olathe is from Spectrum, which offers a $29.99 monthly option with speeds up to 100 Mbps. That's a decent price for the speed, but you may have to pony up an additional $5 per month for Wi-Fi gear. For $25, you can also get a 100 Mbps plan from Consolidated Communications or a 5G plan from one of the cell phone providers listed above, as long as you bundle with a qualifying mobile plan.
Certain lower-income families with students, Veterans, and seniors may qualify for $30 off per month from the Affordable Connectivity Program, a taxpayer-funded initiative managed by the FCC. Learn more about the program and find other ways to get free or cheap internet at home.
Internet options in nearby cities
Getting home internet in Olathe is similar to getting connected in other areas nearby. Google Fiber, AT&T fiber, and Spectrum are our top picks throughout most of the greater metro area. Plans from Consolidated Communications aren't as widely available, but have good first-year pricing, and coverage from traditional fixed wireless providers is most common in rural areas.

Some suburbs in the metro area have more unique options than others. In St. Joseph, some households can get either Optimum or United Fiber, for example, and in Lee's Summit, some folks can get Xfinity. Those big national providers aren't available anywhere in Kansas City or Olathe, though.

Learn more about offerings from different providers throughout the region:
See all options in your area within seconds.
What Olathe residents are saying on Reddit
Google Fiber is the preferred choice by most social media commenters in and around Olathe, but people also say 5G home internet is pretty good. Many folks bash on AT&T and Spectrum internet, citing issues with billing and customer service, but these kinds of complaints aren't uncommon for ISPs (internet service providers) throughout the country, so we can't judge them too harshly.
Internet news and infrastructure in Olathe, KS
Olathe is a very well-connected city, with nearly every residence having the option for internet speeds of 100 Mbps or more. (1) Google Fiber has been operating its 100% fiber network in the city for at least a decade, and continues to expand. (5)
AT&T has an even bigger network in Olathe than Google Fiber and has been installing purely fiber internet in the area since at least 2015. (6) Cable providers Spectrum and Consolidated Communications also have large networks in Olathe. Both use a lot of fiber-optic cabling in the backbone of their networks, but have a mix of coaxial cable when it comes to delivering the internet to individual homes.
Meanwhile, Verizon and T-Mobile have been improving their networks in recent years and now make 5G home internet widely available to Olathe residents.
According to FCC data, Olathe residents have great access to broadband internet at home. However, a group of researchers with the University of Kansas say that data is only right about 25% of the time. They also say it's harder for people in less affluent parts of town to get fast speeds at reasonable prices. (7)
The federal government has allocated funds to help spread the word about the ACP, (8) and we look forward to seeing if that moves the needle for underprivileged families in the Olathe area.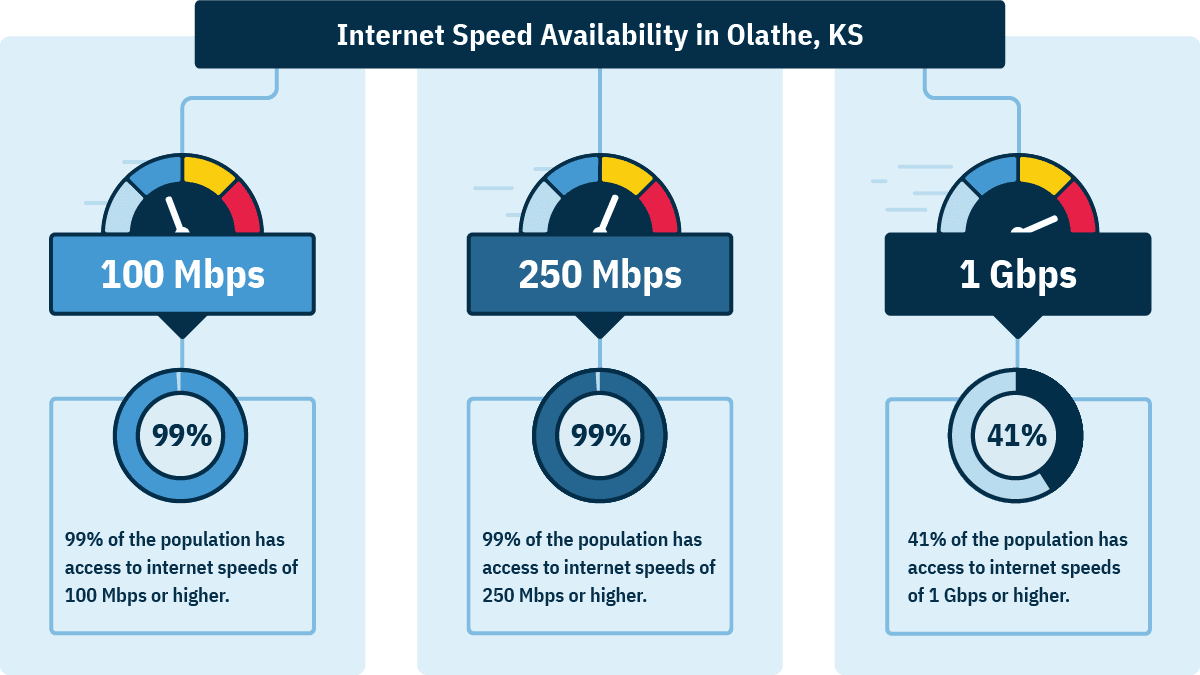 Frequently asked internet questions in Olathe
---
Seniors have many good internet options in Olathe, but our top choice is AT&T fiber internet. The provider's 300 Mbps plan is fast enough for almost any home, and its Wi-Fi equipment is included with the monthly price and looks nice on a desk or a shelf. Google Fiber isn't bad either, but very few seniors would benefit from 1 Gpbs of internet speed, and that's the slowest plan Google Fiber offers.

If you want to bundle your home internet with traditional TV, on the other hand, we generally recommend Spectrum's TV and internet combos. Its internet is still fast enough for almost any home, especially if you aren't hosting big video calls, and you'll save a lot compared to getting TV from a satellite provider.

Compare plans and pricing from Spectrum and AT&T side by side.
---
Yes, Spectrum internet is available to 97% of addresses in Olathe, KS. That's some of the best coverage we've seen anywhere.

We like Spectrum for its super low prices, but you'll pay more for its fastest plan than you'd pay for a comparable Google Fiber or AT&T plan, and you'll still have to deal with upload speeds that are a lot slower.
Learn how cable internet and fiber internet work.
---
The two biggest fiber-to-the-home internet providers in Olathe are Google Fiber and AT&T (which also offers DSL in some parts of the city). Other providers use fiber internet for part of their networks, but pipe internet service directly into homes using either radio waves or a coaxial cable.

Other 100% fiber networks exist in Olathe, but they are mostly reserved for businesses or public buildings.