Our top 3 ISP choices in Brighton, NY
Our top picks for internet service in Brighton are Spectrum, Greenlight Networks, and Frontier Communications.
#1: Spectrum internet
Spectrum is the most accessible ISP in the entire state of New York, and Brighton is no exception. We love that Spectrum has a wide range of plans so you don't have to pay for more speed than you need. We also appreciate the fact that Spectrum offers package deals with TV and phone, so you can save on your overall monthly expenses by bundling multiple Spectrum services. Spectrum is known for bumping up your monthly price after the first year of service, so just be sure to keep an eye on your bill and call to negotiate your price back down.
Read our full Spectrum internet review.
#2: Greenlight internet
Greenlight is our second pick because it provides truly fantastic fiber internet, but is still in its growing period. It can be tough to get Greenlight fiber service depending on your neighborhood—but if you are able to get it, do it! Greenlight's plans are fairly straightforward, with just four download speed options. We don't recommend the higher-end plans because they'll likely give you more speed than you'll know what to do with. However, Greenlight's lower-end plans are quick, reliable, and reasonably priced. Just look out for the installation fee, which is pretty high compared to competitors.
#3: Frontier internet
Frontier is extensively available across the Brighton area, but almost entirely only with its DSL service. We don't love Frontier's DSL service—or any DSL service, for that matter—but we are big fans of its fiber service. In fact, we'd normally rank Frontier first because we like its fiber service so much…but we've knocked it down to third place because Frontier's fiber coverage is available to such a small percentage of Brighton. If you're one of the lucky few who can get fiber with Frontier, you'll love its fast speeds and competitive pricing.
Read our full Frontier internet review.
All internet providers in Brighton
Aside from our top picks, options for alternative ISPs in Brighton are a bit lackluster. If you are unable to get service—or choose to forego it—from Spectrum, Greenlight, or Frontier, your choices are limited to fixed wireless or satellite internet.
T-Mobile 5G Home Internet is available to more than 95% of the Brighton area. Its direct competitor, Verizon, services only 5% of the area. Regardless, fixed wireless can be a bargain if you go with your current mobile provider as you'll likely qualify for a discount. However, the reliability isn't great, and the speeds are typically a bit slower.
Starlink, Viasat, and HughesNet offer satellite internet service to 100% of Brighton. However, satellite internet is the slowest and most expensive of all the internet types. We only really recommend going with a satellite provider if it's your only option. If this describes you, see how the satellite providers compare to find the right choice for your home.
Fastest internet providers in Brighton
Greenlight and Frontier are tied for fastest provider in Brighton because they both offer the same maximum download and upload speed—5 Gbps. This speed is way faster than the majority of even the heaviest internet users really need. If you have a need for speed, we recommend looking into a 1 Gbps plan, which is offered in Brighton through Frontier, Greenlight, and Spectrum.
How much speed do you need?
When choosing an internet plan, you want to keep all of your activities running smoothly without paying extra for speeds you don't need. At the bare minimum, you need 25 Mbps to do light browsing on one or two devices. Most households with multiple people and multiple devices will want to look for speeds in the 100–500 Mbps range. Learn how much speed your household needs in our guide to internet speed.
Cheapest internet providers in Brighton
Spectrum is technically the cheapest provider due to its $20 per month plan. This plan boasts a download speed of a measly 30 Mbps, so this is only a good option for budget shoppers who don't use the internet for anything more than checking email occasionally. You can upgrade to 100 Mbps for only $10 more per month with Spectrum, which is a much better deal when you consider the bang-for-your-buck factor. T-Mobile and Verizon also have plans starting at $25, but these are available only to existing mobile customers with qualifying accounts.
Learn how to get low-cost or free internet.
Internet options in nearby cities
Brighton itself doesn't have incredible fiber coverage (although Greenlight's more prevalent than Frontier here, that's for sure), but the cities surrounding it do! Henrietta and the southeastern to eastern regions of Rochester itself have really great fiber availability. Even Penfield has decent fiber coverage. All suburbs of Rochester pretty much have equal access to Spectrum, because Spectrum is available to almost everyone in the entire state. See what's available in these cities:
See all options in your area within seconds.
What Brighton residents are saying on Reddit
Residents of the greater Rochester area generally say the same thing—get fiber if you can. Those with fiber service through either Greenlight or Frontier seem pretty happy with their service. There are some qualms with Frontier's installation timelines, but the installation is at least half the price of Greenlight's. It's free if you opt for self-install, which Greenlight offers only if your home has been outfitted for Greenlight service in the past.
Spectrum customers have expressed general satisfaction with their actual internet connection, but we've seen a decent number of comments complaining about price hikes and poor customer service. We've noticed these comments are fewer and fewer as Spectrum starts to feel the heat of competitor expansion, and have even seen a number of comments suggesting the customer service is getting better.
Internet news and infrastructure in Brighton, NY
Survey data shows that 100% of Penfield residents are able to access internet with download speeds of at least 250 Mbps. (1) There are a number of providers that advertise speeds that fast, including Spectrum, Frontier, Greenlight, and Starlink.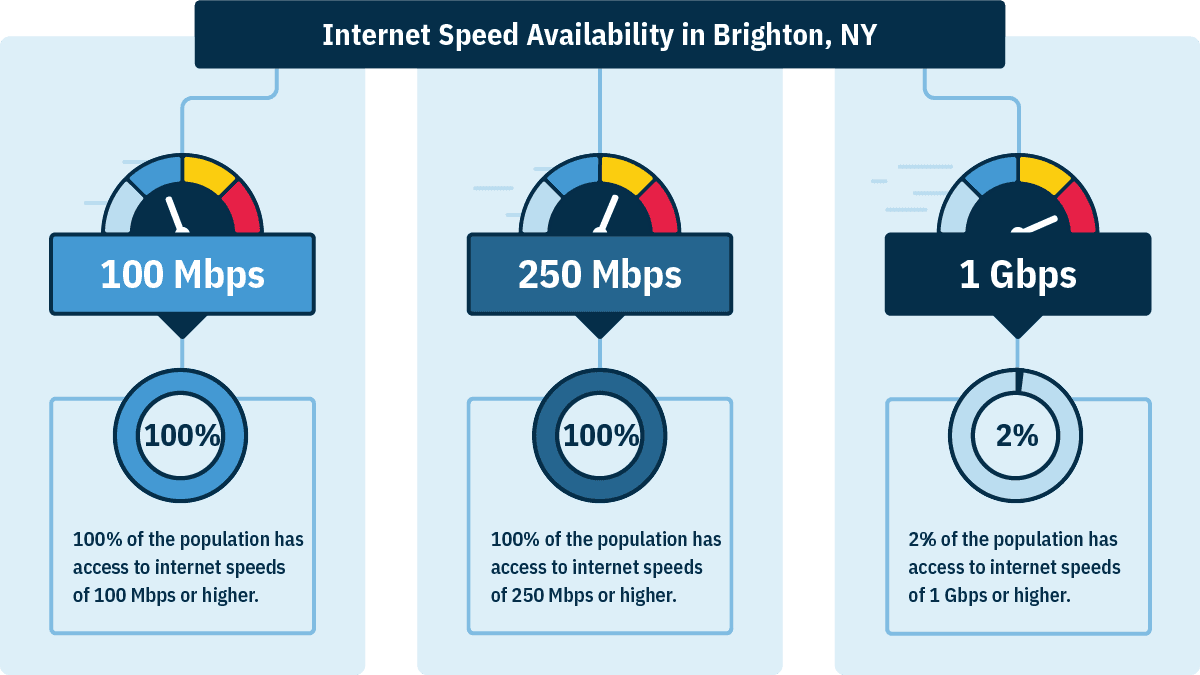 Frequently asked internet questions in Brighton
---
When working from home, it's best to have an internet plan with a download speed of at least 100 Mbps. You can get away with slower speeds if you're the only one working from home, but we still recommend this speed to avoid video call lags, slow loading times, or errors when dealing with the download or upload of large files. In Brighton, you can get these speeds from Spectrum, Frontier, or Greenlight. Frontier or Greenlight offer the superior fiber service, but Spectrum's cable connection is more than sufficient for working from home as well.
---
Satellite internet is not an internet connection we typically recommend. However, if you live in a rural area where satellite is your only option, there are a few available providers for you to choose from—Starlink, Viasat, and HughesNet. Allof these options have respective pros and cons. Starlink has the fastest plans with the lowest  latency, but is also the most expensive by far. Viasat has the widest variety of plans, but the cheapest ones offer nearly unusable speeds. HughesNet gets you more bang for your buck than Viasat, but its data caps are low. All in all, if budget isn't an issue, we recommend Starlink if you can get it. See how they all compare in greater detail.
---
Spectrum has cable internet plans that are a little slower than Frontier's fiber internet plans. However, Spectrum's slightly slower plans still have plenty of bandwidth for average users and are more affordable. Additionally, Spectrum services almost 95% of Brighton. Frontier services a large portion of Brighton, as well, but only with DSL internet—its fiber service is minimal in Brighton. See how they compare in more detail.