Our top 3 ISP choices in Henrietta, NY
Our top choices for internet in Henrietta include Frontier Communications, Spectrum, and Greenlight Networks.
#1: Frontier internet
Our expert reviewers gave Frontier high scores for the value, performance, and equipment of its fiber plans. In fact, Frontier was named the fastest ISP in the country by PC Mag in 2022. (1) However, its DSL offering is sub-par. If you're eligible for a fiber connection through Frontier, we highly recommend it. If not, we think it's worth looking into other options.
Read our full Frontier internet review.
#2: Spectrum internet
As our second pick, Spectrum offers widespread cable coverage in Henrietta. We rated it highly in the areas of performance as well as equipment and installation due to its faster-than-advertised speeds and straightforward set up. It also offers deals for bundling with phone and TV, so you can save on all things connection and entertainment with a single package.
Read our full Spectrum internet review.
#3: Greenlight internet
Greenlight Networks is our third place ISP in Henrietta because of its fast speeds and competitive pricing. The drawback with Greenlight is its availability, which seems to be limited to the east side of Henrietta. However, it seems to be expanding all the time. If you're not currently eligible for Greenlight's fiber service, it's worth looking into whether it's building out infrastructure in your area soon.
All internet providers in Henrietta
Our top picks aside, Henrietta has a number of ISPs available throughout the area. However, additional options are limited to fixed wireless or satellite connections.
Fixed wireless 5G plans are available through T-Mobile or Verizon. These are particularly appealing if you're a current mobile customer with either provider as you may qualify for a discount on home internet. However, fixed wireless connections are typically a bit slower and less reliable than cable or fiber connections.
Satellite internet service is available through Starlink, Viasat, and HughesNet. We really recommend these only for those who are unable to get any other internet type. This is because satellite internet tends to be slower, less reliable, and far more expensive than fiber, cable, or even fixed wireless internet.
Fastest internet providers in Henrietta
The fastest internet plans in Henrietta come from fiber connections through Frontier and Greenlight. Both providers offer hyper-gig plans, with download speeds of 2 to 5 Gbps. However, we've found that most people don't need that much speed. We recommend looking at 1 gig plans through Frontier, Greenlight, or Spectrum.
How much speed do you need?
When choosing an internet plan, you want to keep all of your activities running smoothly without paying extra for speeds you don't need. At the bare minimum, you need 25 Mbps to do light browsing on one or two devices. Most households with multiple people and multiple devices will want to look for speeds in the 100–500 Mbps range. Learn how much speed your household needs in our guide to internet speed.
Cheapest internet providers in Henrietta
Spectrum qualifies as the cheapest ISP in Henrietta with plans as low as $20–30 per month. While its low-end plans are the most affordable, they also are quite slow with download speeds of 30 to 100 Mbps. T-Mobile and Verizon also have low-priced plans with slightly higher download speeds, but these plans are comparably priced only if you're a current subscriber on a qualifying cell phone plan. Frontier and Greenlight both have 500 Mbps download speed plans for around $50, which gives you the most bang for your buck.
Learn how to get low-cost or free internet.
Internet options in nearby cities
Henrietta has some of the most widely available fiber coverage from both Frontier and Greenlight, especially in the southern Rochester area. You won't see as much fiber availability until you head north toward Irondequoit, or northeast toward Webster. Spectrum is available to almost 100% of residents throughout the entire state of New York, so it's no surprise that it's available throughout the greater Rochester area. See what's available in these cities:
See all options in your area within seconds.
What Henrietta residents are saying on Reddit
Residents of the Rochester area have expressed some frustration with being limited to Spectrum service since fiber became the hot new player in the internet game. The main complaints are about price hikes after the first year of service and disappointing customer service. However, many residents have noted that they were able to negotiate their prices back down after threatening to leave Spectrum for Greenlight-er pastures.
Residents who qualify for Greenlight are relatively pleased with their internet service, but many people have noted that the lack of availability has forced them to turn to other options. This is a similar story with Frontier—residents are happy with the fiber service, but many others aren't able to get it.
Internet news and infrastructure in Henrietta, NY
Frontier has been pushing for expanded fiber service throughout the Rochester area in recent years. (2) Its direct competitor, Greenlight Networks, has also been expanding service throughout the area—it set up shop with new headquarters in Henrietta in 2020. (3)
Spectrum continues to offer the most widely available internet access in Henrietta. As recently as February 2023, there were a number of instances where Spectrum was forced to power neighborhood connections with gas-powered generators as a result of downed power poles not yet fixed by Rochester Gas & Electric (RG&E). (4)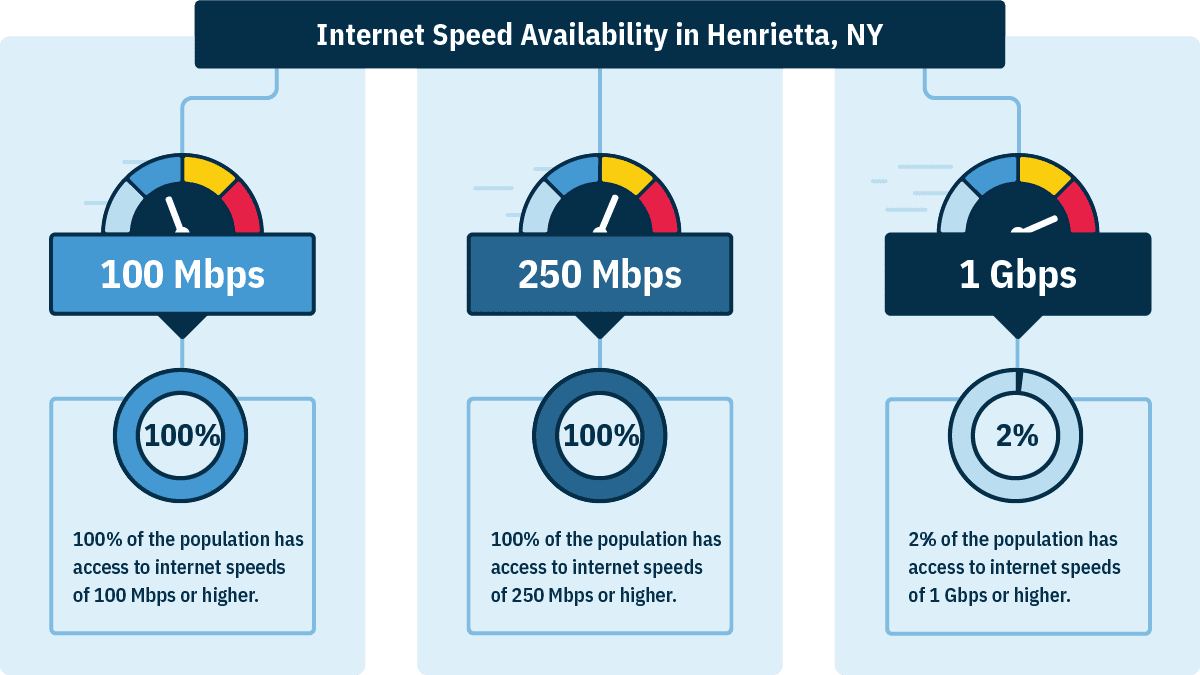 Frequently asked internet questions in Henrietta
---
Both providers offer fiber internet to the Rochester area. Frontier and Greenlight have plans with comparable speeds and pricing. The main difference between the two is that Greenlight is a local provider, while Frontier is nationwide.
---
Spectrum provides cable internet service with good speeds, decent reliability, and affordable rates. The provider is known for hiking prices after the first year of service, however, and can have frustrating customer service options. Overall, Spectrum provides good internet—but Frontier's fiber service is better.
---
Yes, fixed wireless home internet plans are available nationwide through T-Mobile and Verizon. Fixed wireless isn't as good of an experience as wired connections, but it's better than satellite overall.