Our top 3 ISP choices in Irondequoit, NY
Our top three picks for internet service in Irondequoit are Frontier, Spectrum, and Greenlight Networks.
#1: Frontier internet
We've ranked Frontier in the top spot because its fiber plans have top-notch speeds at competitive rates. Frontier offers a plan with 500 Mbps download speed for just $50 per month, or 1 gig for $80. It also offers 2 and 5 gig plans for internet super-users, but you'd be hard pressed to find ways to use that much speed. The downside to Frontier is that its fiber plans are available only in select areas—otherwise, you're stuck with a DSL plan. Keep an eye on which service is available to you, and skip Frontier if you can't snag a fiber plan.
Read our full Frontier internet review.
#2: Spectrum internet
Our second pick, Spectrum, is the biggest internet service provider (ISP) in Irondequoit, and its cable plans are good. It has a wide array of plan options with download speeds spanning from 100 Mbps to 1 Gbps. We recommend average-to-high internet users to explore the 100, 300, or 500 Mbps plans to get the most bang for your buck. Keep an eye on your bill after year one, however, because Spectrum is known to up your monthly price around then.
Read our full Spectrum internet review.
#3: Greenlight internet
Greenlight has secured third place because, like Frontier, it offers excellent fiber service with straightforward plan options. Its availability, however, is limited—but the company is expanding its infrastructure all the time, so it's worth a try! It offers speeds and prices that rival Frontier, but the installation fee is quite a bit higher.
All internet providers in Irondequoit
Aside from our top recommendations, you have several other options for internet service in Irondequoit. However, all other options are providers that offer either fixed wireless or satellite service. Neither of these services is as reliable as cable or fiber connections, but we'd opt for fixed wireless over satellite any day.
Both T-Mobile 5G Home Internet and Verizon 5G Home Internet offer plans with broadband speeds at discounted rates for existing customers with qualifying accounts. The speeds can't rival fiber connections, and the reliability is a bit shakier than any wired service type.
Starlink, Viasat, and HughesNet offer satellite plans with slow speeds, high latency, and exorbitant prices. If satellite is your only option, we recommend looking into the wait time for Starlink—but be prepared to pay an upfront equipment cost of $600.
Fastest internet providers in Irondequoit
With download speeds of 2 to 5 Gbps, both Frontier and Greenlight have the fastest plans available in Irondequoit. This is typically more speed than most people need, so we recommend going for a 1 Gbps plan from Frontier, Spectrum, or Greenlight for a more affordable—but still fast—internet service.
How much speed do you need?
When choosing an internet plan, you want to keep all of your activities running smoothly without paying extra for speeds you don't need. At the bare minimum, you need 25 Mbps to do light browsing on one or two devices. Most households with multiple people and multiple devices will want to look for speeds in the 100–500 Mbps range. Learn how much speed your household needs in our guide to internet speed.
Cheapest internet providers in Irondequoit
Spectrum offers a download speed of 100 Mbps for just $30 per month, which is sufficient for most average internet users. If you're looking for download speeds closer to 500 Mbps, Spectrum's prices are comparable to Frontier and Greenlight.
Learn how to get low-cost or free internet.
Internet options in nearby cities
Irondequoit luckily has some of the highest access to fiber throughout the Rochester area. Rochester proper has decent fiber coverage, as does Webster. Greece, unfortunately, has the least fiber access. Aside from the variability in fiber access from Frontier and Greenlight, the greater Rochester area has fairly consistent ISP options, with the largest amount of coverage from Spectrum. See what's available in these cities:
See all options in your area within seconds.
What Irondequoit residents are saying on Reddit
People who are able to get a fiber plan through Greenlight or Frontier seem generally happy with their service. We've seen some frustration with Frontier's installation wait times, but it's nearly half the cost of Greenlight's installation.
Residents also don't have many complaints about Spectrum's internet service, but there is quite a bit of chatter regarding the year-two price hikes and overall customer service. However, these complaints seem to be dissipating as Spectrum is working hard to keep its consumers from jumping over to a fiber provider.
Internet news and infrastructure in Irondequoit, NY
Irondequoit is still largely limited to cable connections, but fiber infrastructure has been expanding rapidly in the last few years. In 2019, Greenlight doubled its staff to support the expansion of fiber in Rochester, including the suburbs of Irondequoit and Webster. (1)
In 2022, Monroe County reminded residents of their participation in the Affordable Connectivity Program, which qualifies low-income residents for internet plans for $30 per month. (2) Additionally, the Irondequoit Public Library worked quickly to offer students and residents access to mobile hotspots in 2020 to help with the sudden shift to digital learning in the wake of the COVID-19 pandemic. (3)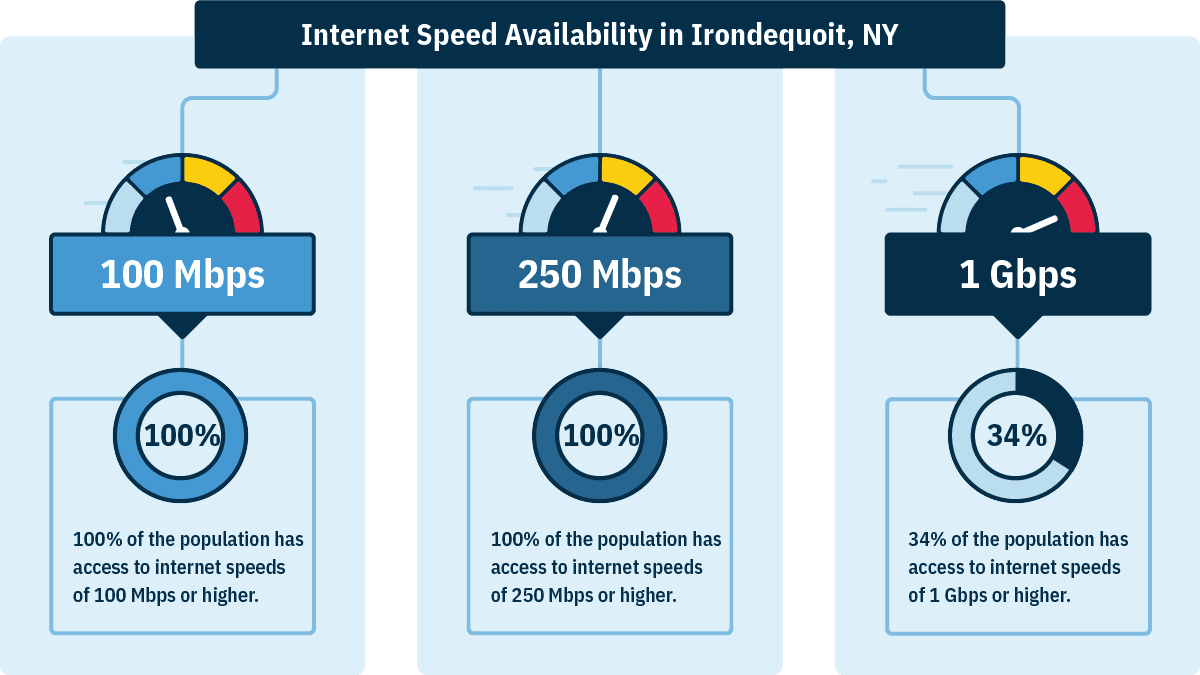 Frequently asked internet questions in Irondequoit
---
The key difference between Frontier and Spectrum internet is the technology behind their service connections. Frontier offers fiber and DSL connections, while Spectrum offers a cable connection. Cable cannot support speeds as fast as fiber, but is much faster than DSL. See more about how they compare.
---
Yes, fiber internet is available in Irondequoit through Frontier Communications and Greenlight Networks. Fiber availability from either provider is spotty, so you'll need to verify that your address is outfitted for fiber from Frontier or Greenlight.
---
Families of three or more will typically want an internet connection with a download speed of at least 300 Mbps—up to 1 gig if your budget allows. In Irondequoit, you can get these speeds through Spectrum, Frontier, or Greenlight.