Our top 3 ISP choices in Greece, NY
Our top recommendations for internet in Greece are Spectrum, Greenlight, and Frontier.
#1: Spectrum internet
Spectrum is our first pick for internet in Greece because it has affordable plans with good reliability. Its fastest plan is 1 Gbps, which is typically more than most households need. To get a great speed at an unbeatable price, we recommend you look at its 100 Mbps or 300 Mbps plans, which range from $30–50 per month. It also has options for bundling with phone or TV, so you can save more on your overall monthly expenses!
Read our full Spectrum internet review.
#2: Greenlight internet
Greenlight gets the silver because, while its plans are speedy-fast and competitively priced, the availability is somewhat limited. Greenlight customers love the service, so it's worth looking into! You can snag a 500 Mbps plan at just $50 per month, or splurge for faster speeds up to 5 Gbps. If you're not a super-user (i.e. gaming, streaming, uploading, and downloading tons of content all at once), you shouldn't need to look beyond the 1 Gbps plan, which is just $75 per month.
#3: Frontier internet
Frontier is normally our top choice because its fiber offering is fast and relatively affordable. With multiple plan options ranging from 500 Mbps to 5 Gbps, Frontier fiber customers get top-notch speeds. However, fiber availability is limited mostly to the North Greece region—and even there, it's pretty hard to come by. Neighborhoods that are not wired for Frontier's fiber service are limited to its DSL plans, which are much slower and utilize antiquated technology. If you're only able to get Frontier's DSL service, we recommend you look at other options.
Read our full Frontier internet review.
All internet providers in Greece
Beyond our top three picks, internet types available in Greece are limited to fixed wireless or satellite. If you're not able to snag a fiber or cable plan, look at fixed wireless first. Both T-Mobile and Verizon have decent 5G fixed wireless offerings that are affordable with so-so reliability. Otherwise, you can get satellite service through Starlink, HughesNet, or Viasat.
Because Starlink uses low-earth orbit satellites, the latency is lower and therefore the service is a bit more reliable than HughesNet and Viasat, which use geostationary satellites with higher latency. Even still, the wait list for Starlink can be painfully long, and you'll be looking at massive up-front costs to the tune of $600 just to get started.
Fastest internet providers in Greece
The fastest internet plans in Greece come from fiber connections through Frontier and Greenlight, which both offer speeds up to 5 Gbps. This is way more than most people are ever able to take advantage of, so if you have a need for speed, we recommend looking at 1 gig plans from Frontier, Greenlight, or Spectrum.
How much speed do you need?
When choosing an internet plan, you want to keep all of your activities running smoothly without paying extra for speeds you don't need. At the bare minimum, you need 25 Mbps to do light browsing on one or two devices. Most households with multiple people and multiple devices will want to look for speeds in the 100–500 Mbps range. Learn how much speed your household needs in our guide to internet speed.
Cheapest internet providers in Greece
Spectrum has the most affordable internet plans, starting at just $20 per month. Its cheapest plan is pretty slow—30 Mbps—so it's worth bumping up your budget to a plan with at least 100 Mbps. Through Spectrum, this plan is $30 per month to start, but you can expect price hikes after about a year of service. Verizon offers speeds up to 300 Mbps for just $25 if you're an existing customer with a qualifying account. T-Mobile offers a 180 Mbps plan at a flat $50 per month, but that same rate will get you faster speeds through Spectrum, Frontier, and Greenlight unless you plan to bundle your cell service.
Learn how to get low-cost or free internet.
Internet options in nearby cities
Greece, unfortunately, has some of the lowest access to fiber in the Rochester area. However, fiber availability picks up significantly just to the east in Rochester proper and Irondequoit. The entirety of the greater Rochester area is, of course, serviced by Spectrum. There doesn't seem to be much (if any) diversity in ISP options throughout the suburbs of Rochester with the exception of Frontier and Greenlight availability. See what's available in these cities:
See all options in your area within seconds.
What Greece residents are saying on Reddit
Social conversations about internet service in Greece are slim, but residents in and around Rochester (which has similar internet availability) suggest going for a fiber connection is worth it if you can get it. The plans tend to be slightly more expensive than fixed wireless or cable, but the speeds are faster and the reliability is better.
There's a good amount of frustration with Spectrum's customer service and price hikes, but the pressure of fiber expansion seems to have lit a fire under Spectrum to offer super-low prices.
Greenlight gets a gold star from residents, likely because it's locally owned and hasn't had much availability for more than a few years, so it's been dubbed the holy grail of fiber. There aren't many complaints about Frontier's fiber connections, but the installation process has been frustrating for some. Even still, Frontier's installation is half the cost of Greenlight's, so you'll want to consider where you'd like to pick your battles.
Internet news and infrastructure in Greece, NY
Internet availability in Greece has remained relatively steady over the past decade, with the notable expansion of Greenlight fiber service throughout the city beginning in 2019. (1) As of mid-2021, Greenlight had reported bringing its fiber connection to at least 10,000 homes in Greece. (2)
In internet-adjacent news, Spectrum Cable announced an all-digital upgrade to the Western New York region in 2019, meaning it planned to move all TV and voice services to an internet connection. (3) This was particularly pertinent to Spectrum customers who bundle their internet service with TV or voice packages.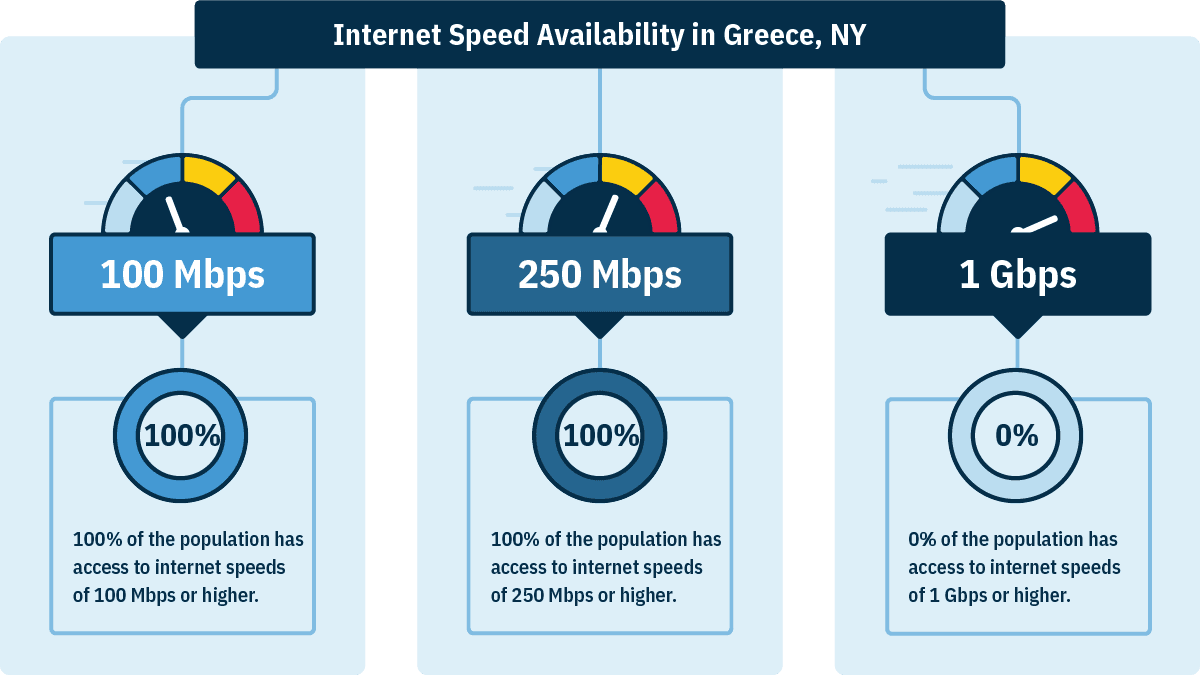 Frequently asked internet questions in Greece
---
When working from home, you want a fast and reliable internet connection. Your best options are fiber connections from either Frontier or Greenlight. Because of the limited availability of fiber in Greece, you may need to look for a cable connection instead. Spectrum offers cable internet plans with speeds up to 1 Gbps, which should be plenty sufficient for those who work from home.
---
Most apartment complexes in Greece likely have an internet provider chosen for you. It will probably be Spectrum, which has great options. If you're able to pick your own, we recommend looking at Frontier or Greenlight to see if fiber is available at your apartment complex.
---
The biggest pro of going with Frontier for internet service is that its fiber plans are fast and affordable. The main con of Frontier is that it services its non-fiber areas with DSL internet, which is barely a step above dial-up. This is a particularly relevant con in Greece as Frontier's fiber availability is very, very slim, so most residents who shop with Frontier are stuck with DSL.