Our top 3 ISP choices in Pittsford, NY
Our top choices for internet in Pittsford are Spectrum, Greenlight Networks, and Frontier Communications.
#1: Spectrum internet
Spectrum got the gold of ISPs in Pittsford due mostly to its accessibility—just about every Pittsford resident is able to get internet access through Spectrum! Additionally, it offers multiple plans with decent speed and affordable pricing. You are able to get download speeds of anywhere from 30 Mbps up to 1 Gbps (1,000 Mbps) at prices ranging from $20–90 per month. That said, Spectrum does have a habit of hiking your prices in your second year of service, so be sure to keep an eye on your bill and give them a call to negotiate your rates back down.
Read our full Spectrum internet review.
#2: Greenlight internet
Our second recommendation for internet in Pittsford is Greenlight, a local fiber provider. Greenlight has limited availability, but seems to be expanding often. Its fiber service is fantastic, with straightforward speeds and prices. Their speeds range from 500 Mbps all the way up to 5 Gbps, which is 10 times faster! This is way too much speed for an average internet user, however, so we recommend you check out its1 Gbps plan if you're looking for super-fast and affordable internet. It'll run you only about $75 per month.
#3: Frontier internet
In third place is Frontier. We honestly love Frontier's fiber service, but it was awarded third place because it's available only to select areas of Pittsford. You can get Frontier internet service almost anywhere, but it's more likely to be DSL, which stands for dead-slow-loading. (Not actually, but it's seriously slow.) If you're one of the lucky ones who can get Frontier's fiber internet, we highly recommend it. Like Greenlight, you can get anywhere from 500 Mbps to 5 Gbps with very comparable rates.
Read our full Frontier internet review.
All internet providers in Pittsford
Our top three choices cover not just the best ISPs in Pittsford, but also the ones with the most reliable internet technologies—cable and fiber. If you want alternative options, you'll need to set your sights on fixed wireless internet or (gulp) satellite internet.
Both T-Mobile and Verizon offer decent 5G home internet connections with fixed wireless technology. This basically means you're hooking your home up with the same plan that your cell phone uses when it's not connected to WiFi, except you can't move it around (hence fixed wireless… get it?) Fixed wireless isn't necessarily as reliable as wired connections, but they're not a bad option—especially if you already have an account with one of the providers.
Satellite internet is, in our opinion (and everyone else's), a worst-case scenario. It's slow, unreliable, and crazy expensive. However, if you have no other choice, you can at least take your pick between Starlink, Viasat, and HughesNet. Starlink is the fastest but most expensive; HughesNet is the cheapest but slowest. See how they all compare in more detail.
Fastest internet providers in Pittsford
The award for fastest ISP in Pittsford is a tie between Greenlight and Frontier. Both providers offer fiber service reaching speeds as high as 5 Gbps (5,000 Mbps)! We haven't found many reasons anyone should need speeds that high, but it's nice to know you have the option.
How much speed do you need?
When choosing an internet plan, you want to keep all of your activities running smoothly without paying extra for speeds you don't need. At the bare minimum, you need 25 Mbps to do light browsing on one or two devices. Most households with multiple people and multiple devices will want to look for speeds in the 100–500 Mbps range. Learn how much speed your household needs in our guide to internet speed.
Cheapest internet providers in Pittsford
Spectrum offers the lowest-priced plan at just $20 per month, making it the cheapest ISP in Pittsford. However, that low-priced plan has a download speed of only 30 Mbps. This is pretty freakin' slow, so we recommend this plan only if you need the bare minimum to do things like check your email. For just $10 more per month, you can triple that speed with Spectrum. If you're looking for download speeds over 100 Mbps, you may be able to snag cheaper plans through Frontier or Greenlight. Also, qualifying T-Mobile Magenta customers or Verizon customers can get a good deal on fixed wireless plans.
Learn how to get low-cost or free internet.
Internet options in nearby cities
Spectrum is the most widely available ISP in New York state, including the greater Rochester area. Frontier doesn't have a ton of fiber presence in Pittsford, but its availability is a little higher in the areas surrounding Pittsford, including Henrietta and East Rochester. Greenlight, on the other hand, is really prevalent only in the downtown area of Pittsford but starts to pick up just to the east in Fairport. Greenlight's reach also extends up through Penfield into Rochester proper. See what's available in these cities:
See all options in your area within seconds.
What Pittsford residents are saying on Reddit
Most residents who aren't able to secure a fiber plan are pretty bummed about it—and those who can get one are inversely very pleased. Greenlight customers seem to be the happiest; although those with fiber through Frontier can't complain. It's hard to say how Frontier DSL customers feel because we haven't really seen any.
Spectrum customers—who are the most common, considering they have the widest coverage in the greater Rochester area—don't have too many complaints with their internet service itself (except that it's not fiber). There are a number of qualms with price hikes and poor customer service, but we've seen evidence that Spectrum is trying to improve its customer experience sentiments.
Internet news and infrastructure in Pittsford, NY
The greater Rochester area has seen a number of internet infrastructure expansions in the last few years. In 2022, a representative from Frontier discussed the goal of reaching more suburbs throughout Monroe County. (1) Greenlight, too, has been growing rapidly since it benefited from a massive investment in 2019. (2)
In affordability news, Governor Cuomo signed a law in 2021 requiring all ISPs in New York to offer internet service to qualifying low-income households for just $15 per month. (3)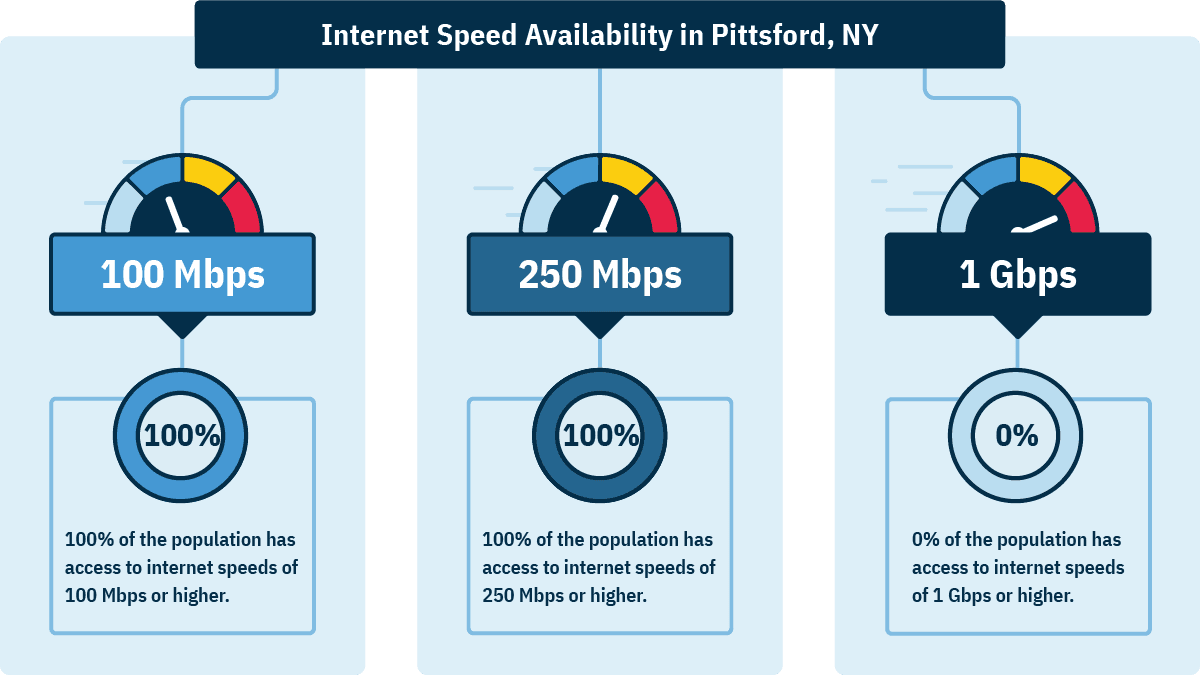 Frequently asked internet questions in Pittsford
---
We've crowned Spectrum as the cheapest ISP in Pittsford because its low-end plans cost a mere $20–30 per month. However, customers looking for speeds closer to 500 Mbps or 1 Gbps will save money going with a fiber provider like Greenlight or Frontier if they're available in your area.
---
Yes, fixed wireless internet plans are available in Pittsford through T-Mobile and Verizon. T-Mobile has much more extensive 5G home internet in the area than Verizon, but Verizon customers may find it worth exploring if you're unable to secure a fiber or cable internet connection.
---
Fiber internet tends to be much faster than cable internet, with comparable pricing. However, cable internet (like the kind Spectrum uses) is much more accessible than fiber in Pittsford. Cable internet uses the same technology as traditional television, so most residential areas don't require infrastructure adjustments to provide cable internet. Because fiber is a newer technology, there are some construction requirements to enable an area for fiber service.