Our top 3 ISP choices in Penfield, NY
Our top three ISP recommendations in Penfield are Frontier Communications, Spectrum, and Greenlight Networks.
#1: Frontier internet
Frontier has earned the gold because its fiber plans are super fast and decently priced. It has great reliability, quality equipment, and free self-installation (or $50 pro-installation, which is pretty cheap compared to the competition). Unfortunately, Frontier's fiber service isn't available to everyone in Penfield, and the alternative is DSL service—yuck. If you're able to get a fiber plan, take it and never look back! If not, we recommend you look at other options.
Read our full Frontier internet review.
#2: Spectrum internet
Spectrum is the largest internet provider in the state of New York, with 99% coverage across the state. Spectrum offers cable service, which isn't always as fast as fiber, but gets the job done just fine. It has the widest selection of plans, so you can pick a speed that serves your needs at a price that fits your budget. However, Spectrum is known for finicky fees (for example, it charges you $5 to pay over the phone… like that's a common occurrence?) and price hikes after the first year of service, so we recommend keeping an eye on your monthly bill and calling to negotiate a discount when necessary.
Read our full Spectrum internet review.
#3: Greenlight internet
Rochester-based fiber provider Greenlight is our third pick. Greenlight has high-speed plans with great reliability and competitive rates. Our only qualm is that Greenlight has been expanding its infrastructure at a decent pace for only a few years, so the availability may be limited. We also don't love that it charges a professional installation fee of $100 (double what Frontier charges) and doesn't allow for self-installation unless your home has been previously serviced by Greenlight—which is pretty rare, considering the aforementioned limited availability. All in all, we like what Greenlight has to offer, but recommend it only if there's no Frontier fiber service in your area.
All internet providers in Penfield
All providers in Penfield, NY
Our top picks happen to be the only providers that offer top-of-the-line internet technology types—namely, fiber or cable internet. There are other providers if our top picks don't tickle your fancy, but you're limited to fixed wireless or satellite choices.
T-Mobile and Verizon both offer 5G home internet services in New York. T-Mobile has wider availability than Verizon, but we recommend grabbing a plan with the provider you already have for mobile service if applicable. If you're not already a customer with T-Mobile or Verizon, you don't get the benefit of a discount.
Starlink, Viasat, and HughesNet are all satellite internet providers that are available nationwide. However, satellite has the slowest speeds and the highest prices, so it really is a last-resort option if you ask us. If satellite is your only option, see how these providers stack up against each other to help find the provider that's right for you.
Fastest internet providers in Penfield
Frontier and Greenlight tie for fastest ISP in Penfield. They both offer hyper-gig fiber plans of 2 or 5 Gbps, which are some of the fastest speeds offered in the nation. These speeds are also way faster than most people can ever actually use, so we recommend you spare your wallet. Even if you are a heavy internet user, a 1 Gbps plan (which you can get with Frontier, Greenlight, or Spectrum!) will suit you just fine without totally breaking the bank.
How much speed do you need?
When choosing an internet plan, you want to keep all of your activities running smoothly without paying extra for speeds you don't need. At the bare minimum, you need 25 Mbps to do light browsing on one or two devices. Most households with multiple people and multiple devices will want to look for speeds in the 100–500 Mbps range. Learn how much speed your household needs in our guide to internet speed.
Cheapest internet providers in Penfield
Spectrum wins cheapest provider because it has plans starting at $20 per month. T-Mobile and Verizon are also technically on the leaderboard because they have prices as low as $25 per month, but only for existing customers with qualifying accounts. Frontier and Greenlight don't technically check the "cheapest" box, but they both offer low-tier plans of about $50 per month for download speeds of 500 Mbps. If your budget allows you to go a little higher, these plans are going to give you the most bang for your buck.
Learn how to get low-cost or free internet.
Internet options in nearby cities
While Penfield has pretty stellar fiber availability through both Frontier and Greenlight, the access to fiber is even higher in Rochester, Webster, and Irondequoit. Spectrum is available to almost everyone throughout the greater Rochester area. Residents of the city and its suburbs alike have very little variability in access to ISP options. See what's available in these cities:
See all options in your area within seconds.
What Penfield residents are saying on Reddit
Most residents who've taken to the web to discuss their service all say the same thing—fiber is king. Anyone who's able to get fiber through either Frontier or Greenlight are satisfied with their service. Those who can't lament their need to wait until one of the fiber providers comes to their neighborhood. These residents are almost all Spectrum customers.
Spectrum customers in the Rochester area are not super pleased with the company. They note that their actual internet connection isn't terrible, but they have complaints about Spectrum's service and pricing. With that said, it appears that Spectrum is stepping up its game to combat the fiber competition moving into the area…so it's not terribly hard to threaten a customer service agent with the idea of canceling service to get a discount on your Spectrum bill.
Internet news and infrastructure in Penfield, NY
Survey data shows that 100% of Penfield residents are able to access internet with download speeds of at least 250 Mbps. (1) There are a number of providers that advertise speeds that fast, including Spectrum, Frontier, Greenlight, and Starlink.
While Greenlight was founded more than 10 years ago, its fiber expansion in Penfield can only be dated back to 2021. At that time, Greenlight officials announced their goal to reach 6,400 homes—approximately 45% of the population at the time—by the end of the year. (2)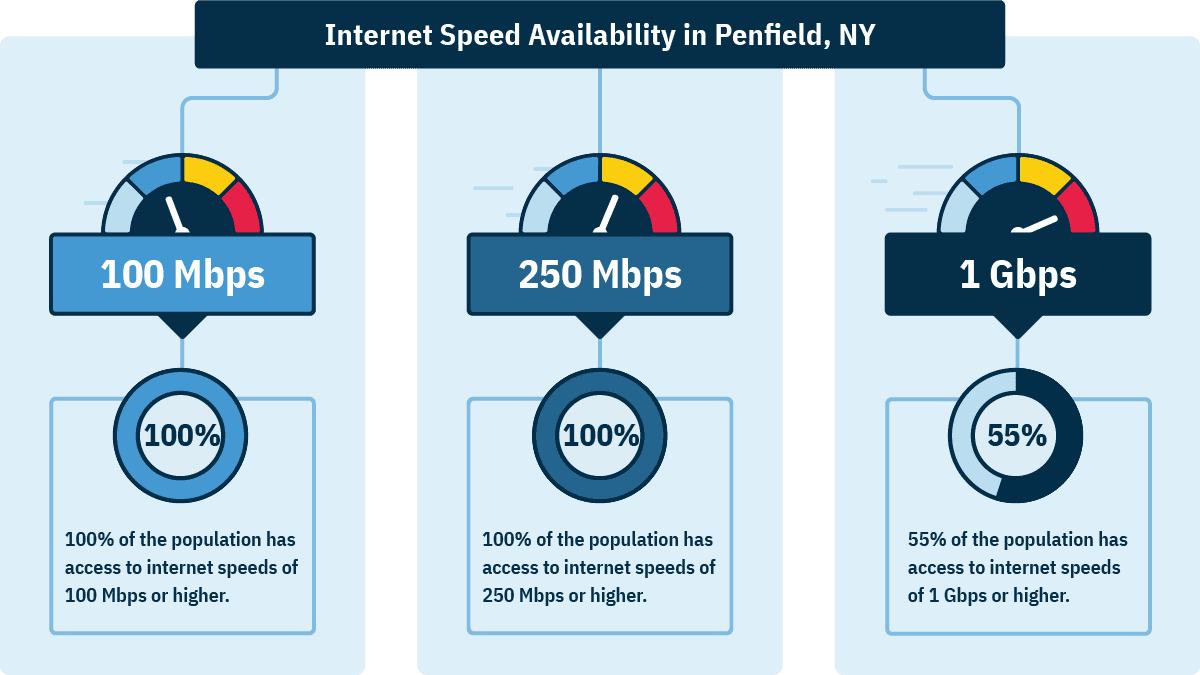 Frequently asked internet questions in Penfield
---
Yes! Frontier Communications has relatively high fiber internet coverage between Penfield and East Rochester. Greenlight Networks also has rapidly growing fiber internet coverage throughout the entire Rochester area.
---
Both Frontier and Spectrum provide extensive internet coverage in New York state. Which provider is better depends on a number of factors. Generally, Frontier's fiber service is better than Spectrum's cable service because it offers faster speeds with higher reliability. However, Frontier's alternative to fiber is DSL, which is much worse than most other internet service types. When it comes to what is more affordable or what's more widely available, Spectrum takes both cakes. See how they stack up against each other in more detail.
---
If you're a gamer, your top priorities for internet service are probably speed, latency, and reliability. You need internet with speeds capable of keeping up with your game's requirements, especially if you play online. You also want an internet type that doesn't lag due to high latency. You'll especially be looking for an internet provider that isn't known for tons of outages that could stop you mid-game. For the best, most seamless game experience, we recommend looking for a fiber internet provider. If you're unable to find one, cable internet is second-best.