Our top 3 ISP choices in Rochester, NY
Our top recommendations for internet in Rochester are Frontier fiber, Spectrum, and T-Mobile 5G Home Internet.
#1: Frontier internet
We've chosen Frontier as our top provider in Rochester because its fiber internet plans are super fast and budget-friendly. Its DSL internet plans, however, are a different story. Frontier's DSL coverage is much more prevalent in Rochester than fiber coverage, so pay attention to which service is available at your address. If you're lucky enough to qualify for a fiber plan with Frontier, take the deal and run! If not, consider an alternative provider before you're stuck with the less-than-ideal DSL service.
Read our full Frontier internet review.
#2: Spectrum internet
Spectrum comes in at the number-two spot for best internet service providers (or ISPs) in Rochester because of its wide availability, reliable service, and reasonably priced plans. Spectrum's plans range from 30 Mbps on the low end, which is the minimum viable speed for basic internet use, all the way up to 1 Gbps, which is more than enough for even the heaviest of internet users. While Spectrum does typically hike your monthly price after pione year of service, we still think it's a solid choice.
Read our full Spectrum internet review.
#3: Greenlight internet
Greenlight is ranked third for providers in Rochester because of its fast speeds and no-nonsense pricing but limited availability. Plans range from 500 Mbps to 5 Gbps, which is more speed than any residential home realistically needs… but it's nice to have the option. Greenlight's pricing seems to be competitive with Frontier's fiber packages, but its installation fee is $100— double what Frontier charges. Still, Greenlight is headquartered in Rochester, so it's likely you'll get better, more personal service if you run into any concerns.
All internet providers in Rochester
Our top recommendations aside, there aren't any other options we'd really recommend. T-Mobile and Verizon offer 5G fixed wireless connections, which are fine but less ideal than fiber or cable. Verizon has very spotty fixed wireless availability throughout the Rochester area; even if you're able to get the service, we recommend you go with T-Mobile anyway.
The only other providers that service the area are satellite internet providers (Hughesnet, Viasat, and Starlink), which we do not recommend unless you have no other options. Satellite internet can be very expensive and extremely slow. We'd even suggest Frontier's DSL plan over satellite—although Spectrum's availability suggests you have better options.
Fastest internet providers in Rochester
Frontier and Greenlight are neck and neck for fastest ISP in Rochester considering they offer the exact same download and upload speeds—500 Mbps, and 1, 2, or 5 Gbps. The 500 Mbps and 1 gig plans are great for residential use, but we haven't found a reason any household should need hyper-gig plans like 2 or 5 Gbps. Spectrum can technically hang with the quick kids because it offers a 1 Gbps plan, but it's still a cable connection which is slightly less reliable.
How much speed do you need?
When choosing an internet plan, you want to keep all of your activities running smoothly without paying extra for speeds you don't need. At the bare minimum, you need 25 Mbps to do light browsing on one or two devices. Most households with multiple people and multiple devices will want to look for speeds in the 100–500 Mbps range. Learn how much speed your household needs in our guide to internet speed.
Cheapest internet providers in Rochester
Spectrum technically has the most affordable plan at $20 per month, but it'll get you only 30 Mbps. This is enough speed for a single casual internet user, but starts to get dicey if you do more than scroll social media and check your email. For just $10 more per month, you can get 100 Mbps through Spectrum, which is a much more comfortable speed. Fiber and Greenlight will have cheaper pricing than Spectrum for plans in the 500 Mbps to 1 Gbps realm. If you have a need for speed, shoot for a fiber provider to find the most affordable options.
Learn how to get low-cost or free internet.
Internet options in nearby cities
Spectrum has the widest available throughout the entire state of New York, and it's no exception with the suburbs of Rochester. In fact, there isn't much variability city over city in the Rochester area—all suburbs have some access to fiber through Frontier or Greenlight, unlimited access to cable through Spectrum, and unlimited access to satellite through Starlink, Viasat, or HughesNet. The only real variability throughout the greater Rochester area is how much fiber access there is in any given suburb. See what's available in these cities:
See all options in your area within seconds.
What Rochester residents are saying on Reddit
Social threads about internet service in Rochester mostly suggest Greenlight is the preferred, coveted provider—but the availability is limited. There are some sour sentiments surrounding Spectrum due to its customer service, but many residents note it's stepped up since Greenlight started expanding. There's also some concern with Spectrum's price hikes, but many people say they've been able to call and negotiate their bill back down. A common thread regarding Spectrum's service is that it's good if you provide your own modem.
Internet news and infrastructure in Rochester, NY
While Spectrum continues to be the most prominently available ISP in the Rochester area, a number of developments within the past several years have contributed to diversifying service options for residents.
While Greenlight was established in 2011, its expansion was expedited after a $100 million investment from Tom Golisano in 2019. (1) Greenlight continues this expansion today, but it appears to be facing a new competitor, GoNetspeed. GoNetspeed is a new player in the fiber space and hasn't quite made it into Rochester proper, but it has availability to areas just 30 miles away with plans to expand throughout Western New York. (2)
Multiple service providers aside, Rochester residents also have access to affordable internet after Governor Cuomo signed an affordable internet law in 2021 requiring all ISPs servicing New York to offer internet access at $15 per month to low-income residents. (3)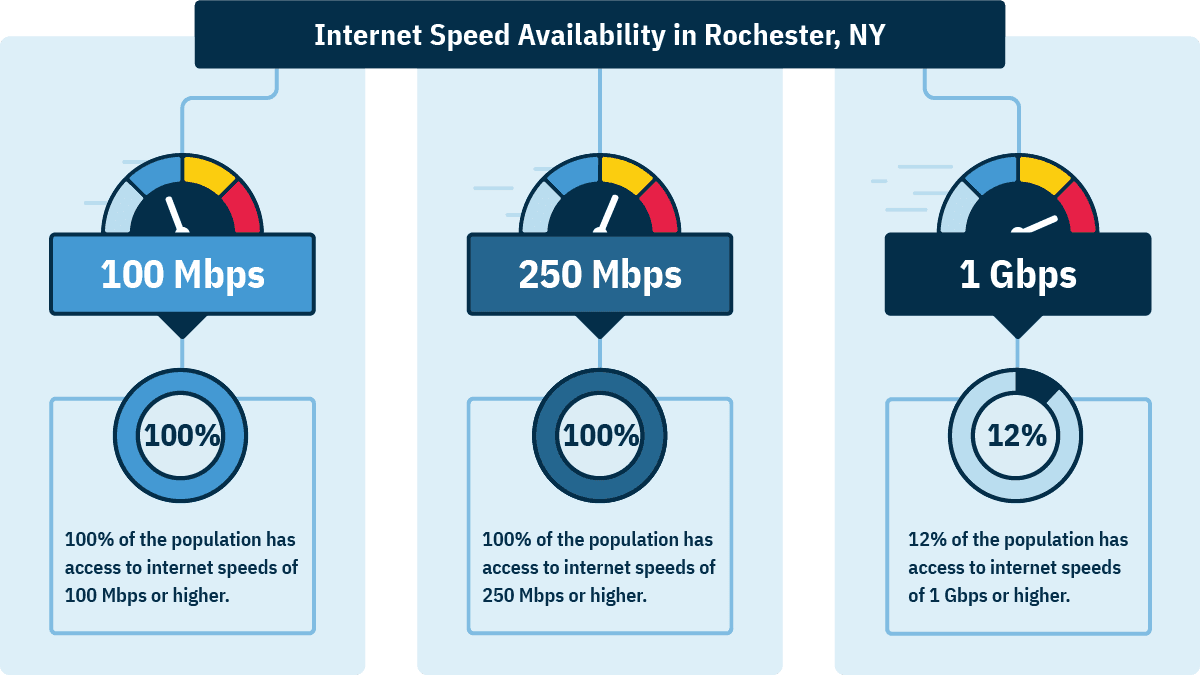 Frequently asked internet questions in Rochester
---
No, Xfinity internet is not available in most of the state of New York. The most comparable internet provider to Xfinity available in Rochester is Spectrum. See how they compare.
---
Spectrum has plans with speeds ranging from 30 Mbps download and 4 Mbps upload up to 1 Gbps download and 500 Mbps upload.
---
Yes, Rochester has fiber internet! While availability can be limited, Frontier and Greenlight both offer fiber plans in Rochester, NY.