Our top 3 ISP choices in Indian Trail, NC
Fiber internet is a great choice if you can get it, but fast speeds are also available if all your address can get is a cable or fixed wireless connection.
#1: Kinetic by Windstream internet
If you can get fiber internet with Kinetic from Windstream in Indian Trail, you're in for a treat. Connections are super speedy, and you get fast upload speeds in addition to fast download speeds, with 1 Gbps speeds starting at $69 per month for the first 12 months. Unfortunately, not many homes in Indian Trail are wired for fiber.
Instead, there's a good chance you can get DSL internet with Kinetic, with speeds of up to 100 Mbps for around $39 per month. Watch for price hikes after the first year, but there are no contracts or data caps to worry about.
Read our full Windstream review.
#2: Spectrum internet
If you can't get fiber with Kinetic, cable internet from Spectrum is a much better option than DSL. You can get budget plans for as little as $30 per month with Spectrum, or buy speeds up to 1 Gbps, with multiple options in between. Startup will cost you between $25 and $60, spending on whether you need a pro to come out and help. You can bring your own router or pay $5 to rent theirs. Like with Kinetic, the price goes up after your first 12 months, so it's worth it to set yourself a calendar reminder to shop around.
Read our full Spectrum review.
#3: T-Mobile internet
If fiber and cable internet aren't available, or if you just want to consolidate your monthly bills and pay once for both your mobile phone and internet, T-Mobile home internet is a nice option. Its fastest speeds are available in most of Indian Hills, and you can get plans for as little as about $25. There's a little more variation in speed compared to cable, based on things like how many other folks are trying to get on the network at once and how close you are to a cell tower. But the good news is 5G speeds are often faster than DSL these days. To get set up, you just need to order the router, plug it in, and manage it all with a mobile app on your phone.
Read our full T-Mobile 5G Home Internet review.
All internet providers in Indian Trail
Indian Trail is served by DSL internet, cable internet, fiber internet in some places, and fixed wireless internet. About 95% of town is already wired for cable internet through Spectrum, and prices are reasonable. Another 30% of town is eligible for DSL. (1)
If you're not interested in cable, fixed wireless is a good bet. Close to the center of town, there's a good chance you can get 5G Ultra Capacity from T-Mobile, but it drops to 4G Extended Range or 4G LTE farther out, especially near the Goose Creek Airport. (2) US Cellular offers 5G from partners, but there are roaming charges, so we don't recommend it. (3) You can get Verizon 5G Ultra Wideband in parts of Indian Trail, but it drops off to 4G LTE along stretches of Independence Boulevard and Corporate Boulevard, or if you are as far west as West Fork Twelvemile Creek. (4)
Satellite internet is technically available to 100% of Indian Trail, but we almost never recommend it if you can get internet any other way. That's because it's expensive, notoriously unreliable, and too slow for most streaming or online gaming.
Fastest internet providers in Indian Trail
Providers Kinetic and Frontier both sell internet in Indian Trail, and both offer multi-gig speeds to parts of their network. If you can get Frontier fiber, you can pay for speeds up to 5 Gbps. With Kinetic fiber, you can get speeds up to 1 Gbps. You can also get these gig speeds from Spectrum, though, and almost all residences in Indian Trail are already wired for cable internet.
How much speed do you need?
When choosing an internet plan, you want to keep all of your activities running smoothly without paying extra for speeds you don't need. At the bare minimum, you need 25 Mbps to do light browsing on one or two devices. Most households with multiple people and multiple devices will want to look for speeds in the 100–500 Mbps range. Learn how much speed your household needs in our guide to internet speed.
Cheapest internet providers in Indian Trail
Spectrum is one of the cheapest internet provider in Indian Trail, with budget plans as low as $30 per month (for the first 12 months). You can potentially get even cheaper plans from fixed wireless providers T-Mobile and Verizon, but you won't get the best deals unless you have the same carrier for your mobile phone.
Fortunately, all the carriers we recommend in Indian Trail allow qualifying customers to take advantage of the federal Affordable Connectivity Program, which provides free or cheap internet to qualifying lower-income families and seniors.
Internet options in nearby cities
Indian Trail isn't as well-connected as other cities in the Piedmont region. Charlotte and Concord, for example, have access to both Google Fiber and AT&T fiber, while Salisbury and Mooresville benefit from municipal broadband that was once owned by taxpayers.
Almost all residences in the area have access to Spectrum internet though, and it's fast enough for most households. Fixed wireless internet is also widely available throughout the area, but you're most likely to get the latest 5G speeds the closer you are to a city center. Learn more about internet options in neighboring areas:
See all options in your area within seconds.
What Indian Trail residents are saying on Reddit
Residents of Indian Trail and other suburbs in the greater Piedmont region don't have a lot of nice things to say about Spectrum, but they love fiber internet. Based on social sentiment alone, we'd recommend following your neighbors' advice and going with fiber if and when it's available.
Internet news and infrastructure in Indian Trail, NC
According to the most recent broadband map from the FCC, fiber internet is not yet widely available in Indian Trail. (1) But according to local news reports, it's coming! TDS Telecom doesn't yet offer internet to many homes in Indian Trail, but it has announced plans to build out its fiber-to-the-home network to 11 communities in North Carolina, including Indian Trail. The 1,600-mile fiber project kicked off in 2021. (5) You can register with your address to get updates, and the company is promising free installation, free HD for life, no contract, and priority installation.
OPENFIBER has also announced plans to bring fiber internet to Indian Trail, and expects to connect 50,000 homes. (6)  If you pre-order, you might be able to save $200, OPENFIBER says.
Despite not having a lot of fiber, almost every home in Indian Trail has access to fast cable internet from Spectrum. (1) You can't get the same upload speeds and reliability you would with fiber, but 1 Gbps is still more speed than almost any home would need.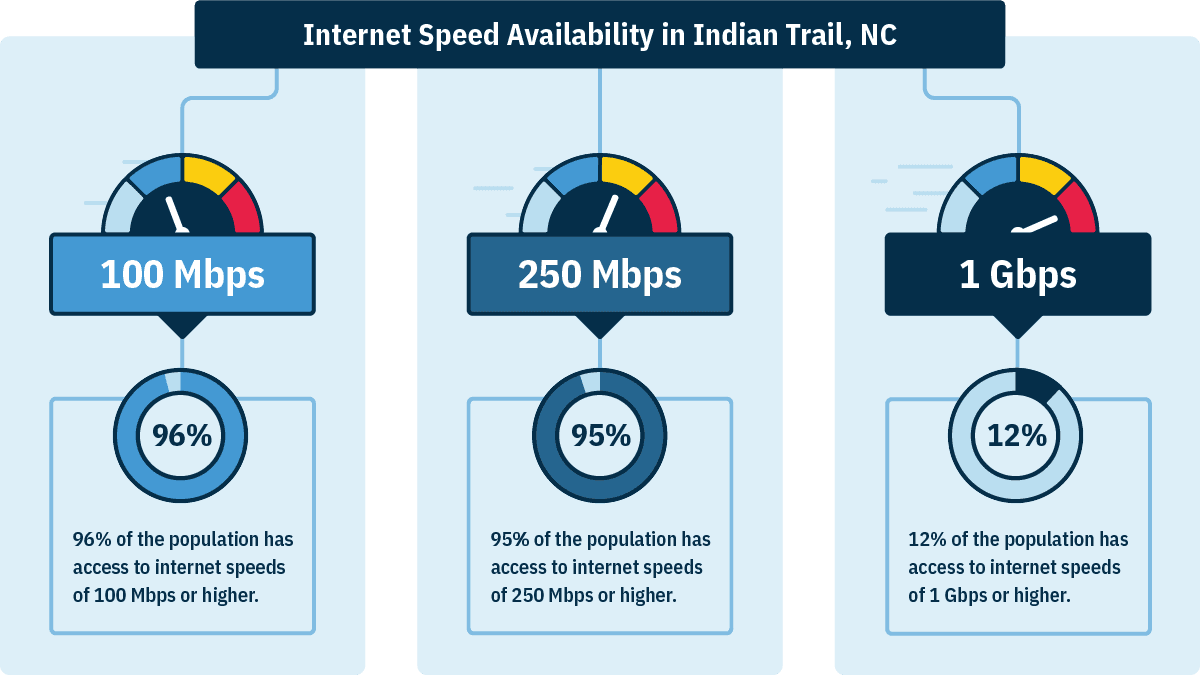 Frequently asked internet questions in Indian Trail
---
The fastest internet speed in North Carolina is, or will be, 5 Gbps if you're a fiber customer with AT&T internet. However, that provider isn't available in Indian Trail, and fiber plans from Windstream and Frontier are very hard to get in the city. There's a much better chance you can get cable internet in and around the city, and Spectrum is currently offering speeds up to 1 Gbps (1,000 Mbps).
Use the Switchful comparison tool to see the differences between Spectrum and Windstream.
---
Yes, North Carolina has several options for high-speed internet at home. In Indian Trail, almost all homes are wired for cable internet from Spectrum, and fast fiber internet from Kinetic by Windstream and Frontier may already be available to a tiny percentage of homes in the area. Two other fiber providers, OPENFIBER  and TDS Telecom, have recently announced plans to bring fiber internet directly to homes in Indian Trail, but we haven't yet seen their ultra-high-speed plans for sale.
---
Kinetic by Windstream offers both DSL and cable internet technologies in the 21 states it serves, plus fiber to passive optical networks, which usually means fiber to the curb but coax cable to the home. In North Carolina, most Kinetic customers are getting DSL speeds, but Kinetic is expanding its fiber footprint in areas like Arkansas (7) and Pennsylvania, (8) and may eventually offer more fiber access in North Carolina.
If you're looking for cable internet in Indian Trail, Spectrum is the legacy provider. Its plans and prices are competitive with other cable providers around the US, but it usually one-ups them by offering truly unlimited data.
Compare Kinetic and Spectrum using the sweet Switchful comparison tool.
1. "FCC Broadband Map," Federal Communications Commission. Accessed 9 March 2023.
2. "Check 5g & 4g Lte Coverage Near You," T-Mobile. Accessed 9 March 2023.
3. "Coverage Map," US Cellular. Accessed 7 March 2023.
4. "Explore Verizon 5G and 4G LTE network coverage in your area," Verizon. Accessed 9 March 2023.
5. "TDS Telecom bringing fiber internet to five Union County communities," Union County Weekly. Accessed 9 March 2023.
6. "Openfiber announces plan to build $60M fiber optic network in Union County," Union County Weekly. Accessed 9 March 2023.
7. "Kinetic Expands Number of Markets Offering 2 Gig Fiber Internet," Windstream. Accessed 9 March 2023.
8. "2,200 Berks, Chester, Lancaster Homes, Businesses Now Eligible for Kinetic's Ultrafast Fiber Broadband," Windstream. Accessed 9 March 2023.