Our top 3 ISP choices in Charlotte, NC
The best internet provider in Charlotte is AT&T fiber, but cable internet from Spectrum and 5G home internet from Verizon are also great options–and may save you a pretty penny.
#1: AT&T internet
Fiber internet from AT&T is super speedy, and its customer service is the best in the business. Our expert reviewers recommend its 300 Mbps plan for most households, but you can get synchronous speeds up to 5 Gbps in some parts of Charlotte. Either way, you won't be locked into a contract, and you won't have to pay for installation.
Read our full AT&T internet review.
#2: Spectrum internet
Spectrum offers cable internet to almost all homes in Charlotte and the surrounding area. Our reviewers say the monthly cost is about average compared to other internet providers, but the service is highly reliable, according to the Federal Communications Commision. (1) You can get speeds up to 1 Gbps, which is plenty fast for most families.
If you go with Spectrum, we recommend shopping for internet service again in about two years because the price may increase in the range of $15–20 or more each month.
Read our full Spectrum internet review.
#3: Verizon home internet
If you can't get AT&T or Spectrum internet in Charlotte, fixed wireless plans from Verizon may be worth a look! Your speeds will vary by quite a bit based on time of day and how far you are from the nearest cell tower, but you can bundle with cell phone service and get home internet for as little as $25 per month. You'll need a receiver mounted on the outside of your home and a router inside, but Verizon provides both at no additional cost.
All internet providers in Charlotte
Lucky for you, multiple internet providers are competing for your business in the Charlotte area. Customers in the South Park, Starmount, Matthews, and Noda areas may be able to get Google Fiber, and folks interested in fixed wireless may be able to choose between Verizon and T-Mobile. In addition, some apartments and coworking spaces are served by the local fixed wireless provider OPENFIBER.
The area is also served by satellite internet providers HughesNet, Starlink, and Viasat, but service tends to be slow and prices tend to be high, so we almost never recommend them if you have any other option.
Fastest internet providers in Charlotte
Google Fiber and AT&T fiber internet are the fastest internet providers in the area. Google offers speeds up to 2 Gbps for downloads and 1 Gbps for uploads, but some folks we've talked to say its ping and latency aren't always as good as what they get from cable internet providers. AT&T sells plans as fast as 5 Gbps, but we don't generally recommend those plans because most devices can't handle speeds anywhere near that fast. For most homes, 1 Gbps is plenty.
How much speed do you need?
When choosing an internet plan, you want to keep all of your activities running smoothly without paying extra for speeds you don't need. At the bare minimum, you need 25 Mbps to do light browsing on one or two devices. Most households with multiple people and multiple devices will want to look for speeds in the 100–500 Mbps range. Learn how much speed your household needs in our guide to internet speed.
Cheapest internet providers in Charlotte
Spectrum offers slower plans with lower prices in Charlotte than what you'll find with Google Fiber and AT&T. With Spectrum, you can pay as little as about $30 per month for a download speed of 100 Mbps. That's fast enough for small households, and the speeds are pretty reliable, but you may have to pay an additional $5 every month for a router if you don't have your own.
You can also find big savings by choosing one of the fixed wireless providers in Charlotte—Verizon or T-Mobile. Download speeds range from 25 Mbps to about 100 Mbps, but there's a lot of variation based on network congestion and your exact address. Fortunately, almost all plans quality for the Affordable Connectivity Program, which provides up to $30 for internet each month to certain lower-income families, students, and seniors.
Internet options in nearby cities
Charlotte and nearby Concord have the only homes in the area with access to Google Fiber, but many of the suburbs in the Piedmont area have access to high-speed internet from other providers. AT&T is one of the biggest fiber providers in the area, and it's our top pick for internet providers nationwide. We recommend it in Charlotte, Gastonia, Huntersville, and Salisbury.
Farther out, most homes have access to cable internet from Spectrum and fixed wireless internet from T-Mobile and Verizon, and many municipalities are served by Kinetic internet from Windstream. In a few spots, Fision home internet by Hotwire is our top pick, and OPENFIBER is busy building out its fiber network. Xfinity isn't available anywhere in the area, and neither Fision nor TDS are available within Charlotte itself. See what's available in the region:
See all options in your area within seconds.
What Charlotte residents are saying on Reddit
People in Charlotte who have access to Google Fiber seem to love it and recommend it highly over Spectrum. They also say any fiber internet provider is better than any cable internet provider.
Internet news and infrastructure in Charlotte, NC
Google Fiber came to Charlotte in 2015, and it's busy expanding into nearby areas. (2) In addition, both private and public organizations are working to expand internet access in Mecklenburg County.
The Center for Digital Equity has a goal of making Mecklenburg County the "most digitally equitable community in America," and companies like AvidXChange are providing free Wi-Fi in the West End as part of its Tech Rising initiative. (3) OPENFIBER and Access Charlotte have also installed dozens of free Wi-Fi hotspots on buses, trains, and in select residential and business areas around town. (4)
Google Fiber competitor AT&T, which has been replacing its legacy DSL network with fiber internet, recently told Business North Carolina its new network had reached 1 million homes, offering speeds up to 5 Gbps. (5)
Throughout North Carolina, efforts are underway to expand broadband access to all residents, whether that means fiber build outs, consumer education, or providing laptops and internet equipment at low cost. (6)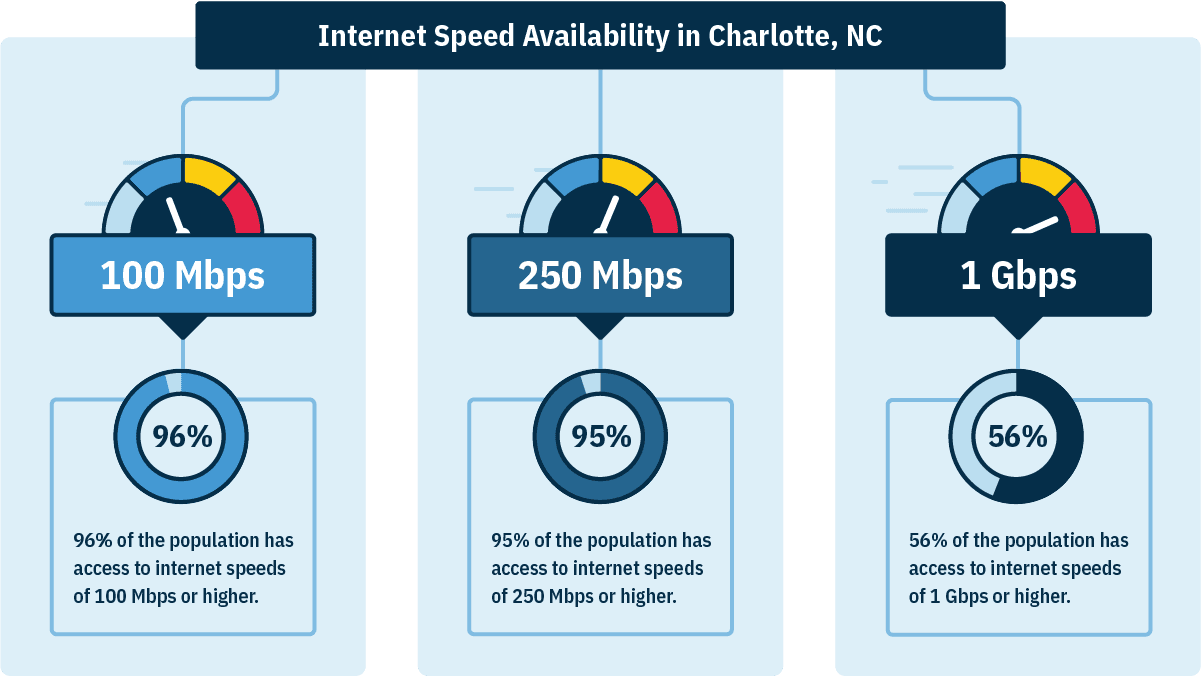 Frequently asked internet questions in Charlotte
---
No, Xfinity is not available in the Charlotte area. If you want fiber internet, providers AT&T and Google Fiber are available to many households. If you're looking for cable internet, Spectrum serves about 90% of homes in the area.
AT&T and Google Fiber offer the fastest plans, but AT&T is the better pick if you don't need gigabit speeds and you're on a budget. Spectrum and fixed wireless providers Verizon and T-Mobile offer slower, cheaper plans and are widely available throughout Mecklenburg County.
Use the Switchful comparison tool to see the differences between Xfinity and Spectrum.

---
Yes, about 20% of homes in Charlotte have access to fiber internet, according to data from the FCC. (7) The biggest fiber internet provider is AT&T, which covers about three quarters of the city. Google Fiber is available to only about 10% of the city but has announced plans to expand.
Compare plans and prices between AT&T and Google Fiber.
---
If you're working from home in Charlotte, our expert reviewers recommend choosing a fiber internet provider. Depending on where you live, you may have access to AT&T fiber internet, Google Fiber, or both. We like AT&T's Internet 300 plan, which offers synchronous speeds up to 300 Mbps, but you may want to choose a faster plan if multiple people are logging in at the same time for remote work, school, and entertainment.
If you can't get fiber, or even if you just want to save a little on monthly bills, cable internet from Spectrum is your next best bet. Its cheapest plan provides speeds up to 500 Mbps and is $5 less than the cheapest AT&T plan. Prices go up after 24 months, though, so it might be worth it to shop again at that point.