Our top 3 ISP choices in Concord, NC
Most homes in Concord have a few options for internet service with different prices, internet speeds, and internet tech types.
#1: Kinetic internet
Kinetic home internet from Windstream offers speeds up to 1 Gbps in Concord, with some of the best monthly rates you'll find anywhere at that speed. We love the reliability and fast upload speeds of fiber internet, and our expert team of reviewers ranks the provider highly for performance. If you want to rent Kinetic's gateway, which combines modem and router technology, plan to spend an additional $10 every month. After your first year, your price could increase by about $15 so it's a good idea to call and negotiate or consider switching providers at the 12-month mark.
Read our full Windstream review.
#2: Spectrum internet
Spectrum offers cable internet to the vast majority of homes in the Concord area, and we love its lower prices (and slower plans) for families on a budget. You can get a 30 Mbps plan for as little as $20 per month. It's only fast enough for light web browsing and a max of one reliable video stream at a time, but it's not bad if you live alone or don't use the internet much. Several plans are available, and the fastest is 1 Gbps (1,000 Mbps). You can save a lot by ordering online, so we highly recommend it. Spectrum includes a modem with the standard rate, but  there's a $5 monthly charge for a router (or you can use your own). There are no contracts, but there is a price hike to watch out for after 12-24 months.
Read our full Spectrum internet review.
#3: T-Mobile internet
Fixed wireless internet from T-Mobile has made great strides in recent years. If you live in an area where 5G service is available, you could get home internet speeds of 150 Mbps or more. These speeds vary by time of day due to network congestion, and they slow down quickly the farther you are from the nearest cell tower. Your high-speed gateway is included, and you can lower the price if you also have a cell phone plan from T-Mobile. We like that you get a 15-day trial period, but that includes shipping time, so be sure to get plugged in and give everything a trial run as soon as your equipment arrives.
Read our full T-Mobile internet review.
All internet providers in Concord
Kinetic and Spectrum are your best options for fully wired connections in the Concord area, but Google Fiber also reaches about 7% of homes in the area. (1) If you can't get fiber or cable internet, fixed wireless options are available from T-Mobile and, for about 30% of homes, Verizon. Competition is fierce, so prices in Concord are some of the lowest we've seen anywhere.
Satellite internet is also available in Concord, from all three big providers: Starlink, Viasat, and HughesNet. Prices are high and speeds are slow, though, so we tend to avoid recommending these plans if other providers are available.
Fastest internet providers in Concord
It's not available everywhere, but Google Fiber is the fastest internet provider in Concord. You can pay for download speeds as fast as 2 Gbps, which is hypothetically fast enough to stream hundreds of Netflix shows at once. For most people, we recommend slower speeds (and lower prices). You can also get 1 Gbps speeds from Google Fiber or Kinetic, which is much more widely available in Concord.
How much speed do you need?
When choosing an internet plan, you want to keep all of your activities running smoothly without paying extra for speeds you don't need. At the bare minimum, you need 25 Mbps to do light browsing on one or two devices. Most households with multiple people and multiple devices will want to look for speeds in the 100–500 Mbps range. Learn how much speed your household needs in our guide to internet speed.
Cheapest internet providers in Concord
Spectrum offers the cheapest internet plans we found in Concord, with plans starting at just $20 per month. Those speeds are pretty slow, though, so most families would be better off paying around $30 for 100 Mbps. For about the same amount each month, you can get home internet from wireless providers Verizon and T-Mobile, but speeds are less reliable and you have to bundle with cell phone service to get those great rates. Lucky for you, all these providers participate in the Affordable Connectivity Program, and that means free or cheap internet for qualifying low-income students and seniors.
Internet options in nearby cities
Most of the areas surrounding Concord, North Carolina, have access to internet speeds of at least 100 Mbps, but so far only Concord and Charlotte have Google Fiber. AT&T also has a strong footprint in Charlotte.
In other areas nearby, Spectrum internet is a great choice for cable internet. Kinetic by Windstream is a solid choice, too, but only if you can get fiber at your address. Some neighborhoods also have access to smaller internet providers like OPENFIBER and TDS Telecom, and most homes have good fixed wireless options. Xfinity, though, isn't available anywhere.
Read more about what's available in the Piedmont region:
See all options in your area within seconds.
What Concord residents are saying on Reddit
Concord loves its fiber internet! Locals consistently recommend choosing a fiber provider like AT&T or Windstream over Spectrum, the area's only cable internet provider. A lot of people complain about outages and customer service problems with Spectrum, but not many say they have tried fixed wireless options for home internet.
Internet news and infrastructure in Concord, NC
Nearby Charlotte, North Carolina, is one of the relatively few cities served by Google Fiber, and the company has announced plans to expand into the suburbs in 2023. (2) The Concord area also has fiber internet from Kinetic. AT&T has been busy replacing its DSL lines with fiber-to-the-home, and announced in July of 2022 it has reached 1 million North Carolina homes with the new technology. (3)
Internet speeds of 100 Mbps or more are available to 97% of homes in Concord, according to the Federal Communications Commission, and about half of homes can get speeds of 1 Gbps or more. (4) Our expert reviewers generally recommend speeds of closer to 250 Mbps for most homes, but it's nice that so many homes in Concord can get the super-fast speeds that fiber makes possible.
For the approximately 3% of homes that can't get fast internet at home, fixed wireless plans are a good option. They're faster than ever, and the plans are very affordable. If that's not available, either, you might be able to sign up with OPENFIBER, which combines fiber and fixed wireless tech, but its reach is limited and you may have a long wait. (5)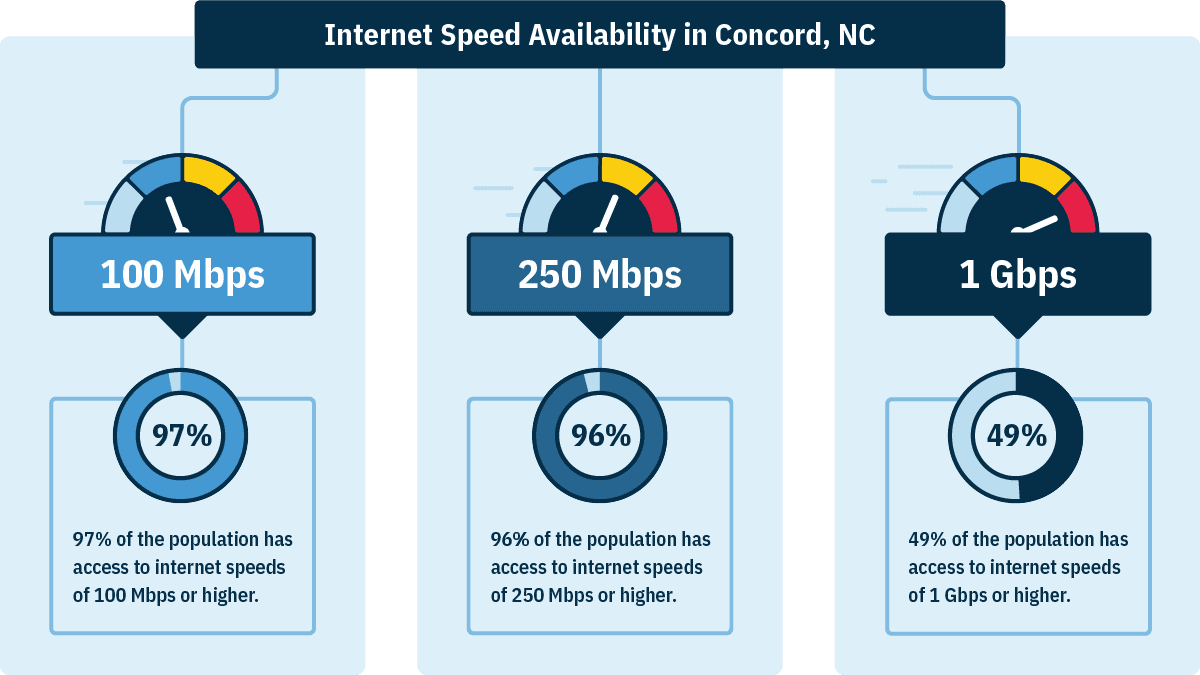 Frequently asked internet questions in Concord
---
Yes, Google Fiber is coming to Concord! The city announced in 2021 that the service would be built out in all neighborhoods. (6) The first phase was meant to have been completed in 2022, but the FCC still says it's available in just 7% of zip codes in the city. (4)
If Google Fiber isn't yet available in your neighborhood, you can enter your address and sign up for email updates. We also recommend checking out Kinetic, which is much more likely to be available in Concord and offers speeds and prices that rival Google's.
---
Whether Google Fiber is better than Spectrum's cable internet depends on what you are looking to get out of an internet service provider. If you want ultrafast speeds, great internet equipment, and straightforward pricing, we generally recommend Google Fiber. It serves only a fraction of the area Spectrum reaches, though, so you might not be able to get it where you live.
Spectrum is a better choice if you have a smaller monthly budget and don't need gig speeds (and most homes don't). However, it's hampered by a poor reputation for customer service, and its cable internet network can't match Google Fiber for upload speeds. We've also seen complaints about frequent outages, but the FCC gives it high marks for reliability across several metrics. (7)
Use the Switchful comparison tool to check plans, prices, and the overall customer experience between Spectrum and Google Fiber.
---
No, Xfinity internet is not available in the Concord, NC, area. The area's biggest cable internet provider is Spectrum, which offers monthly rates and internet speeds that are similar to what Xfinity offers in other parts of the country.
We like Spectrum's budget plans, but they may be too slow for a home that needs multiple simultaneous video streams or has multiple professionals working remotely. Its mid-range plans are also affordable and fast enough for almost any home, but watch out for price hikes after 12-24 months of service.
Check out Xfinity and Spectrum side by side using the Switchful comparison tool.