Our top 3 ISP choices in Mooresville, NC
Choose your internet provider based on price, speed, and whether it's available at your address.
#1: Kinetic internet
Fast fiber Kinetic internet from Windstream is available to more and more homes in the city, and our expert reviewers love its fast speeds and low prices. You get synchronous upload and download speeds on every plan, and that means you can post videos and livestream your gaming without a hiccup. Starting prices are great, but watch out for price hikes after six months. The included eero internet equipment is top of the line, but you'll have to pay $10 per month after three months.
Some parts of town may have DSL internet from Kinetic rather than its fast fiber internet. The 100 Mbps plan is priced about right compared to national competitors, but you may not be able to achieve those speeds where you live, especially if you're located far from the nearest Windstream central office. Learn more about how DSL works.
Read our full Windstream review.
#2: Spectrum internet
Cable internet speeds have gotten faster and faster over the years, and Spectrum is North Carolina's legacy cable internet provider. It offers plans of up to 1 Gbps, which is lightning-fast, but we also love its slower plans. If you're on a budget, there's a plan available for $20 per month that is fast enough for someone living alone or a family that uses the internet only once in awhile. You'll pay between $25 and $60 in startup costs, and you may have to fork out an additional $5 per month if you want to rent a router from the company.
Read our full Spectrum review.
#3: TDS internet
Like Windstream, TDS offers fiber internet connections to many parts of Mooresville, but whether you can get it depends on your exact address. If you can get fiber to your front door, you can pay for speeds of up to 8 Gbps. That's fast enough to power a huge call center or host a server farm, and probably more than any home really needs, but we like that TDS is future-proofing its network for a future that may require this kind of bandwidth.
TDS also offers DSL internet in Mooresville. The prices are relatively high and the speeds are slow, so we recommend Spectrum or even a fixed wireless provider if you have the option.
Read our full TDS review.
All internet providers in Mooresville
Mooresville is a very well-connected city, with a range of options for home internet. Nearly 100% of the city can get internet speeds of at least 100 Mbps, and a full 42% can get speeds of a gigabit or more. (1)
A lot of Mooresville is eligible for 5G Ultra Capacity from T-Mobile (2), but some areas are still limited to 4G LTE, which feels a lot slower. If you go with US Cellular, you'll be on a partner network and subject to 4G LTE roaming data, so we don't recommend it. (3) Verizon, which offers 5G Nationwide in most areas of town, may be a better fit. (4) The farther south you are, and the closer to Charlotte, the more likely you'll be to get 5G Ultra Wideband from Verizon.
If you want fiber, you're most likely to get coverage from Kinetic, but about 1% of homes can connect via our #1 provider in the US, AT&T.
Fastest internet providers in Mooresville
Fiber internet providers offer the fastest internet in Mooresville, and right now Kinetic by Windstream is the most widely available fiber network. Its fastest plan is 1 Gbps, and that's about the fastest plan any home can handle, practically speaking. TDS is hot on the heels of Kinetic and building out its network quickly, but it's not yet available to many homes. When it is, though, the company plans to offer speeds of up to 8 Gbps.
How much speed do you need?
When choosing an internet plan, you want to keep all of your activities running smoothly without paying extra for speeds you don't need. At the bare minimum, you need 25 Mbps to do light browsing on one or two devices. Most households with multiple people and multiple devices will want to look for speeds in the 100–500 Mbps range. Learn how much speed your household needs in our guide to internet speed.
Cheapest internet providers in Mooresville
Fixed wireless internet from mobile phone providers is the cheapest internet in Mooresville and throughout a lot of North Carolina. If you bundle with your mobile phone plan, you can get broadband speeds for $30 or less. Due to the nature of fixed wireless internet, your speeds will be less stable throughout the day than they would be with fiber or cable internet, and they will be progressively slower the farther you are from the nearest cell tower.
Almost all providers in the area comply with the Affordable Connective Program (ACP), which offers free or cheap internet to certain families, with students and seniors eligible for federal benefits. If you're a TDS subscriber on the ACP, there's a good chance your speeds increased to 200 Mbps (Wi-Fi included) in February of 2023. (5)
Internet options in nearby cities
The area in and around Charlotte, North Carolina, has a variety of great options for home internet. Some cities are lucky enough to have both Google Fiber and AT&T fiber internet, but that's rare the farther you get from the heart of the metropolis itself.
Some nearby cities also benefit from when they had their own municipal broadband networks  (Mooresville did the same), but those have since been sold to private providers. The good news today is that almost every home in the region can now get broadband speeds of at least 100 Mbps. Learn more about what's available in cities nearby:
See all options in your area within seconds.
What Mooresville residents are saying on Reddit
Mooresville residents share sentiments of many internet users we've seen on social media around the country. Fiber is far superior to cable internet, they say. Many have specific complaints about Spectrum.
Best internet/TV in Charlotte?
I'm moving the family to the Charlotte area in two months. What's the best internet/TV combination to go with? We currently have Xfinity (Comcast). Anything comparable? TIA
Honestly, I just have ATT Fiber with Sling TV.
No contracts, internet that isn't shitty or ever gone out since I switched over, and no internet data caps.
---
Best internet provider for new home?
Moving into a new house soon. Unfortunately my only options for Internet providers are Spectrum, Earth Link and Hughes Net. Anyone have any feedback or opinions on which provide the most reliable internet for price? No TV/cable - I only use internet for streaming (Netflix, gaming, video conferences for work).
I just went through this. Consensus seems to be Google Fiber >>> ATT Fiber > Spectrum >>>> anything else.
I only have Spectrum available where I am as well but I think their head and shoulders above any of the "other" options
---
Post by u/gardenhosenapalm
03/29/2022
1%'s of Charlotte, who's your internet provider, do the wealthy also have to deal with spectrum?
As my internet goes out again, and just so fed up with the internet provider bs that's just omnipresent everywhere, is there a tax bracket where you just put a satellite in the air for yourself, call it "MyG"
Network engineer here. Your experience with internet is subjective to the zip code you live in. Depending on what street your on, how recent the lines were laid, and where your connection actually comes from are all going to play into the quality of your service. Many older areas are failing due to disrepair or lack of budget in the ISP to issue maintenance for the area. Before you wonder why a lack of budget would be an issue, remember that if the lines have to be relaid, conduit reworked, or a plethora of other major expensive labor that these costs can add up extremely fast.
You will always get REALLY mixed responses on this question because of this. A lot of this has to do with the fact the ISPs themselves have a lot of contracts with cities (such as charlotte) that allows them to have a monopoly on the local physical lines. New York is an excellent example of this. All lines are basically owned by Verizon (with some exceptions) and all other internet service ride over their stuff no matter who you pay for.
The same applies here in NC. All the fiber is basically owned by about 3-5 major companies, with some minor ones in between handling some smaller rural areas.
The best thing you can do is attempt to rotate between your available local providers until you find the one with the most stable service. What may work for someone down the road from you could be the worst thing for your house. It really just depends on how well maintained the infrastructure is, and what other things are riding on it.
Internet news and infrastructure in Mooresville, NC
TDS Telecom is building out its fiber network in Mooresville, with speeds up to 8 gigs. (6) If it's not in your neighborhood yet, you can register for email updates.
Public and private partnerships are also working to bring additional high-speed fiber to rural North Carolina. The Carolina Public Press has done a great job digging into the details. There's also some nice coverage from WCNC Charlotte. Part of that program involves making sure replacement utility poles will work with future broadband needs, according to Infinity TDC, which helps providers build out their broadband networks. (7)
The city bought the network of a cable provider in 2007, but it had failed by 2011 (at least according to a former Republican state representative from North Carolina, who wrote an opinion piece in The Carolina Journal in 2011). (8) The same publication, well known for its conservative viewpoints, doubled down on the issue in 2017, saying multiple municipal broadband projects in North Carolina had failed. (9) That said, high school graduation rates in the area did improve in the years following the municipal broadband effort. (10)
Today, Mooresville taxpayers have gotten out of the internet business, but almost 100% of the city is still eligible for connections of 100 Mbps or faster. That certainly qualifies as broadband, and it's fast enough for most households.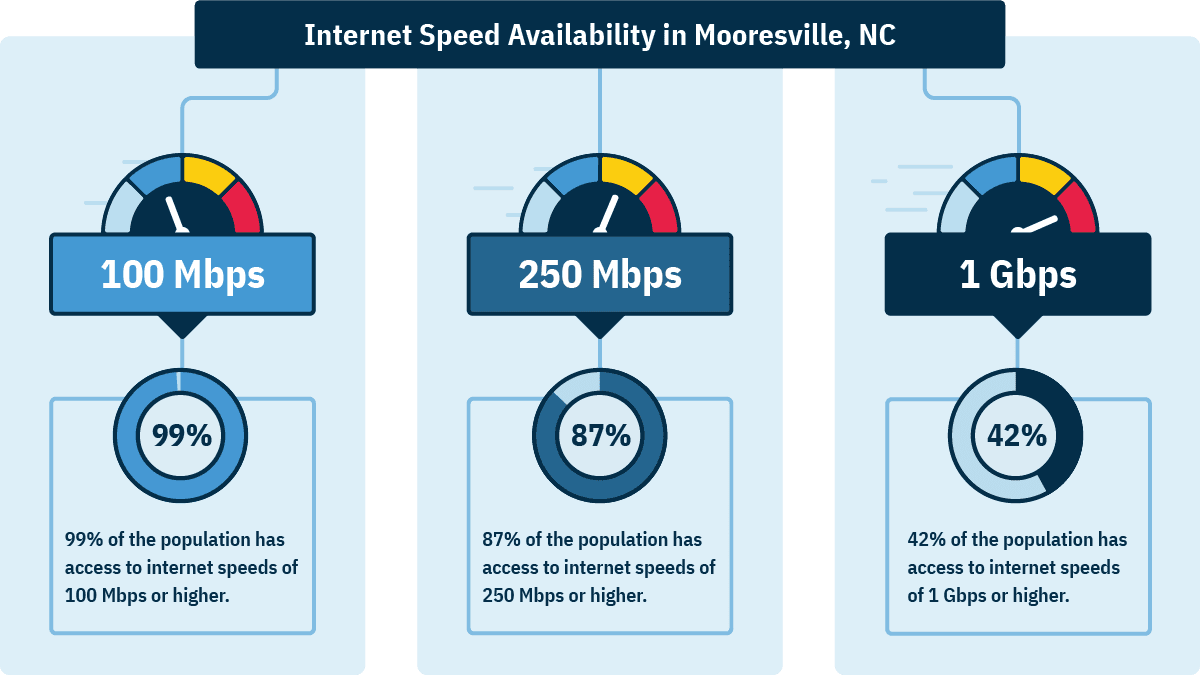 Frequently asked internet questions in Mooresville
---
No, Xfinity internet is not available in Mooresville, North Carolina. It's available only in a tiny swath of the state near the northern border. Instead, Mooresville's legacy cable internet provider is Spectrum. It offers similar plans to what Xfinity makes available in other parts of the country, but Spectrum customers benefit from truly unlimited data at all speeds.
If you're moving from an Xfinity area, see how its plans compare to Spectrum internet using the Switchful compare tool.
---
Spectrum offers fiber-to-the-premises internet to some homes in North Carolina, including some in Mooresville, but it's much more likely you'll be able to get cable internet at your address. If that's the case, you'll benefit from a network that's built on a fiber-optic backbone, but you'll still have coax cable running from a neighborhood node to your home.
Cable to the home will limit your max download speeds to around 1 Gbps (before interference from Wi-Fi) and means much slower upload speeds than you'd get with fiber. 1 Gbps is still very, very fast though, and we like that Spectrum no longer requires contracts and doesn't have data limits. We just recommend you shop for home internet service again in about 12 months because that's when Spectrum hikes prices. It might also be when fiber internet is available to your front door.
---
Whether Kinetic or Spectrum internet is better for you depends on your exact address in Mooresville, NC. If you can get only DSL internet from Kinetic, you'll be limited to top speeds of about 100 Mbps and will pay around $40 per month for the privilege. In that case, our team of experts usually recommends going with Spectrum's cable internet offering, where you can get speeds up to 1 Gbps and won't have the distance-related slowdowns that come with DSL.
If you can get fiber from Kinetic, though, we usually recommend it over Spectrum. Prices are better and speeds are crazy fast, and you'll be set up for increased speed needs in the future if you get an optical network terminal (the fiber version of a modem) installed now. You still may not want the fastest possible speeds, but fiber internet is a game changer when it comes to home internet.
Compare Spectrum and Kinetic by Windstream using the sweet Switchful side-by-side comparison tool.
1. "FCC Broadband Map," Federal Communications Commission. Accessed 7 March 2023.
2. "Check 5g & 4g Lte Coverage Near You," T-Mobile. Accessed 9 March 2023.
3. "Coverage Map," US Cellular. Accessed 9 March 2023.
4. "Explore Verizon 5G and 4G LTE network coverage in your area," Verizon. Accessed 9 March 2023.
5. "Faster speeds now available at no cost to TDS Affordable Connectivity Program recipients," TDS Connect Blog. Accessed 9 March 2023.
6. "Nothing Performs Like TDS Fiber. Get Fast Internet in Mooresviile, North Carolina," TDS Fiber. Accessed 9 March 2023.
7. "North Carolina Prioritizes Broadband Infrastructure to Close The Digital Divide," Infinity TDC. Accessed 9 March 2023.
8. "Our Experiment With Municipal Broadband Has Failed," The Carolina Journal. Accessed 9 March 2023.
9. "Six N.C. city systems make list of 'broadband boondoggles'," The Carolina Journal. Accessed 9 March 2023.
10. "In Mooresville, North Carolina, High-Speed Internet Drives Success in Schools," National League of Cities. Accessed 9 March 2023.