Our top 3 ISP choices in Salisbury, NC
Each of our top three picks for home internet in Salisbury offer fully wired connections of up to 1 Gbps (or faster).
#1: AT&T internet
AT&T fiber internet is our #1 provider in the US, and it's a great choice in the Salisbury area. You benefit from plans starting at 300 Mbps, which is plenty fast for most households. Those speeds are synchronous, meaning you'll get upload speeds equal to download speeds. There are no data caps, contracts, or cancelation fees, but you may be on the hook for $100 to get started.
The closer you are to the heart of the city, the more likely you are to get fiber internet from AT&T. However, the company still has a DSL network, and that means speeds that are much, much slower. The company stopped selling new DSL service in 2020, though, so if you can get a new connection from AT&T, you can be confident it will be fiber. (1)
Read our full AT&T review.
#2: Fision internet from Hotwire
If you want the capabilities of fiber internet but don't need the 300 Mbps speeds AT&T offers, Fision from Hotwire might be a good choice! Plans start at 50 Mbps for just $19.99 for the first six months, with a jump to $34.99 after that. If you need gigabit speeds, you'll pay just $59.99 for the first six months, and $89.99 after that. For any plan, you get a top-of-the line eero router included for the first three months, with a jump to $10 per month after that. We like the variety of options but could do without the price hikes. It's also a little strange that the fiber provider doesn't offer synchronous upload speeds, but you can still upload many times faster with Fision than you could with any cable internet plan.
#3: Spectrum internet
Spectrum is the legacy cable TV and internet provider in the Salisbury area, and it still has a nice offering for home internet. Its budget plan offers speeds of 30 Mbps for just $20 a month, and you can keep that price for two years. It's pretty slow, but covers the basics of browsing. You can also get super fast internet from Spectrum. Just watch out for equipment fees of around $5 per month (unless you bring your own router) and a nasty customer service reputation. That said, Spectrum offers consistently fast speeds, according to the Federal Communications Commission (2), and it's the most widely available option in Salisbury. (3)
Read our full Spectrum review.
All internet providers in Salisbury
Salisbury is lucky to have three providers that offer fully wired internet speeds of 1 Gbps or more (fully wired to the home, that is). But some households still prefer fixed wireless internet from providers like T-Mobile and Verizon. You can get some great monthly rates if you bundle with your cell phone plan, and speeds of up to about 175 Mbps are possible if you're close to the nearest cell tower.
Satellite internet is also technically available to all homes in Salisbury from each of the big three providers (Hughesnet, Viasat, and Starlink), but we never recommend it if you have access to another connection type, because satellite is notoriously expensive and still quite slow.
Fastest internet providers in Salisbury
The fastest internet you can get in Salisbury is AT&T fiber, which offers jaw-dropping speeds of 5 Gbps (5,000 Mbps). That can support dozens of devices and more simultaneous video streams than are practical for almost any home, but you can also get slower and cheaper speeds from the provider. We most often recommend the 300 or 500 Mbps plans.
You can also get 1 Gbps speeds from Fision, but watch for price hikes after six months and equipment fees starting in month four. With Spectrum, you can get 1 Gbps download speeds as well, but upload speeds can't compete. Availability matters a lot here, so make sure a given provider can reach your Salisbury address before you make a final decision.
How much speed do you need?
When choosing an internet plan, you want to keep all of your activities running smoothly without paying extra for speeds you don't need. At the bare minimum, you need 25 Mbps to do light browsing on one or two devices. Most households with multiple people and multiple devices will want to look for speeds in the 100–500 Mbps range. Learn how much speed your household needs in our guide to internet speed.
Cheapest internet providers in Salisbury
Spectrum and Fision are tied for the cheapest internet in Salisbury, at least for the first six months. After that, with Fision, your rate will jump to $34.99 per month for speeds up to 50 Mbps. That's fast enough for one user or casual use by a small family, but it can't support a fully connected home working or studying remotely. If you go with Spectrum, you can get 30 Mbps of speed for just $20, and your rate will stay steady for two years.
If you bundle your home internet service with your mobile plan with Verizon or T-Mobile, you can get home internet of 30–175 Mbps for less than $30 per month, but it will be less reliable than what you can get from Fision or Spectrum.
Internet options in nearby cities
The area around Salisbury is well-connected to the internet, with speeds of 100 Mbps or more available to most areas. There's a mix of DSL, cable, and fiber infrastructure to the home, plus fixed wireless from mobile phone providers.
In Concord and Charlotte, residents enjoy competition between our #1 pick for internet—AT&T fiber— and Google Fiber, which is renowned for its straightforward pricing and top-shelf Wi-Fi gear. So far, we don't know of any plans to expand Google Fiber to Salisbury.
Learn more about what's available in nearby communities:
See all options in your area within seconds.
What Salisbury residents are saying on Reddit
Like internet users throughout North Carolina, folks in the Salisbury area are saying fiber is your best bet for home internet. Lucky for you, two fiber providers (AT&T and Fision) compete for business in the city.
Internet news and infrastructure in Salisbury, NC
Salisbury taxpayers were early adopters of fiber internet, and had their own municipal network. It was one of the first to offer speeds of a whopping 10 Gbps at home, but didn't make money and was sold after a public vote in 2018. (4) You can still access the network, now called Fision, through internet service provider Hotwire. The prices are on par with what you can get from AT&T, the fully private network in the city.
Meanwhile, AT&T has been busy replacing its old DSL network with new fiber-optic capability. Last year, the provider announced it had reached 1 million homes in North Carolina overall, and at least some of that growth is in the Piedmont region. (5)
As of the end of 2022, the Federal Communications Commission reported 94% of Salisbury had access to internet speeds of 100 Mbps or more, and an impressive 77% had access to speeds of at least a gig. (3) That makes Salisbury one of the most well-connected cities in the area.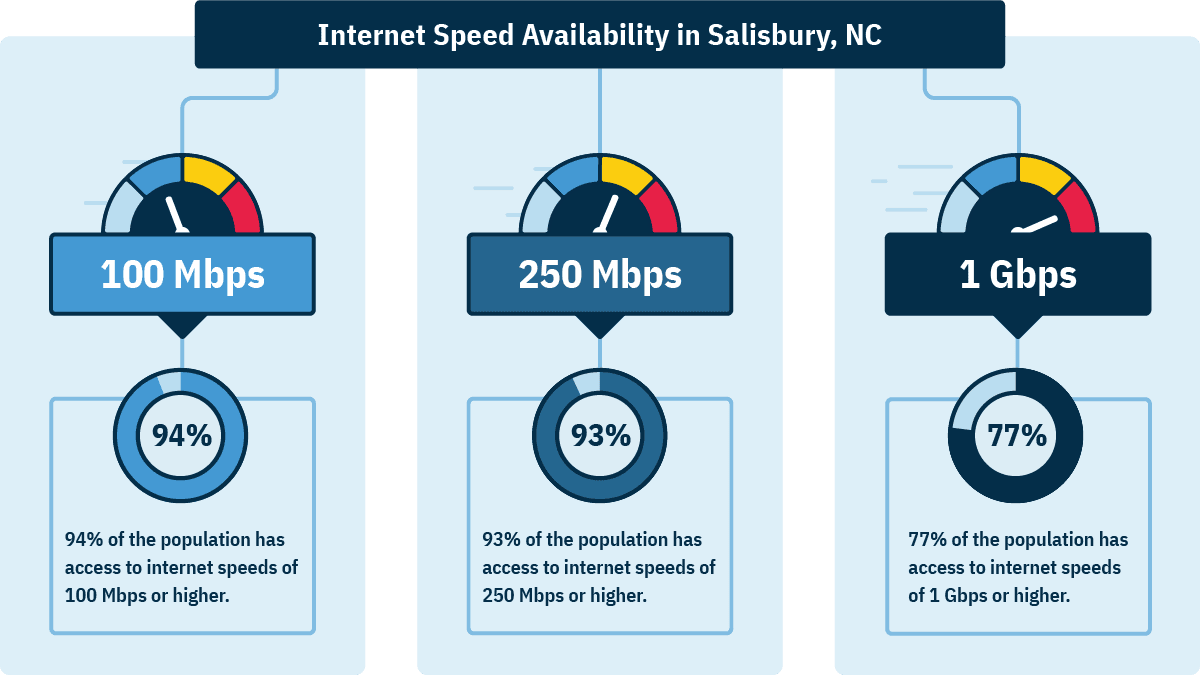 Frequently asked internet questions in Salisbury
---
Xfinity is not available in Salisbury, and you can't get it hardly anywhere in North Carolina (with the exception of a tiny sliver of homes on the northern border, in Yanceyville). That's because most areas of the US have only one legacy cable internet provider. In North Carolina, that provider has historically been Spectrum.
If you're moving from an Xfinity area to North Carolina, you'll be pleased to find out that the services are similar. With Spectrum, though, you never have to worry about data caps and you can get budget plans for as little as $20 per month.
Compare plans between Spectrum and Xfinity to better understand the differences.
---
The fastest home internet in Salisbury is from AT&T, where  you can get speeds up to 5 Gbps (that's 5,000 Mbps) with one of its fiber-to-the-home connections. That's faster than almost any home needs, but we like that it's available to folks who want the best of the best.
If you don't want to pay for those speeds, you can get gigabit speeds in the city from AT&T, Fision (through Hotwire), or Spectrum. That's still pretty darn fast, and probably more than enough for almost any Salisbury family.
---
AT&T is our top-ranked internet provider overall, and it's also our top choice for residents of Salisbury, NC. It covers more than 80% of the city, and its customer service is tied for first place nationwide. (6) We like AT&T's freedom from contracts and $0 equipment fees, but watch out for installation prices of $50–$100, depending on whether you can do the work yourself. AT&T doesn't offer TV service, but you can get nice bundle deals with DIRECTV, which is owned by AT&T. If you don't want a satellite on your roof, you might want to try DIRECTV STREAM, which works over your internet connection.
If you want just one bill for your internet and live TV, we like Fision TV in Salisbury. You get perks like the ability to watch four channels at the same time and the ability to watch programs that aired within the last 48 hours, even without a DVR. TV and internet bundles are also available from Spectrum, and may be cheaper than what's on offer from Fision.