Our top 3 ISP choices in Huntersville, NC
Most homes in Huntersville have a choice of home internet providers, with a range of speeds and prices.
#1: AT&T internet
Fiber internet from AT&T is very fast, whether you're downloading big files and streaming in 8K or uploading to TikTok and hosting big video conferences for work. If your home is wired for fiber, you can get speeds of 500 Mbps (or faster) with no equipment fees and no contracts. You may have to pay $50 for activation, if you install yourself, or $100 for a pro to come by and install your service, but the customer service is top notch and the service itself is very reliable. (1)
It's worth noting that some homes in Huntersville may have only DSL internet from AT&T, which is much slower and less reliable. That older service isn't available to new customers, though, so if you can get a new AT&T connection in Huntersville, it means you can get fiber.
Read our full AT&T internet review.
#2: Spectrum internet
Spectrum is the local cable internet provider in Huntersville, and it offers internet download speeds of up to 1 Gbps to more than 9 in 10 homes in the area. Our expert reviewers love Spectrum's budget plans for small homes or families who don't use the internet much, but its gigabit plan isn't as impressive if you also have access to AT&T fiber. With Spectrum, watch for price hikes after one to two years and a relatively poor reputation for customer service. (1) You won't have to sign a contract, though, and there are no data caps to worry about.
Read our full Spectrum internet review.
#3: T-Mobile internet
If you can't get fiber to your front door or connect via cable internet, there's a good chance you can get fast home internet from T-Mobile. The technology is called fixed wireless, and it works by way of a special router that connects directly to your nearest cell tower. According to T-Mobile, most neighborhoods in Huntersville can get fast 5G service at home, but some areas get "5G Extended Range" instead of the premium "5G Ultra Capacity." (2) Either way, you get freedom from equipment fees and contracts, and you can bundle with your mobile phone plans for great deals.
Read our full T-Mobile Home Internet review.
All internet providers in Huntersville
AT&T fiber internet and Spectrum cable internet are great choices for home internet in Huntersville, and both have networks that cover 80% or more of the region. (3) T-Mobile has even wider coverage, and about 20% of homes can get fast home internet from another wireless provider, Verizon. All homes are hypothetically serviceable by satellite internet providers as well, but we rarely recommend satellite internet to any households that have other options.
Fastest internet providers in Huntersville
AT&T fiber internet is the fastest way to connect in Huntersville, North Carolina. You can get ludicrously fast speeds of up to 5 Gbps, fast enough to power thousands of devices at once and stream hundreds of videos in HD, all at the same time. It's faster than almost anyone would need, but we like that these ultrafast speeds are becoming available.
Spectrum also offers fast internet, but plans top out at 1 Gbps (still plenty fast, in our opinion). Fixed wireless and DSL plans can't compete when it comes to speed, and satellite internet is really out of the question if you have any other options.
How much speed do you need?
When choosing an internet plan, you want to keep all of your activities running smoothly without paying extra for speeds you don't need. At the bare minimum, you need 25 Mbps to do light browsing on one or two devices. Most households with multiple people and multiple devices will want to look for speeds in the 100–500 Mbps range. Learn how much speed your household needs in our guide to internet speed.
Cheapest internet providers in Huntersville
Spectrum internet is the cheapest internet provider in Huntersville, with budget plans starting around $30 per month for 100 Mbps speeds. It's fast enough for small households, but it may not be quick enough for bigger families. You can also pay $30 or less for fixed wireless 5G internet from Verizon or T-Mobile assuming you also have a cell phone plan with that carrier. Plans from AT&T start at $50 per month so aren't a great fit for families on a budget.
Fortunately, each of the three most affordable options in Huntersville are part of the federal Affordable Connectivity Program, which offers $30 to eligible families for internet every month. Read about this program and additional ways to get cheap or free internet at home.
Internet options in nearby cities
Much of the Piedmont region has access to high-speed internet, and it is most readily available from cable internet provider Spectrum. Lucky households in Charlotte and Concord may also be able to get Google Fiber or AT&T fiber, but access to synchronous gigabit speeds are more limited the farther out you get.
Kinetic by Windstream offers fiber internet in some areas throughout the region, but most of its customers are still on the much-slower DSL network. TDS Telecom also sells both fiber and DSL in the area, and has announced plans to build out its fiber network. (5) OPENFIBER is also planning to expand. (6)
Learn more about home internet options in the region:
See all options in your area within seconds.
What Huntersville residents are saying on Reddit
Like residents in the rest of North Carolina, Huntersville residents say fiber is the best internet available, and Spectrum is widely available but has a nasty reputation.
Internet news and infrastructure in Huntersville, NC
There's healthy competition for home internet in Huntersville, and most homes have a choice of providers that offer different internet technology types. Google Fiber is coming soon,(7) and there's a good chance you can get fiber-optic internet from AT&T. The company announced last year it has reached 1 million homes in the state with fiber-to-the-home. (8)
If you can't get AT&T fiber, you probably have access to gigabit speeds from traditional cable internet provider Spectrum, or moderately fast speeds from fixed wireless providers. Overall, 96% of Huntersville homes have access to internet speeds of at least 100 Mbps, and more than two-thirds can get speeds of 1 Gbps or more, according to data from the Federal Communications Commission. (3)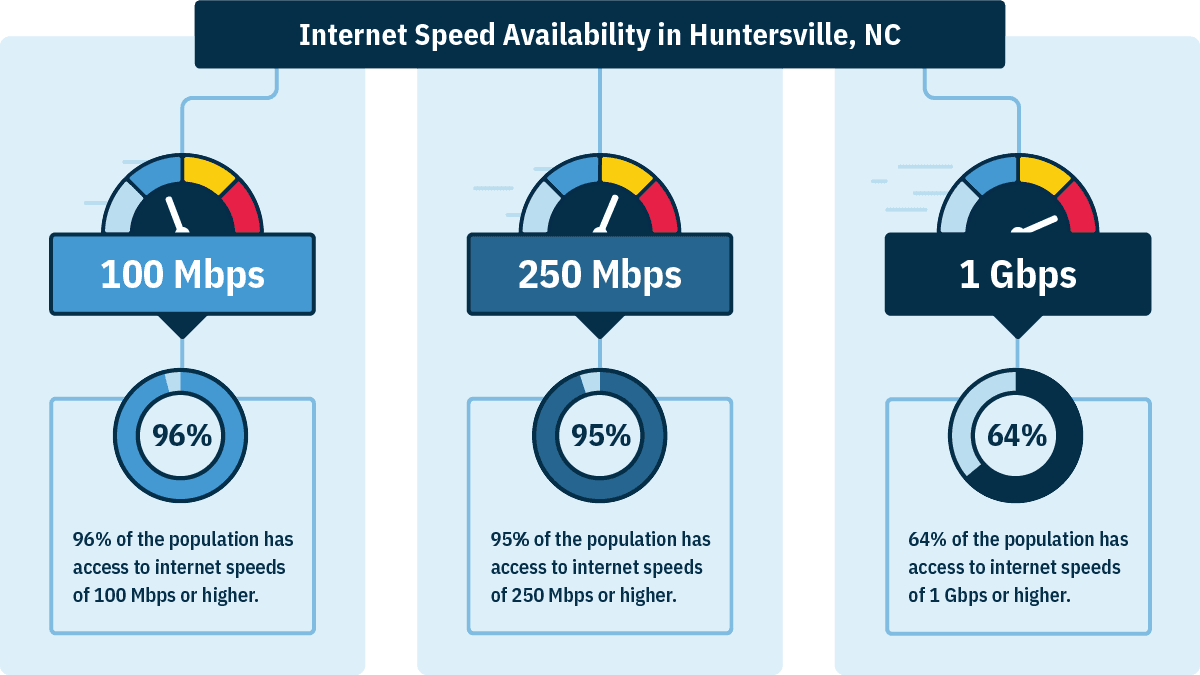 Frequently asked internet questions in Huntersville
---
Yes, Google Fiber will be available soon in Huntersville. It is also available in Charlotte, and plans are in the works to make it available in Concord. (8) However, about half of homes in Huntersville can get fiber internet from AT&T, with prices for 1 Gbps service nearly as good as those available from Google Fiber.
Our expert reviewers also like the slower plans from AT&T. You'll pay less than you would with Google's cheapest plans, and 300 Mbps is still plenty fast for almost any household.
---
The most widely available home internet in Huntersville, NC, is fixed wireless internet from T-Mobile, which covers 94% of the city (and mostly with 5G service). (2, 3) Cable internet from Spectrum reaches 92% of the city, and AT&T reaches 81%.
Each of these providers works with the federal Affordable Connectivity Program, and that means eligible families can receive $30 off internet plans each month. Often, that amounts to free (or very cheap) internet access.
---
Google Fiber offers faster and more reliable internet speeds than Spectrum, but it's not available in Huntersville, NC. If you need fiber-optic access in the city, there's a good chance you can get it from our top-ranked provider, AT&T.
If you want to save money while still getting fast and reliable internet, budget plans from Spectrum are a good choice. It can't match Google Fiber for upload speeds, and there may be some speed variation based on how many people from your neighborhood are trying to connect at once, but the cheapest Spectrum plan costs less than half of what you would pay for Google Fiber.
Compare internet plans from Google Fiber, Spectrum, and AT&T side by side.
(1)  "Satisfaction Benchmarks by Company," The American Customer Satisfaction Index. Accessed 8 March 2023.
(2) "Check 5g & 4g LTE Coverage Near You," T-Mobile. Accessed 8 March 2023.
(3) "FCC Broadband Map," Federal Communications Commission. Accessed 7 March 2023.
(4) "Coverage Map," US Cellular. Accessed 7 March 2023.
(5)  "TDS Telecom bringing fiber internet to five Union County communities," Union County Weekly. Accessed 9 March 2023.
(6) "Openfiber announces plan to build $60M fiber optic network in Union County," Union County Weekly. Accessed 16 March 2023.
(7) "Google Fiber to ramp up network construction in Huntersville in latest local expansion," Charlotte Business Journal. Accessed 31 March, 2023.
(8) "AT&T network passes 1 million N.C. homes, offices, state leader says," Business North Carolina. Accessed 8 March 2023.
(9) The fastest internet in Charlotte - now in 1 and 2 Gig," Google. Accessed 8 March 2023.