Our top 3 ISP choices in Apex, NC
Our top two picks for internet are AT&T and Spectrum. If you can't get either of those choices, T-Mobile offers fixed wireless internet that should serve your area.
#1: AT&T internet
AT&T fiber is our top-ranked internet provider nationwide, and it covers almost all neighborhoods in Apex, aside from a few patches in the southern part of the city. As the only fiber provider with widespread coverage (for now), AT&T offers extremely fast upload and download speeds at reasonable prices without price hikes. Some longtime customers might still have AT&T DSL service, but new customers can no longer buy DSL from AT&T. For good reason, too—the fiber service is much better value and performance for the price.
Read our full AT&T internet review.
#2: Spectrum internet
If you live in one of the few areas without AT&T fiber, cable provider Spectrum more than likely has you covered. Spectrum offers service to 97% of Apex. It can't match AT&T's highest fiber speeds, but its 1 Gbps download speed should be more than enough for the vast majority of people. Spectrum also offers some lower-tier budget plans that could be attractive if you want to save money—just watch out for hefty second-year price hikes.
Read our full Spectrum internet review.
#3: T-Mobile 5G Home Internet
There are some extremely small areas to the south side of Apex that don't have either AT&T or Spectrum access. T-Mobile fixed wireless covers those areas with speeds up to 182 Mbps. It's not the fastest internet, and you could see speed variability based on weather and distance from a tower. That being said, T-Mobile offers some attractive discounts for people who bundle home internet with certain cell phone plans.
Read our full T-Mobile 5G Home Internet review.
All internet providers in Apex
Google Fiber is expanding into Apex, but most households won't have access yet. If you can get it, Google Fiber is an excellent option with a high customer service reputation.
Outside of the top three providers and Google, your internet options in Apex are pretty limited. Verizon and US Cellular both offer fixed wireless plans similar to T-Mobile's, but their coverage areas are much smaller, so T-Mobile is probably your best bet unless you already have cell service from another provider.
Satellite providers HughesNet and Viasat are available almost everywhere in the area. Starlink may also be available, but the waitlist can be long. Satellite internet is generally slower and more expensive than other internet types, so we don't recommend signing up for any of these options unless you have nothing else available at your address.
Fastest internet providers in Apex
AT&T offers the fastest internet by far in Apex, with download and upload speeds reaching up to 5 Gbps (5,000 Mbps). Realistically, this is far more than most households need for even heavy gaming or streaming. The 1 Gbps plans from either AT&T or Spectrum are still extremely fast. Google Fiber will also be joining the mix with gig plans as it builds out fiber infrastructure in Apex.
How much speed do you need?
When choosing an internet plan, you want to keep all of your activities running smoothly without paying extra for speeds you don't need. At the bare minimum, you need 25 Mbps to do light browsing on one or two devices. Most households with multiple people and multiple devices will want to look for speeds in the 100–500 Mbps range. Learn how much speed your household needs in our guide to internet speed.
Cheapest internet providers in Apex
Spectrum has a budget 100 Mbps plan for around $30 per month, but prices will increase after the first year unless you negotiate your bill. If you use T-Mobile cell service and have a qualifying plan, you can get home internet speeds over 100 Mbps for only $25 per month and no price hikes.
For those who need faster speeds, AT&T offers the cheapest gig speeds in the area, and prices won't increase over time.
Learn more about low-cost and free internet options.
Internet options in nearby cities
Spectrum is the most consistent internet provider across the state, and you can find it pretty much everywhere in nearby cities. AT&T has fairly consistent fiber coverage, but where AT&T doesn't show up, you might see areas with Brightspeed or Frontier instead. Google Fiber is up-and-coming in the entire Triangle area, with planned expansion in multiple cities, including Apex. See what's available outside of Apex.
See all options in your area within seconds.
What Apex residents are saying on Reddit
Internet providers are pretty consistent across Apex and nearby cities. In the Raleigh subreddit, most customers are very positive about AT&T fiber service (and Google Fiber, where they can get it). Spectrum has a spottier reputation overall, with some residents pointing out that service quality can vary heavily depending on how old the cable infrastructure is in your area. There's also a fully dedicated Facebook page to Google Fiber in Apex, where residents share expansion news and personal experiences with construction.
Internet news and infrastructure in Apex, NC
Apex residents have excellent internet access overall, and it's only improving over time. Over 75% of Apex has access to download speeds of 1,000 Mbps (1 Gbps) or higher. (1)
While fiber options in Apex are mostly limited to AT&T, that won't be the case for long. As of summer 2022, Google Fiber began construction in Apex (2), meaning that residents should have even more high-speed options soon.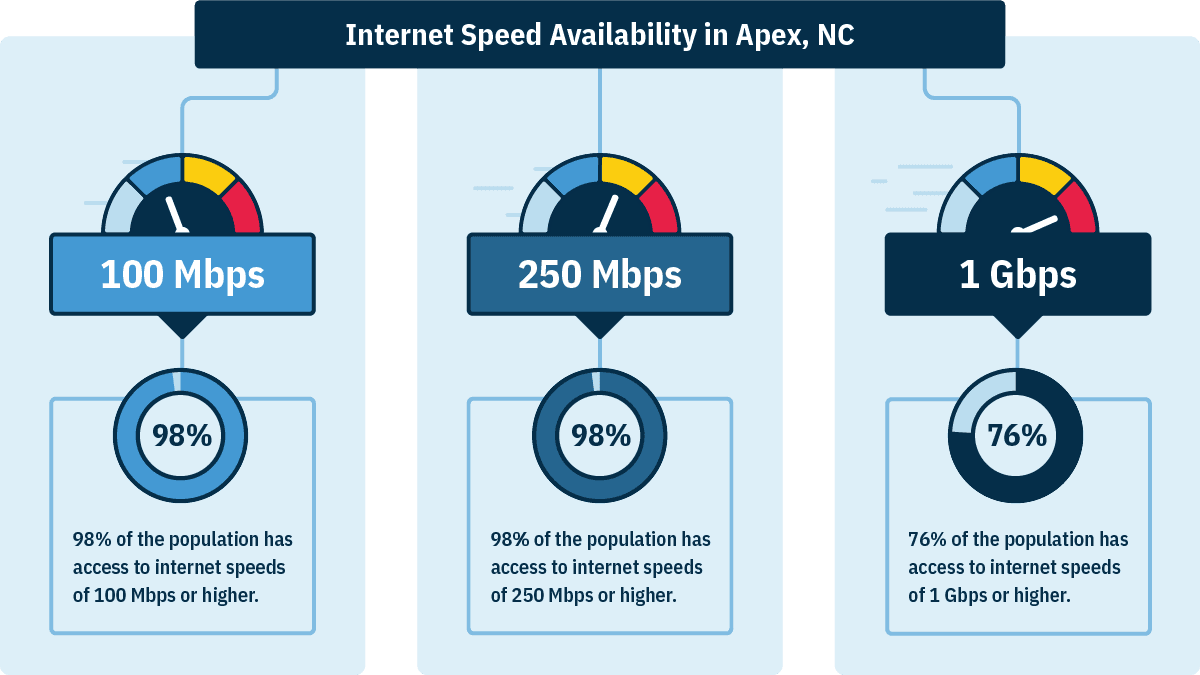 Frequently asked internet questions in Apex
---
Google Fiber is available in Apex, but not widely. Construction began in summer 2022, so most households are still waiting for access. Check your address on Google's website to sign up for alerts on Google Fiber availability in Apex. If you live in an area without Google Fiber, AT&T currently offers widespread fiber coverage in the area, and you won't have to sign up for a contract if you want to switch providers later.
---
We've rated both AT&T fiber and Google Fiber very highly, and they both score over 4 stars across hundreds of customer reviews. AT&T offers higher max speeds up to 5 Gbps, but you almost definitely don't need speeds that high. Google charges slightly less per month on its gig plans. Overall, though, both providers should offer solid fiber service. Compare both companies side by side.
---
Whether Spectrum or AT&T works better for you depends on your location and household needs. In general, AT&T's fiber service will be faster and more reliable, and AT&T doesn't raise prices after the first year like Spectrum does. However, there are some areas in Apex where AT&T doesn't cover and Spectrum does, and Spectrum has more budget options available. See how the two compare.
---
If you have multiple people in your household who all want to stream videos, work from home, game, or do anything else online all at the same time, you'll want to look for cable or fiber internet plans with speeds of 250 Mbps or more. In Apex, that means AT&T's fiber service, Spectrum, or Google Fiber, once it's more broadly available. All three have speeds that should more than meet your family's needs.