Our top 3 ISP choices in Cary, NC
#1: AT&T internet
Almost every neighborhood in Cary has AT&T fiber access. We rated AT&T number one among all national internet providers, and it received high scores for both value and reliability. Legacy DSL customers should know that AT&T no longer sells DSL service, and fiber will be much faster with way fewer outages and headaches.
Read our full AT&T internet review.
#2: Google Fiber internet
Local reviews rave about Google Fiber service. Google is one of the easiest ISPs to deal with, and it has fast, consistent service. We slotted it in at number two because it's not available everywhere yet, but if you live at an address with service, it's a fantastic choice.
Read our full Google Fiber internet review.
#3: Spectrum internet
If you can't get AT&T or Google Fiber, chances are pretty high that you can get Spectrum. Spectrum's cable service covers over 90% of Cary. Some customers are frustrated by areas of aging infrastructure and second-year price hikes, but its 1 Gbps download speeds are comparable to what you'll get with fiber, and Spectrum offers budget plans that might be easier on the wallet than its fiber competitors.
Read our full Spectrum internet review.
All internet providers in Cary
Aside from our recommendations, most internet options in Cary fall into two buckets: fixed wireless and satellite. Fixed wireless uses the same technology that you use for cell service to get home internet. It's slower and less reliable than either cable or fiber, but if you already have cell phone plans from T-Mobile, Verizon, or US Cellular, bundling could be a frugal choice.
Starlink satellite internet might have a lot of buzz in the news, but satellite in general is going to be slower and more expensive than other internet types, and you should have better choices nearly everywhere. Skip Starlink, Viasat, or HughesNet unless they're the only option at your address.
A very small percentage of Cary households can get Frontier fiber, which comes close to both Google and AT&T in terms of speed and performance.
Fastest internet providers in Cary
AT&T has the fastest speeds by far in Cary. AT&T advertises symmetrical upload and download speeds up to 5,000 Mbps (5 Gbps). Google Fiber comes in second with an also-superfast 2 Gbps download speed. Realistically, these plans aren't worth the cost for most households. AT&T, Google Fiber, and Spectrum all offer a 1 gig choice that should more than cover what even large households need.
How much speed do you need?
When choosing an internet plan, you want to keep all of your activities running smoothly without paying extra for speeds you don't need. At the bare minimum, you need 25 Mbps to do light browsing on one or two devices. Most households with multiple people and multiple devices will want to look for speeds in the 100–500 Mbps range. Learn how much speed your household needs in our guide to internet speed.
Cheapest internet providers in Cary
Spectrum offers the cheapest plans in Cary, with a 100 Mbps option for around $30 per month. This should be enough speed for smaller households.
If you want to save by bundling with cell service, T-Mobile and Verizon both offer steep discounts if you have qualifying cell plans, and you can tack on home internet for around $25 per month. Out of the fiber providers, Google Fiber has the cheapest plans, starting at around $70 per month.
Learn more about free and low-cost internet options.
Internet options in nearby cities
If you're in the Triangle, you can get Spectrum pretty much everywhere. Most places have AT&T fiber access as well, though if you travel to Holly Springs, you'll find that it's a gap in AT&T coverage. Google Fiber is slowly spreading its footprint in the area, and you might be able to find small local providers like Ting as well. See what your internet options are in these cities.
See all options in your area within seconds.
What Cary residents are saying on Reddit
We reviewed recent social media threads from Cary and the broader area. The overwhelming consensus seems to be that locals love Google Fiber, and if they can't get Google, they prefer AT&T to Spectrum. The T-Mobile subreddit had a positive, in-depth review of T-Mobile fixed wireless from a Cary resident that could give insight to anyone considering fixed wireless for the first time.
Internet news and infrastructure in Cary, NC
Cary residents are in an excellent position when it comes to internet access. A high 80% of the city has access to gig speeds or higher (1), and that number is only going to grow with time. Google Fiber has confirmed that it plans to continue expansion in North Carolina, including Cary. (2)
It's a little less clear whether AT&T will grow its large fiber network. A Bloomberg report indicated that AT&T may roll back its fiber expansion plans by as much as 39% in 2023 in response to fears of an economic downturn. (3)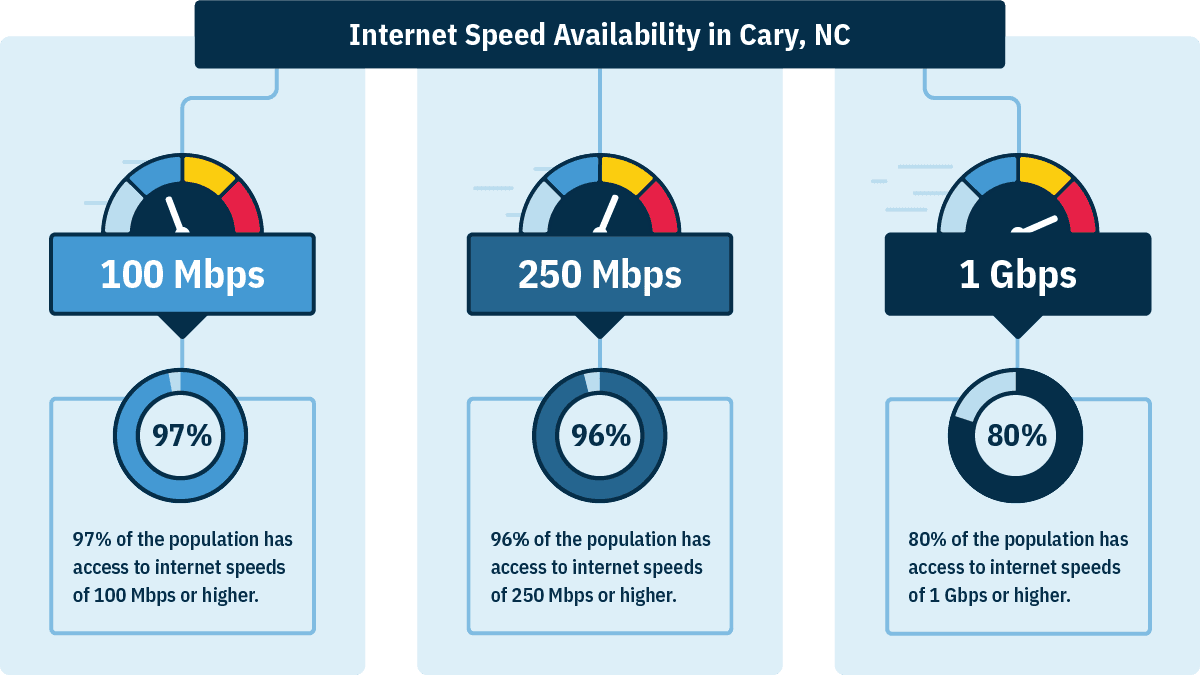 Frequently asked internet questions in Cary
---
AT&T is the better internet provider in Cary overall. Because it's a fiber provider, it has more reliable infrastructure and symmetrical download and upload speeds. That being said, Spectrum has more varied pricing tiers than AT&T does, so it can be a better choice for budget shoppers. Spectrum also covers some areas of Cary that AT&T doesn't. Compare AT&T and Spectrum internet side by side.
---
When it comes to internet service, sometimes the best ability is availability. AT&T and Google have comparable internet in a lot of areas—similar speeds, fiber technology—but AT&T is available to significantly more households in Cary, at least for now. If you have both as options, Google charges less per month for its gig plan, but AT&T has more choices for speeds and prices. See how they stack up against each other.
---
Yes, Cary has excellent fiber coverage from multiple providers. AT&T offers fiber to almost all of Cary, and Google Fiber is expanding its fiber service in the area. AT&T's fiber speeds reach 5 Gbps upload and download, while Google maxes out at 2 Gbps download and 1 Gbps upload.