Best internet providers in

Durham, North Carolina
For most people, the best two options for internet in Durham are AT&T fiber and Frontier fiber. Fiber service is the fastest, most reliable internet service type. Very small pockets of Durham can get access to Google Fiber, which we recommend as well, but if none of the fiber providers cover your neighborhood, Spectrum provides fast cable internet almost everywhere within the city limits.
---
Plans starting at $55.00 - $180.00
Download speeds up to 5000Mbps
Upload speeds up to 5000Mbps
---
Click below for all current AT&T deals
Disclaimer: Availability and pricing are subject to location. Conditions apply. For offer details, view disclaimers
---
Plans starting at $49.99 - $164.99
Download speeds up to 5000 Mbps
Upload speeds up to 5000 Mbps
---
Click below for all current Frontier Communications deals
Disclaimer: Subject to availability. Cannot be combined with other offers. Other restrictions, Frontier policies and service terms apply. For a list of terms, view disclaimers
---
Plans starting at $29.99 - $169.97
Download speeds up to 1 Gbps
Upload speeds up to 35 Mbps
---
Click below for all current Spectrum deals
Disclaimer: Availability and pricing are subject to location. Conditions apply. For offer details, view disclaimers
How we rank internet providers
We have a robust rating system to score internet service providers overall, but the quality of service could vary city to city. When narrowing down the best providers specific to Durham, we considered factors like availability, value, performance, and customer experience. We source information directly from the ISP's themselves, the FCC, and first-hand insights from residents of Durham.
Our top 3 ISP choices in Durham, NC
Our top three picks for internet with the best service and coverage in Durham are AT&T fiber, Frontier fiber, and Spectrum.
#1: AT&T internet
We gave AT&T fiber the best score of any internet provider nationwide. It has extremely fast and reliable service that should cover the needs of almost all households—if you can get it. AT&T doesn't cover every neighborhood in Durham, and your ability to access AT&T's fiber service might even vary street to street.
Read our full AT&T internet review.
#2: Frontier internet
When it comes to Frontier internet, there's a very important distinction to make: can you get fiber, or DSL? Frontier offers both in the Durham area, with much more widespread DSL service, but you will get significantly better speed and reliability for the money if you can get fiber. Our number-two ranking is for fiber specifically—if Frontier offers only DSL to your address, Spectrum may be the better choice.
Read our full Frontier internet review.
#3: Spectrum internet
Spectrum has some of the widest internet coverage in Durham, meaning that you can get it almost everywhere. If you don't have access to one of the fiber options, Spectrum likely has internet plans more than fast enough for your needs.
Read our full Spectrum internet review.
All internet providers in Durham
Google Fiber didn't make our top three picks because it's not available in many neighborhoods—yet. But if you can get it, it's a very reliable option with excellent customer service. Those looking for budget-friendly options should check about bundling fixed wireless home internet with cellular service from T-Mobile, Verizon, or US Cellular. Fixed wireless won't be as fast or as reliable as cable or fiber service would be, but it's growing in popularity.
Satellite providers like Viasat, Starlink, and HughesNet are available almost everywhere, but they're also the slowest and most expensive internet options. If you live within Durham, you're almost guaranteed to have better choices with non-satellite providers in terms of both service and price.
Fastest internet providers in Durham
AT&T fiber and Frontier fiber both advertise symmetrical download and upload speeds up to 5 Gbps (5,000 Mbps). That's far beyond what the vast majority of households currently need, but they also offer "slower" options that are still plenty fast. Google Fiber offers 1 Gbps and 2 Gbps plans, and Spectrum offers download speeds up to 1 Gbps, though because it's cable instead of fiber, the upload speeds are slower.
How much speed do you need?
When choosing an internet plan, you want to keep all of your activities running smoothly without paying extra for speeds you don't need. At the bare minimum, you need 25 Mbps to do light browsing on one or two devices. Most households with multiple people and multiple devices will want to look for speeds in the 100–500 Mbps range. Learn how much speed your household needs in our guide to internet speed.
Cheapest internet providers in Durham
The cheapest internet options in Durham are fixed wireless providers T-Mobile and Verizon. The base plan rates are similar to what you'll pay for other types of internet service, but if you bundle home internet with certain cell phone plans, you can get steep discounts. Frontier also offers some DSL plans that are less expensive than its fiber service, but the price you pay for the speed you get isn't a great deal with DSL in general.
Low-income families can receive assistance with internet bills through the Affordable Connectivity Program and some provider-specific programs. Learn more in our guide to free and low-cost internet service.
Internet options in nearby cities
The broader Triangle area has AT&T fiber and Spectrum cable almost everywhere. Frontier doesn't offer much fiber service in the area outside of Durham, and Google Fiber is rapidly expanding in the area. See what's available in these nearby cities.
See all options in your area within seconds.
What Durham residents are saying on Reddit
We read through social media threads in the greater Raleigh-Durham area, and current customers seem to love Google Fiber service where they can get it. The commenters seem less impressed with Spectrum and Frontier's DSL options. Read for yourself what locals have to say.
Internet news and infrastructure in Durham, NC
If you live in Durham and don't have access to fiber-optic internet, you won't have to wait too much longer because Durham's fiber options are growing rapidly. Google Fiber has announced plans for continued expansion in the Triangle. (1) Local fiber provider Lumos also announced in 2022 that it is directing a $50 million investment to bring additional fiber access to Durham and Orange counties. (2) Residents can sign up for alerts on when their address will get fiber directly with Google or Lumos.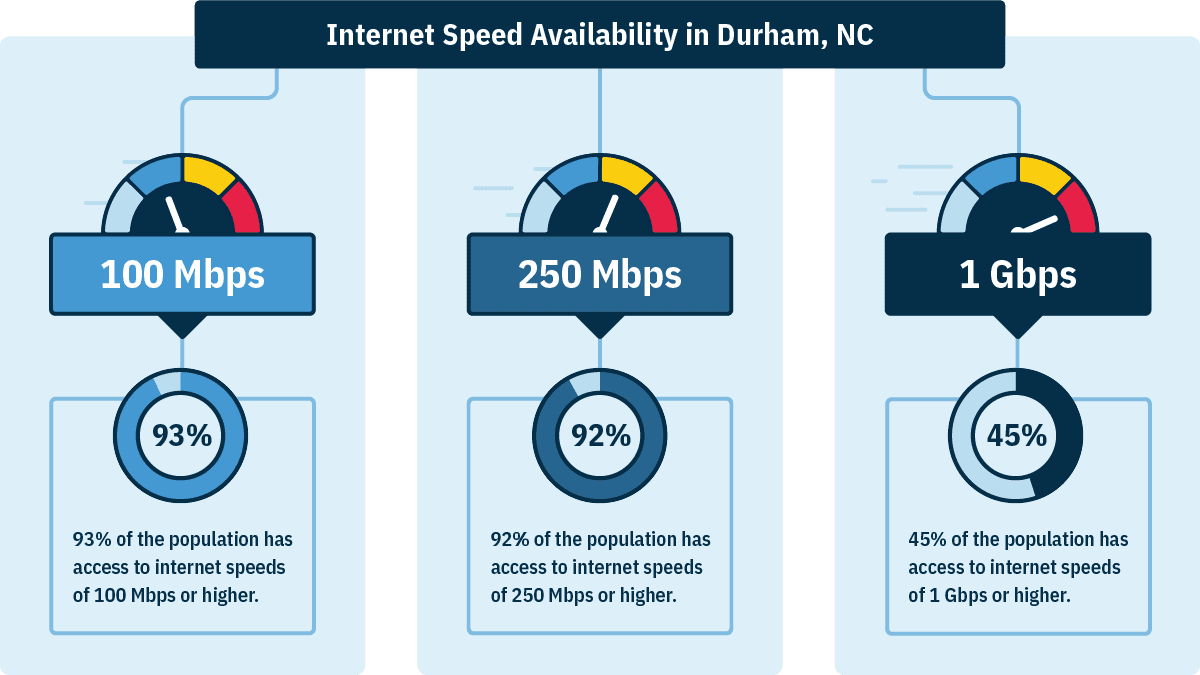 Frequently asked internet questions in Durham
---
Spectrum advertises enterprise-level fiber internet to businesses in North Carolina and some other areas. On the residential side, Spectrum doesn't offer full-fiber internet, but it does use hybrid-fiber coaxial (HFC), which uses fiber infrastructure as its base network and then uses coaxial connections to the home. It's more stable than traditional cable connections, but hybrid fiber-coaxial doesn't allow upload speeds as fast as what you'd get with a fiber-to-the-home provider.
In the Durham area, AT&T, Frontier, and Google Fiber all offer fiber-to-the-home service, and local provider Lumos is building out fiber infrastructure as well.

---
Lumos fiber internet advertises symmetrical download and upload speeds up to 1 Gbps (1,000 Mbps). With construction underway in Durham, these plans will become available to more and more people in the coming months.
---
Yes, fiber-optic internet is much faster than Starlink's satellite service. Starlink advertises download speeds up to 250 Mbps, which is at the fastest end of satellite providers. By comparison, some of the fastest fiber providers, AT&T and Frontier, advertise residential internet service up to 5,000 Mbps, 20 times faster than Starlink. Most fiber providers have plans with at least 1,000 Mbps max download speed.
Upload speeds have an even larger discrepancy. Starlink advertises upload speeds up to 20 Mbps, while fiber provides symmetrical upload and download speeds, meaning that the fiber providers with 5,000 Mbps download speeds also offer 5,000 Mbps upload speeds.
Even though Starlink is faster than other satellite internet options for rural areas, the data still needs to travel to a satellite and back, making it significantly slower in both speeds and latency than other internet types, especially fiber.