Our top 3 ISP choices in Raleigh, NC
The best choices for internet in Raleigh are AT&T fiber internet, Spectrum, and Google Fiber.
#1: AT&T internet
AT&T has high ratings from both our in-house expert reviewers and customer reviews on Switchful. It offers excellent value for reliable fiber service, and you can get it in most Raleigh neighborhoods. The fiber speeds and prices are much better than AT&T's old DSL internet service, which the company no longer offers to new customers.
Read our full AT&T internet review.
#2: Spectrum internet
Spectrum is a cable provider, meaning it might suffer from some network congestion, which you won't get with fiber options like AT&T or Google Fiber. But Spectrum's 1 gig speeds compete with fiber, and you can find Spectrum service in some pockets of Raleigh that the fiber providers don't cover.
Read our full Spectrum internet review.
#3: Google Fiber internet
Google Fiber is a fantastic option for customers who want fast internet with simple billing and easy customer service. Unfortunately, Google Fiber covered only about 30% of Raleigh in 2022, so you may have to wait or look elsewhere while coverage expands.
Read our full Google Fiber review.

All internet providers in Raleigh
Outside of our top three picks, most internet options in Raleigh will be either fixed wireless or satellite. Fixed wireless uses radio waves to provide a signal to your home. It's usually not as fast or reliable as wired internet types like cable or satellite, but since a lot of fixed wireless options come from cell phone providers like T-Mobile Home Internet, Verizon Home Internet, and US Cellular, you can sometimes get discounts by bundling with your cell phone plan. These could be good options for households that want to cut costs and don't need the absolute fastest speeds.
Satellite providers Stalink, Viasat, and HughesNet are going to be slower, less reliable, and more expensive than other internet options. Because Raleigh has widespread coverage from other internet types, we don't recommend choosing satellite unless you have no other options.
Fastest internet providers in Raleigh
In 2022, AT&T announced that it would start offering symmetrical download and upload speeds up to 5 Gbps. (1) This makes AT&T the fastest provider in Raleigh by far, though the top speed isn't available everywhere yet. Google Fiber also offers extremely fast speeds, with a max speed of 2 Gbps. That being said, these speeds are excessive for almost all households, and you will have more than enough to cover multiple people gaming, streaming, and working from home with the 1 Gbps options from AT&T, Google Fiber, and Spectrum.
How much speed do you need?
When choosing an internet plan, you want to keep all of your activities running smoothly without paying extra for speeds you don't need. At the bare minimum, you need 25 Mbps to do light browsing on one or two devices. Most households with multiple people and multiple devices will want to look for speeds in the 100–500 Mbps range. Learn how much speed your household needs in our guide to internet speed.
Cheapest internet providers in Raleigh
The cheapest internet options in Raleigh are fixed wireless providers T-Mobile 5G Home, Verizon Home Internet, and US Cellular. All three offer discounts for combining internet service with specific wireless plans, so you can save quite a bit in the long run if you bundle with your existing provider.
Depending on your income level, you may also qualify for the Affordable Connectivity Program or other options for free or low-cost internet.
Internet options in nearby cities
Many of the internet providers in Raleigh also cover nearby cities, but you may also see access to Frontier internet, Brightspeed, and some local providers as you move to other areas. See the best options in these cities.
See all options in your area within seconds.
What Raleigh residents are saying on Reddit
Across recent social media threads in the Raleigh area, residents seem happiest with Google Fiber service, but where it's not available, many recommend AT&T above Spectrum. Read what locals have to say about their internet service.
Internet news and infrastructure in Raleigh, NC
Raleigh has strong internet infrastructure that continues to grow. Between AT&T and Spectrum, most Raleigh residents have access to gig speeds already. According to Google Fiber, it also expanded fiber service to tens of thousands of addresses in the Triangle in 2022, so the options will only become more competitive in the coming years. (2)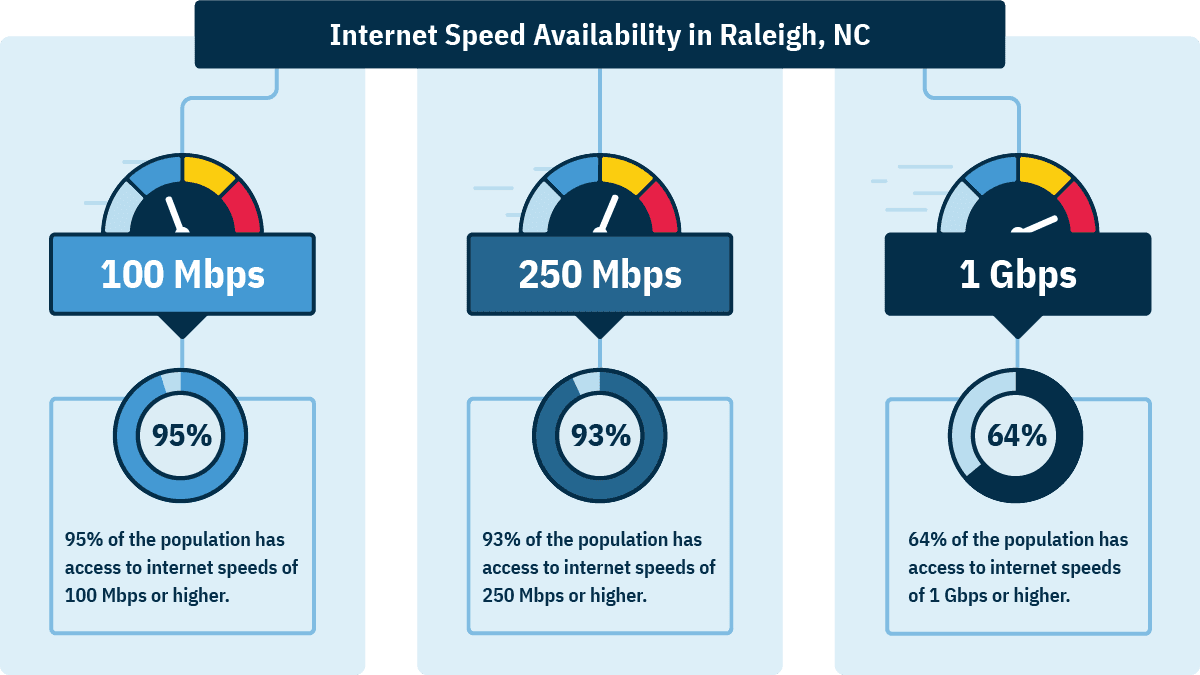 Frequently asked internet questions in Raleigh
---
No, Xfinity is not available in Raleigh, and it has extremely minimal coverage in any part of North Carolina. Spectrum offers cable internet in Raleigh that is comparable to Xfinity in terms of technology and speeds. AT&T and Google Fiber also offer fiber options in the area.
---
Yes, Raleigh has multiple options for fiber internet. AT&T has widespread fiber coverage across Raleigh, with speeds as high as 5 Gbps. Google Fiber has a growing fiber footprint as well, with speeds as high as 2 Gbps.
---
Google Fiber's coverage in Raleigh varies neighborhood by neighborhood, and even street by street. You can check our map for general coverage zones, but because Google Fiber is expanding rapidly in the Raleigh-Durham area, the best way to find out if your address is covered is through Google's address check. You can also sign up for availability alerts for a specific address, but in our firsthand experience with Google Fiber, "coming soon" could mean anything from weeks to years.