Our top 3 ISP choices in Chapel Hill, NC
Our top three recommendations for internet in Chapel Hill are AT&T, Google Fiber, and Spectrum.
#1: AT&T internet
AT&T is our top-rated internet provider nationwide, and it covers almost 80% of Chapel Hill. It's not quite as cheap as Google Fiber for gig speeds, but it has several different price and speed tiers to choose from—all of which should be enough for most households. Some existing AT&T customers might still have legacy DSL service, but AT&T no longer offers DSL to new customers. Between the two, fiber is the much faster, more reliable option, anyway.
Read our full AT&T internet review.
#2: Google Fiber internet
Google Fiber is another fantastic choice for fast, reliable internet service. Its 1 gig plan costs about $10 less per month than what you'd pay with AT&T, but we've ranked it in second place because Google has much more limited availability than AT&T does in the area. Residents who live in areas with Google Fiber give it highly positive reviews overall.
Read our full Google Fiber internet review.
#3: Spectrum internet
Basically everyone in Chapel Hill has access to Spectrum internet. Unlike AT&T and Google Fiber, Spectrum is a cable provider, meaning that its upload speeds are lower than what you'd see with the fiber providers, and its service may not be as reliable. With max download speeds hitting a very competitive 1 Gbps (1,000 Mbps), it's still a solid choice. Spectrum also offers some budget plans for those looking to save money with lower speeds, but keep an eye on second-year price hikes.
Read our full Spectrum internet review.
All internet providers in Chapel Hill
Aside from our top recommendations, most of your internet options in Chapel Hill will be limited to either fixed wireless providers like T-Mobile, Verizon, and US Cellular, or satellite providers like Starlink, Viasat, and HughesNet.
Fixed wireless uses cellular signals for home internet. Even with the best plans, its speeds max out at around 100–300 Mbps, and it's more impacted by weather interference than wired connections are. However, because many of the fixed wireless providers also offer cell plans, you can sometimes save money by bundling your mobile phone with home internet.
Satellite internet is the slowest, most expensive, and least reliable option. Because Chapel Hill has many other options that cover the entire area, we don't generally recommend satellite.
A very small percentage of residences in Chapel Hill can get Frontier fiber internet service. Frontier's fiber offerings rank right up there with AT&T and Google Fiber, so it's a solid option if you're one of the lucky few who can get it.
Fastest internet providers in Chapel Hill
AT&T has the fastest internet in Chapel Hill with download and upload speeds up to 5,000 Mbps (5 Gbps). That's way, way faster than pretty much any household needs. Google Fiber maxes out at an also-very-fast 2,000 Mbps download/1,000 Mbps upload speed, and cable provider Spectrum has speeds up to 1,000 Mbps download/500 Mbps upload. All of those speeds should be plenty for most people, even heavy internet users.
How much speed do you need?
When choosing an internet plan, you want to keep all of your activities running smoothly without paying extra for speeds you don't need. At the bare minimum, you need 25 Mbps to do light browsing on one or two devices. Most households with multiple people and multiple devices will want to look for speeds in the 100–500 Mbps range. Learn how much speed your household needs in our guide to internet speed.
Cheapest internet providers in Chapel Hill
Spectrum offers the cheapest internet plans in Chapel Hill at almost every speed tier—for the first year. Its gig internet plan may have cheaper first-year pricing than what you'd pay for a fiber provider, but prices will jump after the first year unless you cancel or negotiate your price.
If you want other cheap options, fixed wireless providers T-Mobile and Verizon offer some significant discounts if you bundle fixed wireless with specific cell phone plans. If you're already a customer of either provider, that might be a good option to save some cash.
Google Fiber has the cheapest fiber plans, and unlike Spectrum, it doesn't have price hikes over time.
Internet options in nearby cities
Spectrum covers almost everywhere in the nearby area. AT&T also has pretty widespread coverage, but other providers like Google Fiber, Frontier, or Brightspeed will vary city to city. Learn about internet options in each city.
See all options in your area within seconds.
What Chapel Hill residents are saying on Reddit
We scoured recent social media threads from both Chapel Hill and the broader Raleigh-Durham area to see what locals are saying about internet service. In general, the consensus seems to be that Google Fiber and AT&T fiber are the best options with the fewest headaches or outages. Spectrum might be the only option in some areas, but customers have more complaints about the consistency of Spectrum's service. Read some local discussions about internet service.
Internet news and infrastructure in Chapel Hill, NC
Chapel Hill already has strong internet infrastructure, with 95% of homes having access to internet speeds of 250 Mbps or more. (1)  Fiber is the biggest area of expansion, since it isn't accessible to all households yet. Google Fiber claims to have added fiber to tens of thousands of homes in the Raleigh-Durham area in 2022, with plans to continue expanding. (2) If you don't have Google yet, you can sign up to have Google alert you when fiber is available at your address. In our experience, however, "coming soon" could be a matter of years, not months.
AT&T, on the other hand, has given some indication of slowing its fiber rollout. According to a report from Bloomberg, AT&T plans to cut back its fiber expansion plans by 39% in 2023. (3)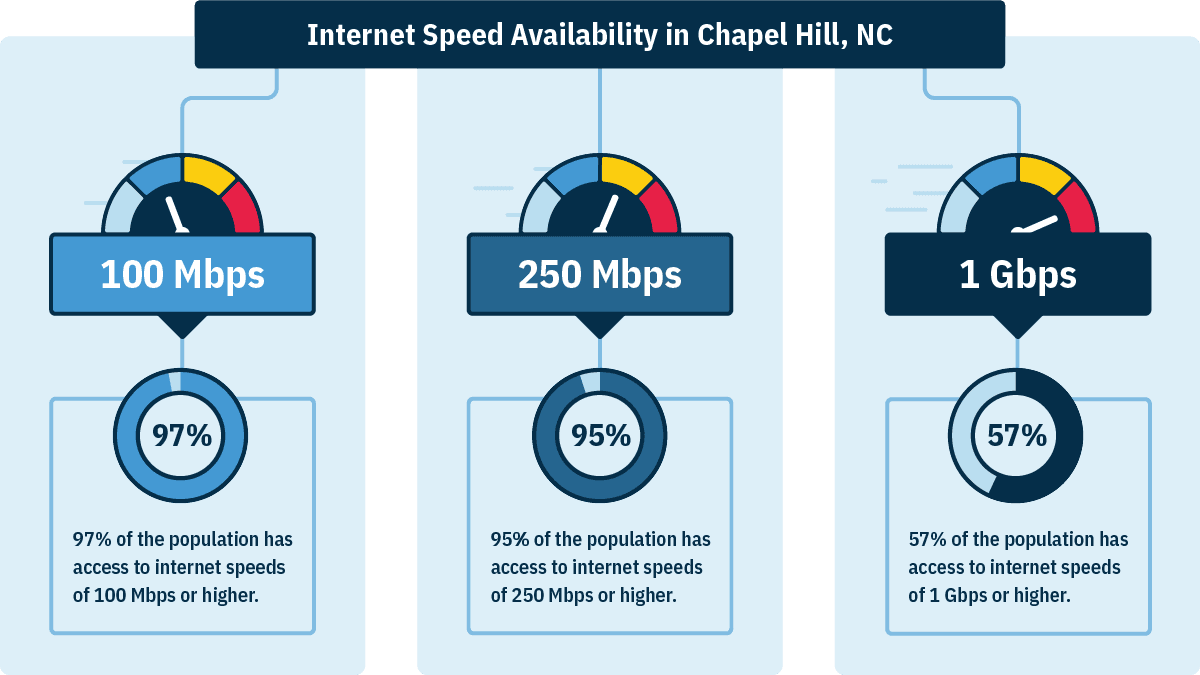 Frequently asked internet questions in Chapel Hill
---
AT&T is a fiber internet provider (with some legacy DSL areas), while Spectrum is a cable internet provider. Fiber internet has higher maximum download and upload speeds—AT&T can reach 5 Gbps, while Spectrum's top speed is 1 Gbps. However, most households won't notice a practical difference between the two speeds.
Spectrum offers some cheaper plans than AT&T does, but it raises prices after the first year, while AT&T doesn't.
See how we rate AT&T and Spectrum side by side.
---
We scored both AT&T fiber and Google Fiber very highly for value, speed, and customer service. AT&T has a higher max speed of 5 Gbps compared to Google Fiber's 2 Gbps, but both of these speeds are much higher than most people need. Google's 1 Gbps plan is slightly cheaper than AT&T's plan at the same speed, but AT&T has a much broader footprint than Google's, which is limited to very few cities across the US.
Compare AT&T and Google Fiber side by side.
---
Xfinity isn't available in most of North Carolina, aside from a very small area just over the Virginia border. Spectrum is the most comparable internet service provider (ISP) in North Carolina, with wide coverage across most of the state. See how Xfinity compares to Spectrum.
---
In Chapel Hill, fiber providers AT&T and Google Fiber are the best options for working from home. Because fiber has symmetrical upload and download speeds, you will have an easier time doing video calls or uploading large files. Unlike cable, fiber customers also don't have to worry about their internet slowing down if neighboring houses are online at the same time.