Our top 3 ISP choices in Wake Forest, NC
Our three top picks for internet in Wake Forest are Brightspeed, Spectrum, and Ting.
#1: Brightspeed internet
After acquiring CenturyLink's customers, Brightspeed offers both DSL and fiber service in the Wake Forest area. Fiber is the better choice by far, with significantly faster download and upload speeds and better reliability than other internet types.
Read our full Brightspeed internet review.
#2: Spectrum internet
If you can't get fiber internet, cable provider Spectrum offers internet service to over 90% of Wake Forest. Its fastest plans can match the download speeds you'll get with fiber, and it offers some lower-tier options for those on a budget. There's no contract, but watch out for second-year price hikes.
Read our full Spectrum internet review.
#3: Ting internet
Ting offers decent pricing for very fast, reliable fiber internet. Ting has a fantastic reputation with locals, but we put it in third place because most households in Wake Forest don't have access to Ting until it builds out its infrastructure more.
All internet providers in Wake Forest
Outside of our top recommendations, most of your internet options in Wake Forest are fixed wireless or satellite providers. Fixed wireless providers T-Mobile, Verizon, and US Cellular offer home internet that you can buy as a standalone or bundle with your cell service for discounts. Fixed wireless speeds will be slower than fiber or cable, and the service is more susceptible to weather interference.
You can also get satellite providers like Starlink, Viasat, and Hughesnet. These providers are available essentially everywhere, but we don't recommend them because satellite is slower, more expensive, and less reliable than other internet types, and you're almost guaranteed to have other, better options in the area.
A very small percentage of Wake Forest households can also get access to AT&T fiber internet. AT&T is our top-rated internet provider nationwide, so if you live in one of the few places with AT&T, we highly recommend it.
Fastest internet providers in Wake Forest
Brightspeed, Ting, and Spectrum all offer 1 gig download speeds in Wake Forest, which is more than enough speed for the majority of people. Because Brightspeed and Ting are fiber providers, they offer symmetrical upload speeds, meaning that their download and upload speeds match. Spectrum's upload speed caps out at 35 Mbps.
How much speed do you need?
When choosing an internet plan, you want to keep all of your activities running smoothly without paying extra for speeds you don't need. At the bare minimum, you need 25 Mbps to do light browsing on one or two devices. Most households with multiple people and multiple devices will want to look for speeds in the 100–500 Mbps range. Learn how much speed your household needs in our guide to internet speed.
Cheapest internet providers in Wake Forest
One of the cheapest internet options in Wake Forest comes from Spectrum, which offers a 100 Mbps plan for around $30 per month. Fixed wireless providers T-Mobile, Verizon, and US Cellular also provide steep discounts when you bundle home internet service with certain mobile plans.
Internet options in nearby cities
Spectrum is very widely available in all of the cities surrounding Wake Forest. Beyond Spectrum, internet options can vary quite a bit from city to city. While AT&T fiber has barely any presence in Wake Forest, it's very prevalent in almost all other nearby cities. Frontier and Google Fiber also offer fiber options in some areas, but neither is as widely accessible as Spectrum or AT&T. See what your options are in these cities.
See all options in your area within seconds.
What Wake Forest residents are saying on Reddit
Residents who live in Wake Forest and surrounding areas seem to have the most positive feedback for local provider Ting. Spectrum has a reputation for less-than-stellar service in the area, though it depends heavily on the infrastructure in any given area. Fixed wireless is more hit-and-miss, with some customers enjoying it as an alternative internet option and others complaining about reliability.
Recently moved from Raleigh to Wake Forest. Noticed two Ting trucks on my street the other day, and looked them up. Gigabit fiber for $90/month. Apparently they're only building out in Wake Forest, Fuquay, and Holly Springs right now.
Anyone have any experience with them? Are they scummy, or have good customer service? I've been with Spectrum forever cuz they're still the best value for my needs, but might finally make the leap to fiber since Google sure as hell isn't gonna build out here.
I have them in HS. They are by far the best provider around. Service here has only been degraded for about a day or so 1 time in over a year. Problem was an upstream cross connect provider, not them. They immediately gave a credit of $25 and a free pizza from a local shop.
They don't have the layers of corporate bureaucracy to work through. Simple.
Even during the evening, I can still hit close to 900mbps up and down. Usually around 930/940 during the day. Always faster and more reliable than CenturyLink gigabit fiber.
No caps, no nonsense. Small outside box on the house to couple the fiber from the curb, running a fiber line to a small palm sized gateway modem in your house.
$90 for gig up and down with no caps is an amazing deal at the end of the day regardless of provider.
---
Anybody else have 5G isp for their home internet (tmobile or verizon)?
Just wondering if anybody else is using any of the 5G home internet providers in the area and what they think about it.
I've got tmobile at the moment and when it first started I was getting some pretty nice speeds (almost up to 200Mbps down), but now it's slowed to a crawl for the past few months (~5mbps down!) and it doesn't have a reliable 5G signal anymore. The rep offered a replacement modem, but that didn't seem to help.
Wondering if I should give verzion home internet a try or just go back to getting gouged by spectrum.
Spectrum is our main but we added Verizon two years ago. I work at home FT and we have a ton of issues with Spectrum. It's out at least once a week and they claim it's because of old cabling, which is probably accurate but we rarely had an issue before Spectrum took over from Time Warner. My husband and i connect all of our wifi devices (including smart tvs and Roku) only to Verizon wifi and have never lost service. When we lose Spectrum, i disconnect my laptop's hardwire & connect to Verizon wifi, again no issues. Also when the power goes out, we still have internet. We use our generator to power our devices and that's been awesome. I'm not ready to totally give up a traditional connection yet, but we do actually like the Verizon service a lot. It's been reliable for us. For reference, we're west Raleigh near Cary and we rarely have any issues with Verizon wireless in our area.
---
Best internet provider here?
Moving here and don't want crappy internet. Can someone help a brother out?
Spectrum is the waffle house of providers. They are almost always an option no matter what but experience can vary greatly based on location.
I am grateful for their coverage but wish they would make an effort to replace last mile coax with fiber where the coax loops clearly have persistent issues. I would be happy to pay 2x what TWC charged if they did more proactive upgrades on the last mile.
AT&T on the other hand is the gas station bodega of providers. Sometimes you get a gleaming Sheetz palace at 3am with full food service. If you are out in the middle of nowhere you get a Stop-n-Sip with day old tuna fish and egg sandwiches in a lukewarm cooler if you are lucky.
Internet news and infrastructure in Wake Forest, NC
Wake Forest has a quickly growing fiber infrastructure for residents. Not only did the town itself invest $2.5 million to build out a 24-mile fiber network downtown (1), but it also became one of the few "Ting cities" in the Triangle in 2020, expanding fiber options for locals. (2)
The most recent shakeup of service came when CenturyLink sold off its service to Brightspeed in 20 states, including North Carolina, in fall 2022. (3) With this change, both CenturyLink fiber and DSL customers transitioned over to Brightspeed for service.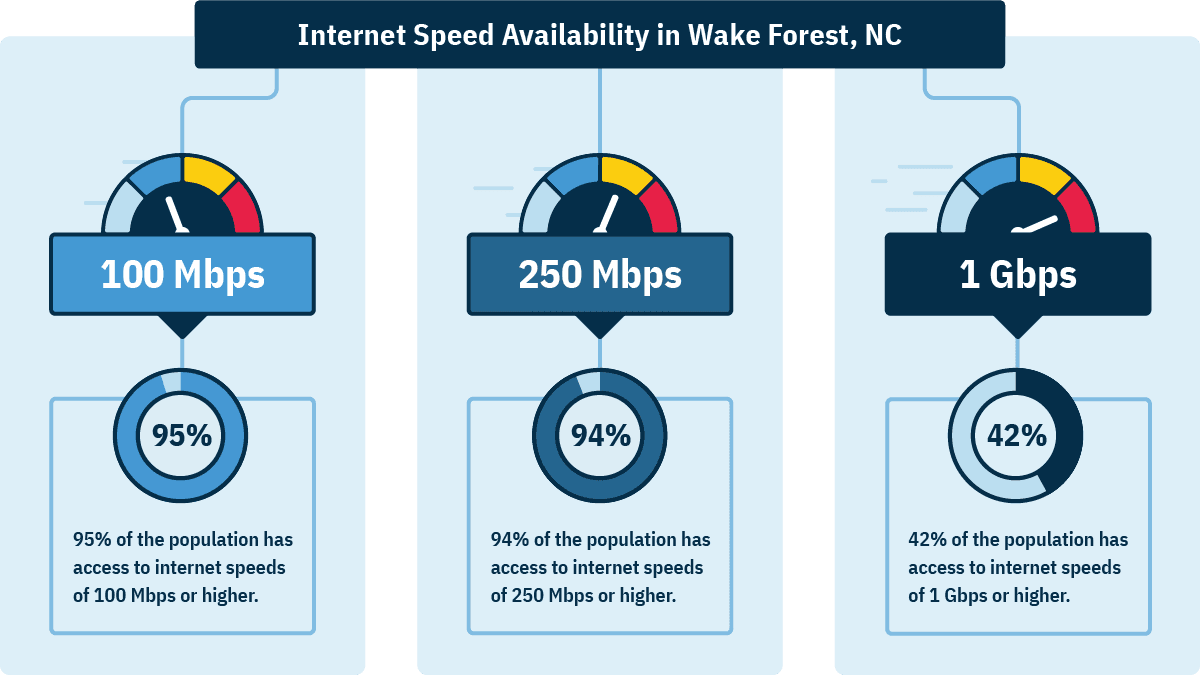 Frequently asked internet questions in Wake Forest
---
In Wake Forest, the top local internet provider is Ting, which has been expanding in the area since 2020. To sign up, first check if Ting currently serves your address. You can pre-order if it isn't available currently, but there's no clear timeline on how long you might need to wait. If Ting doesn't currently cover your address, Brightspeed also offers fiber internet across a larger coverage area. Since Brightspeed has no contracts, you can sign up for the short term and then switch over to Ting when it becomes available if you're dissatisfied with your service.
---
The best internet reception in Wake Forest will come from a fiber provider like Brightspeed or Ting. Fiber infrastructure is the most reliable internet type. It can support the fastest download and upload speeds, it's less susceptible to weather interference because the cables are underground, and you won't see slowdowns if everyone in your neighborhood is online at the same time.
---
Brightspeed is a fiber and DSL provider, and Spectrum is a cable provider. In general, this means that Brightspeed's DSL options are slower and less reliable than Spectrum's cable plans, but its fiber options are more reliable. Both Spectrum and Brightspeed offer download speeds up to 1 Gbps (1,000 Mbps), but Brightspeed has higher upload speeds. That being said, if you're looking for budget plans, Spectrum offers some lower-speed options that are priced competitively.
---
Brightspeed bought out CenturyLink DSL and fiber service in 20 states in fall 2022. There are no immediate differences in service between the two—former CenturyLink customers have the same prices, plans, equipment, and logins that they had before. Brightspeed is investing heavily in building out fiber infrastructure, so it will likely expand fiber areas beyond what CenturyLink previously offered. (4)