Our top 3 ISP choices in Holly Springs, NC
Ting, Brightspeed, and Spectrum are the best choices for internet in Holly Springs.
#1: Ting internet
Ting is a local provider with fiber service to over 60% of Holly Springs. It has an extremely positive reputation in the area for consistent speeds and helpful customer service. If you can get Ting, its gig plan offers plenty of speed for most households. Just skip the 5 Mbps plan, which is just about unusable, even for a single user.
#2: Brightspeed internet
After taking over for CenturyLink's fiber coverage in fall 2022, Brightspeed offers fiber service to Holly Springs residents, including some areas Ting doesn't reach yet. Brightspeed has plans at 200 Mbps or 500 Mbps on top of its gig plan for people who want more options than they can get from Ting. You can also find DSL from Brightspeed, but we don't recommend it if you can get cable or fiber.
Note that you'll see Brightspeed's coverage area listed under CenturyLink on our map. Because we receive data from the FCC, it hasn't yet been updated to reflect the service transition.
Read our full Brightspeed internet review.
#3: Spectrum internet
Spectrum is the consistent internet stalwart in Holly Springs—you can get it basically everywhere. Its highest download speed is as fast as what Ting or Brightspeed offer, and it also has some budget plans for people who want lower speeds at cheaper prices.
Read our full Spectrum internet review.
All internet providers in Holly Springs
AT&T has some very limited fiber coverage on the outskirts of Holly Springs. If you can get it, AT&T is our top-rated internet service provider overall. Outside of AT&T, your options become more limited: either fixed wireless or satellite. Fixed wireless providers T-Mobile, Verizon, and US Cellular aren't as fast or as reliable as either cable or fiber internet, but you might be able to get some discounts if you already use any of these providers for cell service.
We don't generally recommend satellite internet from Starlink, Viasat, or HughesNet. It's sometimes the best option for rural areas, but with Spectrum's high coverage in Holly Springs, you almost definitely have faster, cheaper choices.
Fastest internet providers in Holly Springs
Ting, Brightspeed, and Spectrum all offer gig speeds in Holly Springs. Because Ting and Brightspeed are fiber providers, they can provide upload speeds that match their download speeds, while Spectrum's upload speeds max out at around 35 Mbps.
How much speed do you need?
When choosing an internet plan, you want to keep all of your activities running smoothly without paying extra for speeds you don't need. At the bare minimum, you need 25 Mbps to do light browsing on one or two devices. Most households with multiple people and multiple devices will want to look for speeds in the 100–500 Mbps range. Learn how much speed your household needs in our guide to internet speed.
Cheapest internet providers in Holly Springs
Ting offers the cheapest internet plan in Holly Springs, with its lowest plan just under $20 per month. The download speed is a snail-like 5 Mbps, though, which is basically unusable for most households. Spectrum's 100 Mbps plan is only about $10 more per month and will work better for most people—just keep an eye out for price hikes, and be prepared to negotiate or swap plans after promo pricing ends.
People who already use Verizon or T-Mobile for cell service can get good deals by bundling home internet with their mobile plan.
Learn more about your options for free and low-cost internet service.
Internet options in nearby cities
Holly Springs is an interesting internet pocket because it's one of very few spots in the area with significant access to Ting fiber (Fuquay-Varina and Wake Forest being the others). Across the broader Triangle region, AT&T fiber service is much more expansive, and Google Fiber also has a more established infrastructure. Spectrum is the consistent presence across the region—you can get it almost everywhere nearby. See your internet options in these cities:
See all options in your area within seconds.
What Holly Springs residents are saying on Reddit
We reviewed Reddit threads from Holly Springs and surrounding areas to see local opinions on internet service. The overwhelming opinion was to get Ting if you can get it. There wasn't much discussion around Brightspeed—likely because the swap over from CenturyLink was so recent. Spectrum has much more of a mixed reputation.
Internet news and infrastructure in Holly Springs, NC
Holly Springs residents are lucky to have extremely strong internet coverage. Over 85% of the city has access to download speeds of 1,000 Mbps (1 Gbps) or more. Brightspeed bought out CenturyLink fiber and DSL coverage in more than 20 states, including North Carolina, in fall 2022. (1) After that acquisition, Brightspeed has indicated that it plans to lean into expanding fiber access in its new coverage areas. (2)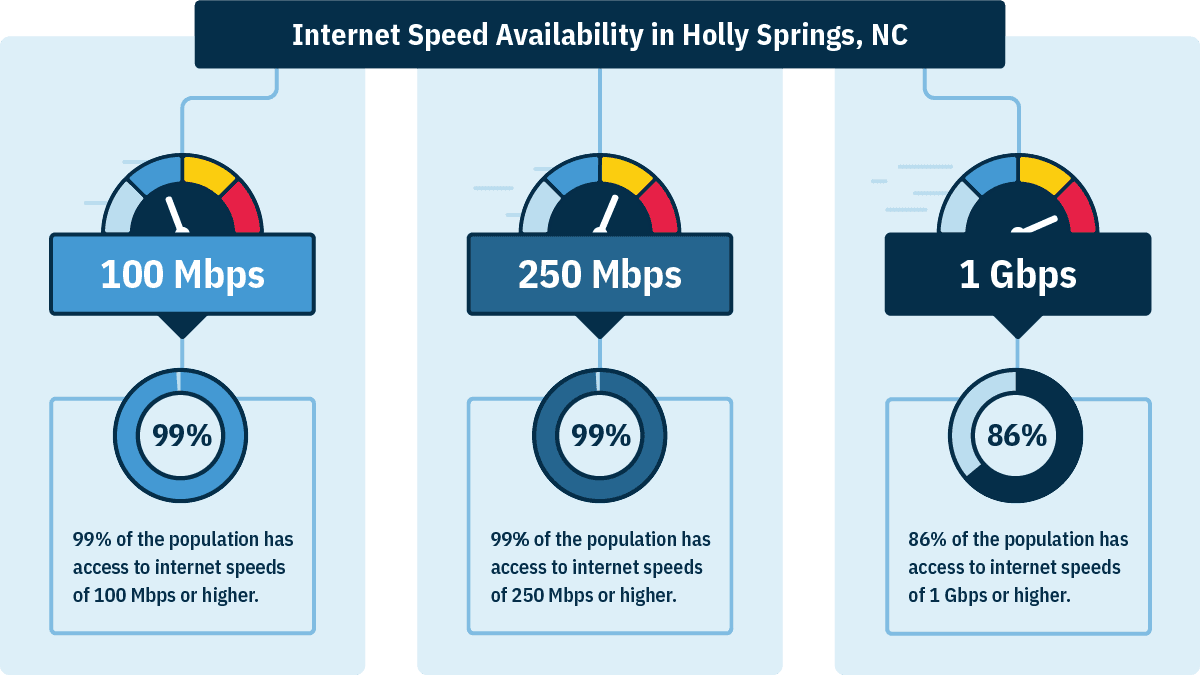 Frequently asked internet questions in Holly Springs
---
No, Xfinity doesn't offer internet service in most of North Carolina. There are some very small areas just along the northern border with Xfinity access, but they are extremely limited. For those looking for cable internet and TV access, Spectrum covers most of North Carolina and is most comparable to Xfinity in terms of overall infrastructure. See how Xfinity and Spectrum compare.
---
Brightspeed acquired DSL and fiber internet infrastructure from CenturyLink in 20 states in 2022. Pricing and plans remained the same during the transition from CenturyLink to Brightspeed. Customers also didn't need to change equipment or account numbers.
---
Ting internet covers over 60% of Holly Springs residents currently, and it's continuing to grow. You can check if Ting is currently available at your address and sign up for alerts on Ting's website. If you can't get Ting but still want fiber internet, see if Brightspeed covers your address.