Our top 3 ISP choices in St. Joseph, MO
Optimum internet and T-Mobile 5G Home Internet are our top choices for internet connection in St. Joseph. We also recommend United Fiber, but it has limited availability around St. Joe for now.
#1: Optimum internet
Optimum is the most widely available internet service provider in St. Joseph that's not satellite. Optimum's cable internet connection gives St. Joseph residents access to speeds between 300 Mbps and 1 gig. Optimum prices are also pretty good for the first two years, but customers tend to face a price hike after that.
Read our full Optimum internet review.
#2: T-Mobile 5G Home Internet
T-Mobile Home Internet is almost as widely available as Optimum, and its fixed wireless connection is easy to set up yourself. We like that T-Mobile Home Internet is affordable and doesn't come with the same price hikes as many cable internet providers (such as Optimum).
Read our full T-Mobile 5G Home Internet review.
#3: United Fiber internet
United Fiber is hard to get in St. Joseph right now, but the company has announced plans for expansion in 2023 that should bring fiber optic internet to more St. Joseph residents. If United Fiber's plans succeed then your internet coverage is about to get a lot better.
All internet providers in St. Joseph
Internet options in St. Joseph are pretty limited. Residents have access to one main cable internet provider, one main fixed wireless internet provider, and then a smattering of older DSL plans or unlicensed fixed wireless providers (which tend to cost a lot for the level of service you get).
St. Joseph has widespread access to satellite internet providers, but we don't recommend them over cable and fixed wireless internet due to latency and network slowdowns. Even Starlink, which has lower latency than other satellite internet types, is still likely going to be slower than cable internet through Optimum.
Fastest internet providers in St. Joseph
Optimum currently holds the position for fastest internet provider in St. Joseph, although United Fiber offers comparable speeds that will be more widely available after the network expands in 2023.
You can also get decent listed speeds from Starlink, but satellite internet latency means that your experience using it will still be slower than comparable speed plans from other internet providers.
How much speed do you need?
When choosing an internet plan, you want to keep all of your activities running smoothly without paying extra for speeds you don't need. At the bare minimum, you need 25 Mbps to do light browsing on one or two devices. Most households with multiple people and multiple devices will want to look for speeds in the 100–500 Mbps range. Learn how much speed your household needs in our guide to internet speed.
Cheapest internet providers in St. Joseph
The cheapest internet in St. Joseph is Optimum internet—as long as you're only looking at the base price. Optimum tends to have hard-to-decipher fees and it also likes to raise customers' prices after the first year or two, so your actual per-month cost will likely be higher than what's advertised.
On the other hand, T-Mobile Home Internet keeps pricing simple, and its plan price is similar to Optimum's when you account for all the extra costs Optimum adds on. T-Mobile Home Internet has lower speeds than Optimum, but it should still work for most households.
Internet options in nearby cities
St. Joseph has fewer internet options than many nearby cities, especially bigger metro areas like Kansas City. Other cities in the region have more access to fiber internet plans from companies like AT&T and Google Fiber. St. Joseph is currently still waiting on fiber internet expansion.
For details on which providers are available near you, check out these cities:
See all options in your area within seconds.
What St. Joseph residents are saying on Reddit
Internet-related posts on social media are mainly centered around internet providers that are available in Kansas City. St. Joseph doesn't have access to some of the ISPs that Kansas City residents recommend most (like Google Fiber), but fiber internet expansion in St. Joseph should make for interesting conversations in the future.
Check out these Reddit threads to see what people are saying:
Internet news and infrastructure in St. Joseph, MO
St. Joseph's internet infrastructure is in the middle of an overhaul with the expansion of United Fiber. Local news outlets have reported over the last year about grant funding (1) and plans for United Fiber's expansion throughout the community. (2)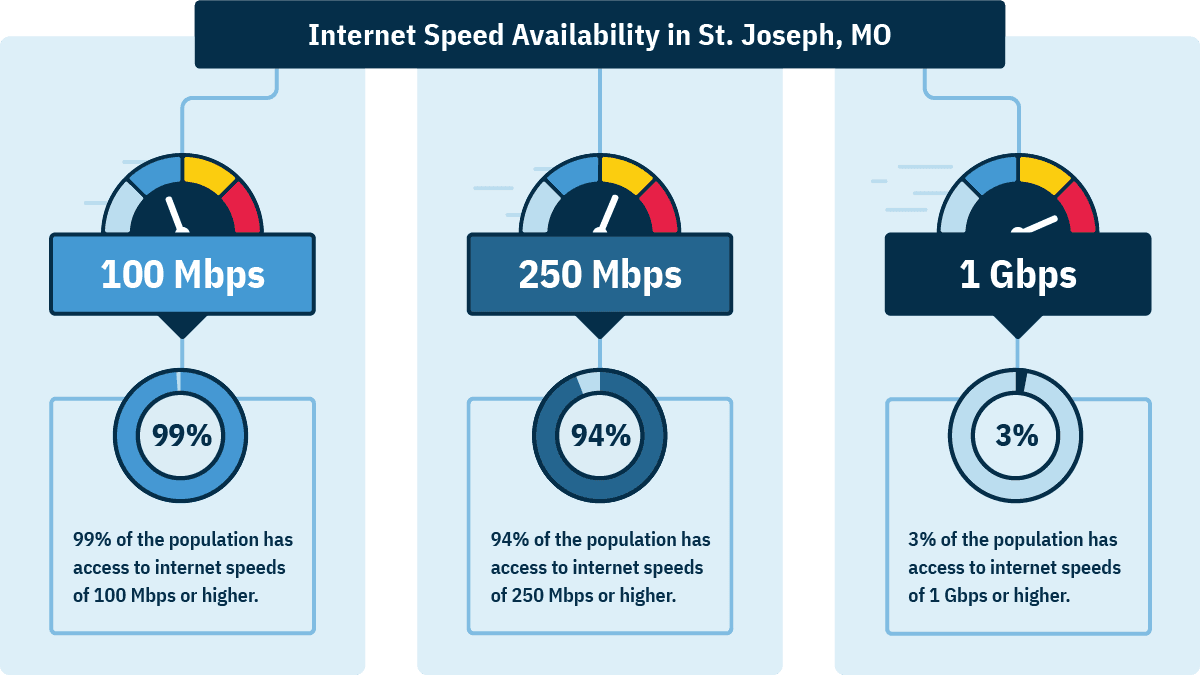 Frequently asked internet questions in St. Joseph
---
Plan to spend a minimum of $50 per month on internet in St. Joseph, Missouri. Many plans will cost more than this, but a base plan from one of the main internet providers in the area will likely start at about 50 bucks when you account for fees and taxes.
---
The main three types of internet service are fiber, cable, satellite, and fixed wireless. These are not the only types that exist, and you will still encounter older types of internet as well, like DSL.
---
Not yet. St. Joseph still needs to expand its broadband access, especially to include fiber internet plans. United Fiber's expansion plans should improve the city's internet infrastructure.