Our top 3 ISP choices in Vestavia Hills, AL
AT&T fiber is the best internet in Vestavia Hills. But check out Spectrum and T-Mobile too, because they're great alternatives.
#1: AT&T fiber internet
Vestavia Hills has a large footprint of AT&T fiber, our top fiber internet provider nationally. This company delivers great speeds, reliable connections, and great customer service—all at a good price. Billing is transparent and straightforward, and you won't have to sign a contract, pay for equipment, or deal with data caps. However, parts of Montclair, Beacon Hills, and Vestridge don't have access to AT&T fiber.
Read our full AT&T fiber review.
#2: Spectrum internet
Spectrum isn't as good as AT&T fiber, but it covers a lot of the neighborhoods AT&T doesn't. This provider also offers a wider variety of plans, especially at the cheaper end, but some of these savings are negated by Spectrum's hidden fees and big annual price increases. Spectrum also has issues in some places with outages and customer service, but some people have no problems.
Read our full Spectrum review.
#3: T-Mobile internet
T-Mobile makes a great alternative to Spectrum if you don't need a ton of speed and you want great customer service. Plan to try it out for a month to ensure you get a good signal at your house, even if you're already an existing T-Mobile cell phone customer. Speeds aren't consistent, but you could get 182 Mbps on average for a great price—especially if you bundle internet with your mobile phone plan.
All internet providers in Vestavia Hills
Vestavia Hills has a total of seven internet providers. If our top picks don't appeal to you, see if Verizon fixed wireless is in your area—especially if you already have a cell phone plan with them. You'll have to test out the service for a month to see if it works well at your house. If it does, you could get an average of 5–50 Mbps for super cheap with a bundling discount.
The other internet options in Vestavia Hills are all satellite internet, which is notoriously slow, unreliable, and expensive. But if it's your only option, it's better than nothing. Starlink has better latency and comes with unlimited data, but you'll have to be on a waitlist until this provider can launch more satellites. Viasat and HughesNet are available now, but they come with stifling data caps that make streaming TV and working from home a challenge.
Fastest internet providers in Vestavia Hills
You could get a blazing-fast 5 gigs from AT&T fiber if you wanted to. But actually using that much speed isn't possible for most households. Instead, try a symmetrical 1 gig plan from AT&T, which is plenty fast for almost everyone. Spectrum also offers 1 gig plans, but upload speeds are much slower at 100 Mbps.
How much speed do you need?
When choosing an internet plan, you want to keep all of your activities running smoothly without paying extra for speeds you don't need. At the bare minimum, you need 25 Mbps to do light browsing on one or two devices. Most households with multiple people and multiple devices will want to look for speeds in the 100–500 Mbps range. Learn how much speed your household needs in our guide to internet speed.
Cheapest internet providers in Vestavia Hills
The cheapest internet plan in Vestavia Hills comes from Spectrum. You'll get 100 Mbps for around $30, plus the cost of fees and equipment. However, if you already have a cell phone plan from T-Mobile or Verizon, you could bundle in internet for slightly less.
Internet options in nearby cities
All Vestavia Hills internet providers also serve other cities near Birmingham, but they might have more or less coverage in other cities. Verizon has less coverage in Birmingham itself and Alabaster, but more coverage in Hoover.
Birmingham has a tiny footprint of CenturyLink DSL, but don't worry. You're not missing much. A few cities also have C Spire fiber, which is a great option. Rumor has it that C Spire is building fiber lines in Vestavia Hills, so you could see this provider pop up in your area soon.
See all options in your area within seconds.
What Vestavia Hills residents are saying on Reddit
Like other areas of Birmingham, which provider is best is highly dependent on location, even within Vestavia Hills. Residents in Bluff Park lament the lack of fiber options but get a good Verizon fixed wireless signal. Meanwhile, people near Galleria love their AT&T fiber service.
It sounds like many Vestavia Hills residents are happy with their T-Mobile and Spectrum service too.
Internet news and infrastructure in Vestavia Hills, AL
Vestavia Hills has a better high speed infrastructure than many surrounding cities, even Birmingham proper. Nearly 60% of residents have access to a 1 gig plan and 97% can get at least 250 Mbps. (1) And that may get even better in the next few years.
Residents report that C Spire, a small local company, has been laying fiber lines in the area. While we don't typically rely on rumors, we can confirm that C Spire is investing heavily in building infrastructure from current operations in Mississippi to the Birmingham area. (2) So you may have access to additional options soon.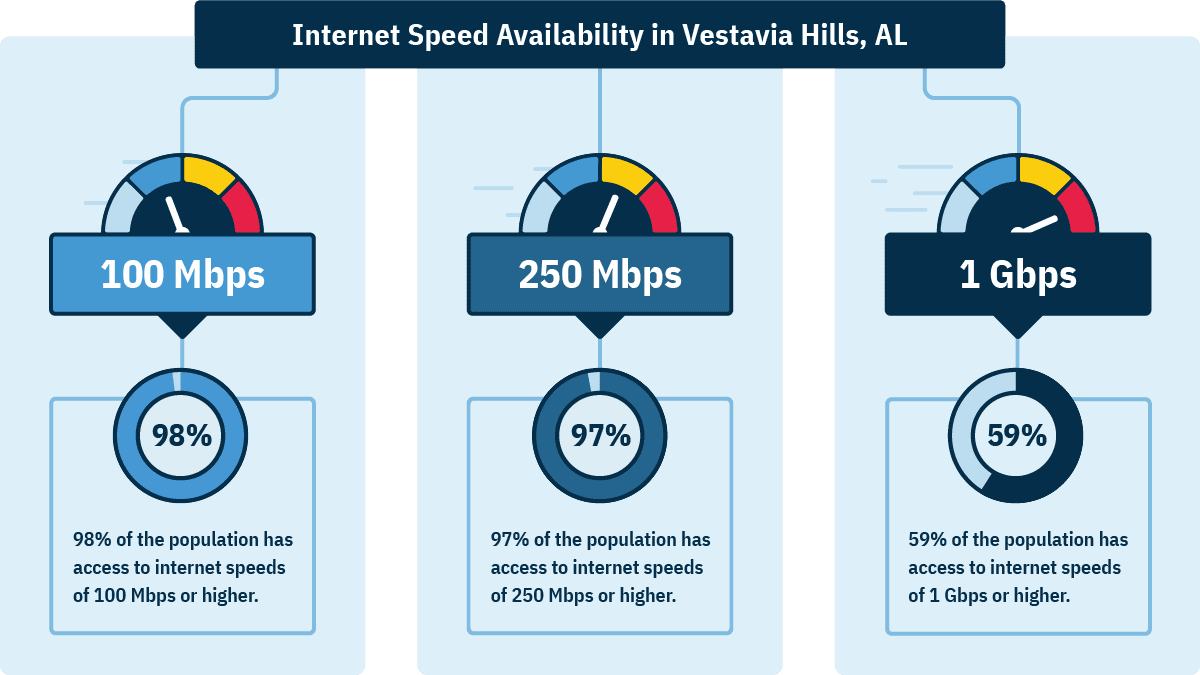 Frequently asked internet questions in Vestavia Hills
---
AT&T fiber is better than Spectrum, but not everyone can get it. If you have only AT&T DSL near you, Spectrum is probably better—especially since new customers can't get AT&T DSL anyway.

AT&T provides great fiber service that's super reliable and fast. You won't have to sign a contract, worry about data caps, or pay equipment rental fees. However, it doesn't have a wide variety of plans, so if you need less than 300 Mbps speeds, Spectrum could be a better fit. Spectrum has more hidden fees, though, so factor that into your shopping. Compare them both.
---
Usually, the best Wi-Fi signal is going to be right next to your router. Distance and walls between you and your router can cause signal to slow down or even drop off completely. If you have a small, open-concept house, you'll get better signal throughout than if you have a large home with tons of individual rooms. You can boost your Wi-Fi signal in any dead spots in your home using well-placed Wi-Fi signal boosters, or switch to mesh Wi-Fi.
Interference from other wireless devices can also slow down your connection or cause drops in signal. Moving your device closer to the router can still help. And so can purchasing a router with more network management tools to help you prioritize traffic to certain devices. You may also get some relief by switching to a 5GHz network instead of your 2.4 GHz network—or vice versa—on the same router.
---
Yes, generally fiber optic internet is better than other kinds of internet. The greatest benefit is that both download and upload speeds can be faster. Plus, a lot of fiber companies provide tons of value and billing transparency. But that doesn't mean another kind of internet won't work for you. There's a lot of hype about gig download speeds and symmetrical upload speeds, but most homes do just fine on slower upload and download speeds.

Cable internet can get up to a gig for downloading. Uploading speeds are usually under 50 Mbps, but most internet users don't need more download speed anyway. So unless you're constantly uploading high-quality video files to the internet, you probably don't need a ton of upload speed. And as far as transparency, non-fiber companies are getting better at this too. T-Mobile, a fixed wireless company, has straightforward billing too.