Our top 3 ISP choices in Birmingham, AL
AT&T fiber is the best internet in Birmingham, but it's not right for everyone and not available everywhere. So check our Spectrum and T-Mobile Home Internet too.
#1: AT&T fiber internet
AT&T is our top fiber internet company for a reason. You get fast, reliable, inexpensive internet. You get freedom from contracts, equipment rental fees, and data caps. The downside is that you can't get this service in parts of Norwood, Magnolia Heights, Smithfield Historic District, and Ward Park. If that's the case, check out Spectrum or T-Mobile instead.
Read our full AT&T fiber review.
#2: Spectrum internet
Spectrum offers a huge footprint of mostly cable internet in the Birmingham area, which is the next-best thing to fiber. Spectrum has a wide variety of speeds at a decent price, even after you factor in hidden fees, but be ready for annual price hikes and mediocre customer service. Or check out T-Mobile instead.
Read our full Spectrum review.
#3: T-Mobile Home Internet
T-Mobile covers more area than AT&T fiber and Spectrum, but you might be missing this option in some of the same places these other providers don't cover either. Still, T-Mobile delivers average download speeds of 182 Mbps without a contract or hidden fees, which makes it a good alternative to Spectrum. You may have less reliability, and the signal could be poor where you live, but it's worth trying for a month.
All internet providers in Birmingham
Birmingham residents have access to up to eight internet providers in the city. In addition to our top picks, a very small percentage of residents can get CenturyLink DSL, but if you can't, you're not missing much.
Verizon offers fixed wireless internet to about a third of the city. T-Mobile is a slightly better bargain, but if you're already a Verizon cell phone customer and you can get a great fixed wireless signal at your home, you could get up to 300 Mbps for super cheap.
Finally, you have three satellite internet options: HughesNet, Viasat, and Starlink. Generally, satellite is only the best option if you have no other options because this type of internet is notoriously slow, unreliable, and expensive. Starlink is a cut above the rest, but it's waitlisted in Birmingham so there's no telling when you'll actually be able to get hooked up.
Fastest internet providers in Birmingham
AT&T fiber has the fastest plan in Birmingham at a breakneck 5 gigs, but no one needs that much speed. Nearly all households would feel speedy with 1 gig, which Spectrum also offers. However, AT&T's 1 gig plan has faster upload speeds, so it still comes out on top.
How much speed do you need?
When choosing an internet plan, you want to keep all of your activities running smoothly without paying extra for speeds you don't need. At the bare minimum, you need 25 Mbps to do light browsing on one or two devices. Most households with multiple people and multiple devices will want to look for speeds in the 100–500 Mbps range. Learn how much speed your household needs in our guide to internet speed.
Cheapest internet providers in Birmingham
The cheapest internet provider in Birmingham is Spectrum with 30 Mbps for around $20—plus hidden fees. However, if you're a T-Mobile or Verizon cell phone customer, you'll get a hefty discount with these providers that give Spectrum a run for your money.
Internet options in nearby cities
Almost all the providers that serve Birmingham can be found throughout the surrounding areas—except CenturyLink's DSL, and we're not crying about that. Surprisingly, most surrounding cities have 1 gig plans available in at least 50% of households, compared to Birmingham's 32%.
In several nearby cities, C Spire provides a good fiber option, but availability is highly limited. Still, if you can't get AT&T fiber where you live, it's worth checking out.
Check out internet in these cities outside Birmingham, AL:
See all options in your area within seconds.
What Birmingham residents are saying on Reddit
Locals have more complaints about AT&T than we've seen in a lot of other cities, mostly about the company's lack of transparency at sign-up. Some residents recommend vigilance rather than using a different provider because—shady practices aside—the service itself seems good. Many of the negative comments about AT&T refer to its legacy DSL or Uverse service, which new customers can't get anymore.
The reliability of other providers seems highly location-dependent. We'd expect that from fixed wireless providers like T-Mobile and Verizon, but it seems Spectrum outages vary highly by location too.
Internet news and infrastructure in Birmingham, AL
A third of Birmingham residents can get 1 gig speeds, and nearly all can get 250 Mbps. (1) Those are great numbers, but there are a few areas left in the city where only satellite internet is available. That puts Birmingham behind the curve compared to other major cities.
Relatively new to the Birmingham area, C Spire is building out a fiber optic network, starting in the suburb of Homewood and fanning out from there. (2) That means you could see even more 1 gig availability in Birmingham in the next few years.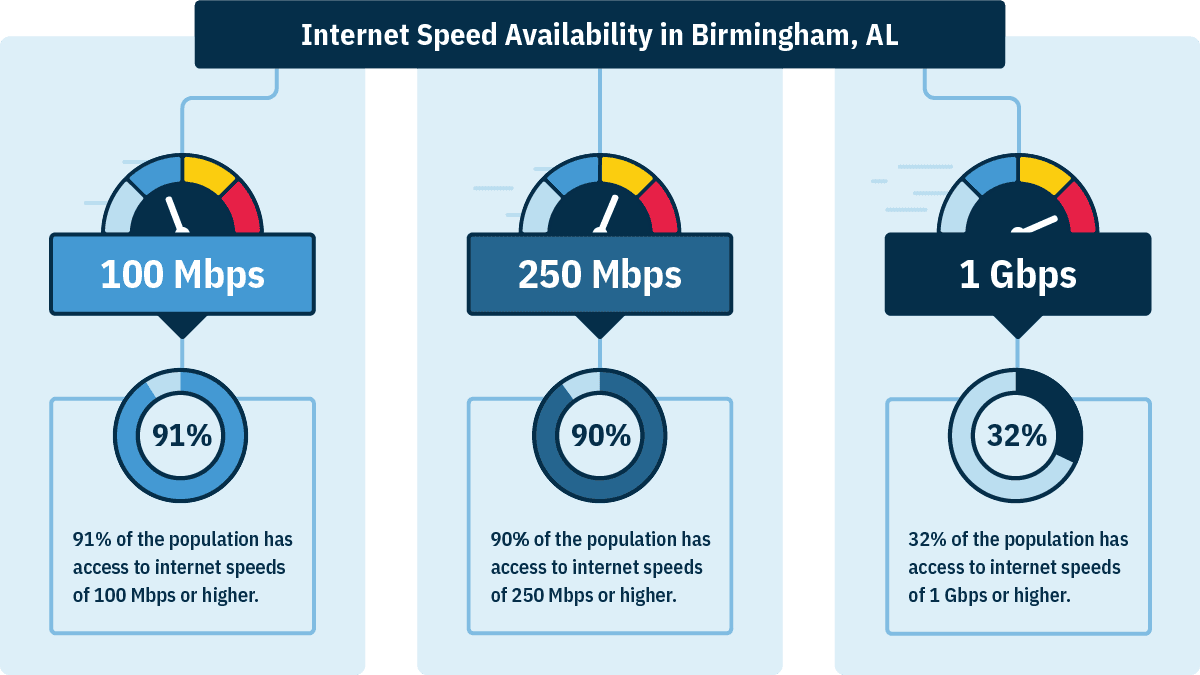 Frequently asked internet questions in Birmingham
---
That depends. AT&T fiber is better than Spectrum. It has faster plans, better upload speeds, and more value packed into each plan. However, AT&T DSL is a different story. DSL is slower and less consistent than fiber. New customers can't get AT&T DSL anymore, and we say good riddance. If you happen to still have AT&T DSL, try to switch to its fiber service or check out Spectrum instead. Compare them both.
---
Yes! The largest fiber provider in Birmingham is AT&T fiber. All plans have symmetrical speeds, and you can get from 300 Mbps to 5,000 Mbps—though almost no one needs more than 1,000 Mbps.
Birmingham also has a small local provider called C Spire that offers fiber in the area. It's not in our top picks because of its low availability, but if you can get it, it could be better than Spectrum or T-Mobile.
---
No, Xfinity isn't available in Birmingham or most of its suburbs. Lake View and Tuscaloosa to the west have some Xfinity fiber service, but both are pretty far outside Birmingham.
If you're looking for a cable internet provider in Birmingham, the city is Spectrum territory. But you can also find AT&T fiber, and both T-Mobile and Verizon fixed wireless in Birmingham.