Our top 3 ISP choices in Alabaster, AL
AT&T fiber, our top fiber internet provider, is also the best company in Alabaster. But if you can't get it where you live or just want other options, consider Spectrum or T-Mobile.
#1: AT&T fiber internet: AT&T is our favorite provider for fiber internet, and most of Alabaster can get it. The main exceptions are parts of Navajo Hills, Lake Forest, and Kingwood. This provider delivers fast, reasonably priced internet without hidden fees, contracts, or data caps. It's straightforward fiber, and we love it.
Read our full AT&T fiber review.
#2: Spectrum internet: Spectrum is available nearly everywhere AT&T fiber is—and in a few places it's not. Spectrum has more plan options, especially at the lower end, but given its hidden fees and annual rate hikes, you might not get as much value even with a cheaper plan. Still, this provider is reasonably reliable and makes a good alternative to AT&T.
Read our full Spectrum review.
#3: T-Mobile internet: T-Mobile is available almost everywhere in Alabaster, including places you can't get AT&T fiber or Spectrum. That makes it a great third-place option. Speeds are less consistent, service is less reliable, and whether you'll get a great signal at your house depends on a ton of factors. But for a decent price—especially with a cell phone plan bundling discount—you can test it out for a month with no contract and no hidden fees.
All internet providers in Alabaster
Local provider C Spire offers fiber internet to some households in Woodland Hills and Lake Forest, so if you can't get AT&T fiber, it's worth checking out. And if you're a Verizon customer, not a T-Mobile customer, you could get better signal—and a better deal—if you bundle in your internet plan. You'll get an average of only 50 Mbps, but it's an option if you don't need a ton of speed or reliability.

Alabaster locals also have three satellite companies to choose from as a last resort. HughesNet and Viasat have strict data caps and decent speeds, but you can get them right away. Starlink offers unlimited data, but it's struggling to serve more customers, and the service is waitlisted in Alabaster.
Fastest internet providers in Alabaster
AT&T fiber can deliver an incredible 5 gigs of speed to some households—but we can't think of a reason you'd need that much bandwidth. Instead, we recommend AT&T's symmetrical 1 gig plan. Spectrum and C Spire also have 1 gig plans, but Spectrum's aren't symmetrical. Its upload speeds cap out at 100 Mbps.
How much speed do you need?
When choosing an internet plan, you want to keep all of your activities running smoothly without paying extra for speeds you don't need. At the bare minimum, you need 25 Mbps to do light browsing on one or two devices. Most households with multiple people and multiple devices will want to look for speeds in the 100–500 Mbps range. Learn how much speed your household needs in our guide to internet speed.
Cheapest internet providers in Alabaster
Spectrum offers the cheapest wired plan in Alabaster at around $30 per month for 100 Mbps. T-Mobile is another cheap option—if you have a cell phone plan and bundle your internet service. Otherwise, try Verizon if you have a Verizon cell phone plan.
Internet options in nearby cities
Alabaster has better access to 1 gig internet plans than Birmingham proper does. Like other cities surrounding Birmingham, around half of homes can get gig speeds. Slightly fewer homes can get at least a 250 Mbps plan, but that number sits at a respectable 89%. (1)

For the most part, Alabaster has access to all the same providers nearby cities have. Birmingham proper has a tiny bit of CenturyLink DSL, but Alabaster residents aren't missing much there.
See all options in your area within seconds.
What Alabaster residents are saying on Reddit
Locals seem to agree with our top picks in Alabaster, but many would also like to add Verizon fixed wireless internet to the list. However, whether you'll get a good signal is hit or miss depending on your location. You may have to try it for a month to be sure.
That said, we've seen more complaints about AT&T fiber in this area than in other cities around the country. Most of the negative posts were about shady sign-up tactics, while people generally agreed that AT&T's full-fiber service is top-notch. People who hate AT&T often love Spectrum—and vice versa.
Internet news and infrastructure in Alabaster, AL
At least half of Alabaster locals can get at least 1 gig, and nearly all can get 250 Mbps or more. There are, however, pockets of Alabaster that can get only satellite internet, which makes streaming TV, working from home, and online gaming a big challenge. (2)
While Alabaster has a small C Spire fiber internet footprint, residents may see more access soon. C Spire is building almost 250 miles of fiber optic infrastructure from Mississippi to the Birmingham area. (3) Availability will grow first in Homewood, so it may be several years before Alabaster sees the benefit, but we'll keep an eye out for updates.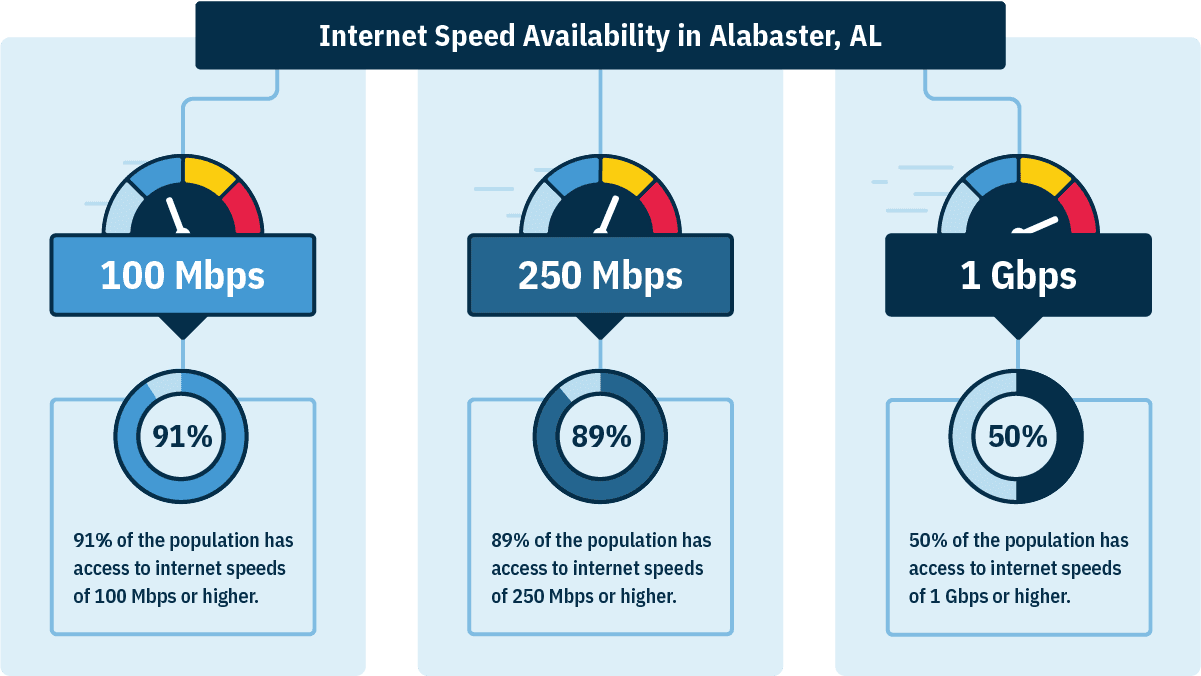 Frequently asked internet questions in Alabaster
---
Internet in Alabama typically runs from around $30 per month to $180 per month. At the low end, you'll get anywhere from reliable but barely broadband speeds to an inconsistent 182 Mbps. For $180, you can get a ridiculously fast plan from AT&T—but you should probably save yourself the $100 and opt for a 1 gig plan instead. Prices in Alabaster itself are about the same.
---
Nearly all rural areas in Alabama can get satellite internet from providers Viasat and HughesNet. Unfortunately, Starlink is waitlisting the entire state at the moment.
Most rural areas, especially those outside Alabaster, also have access to T-Mobile fixed wireless, which is faster, more reliable, and cheaper than satellite internet.
---
That depends on where you live. Bigger cities like Birmingham, and their suburbs like Alabaster, have more options than rural areas. That means more competition between providers and better service and rates for you.
However, the Birmingham area has more underserved pockets than a lot of similarly sized cities we've seen elsewhere. Several neighborhoods—in Alabaster and even in the heart of Birmingham—have only satellite internet service. Statewide, around 30% of households have access to 1 gig speeds, which is slightly better than nearby states. However, only 75% can get 250 Mbps, which is worse than nearby states. It seems that overall coverage is less than ideal in Alabama, but where there is internet, it's pretty fast. (4)