Our top 3 ISP choices in Homewood, AL
AT&T fiber—our overall best fiber internet provider—is the best internet in Homewood. However, not everyone has access to this service, and Spectrum and T-Mobile help fill in the gaps.
#1: AT&T fiber internet
AT&T fiber is fast, reasonably priced, and highly reliable. You'll also get a great experience free of hidden fees, contracts, and data caps. It's available throughout most of Homewood, but a few areas like Rosedale might not have access.
Read our full AT&T fiber review.
#2: Spectrum internet
Spectrum is also available throughout Homewood—including Rosedale. It provides more plan variety than AT&T and speeds up to 1 gig, but you'll deal with a worse customer experience. If you can deal with hidden fees and annual price hikes, Spectrum is a great alternative to AT&T fiber.
Read our full Spectrum review.
#3: T-Mobile internet
If you'd rather have straightforward bills and great customer service than super fast or highly reliable speeds, then T-Mobile could be a great option. Existing mobile phone customers get the best pricing, and you'll want to try the service out for a month before ending your old provider to make sure you get a good signal in your home. But there's no contract, so you can switch back anytime.
All internet providers in Homewood
In addition to our top providers, C Spire is worthy of an honorable mention. You get 1 gig symmetrical speeds at a great price. Unfortunately, availability is limited. But it's definitely worth considering if you can get it.
Around a third of Homewood residents can also get Verizon fixed wireless. It's similar to T-Mobile with the same huge discount for existing cell phone customers. But plan to try it for a month to see if it works for you.
Last and, well, least, are the three satellite internet providers. They're last because satellite is more expensive and has worse reliability. It also often comes with stifling data caps, latency, or both. However, you can get it almost anywhere. So if all other options fail, it's a good standby. Viasat and HughesNet are available now, while Starlink has a waitlist.
Fastest internet providers in Homewood
AT&T has the fastest plan in Homewood at 5 gigs. However, we can't think of anyone who actually needs anything close to that speed. Instead, go with AT&T's 1 gig plan. Or check out a 1 gig plan from C Spire or Spectrum.
How much speed do you need?
When choosing an internet plan, you want to keep all of your activities running smoothly without paying extra for speeds you don't need. At the bare minimum, you need 25 Mbps to do light browsing on one or two devices. Most households with multiple people and multiple devices will want to look for speeds in the 100–500 Mbps range. Learn how much speed your household needs in our guide to internet speed.
Cheapest internet providers in Homewood
Spectrum is the cheapest wired internet provider in Homewood with a 100 Mbps plan for around $30 per month. However, expect a few hidden fees that bump your actual costs up. If you're a T-Mobile or Verizon cell phone customer, you could get faster speeds for around the same price as well, but performance varies widely by location.
Internet options in nearby cities
Every provider in Homewood also serves several nearby cities. You'll find more Verizon coverage in Hoover and Vestavia Hills. And Birmingham proper has a tiny bit of CenturyLink DSL, but you won't regret not having access to that because it's slow and expensive. Surprisingly, Birmingham has less AT&T fiber availability, as does Alabaster.
See all options in your area within seconds.
What Homewood residents are saying on Reddit
Residents of Homewood have recently had more Spectrum outages than normal, and many are considering other options. Meanwhile, AT&T customers say speeds started out fast for them, then petered out after a few months.
Internet news and infrastructure in Homewood, AL
Around half of all Homewood residents can get 1,000 Mbps speeds in their homes, which is higher than we've seen in other big cities. However, only around 90% can get 250 Mbps speeds, which puts Homewood slightly behind the curve. (1)
It looks like Homewood will continue investing in building faster internet in more places. Homewood was the first area of Birmingham to get C Spire fiber internet starting in 2021, and today at least 15% of the city can get connected with them. C spire is also building nearly 250 miles of fiber infrastructure from Meridian, MS to Homewood (2), so service should expand even more in this area.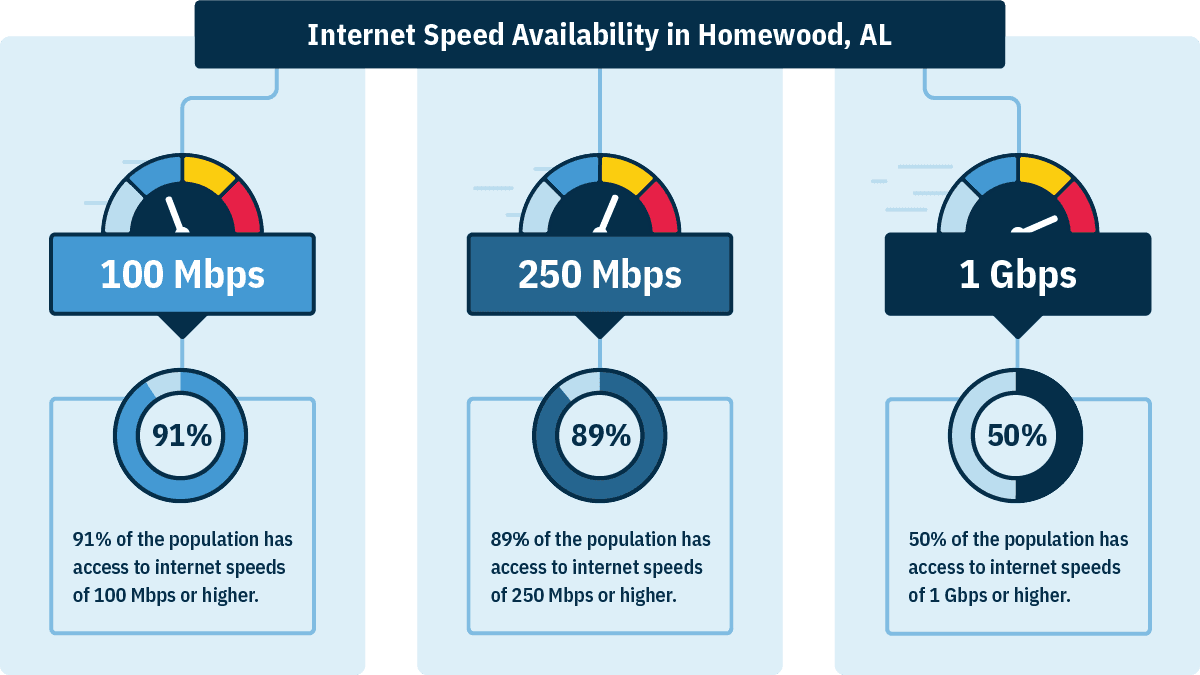 Frequently asked internet questions in Homewood
---
If you can get AT&T fiber, then yes, it's better than Spectrum. But if you have legacy DSL from AT&T, it's probably time to switch.
AT&T fiber offers faster upload and download speeds, unlimited data, and no contracts. Plan prices are a little higher than Spectrum, but you get a ton of value and there are no hidden costs. Spectrum has more plan options and lower plan prices, but they come with hidden fees, which means you'll probably end up paying around the same—or more—than AT&T fiber anyway. However, Spectrum is much faster and more reliable than AT&T DSL. Compare them both.
---
Not quite. Fiber is a type of internet that uses fiber optic cables to get signal to your home. Other kinds of internet include cable internet—which uses the same lines as your cable TV service, if you have it—and satellite internet—which uses a satellite dish on your roof to capture signal.
Wi-Fi is a way to get wireless internet signal throughout your home. Any type of internet—fiber, cable, satellite, and others—can be used for Wi-Fi. You just need a Wi-Fi router, and most routers can create Wi-Fi these days.
---
Verizon has fixed wireless service in Alabama, but not fiber (Verizon Fios) or DSL. Verizon fixed wireless isn't as fast as fiber and it's less reliable. How good your signal is also varies widely from home to home. However, it could be better than DSL. DSL is usually more expensive for what you get, but it can be more reliable.
In Homewood, about a third of residents can get Verizon fixed wireless. There's no contract, so consider trying it out for a month to see if it works for you. If not, check out T-Mobile, AT&T fiber, or Spectrum. (3)